Sales Prospecting: Everything You Need to Know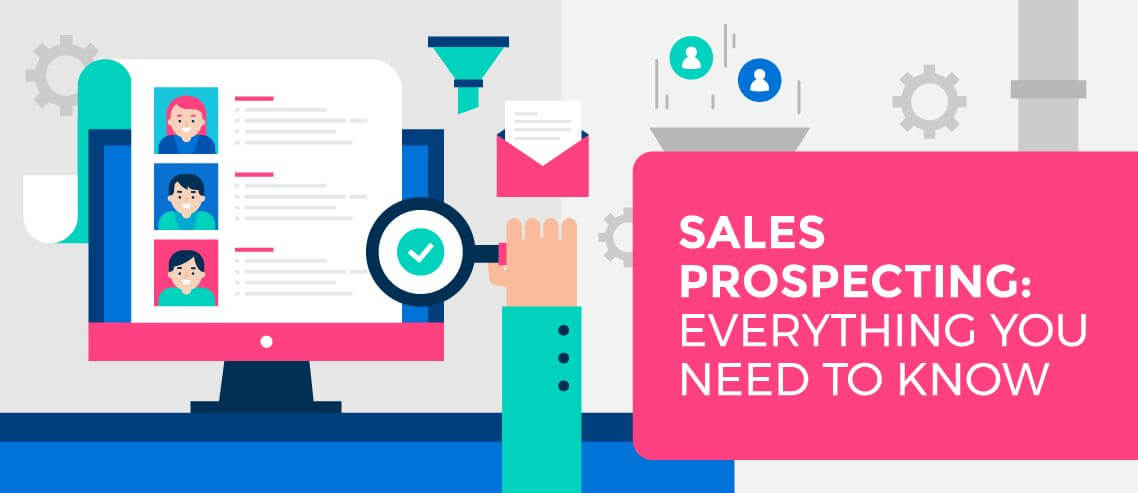 Sales success comes from a healthy pipeline. It's that simple. Without a steady stream of qualified prospects you can call on at any time, you'll never have enough leads to survive the natural attrition of the sales process and meet your revenue or customer acquisition goals.
Yet, as anyone who's worked in sales knows, actually finding qualified prospects isn't quite so simple in practice. To be effective at sales prospecting, you need to know:
Who you're trying to reach
How to find them online
When to connect with them
What types of messages they're most likely to respond to
How to stand out from competitors who are doing the same thing you're doing
Sales prospecting is an art as much as it is a science. But it's also something you can get better at through regular education and deliberate practice.
Use the resources below as a starting point in your journey to becoming stronger at sales prospecting:
List building
How to Build a Relevant, Dynamic List of Prospects
This interview with Mark Colgan, Chief Revenue Officer at TaskDrive, walks through two of the playbooks Colgan has created for building prospecting lists based on shared affinity groups.
How to Use Google Sheets + Google Search Operators to Find Prospects on LinkedIn in 1/10th the Time
If you're struggling to find people on LinkedIn, this step-by-step tutorial will cut your research time significantly from manual identification. Instructions are included for scenarios where you have the prospect's name, as well as those where you don't.
8 Tools to Build a List of Targeted Prospects for Your Cold Outreach
Quality leads are a must when it comes to cold outreach. This article reviews eight prospecting research tools according to their price, features, and performance so that you can choose the best fit for your needs.
How to Generate Your Own Leads (3 Can't-Fail Tactics for Top Reps)
Want to hit the ground running quickly with lead generation? Darren Carter, Co-founder and CRO at RevenueZen, shares his three favorite strategies in this article.
How to Prospect Leads for Your Next Cold Outreach Campaign
According to contributor Justin McGill, "cold email does not equal spam." Here, he offers a process for identifying target customers that avoids the common mistakes most people make when it comes to cold outreach.
How to Crush Your Quota Using Data-Based Prospecting
Improving your sales performance can be as straightforward as connecting with hot prospects that desperately need your offering. In this article, Jack Reamer of Emails That Sell provides a data-driven approach for finding them.
How To Automate Prospect Research Without Sacrificing Lead Quality
Automation doesn't mean taking the human touch out of prospecting. Instead, as Dan Fries explains in this article, it's about carefully deploying automated tools to free up more of your time and resources for higher-impact prospecting activities.
6 Secret Ninja Tricks for Finding Prospects' Email Addresses
Never send a prospecting email to the wrong address. These six tricks make it possible to find anyone's contact information – if you're willing to do a little digging.
Outreach copywriting
The 10 Golden Rules of Effective Sales Prospecting
Your ability to craft compelling outreach copy comes down to the effectiveness of your prospecting processes. Follow these 10 golden rules for better sales performance.
4 Brilliant Outreach Strategies That Are More Likely To Stand Out
Are your prospecting strategies getting lost in your potential contacts' inboxes? These four strategies from digital marketing strategist Ross Simmonds can help you stand out.
How to Set Up a Winning Sales Cadence For Prospecting
If it takes an average of 6-8 touches to generate a viable sales lead, having a process in place ensures these individual points of contact don't get forgotten. Adopt this winning sales cadence, or use it to build your own.
Sales prospecting strategies
The Modern Salesperson's Guide to B2B Sales Prospecting in 2019
Ignore the title – the information included in this guide is just as relevant in 2020 as it was in 2019. Check it out for sales prospecting tips tailored to those reaching out to B2B buyers.
6 Sales Prospecting Techniques
Ready to up your sales prospecting game? Take a look at these six techniques, each of which is intended to make prospective customer research as easy and pain-free as possible.
What Is Sales Prospecting and Why Is It Important? (4 Benefits)
Plenty of new salespeople see sales prospecting as playing second fiddle to later parts of the process, like closing. But without a good approach for identifying target customers, you'll never reach your sales goals.
The Complete List of Sales Prospecting Tools
If your sales prospecting tool arsenal isn't meeting your needs, use this resource round-up to identify new alternatives.
4 Foundational Sales Prospecting Techniques (That Actually Work)
Never underestimate the importance of foundational sales prospecting techniques when it comes to forging a basis for success. Here, contributor Joe Latchaw shares four practices he relies on as a salesperson.
How to Overcome the 12 Most Common Sales Objections
No matter how effective your prospecting practices are, you're going to encounter objections. Prepare ahead of time by developing responses you can give when faced with the 12 most common sales objections.
How to Identify Prospect Buying Signals to Find Perfect Outreach Opportunities
With prospecting, it isn't just finding the right person that matters. Reaching them at the right time is also critical, which is why it's important to learn how to identify buying signals that suggest a perfect outreach opportunity is waiting.