6 Secret Ninja Tricks for Finding Prospects' Email Addresses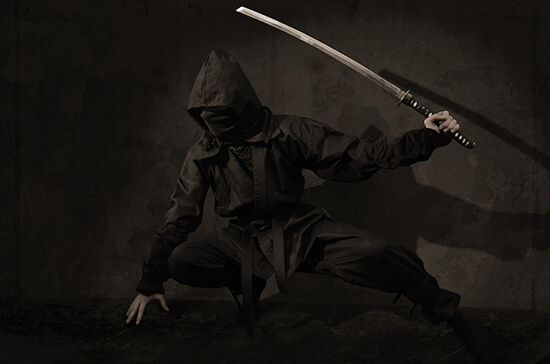 As a marketer, outreach is one of the most important things you'll do. In fact, Social Triggers founder Derek Halpern believes we should spend just 20% of our time creating content, and the other 80% promoting it (of which outreach is highly likely to play a huge part).
What's your ratio? If you're like most people, it's probably nowhere near that 80-20 split. But it should be. It's much faster and more valuable to get more eyes on content you've already made than it is to create new stuff.
It might sound too easy, maybe even lazy. If so, you're vastly underestimating the time and effort it takes to do promotion properly. It's not a schedule-on-Hootsuite-and-be-done situation.
Unfortunately, even when all the ingredients are in place – an awesome piece of content and a great outreach email – one little problem can still manage to trip you up. Any guesses?
Not being able to find the email address of the person you want to contact.

Thankfully, if you know a few insider tricks of the trade, tracking down that elusive email address is much easier than you might think. In fact, anyone can do it.
Here are 6 super secret ninja tricks that you can use to help you find prospects' email addresses.
1. Use a Tool
Using a tool isn't exactly a trick, but the more tools you have in your arsenal, the better equipped you'll be for finding virtually anyone's email address.
While this isn't a comprehensive list of all the email-finding tools out there, these are the ones I use or have used, and can personally vouch for.
Voila Norbert
Norbert is fairly new to the email-finding game, but has quickly amassed a loyal following. It promises to "find anyone's corporate email" using its email identification algorithm. Trusted by Facebook, Airbnb, Twitter, and Intel among others, you can try the service for yourself. Sign up and you get 50 leads for free.
Pricing comes in two varieties: pay-as-you-go at $0.10/lead, or a monthly subscription starting at $49 for 1000 leads. Additionally, Norbert can also verify your entire email list, helping you remove old and dead addresses.
Contact Out
Contact Out is one of the best email-finding tools I've used, by far. It's a Chrome plugin that automatically pulls in any available contact details (typically an email address and phone number at a minimum) when you visit a prospect's LinkedIn Page. It gets multiple email addresses for most LinkedIn users, including personal (ie. @gmail.com) addresses and business addresses.
The extension is used by recruiters at about 30% of the Fortune 500.
2. Check Twitter
People – especially journalists and bloggers who are open to emails from cold contacts – often put their address in their Twitter bio.
If you're on their website, and they use Twitter, chances are the icon will feature pretty prominently on their site (often in the header, but if not, try the footer). Sometimes it's a little more hidden (often on their contact page). Seek it out.
Alternatively, you can search Google for "[their name] + twitter." Of course, if there are lots of people on Twitter with their name, it might be a little tricky to pinpoint the person you're trying to find.
You can often get around this by adding the industry they work in to your search. For example, to find my Twitter profile you could search for "sujan patel marketing + twitter."
But, if your prospect's email address isn't in their Twitter bio, all is not lost.
You can try performing an advanced Twitter search to see if they've ever been mentioned in a tweet.
Simply enter (at) (dot) in the "all of these words" box, and the Twitter handle of the person's email address you're after in the "from these accounts" box. If they've ever mentioned an email address in a tweet, you'll find it.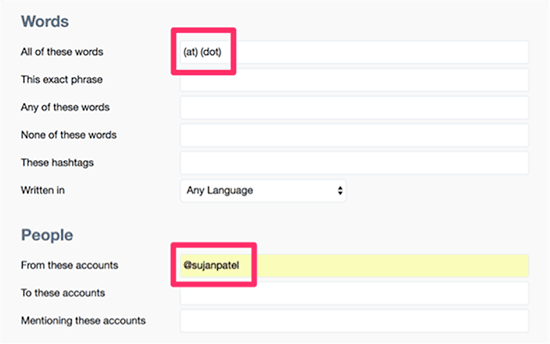 Finally, you can use All My Tweets to view and search all your prospect's tweets on a single page.
3. Find the Company Format and Take a Guess
Most companies use a standard format for email addresses, so if you can't find the address for the specific person you want to contact, find the email address for someone at the company, and edit it accordingly.
If you know their first name, last name, and the company domain name, this should be easy enough. A bit time-consuming, yes, but it's been the go-to method for years.
You can also use the aforementioned Email Checker – or the very similar MailTester or Email Verifier – to check if it works before writing your email and hitting send.
"Email has an ability many channels don't: creating valuable, personal touches – at scale." ~David Newman

4. Use an Email Permutator
An email permutator uses a person's name and the domain they're associated with to generate as many permutations (i.e. combinations) of addresses that, based on common email formats, could be correct.
I use this Google Sheets permutator. To try it yourself, open the doc, click "File," then "Make a Copy."
From there you enter your prospect's name and domain into the yellow boxes. As you do this, possible permutations of the address will appear in the green box on the left-hand side.

What you'll also notice is that the suggested permutations appear in order, according to how common the formats are (most common at the top; least common at the bottom).
That makes the next step – using a tool like Email Checker, Email Verifier, or MailTester to find out if an address works – much easier. Simply start from the top, and work your way down.
If you prefer a website app to a Google document, check out Email Permutator+ from Metric Sparrow. Enter what you know, hit the blue button, and get a complete list of possible combinations.
5. Subscribe to Their Newsletter
A lead that happens to be an influencer or industry leader – or even someone on their way to becoming one of those – will more than likely have a personal website and/or blog that allows you to subscribe. Sign up.
Not only is this an opportunity to get to know them a little better before first contact, but you'll receive that much sought-after address in either the from: field, or at the bottom of the email message.
"If #socialmedia is the cocktail party, then #emailmarketing is the 'meet up for coffee'. The original 1 to 1 channel." ~Erik Harbison
6. Ask Them
If you've tried all of the above and you still can't find your prospect's email address, there's one last thing you can try…
Asking them.
"Data means « given » in Latin. So kindly ask your clients to share it with you." ~Benoît De Nayer
Chances are your prospect has listed a social media profile you can use to contact them, or if not, a phone number. Contact them through one of these channels and ask for their email address (it helps to explain why you'd like it, too).
Better yet, this is also a great opportunity to "warm them up" to your real ask, and that means you won't be sending a cold email.