The 9 Types of Sales Tools You Should Have in Your Tech Stack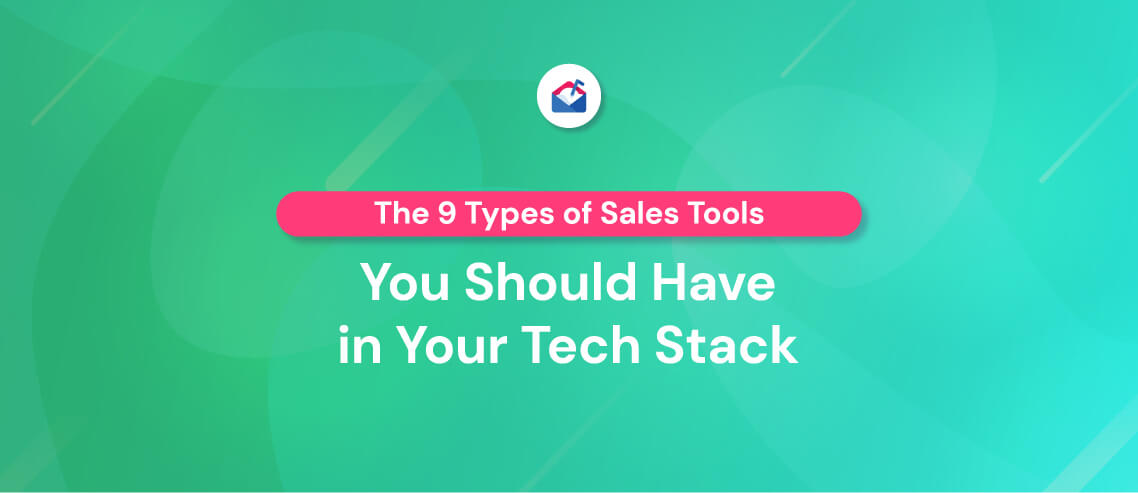 Business is constantly evolving. Today's sales world is substantially different from how it was just a few years ago. If you want to stay competitive, you'll need to upgrade your sales tools to keep up the pace with your competitors.
In this guide, we're going to cover the nine types of sales tools that you need to have in your tech stack to stay competitive in today's modern sales environment.
What Are Sales Tools?
Sales tools are products that help make sales easier. These can come in many forms, ranging from desktop software to cloud-based technologies to mobile apps and beyond. Technically, even a phone can be considered a type of sales tool as long as it's used to make sales calls.
Each sales tool will usually focus on one particular part of the sales process. For example, there are tools for CRM, analytics, training, prospecting, and more.
Sometimes, a single product will bundle together a bunch of different tools into one package. Mailshake is an example of this, as is HubSpot.
How to Choose Your Sales Tools
Putting together the right tech stack is a very individualized process — no two businesses have exactly the same needs. Consequently, what tools you need for your company will depend on what you hope to achieve with your sales programs.
The best way to decide on your tools is to be clear on what your wants and expectations are — for example, do you need to find emails for prospecting or do you only need to manage your existing lists? From there, you can search for tools that complement each other and help you achieve your specific goals.
1. CRM Software
CRM stands for customer relationship management, and it is one of the most fundamental parts of modern sales stacks. In short, it helps businesses keep track of their current customer base and the actions that are needed to improve those relationships. For many companies, the CRM becomes the main sales hub that integrates other auxiliary tools.
Salesforce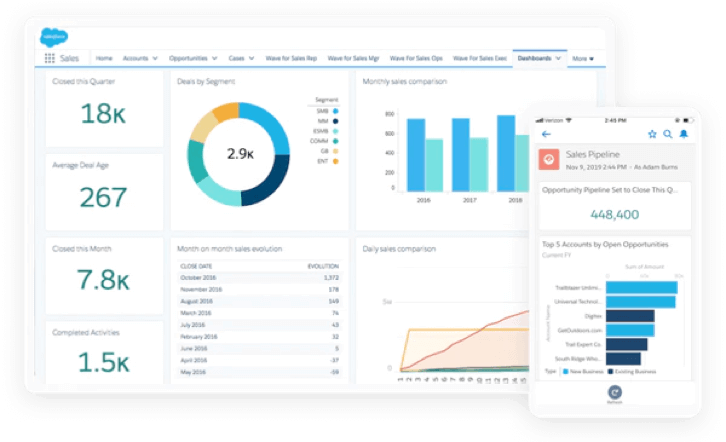 Salesforce is one of the industry leaders and standards for CRM software. The platform allows users to customize their experience and use it from anywhere thanks to its cloud architecture. It has a strong reporting engine as well.
As one of the top names in the CRM space, Salesforce comes jam packed with lots of integrations with other popular sales tools. This lets you automatically sync data from various tools to make keeping track of your customer relationships easy and worry-free. Mailshake is one of its many integrations.
HubSpot
As with Salesforce, HubSpot is another one of the most popular CRM platforms. Along with typical CRM functionality, HubSpot also offers project management features, live chat, prospect tracking, email tracking, and more.
One major advantage to using HubSpot is that there is a free version of the software. While it's very watered down, it does provide many of the core features. HubSpot also integrates with Mailshake to make your outreach campaigns easier.
Pipedrive
Pipedrive aims to provide users with an easy-to-use platform that helps streamline deal management and customer management processes. The platform is action-oriented, and focuses on helping users achieve measurable results.
It includes AI-powered automation for administrative tasks, security and privacy transparency, a mobile app, integrations (including Mailshake), as well as in-depth analytics and reporting features. Overall, most users will find the visual sales pipeline tool to be the most useful.
Unlike HubSpot, Pipedrive does not offer a free version.
Zoho CRM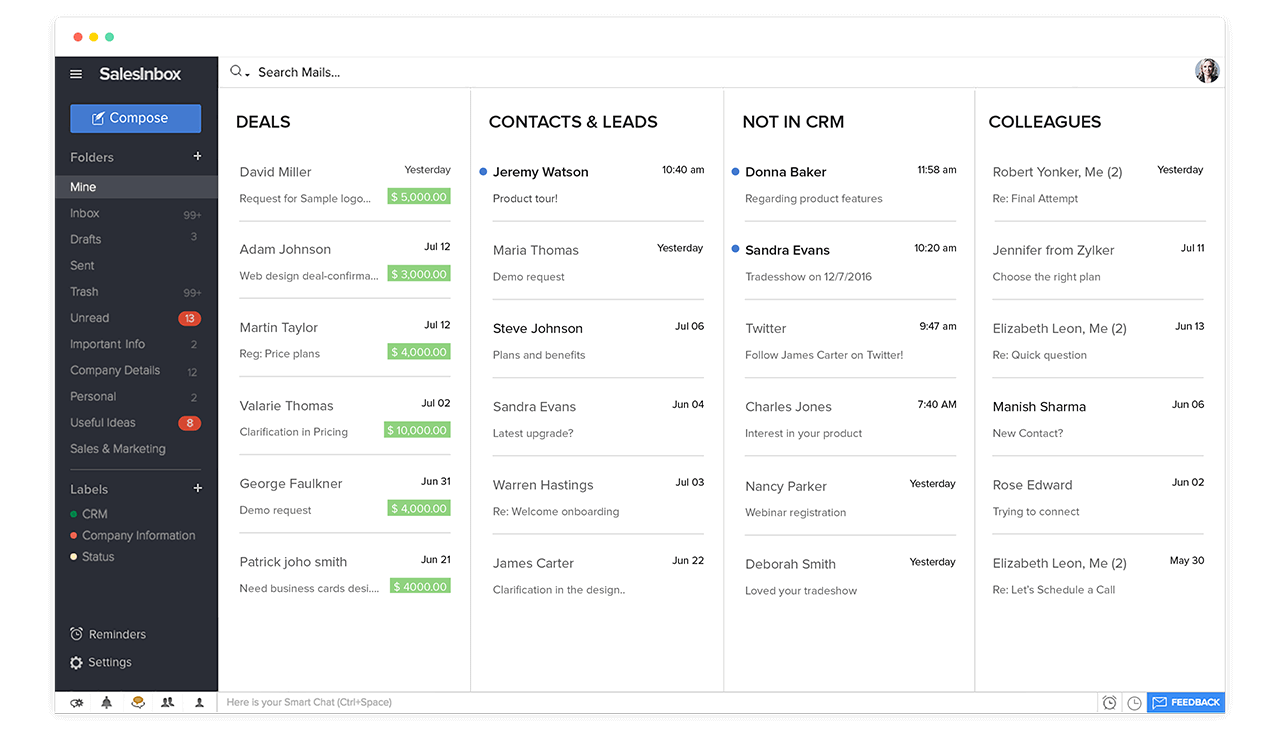 In 2019, Zoho CRM received the honor of winning PC Mag's Customer Choice and Editor's Choice awards. These are just two of many awards that Zoho CRM has received over the years, making it clear that it is a CRM that should be near the top of every business's shortlist.
Zoho CRM offers a wide variety of features ranging from video conferencing to live chat to telephony and beyond. The platform also allows you to automate various tasks to streamline your sales process and help it move quicker.
Agile CRM
Agile is an all-in-one CRM that focuses on providing an affordable solution to businesses of all sizes. The platform is a cloud-based SaaS product, which means that it can be accessed and used from practically anywhere.
The platform provides contact management, deal tracking, telephony, appointment scheduling, project management, and gamification. As for integrations, Agile CRM integrates with many other tools like Twitter, Facebook, Twilio, RingCentral, and Mailshake.
One major benefit of Agile CRM is that it offers a free version for up to 10 users. It's lowest-price paid plan is $8.99/month.
Salesflare
Salesflare is a CRM with a more focused target market than its competitors. Instead of attempting to be an all-around general-use CRM, it focuses specifically on small businesses that offer B2B products and services.
Some of the features Salesflare provides are automatic logging, fully automated contact and company info, and automatic follow-up assistance. It also comes with quite a few integrations, including Zapier and Mailshake integration.
Nimble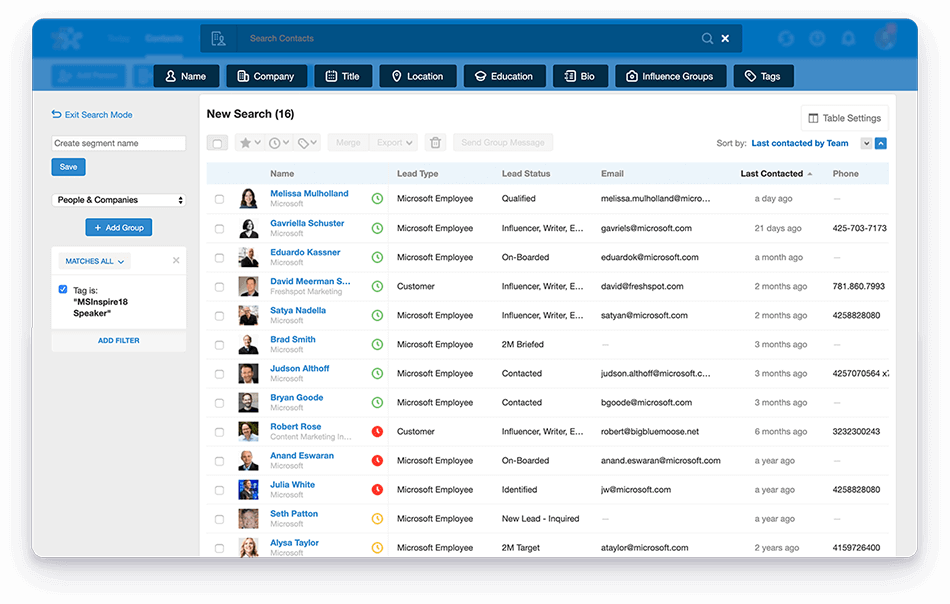 Nimble stands out from other CRMs because it works with a wide range of social networks. With Nimble, you can visit social media profiles and instantly get contact information, making Nimble a great tool for prospecting.
Overall, Nimble provides a great feature set that helps you organize and unify your contacts and data. It also helps you track your sales team's progress and streamline your sales process. Thanks to its many integrations with over 160 tools, such as Mailchimp, Twitter, Gmail, Mailshake, and more, Nimble helps you keep all your information in one, easy-to-access place.
Salesmate
Salesmate is a CRM that aims to help companies better manage their relationships and improve their revenue. The tool provides features that help you engage, sell, optimize, and automate your way to better profits.
For example, Salesmate offers the tools you need to send personalized and automated emails to your customers and prospects. It also provides a visual sales pipeline to track the progress of your sales and make sure your process is streamlined.
Of course, Salesmate also integrates with many popular tools like ActiveCampaign, AWeber, DocuSign, and Mailshake.
Copper
Copper is a CRM built specifically to work with Google Workspace. So, if you're already using Google tools like Docs, Sheets, and Drive, Copper is a great choice. The tool is available as both a Chrome extension and a Google Workspace extension.
Some of Copper's features include the ability to sync with Google Calendar, to generate custom reports and export directly to Google Sheets, to attach Google Docs to leads in Copper, and to get notified of any changes in Google Hangouts.
Copper also integrates with other tools, such as Mailshake, Zendesk, HubSpot, and DocuSign.
2. Sales and Market Intelligence Tools
If you want to make sales, you need to know and understand your market. After that, you'll also need to know how to contact them.
These tools help you achieve both of those goals: they help you score your leads, pick out which ones to pursue, and tell you how to reach them once you're ready.
Voila Norbert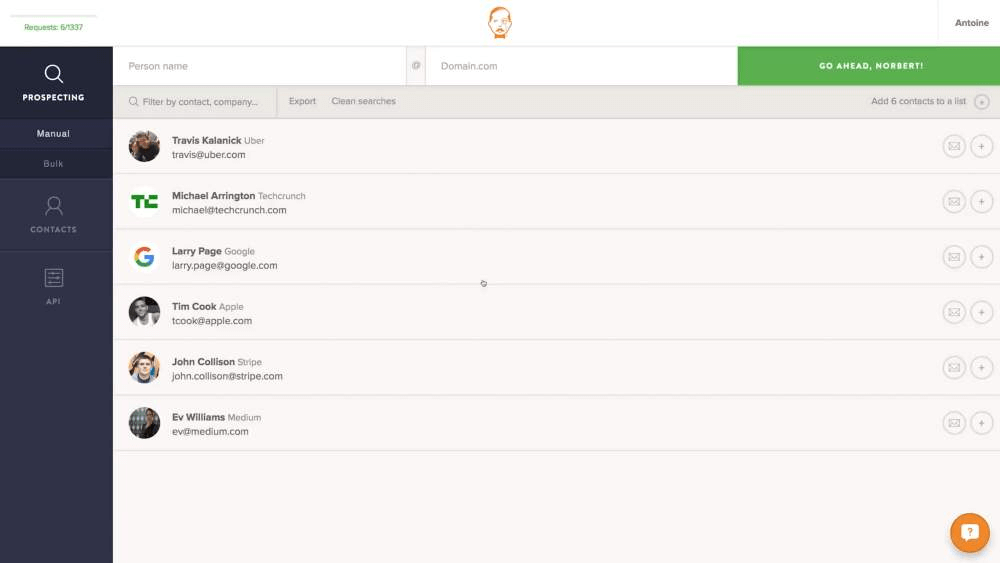 Voila Norbert is an email finder tool that helps you — you guessed it — find emails. More specifically, Voila Norbert combs through its large databases to find business contact information for leads and prospects. The tool is designed for B2B prospects, so don't expect to find consumer emails using this tool.
Voila Norbert is different from many other email finder tools because it supports several integrations and is built to scale up for larger businesses. It's also one of the more accurate email finder tools around thanks to its very large B2B contact info database and thorough verification methods.
LinkedIn Sales Navigator
LinkedIn Sales Navigator is LinkedIn's proprietary sales and market intelligence tool. It taps into the world's largest professional network to help users find leads through advanced search features. It also provides personalized lead recommendations.
LinkedIn Sales Navigator integrates with popular CRMs, so it's a perfect next step to add onto your stack after you've already settled on a CRM.
Clearbit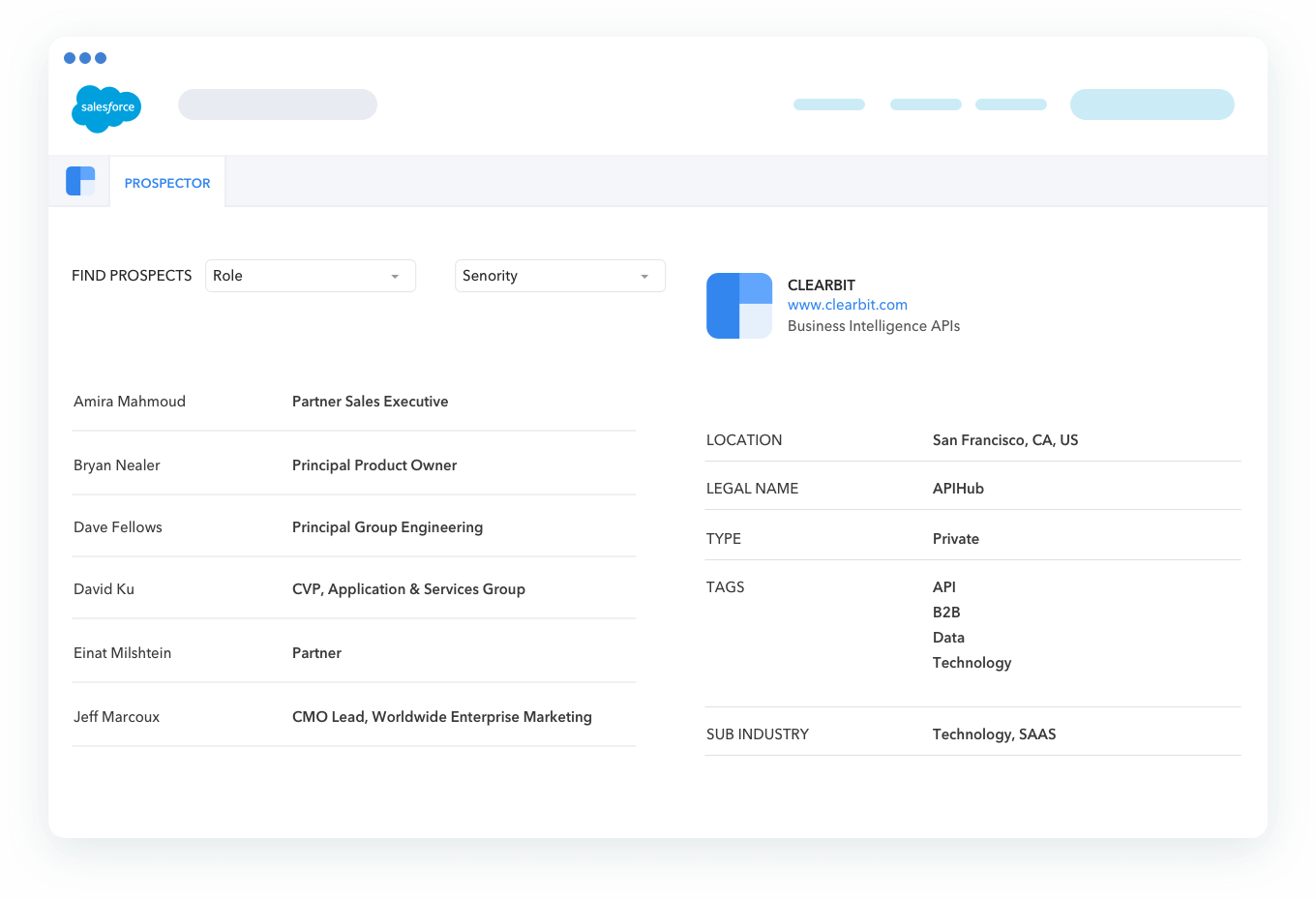 Clearbit is a market intelligence tool that provides real-time data updates on your customers, leads, and prospects. For example, if one of your leads gets a new position, Clearbit will automatically update you so you can take appropriate action quickly.
The tool comes with a bunch of other useful features, like email and domain enrichment and prospecting tools. It can also help you find out what companies are visiting your website so that you can get in touch with them.
MadKudu
MadKudu is a tool that marketers and salespeople can use to project the expected revenue from their marketing campaigns. Essentially, MadKudu helps you identify which campaigns and leads to pursue by predicting how much revenue you can expect from each of your different options. This means that you can make faster decisions without having to wait for months for real results to roll in.
MadKudu is aimed primarily at marketers, especially those that need to pitch campaigns, but it can be equally useful for sales professionals who need to rank leads.
3. Lead Handling and Prospecting Tools
At the end of the day, your tech stack won't do you much good if you can't qualify leads, direct them to the right salesperson, and turn them into sales. The following set of tools will help you to do just that.
Mailshake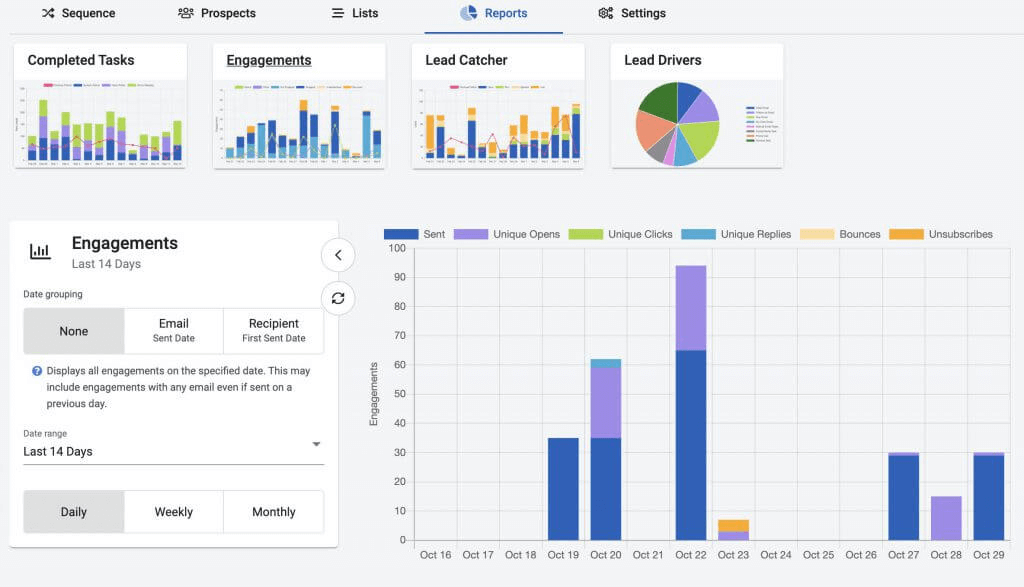 Mailshake is a tool that helps sales teams improve their cold outreach campaigns. Although the majority of its features are geared towards email outreach, it also has phone and social capabilities as well.
At heart, Mailshake is an automation tool, and it's designed to help you save time and make your sales efforts more efficient. Mailshake includes a lead catcher, social outreach capabilities, split testing, and a phone dialer. Overall, it is a powerful tool that was named as a G2 Leader for Spring 2021.
Calendly
Calendly is a tool that aims to make scheduling meetings easier than ever. The concept is simple. First, you tell Calendly when you are available for meetings. Then, Calendly provides you with a unique link that you can share with your leads. When the recipient clicks the link, they'll be able to book a meeting using the visual calendar. You can also embed your Calendly calendar on your website.
This process can save hours of phone and email tag and cut down on the time it would usually take to schedule an email. Plus, it integrates with Mailshake, so you can use it to boost your cold outreach campaigns too.
ScheduleOnce
ScheduleOnce is designed for the same purpose as Calendly: it helps salespeople and teams schedule meetings more efficiently. Just like Calendly, ScheduleOnce gives you a link that you can send to leads. From there, they can schedule meetings that fit with your schedule.
ScheduleOnce also lets you embed your calendar into your website, just like Calendly.
If integrations are what you're after, ScheduleOnce has a whole slew of them. The tool integrates with Zoom, Teams, Zapier, and Mailshake, just to name a few.
Acuity Scheduling
Acuity Scheduling is another tool that does the same thing as ScheduleOnce and Calendly. Just like its competitors, Acuity Scheduling allows leads to book appointments through an embeddable and shareable visual calendar that is already blocked out to show when you are available for meetings.
In addition, Acuity Scheduling accepts payments, sends reminders, and allows for branding. The tool is also HIPAA compliant, making it a great option for medical professionals.
4. Sales Engagement, Communication, and Outreach Tools
The next category of tools is designed to help you engage leads through various communication channels. For example, you may want to send an InMail message to a lead, then follow up with an automated email, or reach out to them over text. These tools allow you to do all that and more.
Mailshake
Mailshake is a tool built first and foremost for sales engagement and cold outreach management. Not only is it designed to tackle those tasks head on, but it's made to automate them, so that you can put your outreach campaigns on autopilot.
The tool allows you to send automated follow ups across multiple channels, including email, social, and phone. You can also easily track how your leads are being generated to get greater insight into your sales pipeline.
Of course, Mailshake also integrates with lots of industry-leading platforms, such as HubSpot, ScheduleOnce, Salesflare, and more.
Dialpad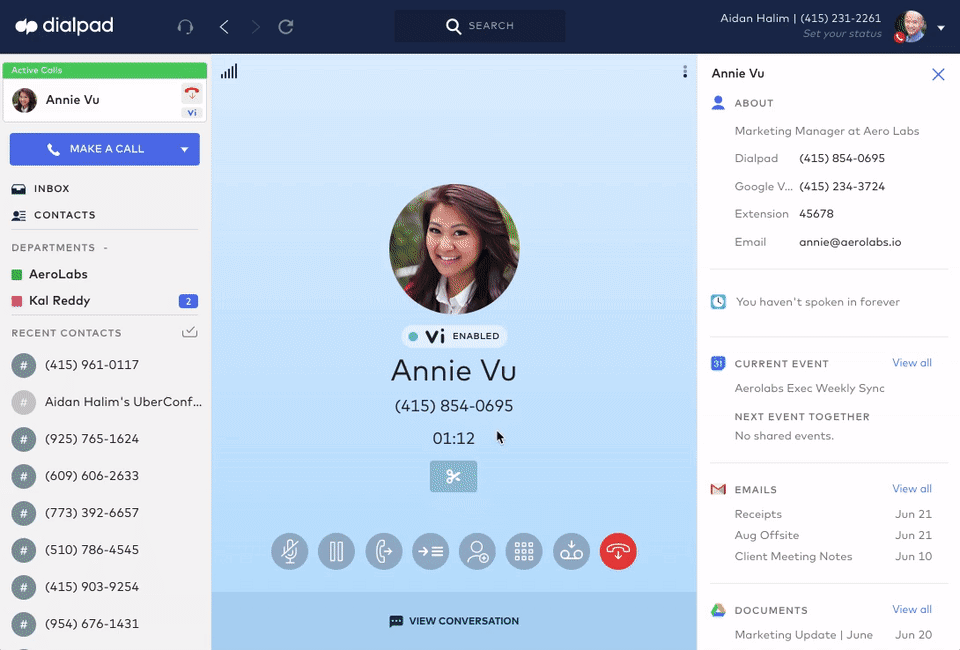 If the name wasn't a dead giveaway already, Dialpad is a sales tool that concentrates on improving the efficiency of sales calls. More specifically, it provides real-time coaching and assistance for sales calls so that salespeople can close more deals, faster.
It achieves this feat by employing AI-tech that uses natural language processing to comb through calls and draw valuable insights from them. Salespeople can then use this data to not only improve each individual call, but to find faults in their general technique and make better calls in the long run.
Call Loop
Call Loop helps salespeople with SMS marketing, voice broadcasting, and voicemail drops. Salespeople can use it to communicate with hundreds of leads with a few clicks. Plus, it provides in-depth analytics tools to monitor the success of campaigns and find ways to improve on them.
Twilio
Twilio offers several products that can help businesses with marketing, user segmentation, and account security. Marketers and salespeople will find Twilio's omnichannel communication tools particularly useful. Like Mailshake, Twilio helps users automate their outreach campaigns so that salespeople can make the most of their time and ensure that no leads fall through the cracks due to manual error.
WhatConverts
WhatConverts tracks your phone marketing campaigns to help businesses figure out what converts.
At its heart, WhatConverts is an analytics tool. It can track calls, chats, and forms, and it can automatically organize the data it collects into segments. Of course, it also provides in-depth reporting features.
5. Content Creation, Sharing, and Management Tools
If you've been in the sales and marketing space for long enough, you've no doubt heard the old adage "content is king." Although this phrase is usually used in a content marketing context, it still holds true for direct sales content.
Here are some tools that can help you with content creation, sharing, and management.
Vidyard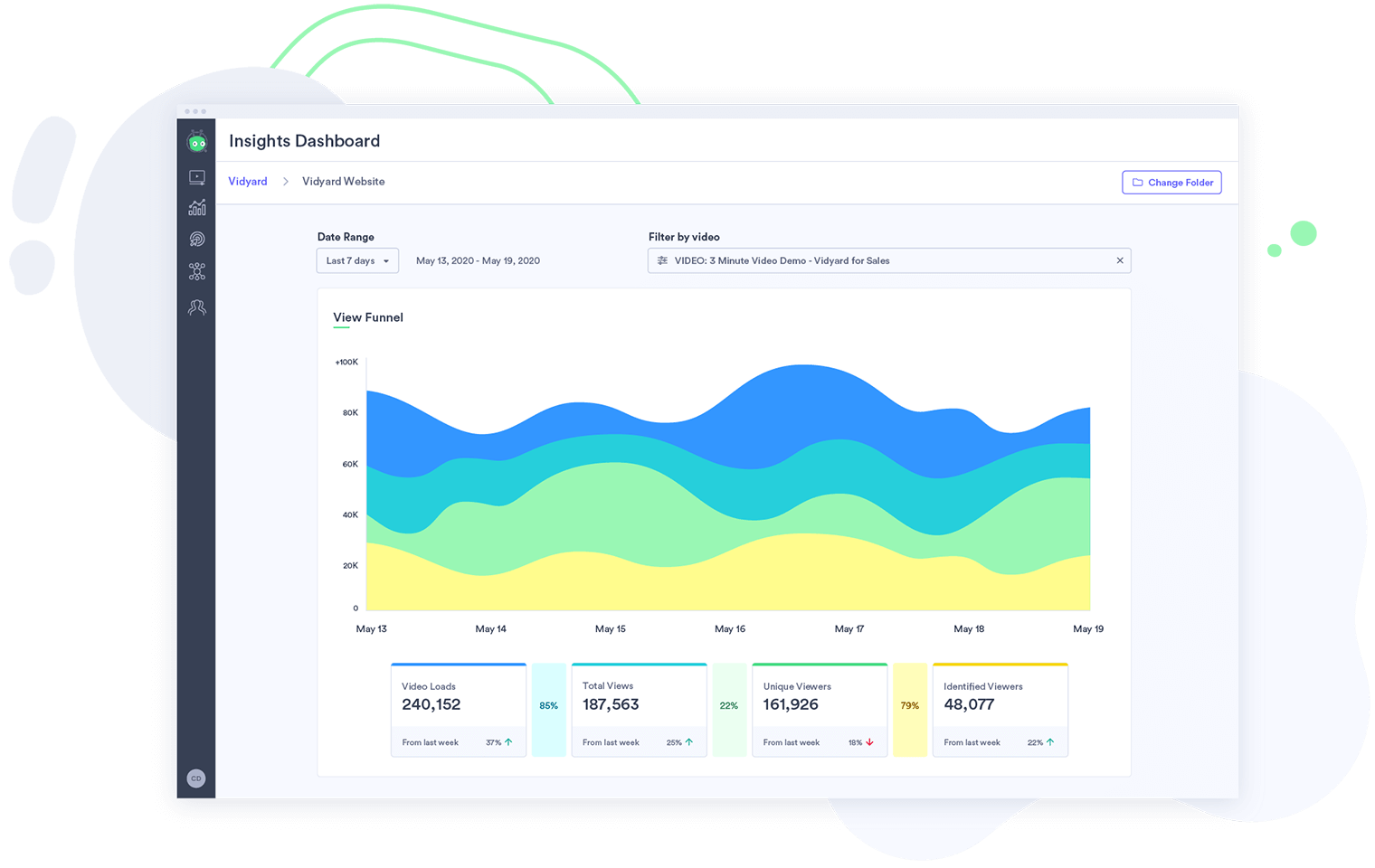 Vidyard is a video creation tool built specifically for sales videos. It allows sales reps to easily record memorable and engaging sales messages that they can send via email or any other channel they're using. Video is a particularly effective medium for sales as it allows leads to form a more personal connection with the salesperson.
One unique feature of Vidyard is that it provides analytics that can tell you what parts of the video your recipient watched. This can inform your next communications with them.
ClearSlide
ClearSlide is a sales engagement tool that helps salespeople get the most out of their communications and initiatives. By combining content management, integrated communications, and real-time analytics, ClearSlide can help salespeople find the most effective content to close a deal in every situation.
ClearSlide also provides slide-by-slide analytics so salespeople can see which specific slides their leads spent the most time on, which can inform their subsequent actions. Team leaders can use its call recording features to support their coaching efforts.
Highspot
Highspot claims that it is the world's number one sales enablement platform. It is used by companies such as Adobe, Procore, and Zillow.
The tool provides five services: content management, seller guidance, onboarding and training, rep coaching, and customer engagement. Its content management features help reps find the content they need as well as identify gaps. The seller guidance features help sales teams construct, utilize, and measure effective sales plays.
Overall, Highspot helps sales teams reach their full potential by getting them the content and plays they need when they need them.
Prezi
Prezi is a product that rivals Powerpoint and Keynote. Its core functionality equips users with the tools they need to create persuasive presentations. However, it also comes with a twist: unlike Powerpoint and Keynote, which simply create presentations, Prezi also allows users to record themselves presenting and then overlay their Prezi presentations on the video.
All in all, this provides a more personable and authentic presentation experience that can improve sales efficiency.
6. Chatbots and Conversation Tools
These days, practically every brand website you visit will ping you with a chatbot a few seconds after you click onto the homepage. As annoying as that can be, companies use chatbots for a reason: they work.
There's no debating that engaging potential customers in conversation is an important part of getting them to buy. By connecting with as many leads as possible through on-site chat, you can increase your chances of making a sale.
Drift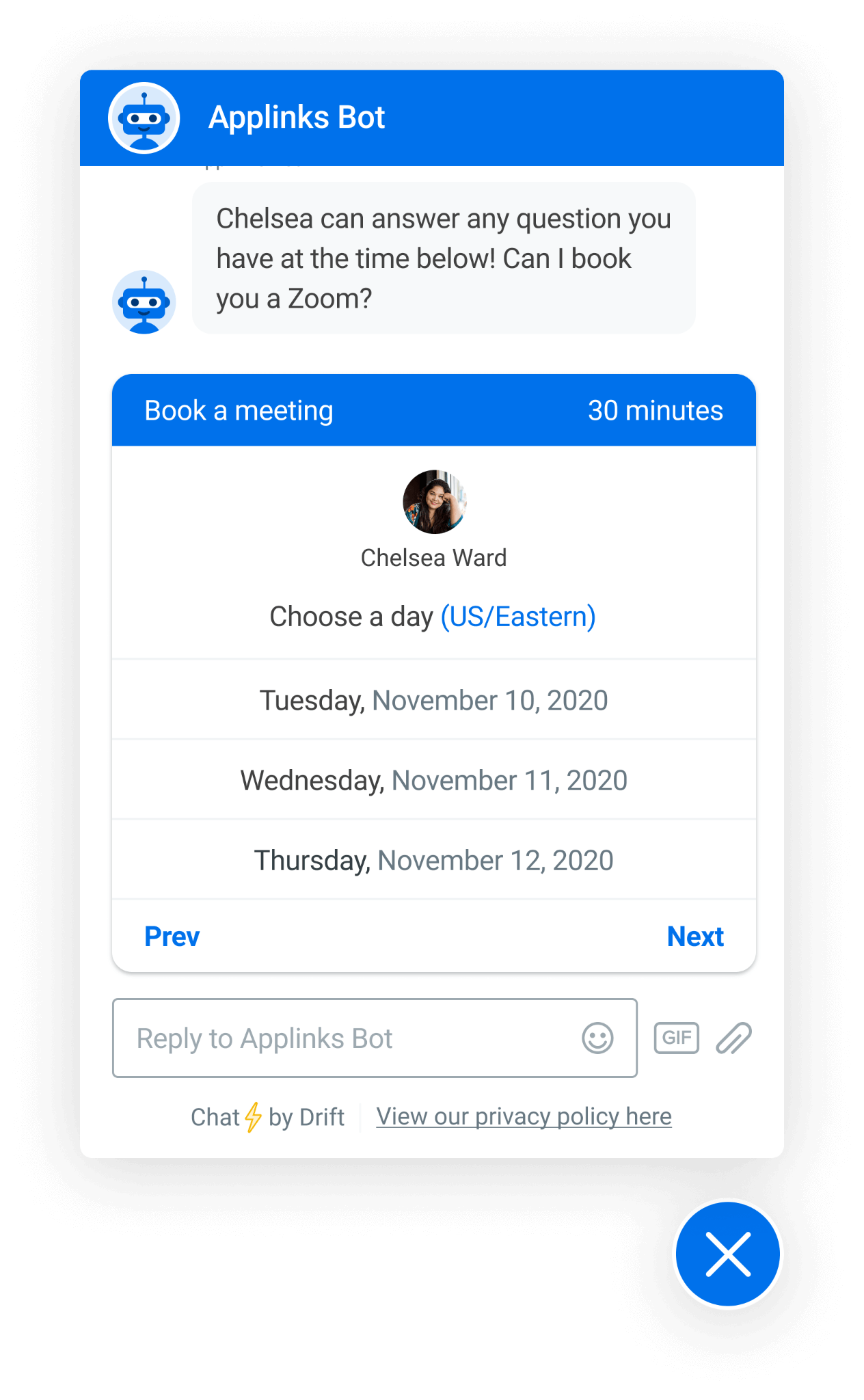 Drift calls itself a revenue acceleration and notes that it is the "World's #1 Revenue Acceleration Platform." In fact, it's the world's only revenue acceleration platform. But that's not to detract from what Drift offers — it is a robust platform that can genuinely boost revenue if you use it wisely.
If you look past the marketing lingo, Drift is really a communication tool that provides instant chat functionality for websites. Sales reps can engage with website visitors via chat, which makes for a great opportunity — website visitors are hot leads and engaging them quickly is critical to turning them into customers.
Plus, Drift integrates with the rest of your tech stack to draw actionable insights and ensure that leads are getting a personalized and engaging experience every time they talk with a rep.
Crisp Chat
Crisp Chat is similar to Drift, but with a broader focus. Instead of concentrating entirely on sales chat, it has features that are tailored to customer support and marketing as well. However, that isn't a weakness — Crisp Chat makes a point of integrating these three parts so that they can each play off each other and create a powerful and unified front.
The tool provides a shared inbox that houses all your conversations across social, email, chat, and SMS. You can also use its co-browsing features to better guide leads and provide a customer service experience that's closer to that of an in-store rep than a chatbot.
LiveAgent
LiveAgent offers the same basic functionality as Drift and Crisp Chat, but with a different flavor. Overall, LiveAgent is more geared towards customer support and help-desk functionality than sales. That said, it still offers sales features and can be used for that purpose.
One of LiveAgent's best traits is its advanced chat routing capability. It can start up chats based on a visitor's location, the pages they've visited, how long they've spent on those pages, and more. This makes it easier to tailor the chat experience and avoid those annoying welcome pings that so many have come to loathe.
7. Process and Training Tools
The surest way to achieve any goal — sales or otherwise — is to have a solid process in place. When you're working with a team, that means that you also need to ensure that everyone is on the same page about that process, and that every team member has received the necessary training to carry it out.
The next bunch of tools we're going to look at are designed to help you streamline your sales processes and get all your team members up to speed.
Gong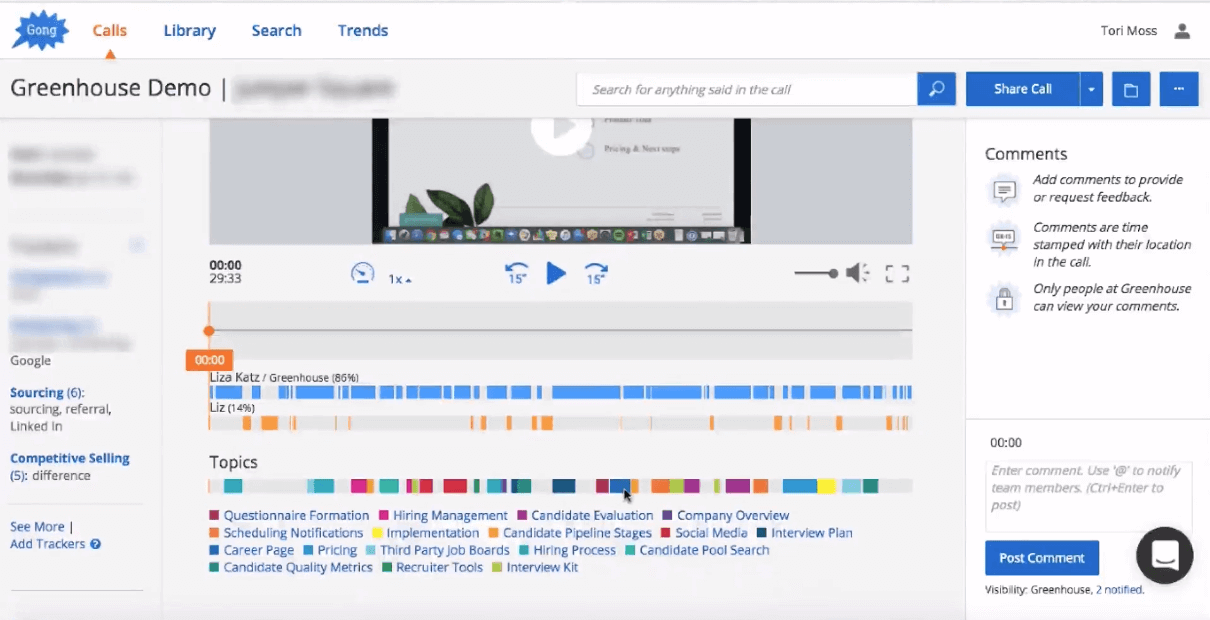 Gong is essentially a very deep analytics tool. It combs through all your deals, conversations, calls, meetings, and emails, analyzes them, and tells you what you should be focusing on and how your reps can improve. In Gong's own words, it captures data, understands it, and then delivers actionable insights.
According to Gong's website, sales teams see quantifiable improvements after using Gong. The company brags of a 44% average increase in win rates, a 38% average reduction in sales cycle length, and a 60% average reduction in time ramp. If these numbers hold up to scrutiny, Gong is clearly a very powerful tool that deserves to be in your tech stack.
Dooly
Dooly is a unique product in that it is essentially a tool to make Salesforce more efficient, which in turn benefits your sales process as a whole. However, if you're not already using Salesforce, or don't plan to, this tool will be pretty much useless in your stack.
If you've found yourself frustrated by slow load times and spending way too much time syncing your data and updating deals in Salesforce, Dooly may be just what you've been missing. The tool keeps all your Salesforce data synced and makes updating your pipeline significantly faster.
Guru
Guru aims to provide sales reps with the knowledge they need to close deals quickly and efficiently. In short, it strives to wipe the phrase "I'll get back to you on that" from your sales reps' vocabularies.
One powerful aspect of Guru is that it provides sales reps with the knowledge they need where they need it. So, if your sales rep is working on phone conversations, Guru can provide them with whatever they need to close a deal. If they're in Salesforce, the same applies. Guru meets reps where they are and helps them move forward.
8. Contract Lifecycle Management Tools
By the time you've made it to the point where you need to have your lead sign a contract, you can breathe a sigh of relief — but only a small one. There's still room for everything to fall apart, especially if you don't have a solid contract management tool. Let's take a look at some tools you can use to navigate this part of the process with ease.
Adobe Sign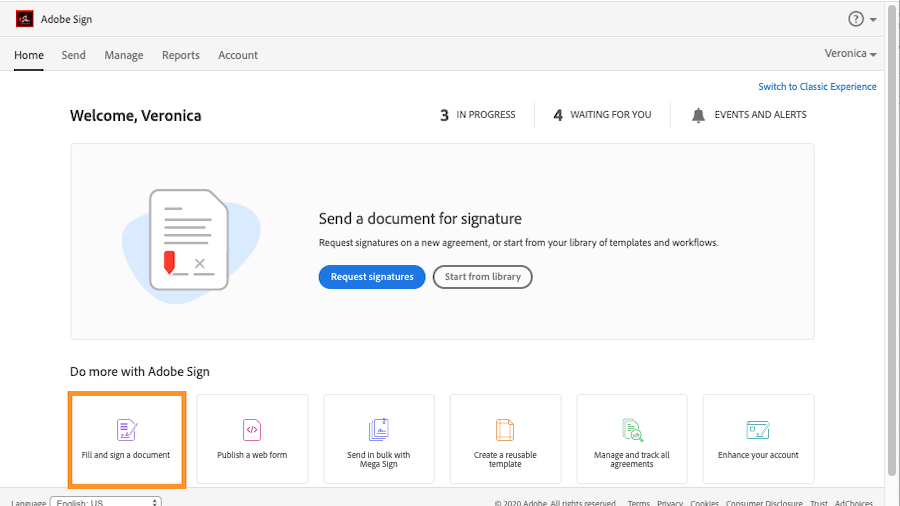 Adobe Sign is a pretty straightforward product: it lets you collect e-signatures from your customers. There's not much more to it.
That said, it does come with a few nifty features. For one, it can collect payment at the same time that your customer signs the dotted line. Also, since it's an Adobe product, it works seamlessly with Adobe Acrobat so that you can manage PDFs and e-signatures all in one place.
DocuSign
DocuSign is perhaps the best-known e-signature tool around, which may come as a bit of a surprise considering Adobe is a much bigger company overall. The fact that DocuSign has become the standard despite the size discrepancy is a sign (no pun intended) that it's doing something right.
Compared to Adobe Sign, DocuSign is a much more fleshed out program. In addition to its basic e-signature capabilities, it also provides an AI-powered contract analyzer, contract lifecycle management tools, and more.
PandaDoc
PandaDoc is another tool that offers e-signature functionality. Overall, it's more similar to DocuSign because it also provides contract management tools.
However, PandaDoc really shines thanks to its API capabilities. The inclusion of an API means that developers can integrate PandaDoc features into their own custom applications, building on the standard feature set of the platform.
HelloSign
HelloSign is another well-regarded tool that helps business forgo printers and pens and move into the digital age of e-signatures.
In addition to the standard e-signature fare, HelloSign also offers bulk sends, audit trails, reporting, and branding. It also provides an API for businesses that need to integrate HelloSign into their existing programs.
GetAccept
Unlike the other tools in this category, GetAccept is a fully-featured sales enablement platform that also includes e-signature and contract management features. However, contracts aren't the focus here — they're just one feature among many.
That said, GetAccept still provides a robust e-signature feature set with a focus on security. GetAccept allows senders to request ID verification and SMS authentication.
9. Automation and Integration Tools
It turns out the science fiction books of the past were right — the robots are taking over after all!
Well, not quite. But automation is becoming a bigger and bigger part of sales and business in general.
There's a good reason for it, too. Automating mundane tasks saves time and lets sales reps concentrate on what they do best: closing deals.
Beyond automation, there's also an increasing need for different tools to communicate with each other so that they can be used in an integrated and unified way — that's where integration tools come in.
The next batch of products we'll look at are designed to help your different tools talk to each other and to help your sales processes run as smoothly as possible.
Integrately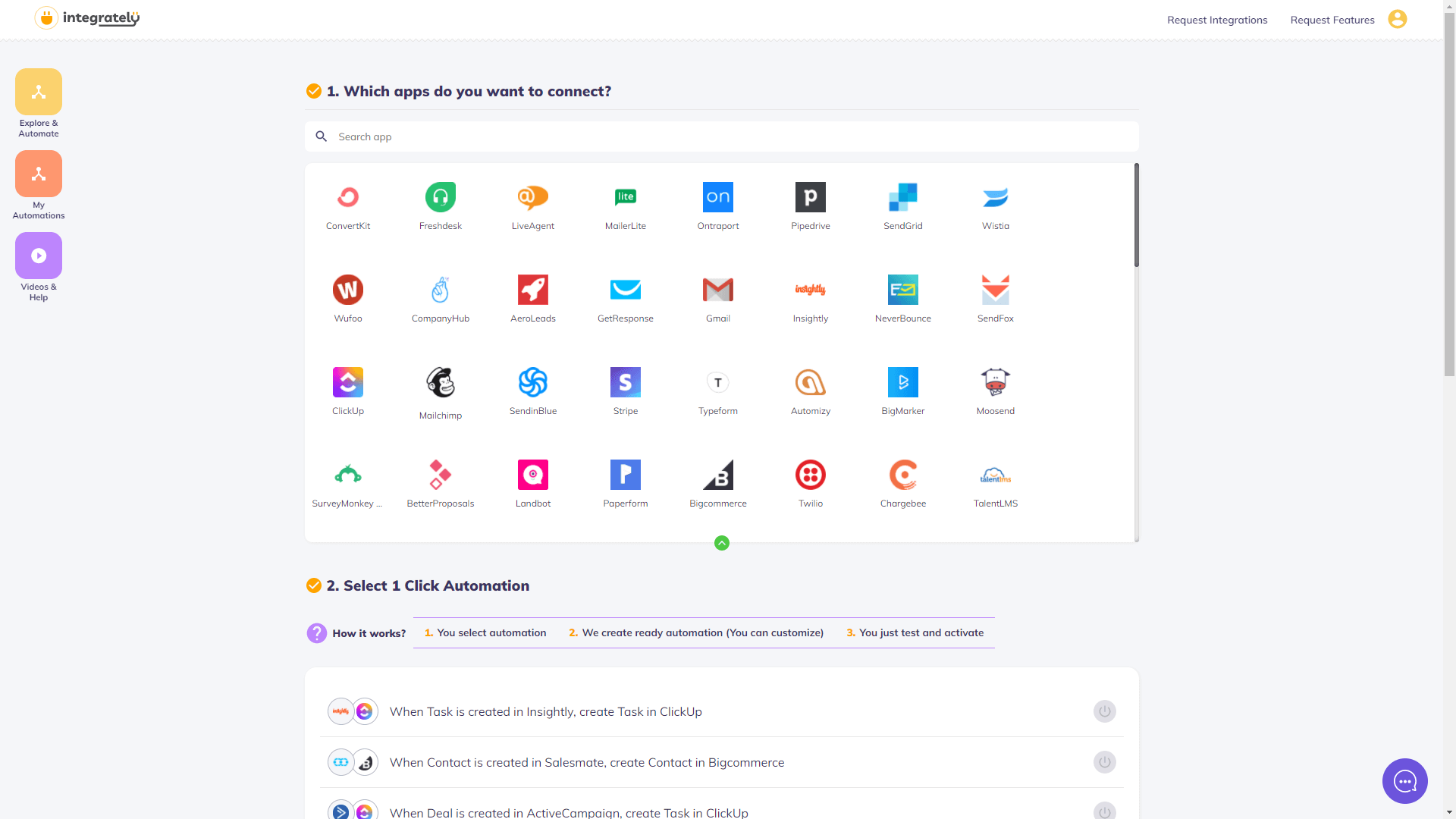 One look at the name of this tool should tell you everything you need to know: it's designed to make your tools integrate with each other and play nicely.
But what exactly does that mean? Well, imagine that you want to automatically create an invoice in your accounting software when a deal reaches a certain stage in your CRM, but neither of these have a built-in integration with each other.
Normally, if you don't know how to program, you'd be out of luck. Integrately, however, provides a visual interface that you can use to integrate the two tools together and get the functionality you're looking for.
To make things easier, it has an integration store that sells thousands of ready-made integrations for over 500 different tools.
Zapier
Zapier aims to solve the same problem as Integrately: how do you integrate apps that don't have built-in integrations?
Unsurprisingly, it found a similar solution: build a visual programming environment that doesn't require any coding knowledge. The end result is a tool that lets anyone build their own complex integrations and automations with just a few clicks.
PieSync
PieSync is similar to Zapier and Integrately, but with one major difference: it only works for syncing contacts between two apps that aren't normally integrated. As a result, its use case is much more limited, but if you need to make sure your data is synced across multiple tools, PieSync is a must have.
Conclusion
The sales tech world is changing rapidly, and new tools are coming out every day. If you want to keep up with your competition, you'll need to make sure that you're using the same tools that they are.
The tools we covered in this list should serve as a good starting point as you work to build your tech stack. But this isn't a comprehensive list. It's important that you monitor the tech space for new releases that could give you an edge over your competition. After all, the early bird gets the worm, and the early adopter gets the sale.