The Complete List of Sales Prospecting Tools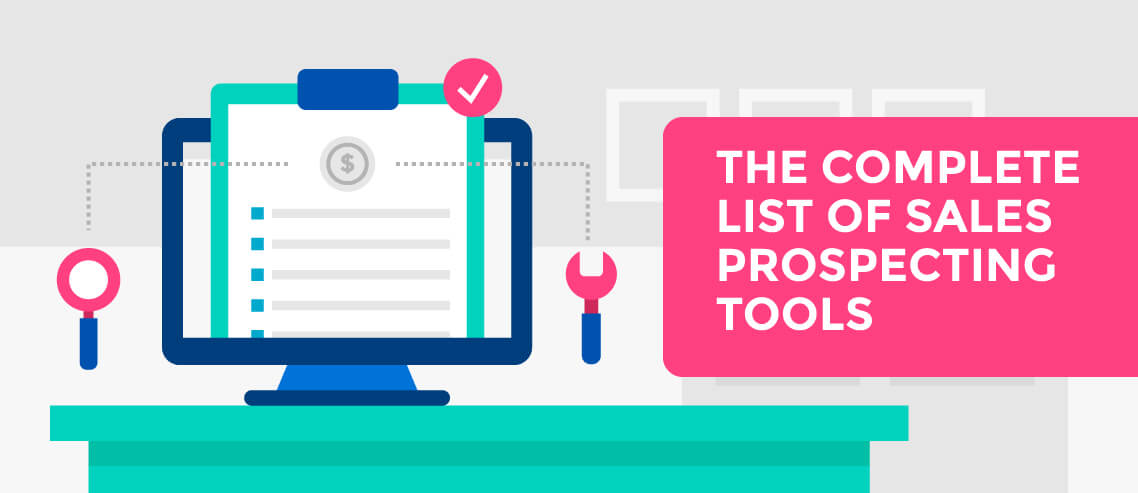 Are you looking to supercharge your sales team? Do you want more-qualified leads, better data, and the ability to empower your reps with sales prospecting tools that help them work faster and more efficiently – and most importantly, help them drive more sales?
The complete list of sales prospecting tools below includes everything needed to do just that – from streamlining and enhancing prospecting itself, to making more effective phone calls, sending better emails, and using time-saving AI technology to automate the process of engaging with prospects on routine matters around the clock.
Email Outreach Tools
Mailshake
Website: mailshake.com
Price: $59 per user, per month (details)
Free option: None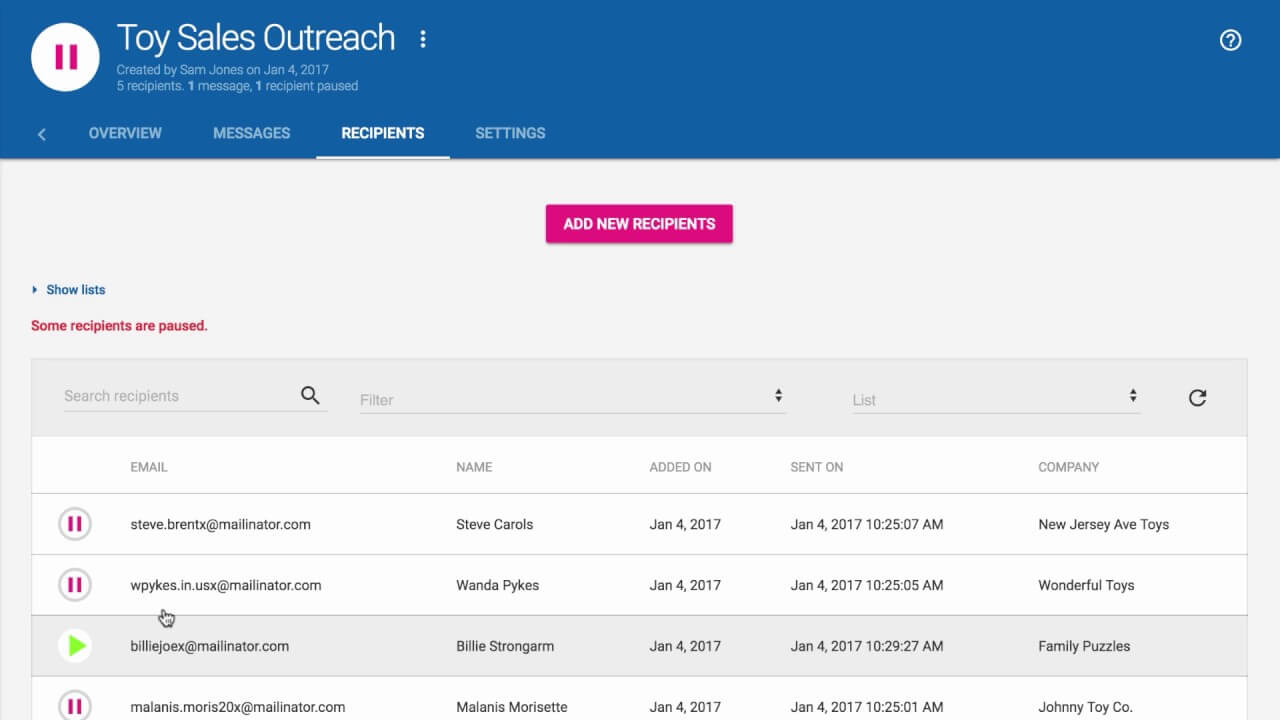 We'd be remiss if we didn't include ourselves in this list, so to summarize what we do: Mailshake is a simple solution for streamlining sending cold emails and getting better results based on how your campaigns are performing.
You can choose to use our proven-to-work templates or write your own, personalize emails on the fly, or answer a few simple questions and we'll generate a custom email for each of your campaigns.
You can also monitor clicks and replies, and schedule follow-ups to be sent automatically to respondents who don't reply.
Enriching Contact Details
The more you know about a prospect, the better positioned you'll be to adopt relationship selling methods, and the more successful you'll be at nurturing and closing sales. Here's a selection of some of the best tools available right now for automating the process of collecting prospect information and enriching contact details.
Voila Norbert Enrich
Website: voilanorbert.com/enrich
Price: $.04/email up to 2k, $.02/email up to 50k, $.015/email above that (details)
Free option 1: None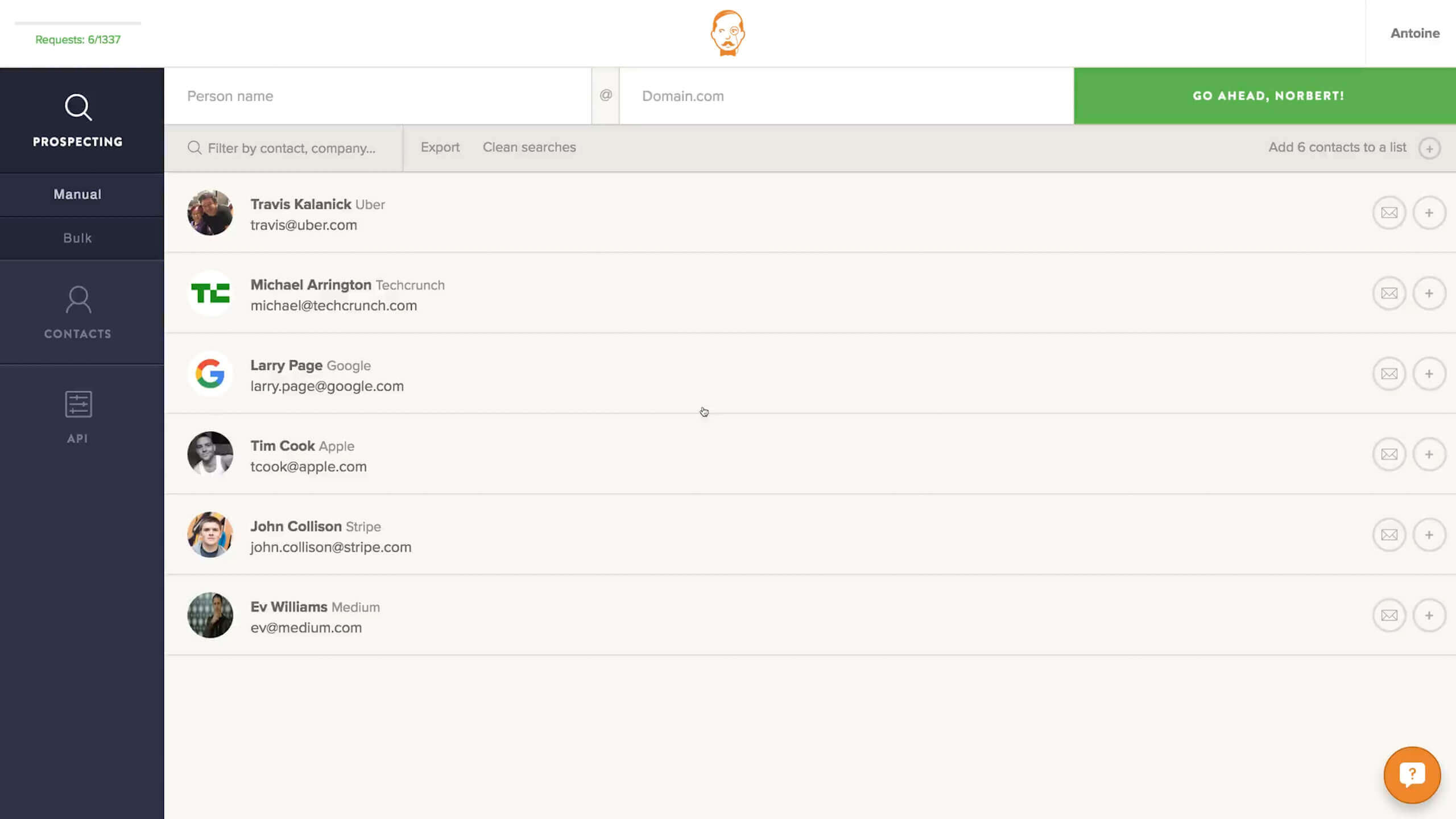 Voila Norbert is known for its email-finding tool (which was rated as the most thorough and accurate of all the email-finding tools on the market by Ahrefs), but they have another tool most people aren't aware of; enrichment. If you already have an email address, Voila Norbert can find the contact's "can fetch the current job title, employer, location and social networks of the person behind the email you are verifying. No accounts, no recurring payment, no bullshit."
AeroLeads
Website: aeroleads.com
Price: $49 – $499 per month (bespoke pricing offered to enterprise clients) (details)
Free option: Free trial with 10 free credits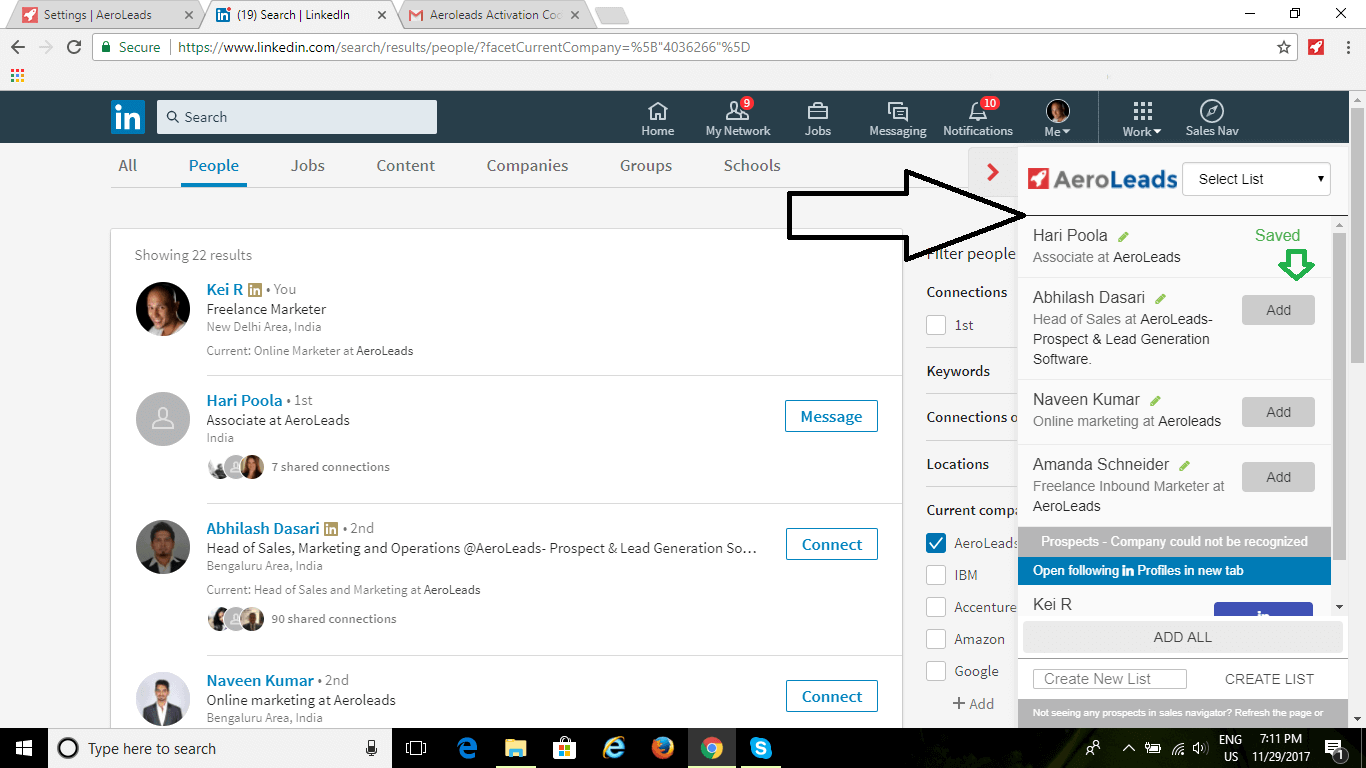 AeroLeads simplifies B2B prospecting so sales representatives can spend more time selling. It does this by finding business details of individuals and businesses in any location and industry, which you can export to your CRM and marketing software with a single click.
Cloze
Website: cloze.com
Price: $13.33 per user, per month, when billed annually, or $19.99 when billed monthly (details)
Free option: Smart Inbox and Contact Manager available for free. 14-day free trial for paid plans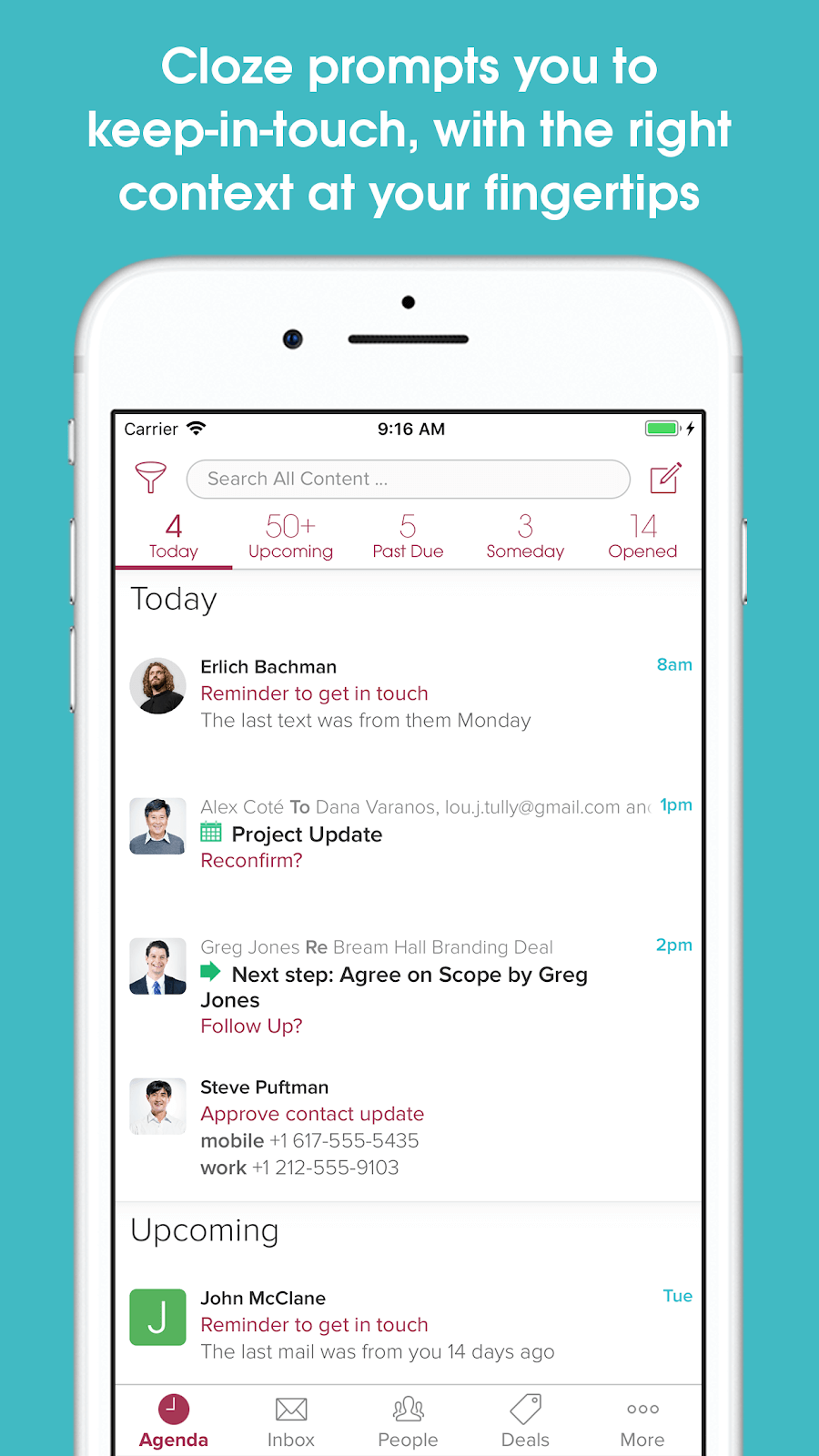 Cloze is like a personal assistant for your professional relationships that's always prompting you at the right moment and remembering what you don't. It pulls from your apps to automatically create one view of every person and company – all their contact details, and your complete history – every email back and forth, your phone calls together, meetings, notes, files, social, and messages.
It's all organized for you – without any busy work.
With everything in one place, Cloze uses AI to figure out who is important and keeps them top of mind, and will even remind you to reach out to a contact and refresh a fading relationship.
DiscoverOrg
Website: discoverorg.com
Price: Demo required (details)
Free option: Limited free data available (details)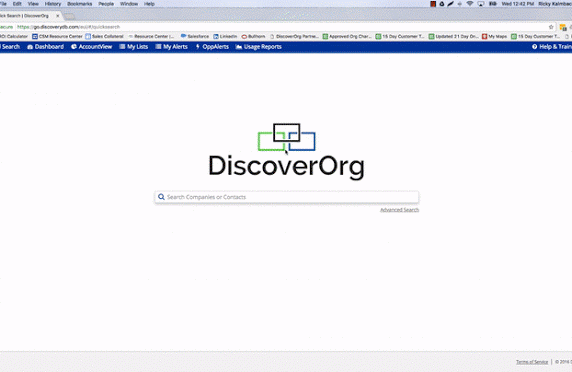 DiscoverOrg is an award-winning predictive sales intelligence platform that makes it easy to predict, prioritize, and monitor your target prospects, and conduct deep prospect research – so you can find more leads, build more pipeline, and close more deals.
It offers direct-dial phone numbers, verified email addresses, sales "trigger" alerts, a top-rated Chrome extension, and more. Better yet, their data is verified every 60 days by a human research team, and guaranteed to be 95% accurate.
FullContact
Website: fullcontact.com
Price: $99 – $499 per month (bespoke enterprise options available) (details)
Free option: Free limited access accounts available for both standard and developer users
FullContact improves sales prospecting by turning an email, social handle or phone number into a full person or company profile that you can use to prioritize and tailor your outreach.
The platform is configured so users can easily integrate the API with their CRM, sales, marketing or email platform, and enhance them with social profiles, affinities and demographics. Users can also create lookalike prospects that will help them understand their highest value customers and discover additional prospects from a global database of companies and people.
KickFire
Website: kickfire.com
Price: free chrome plugin (details)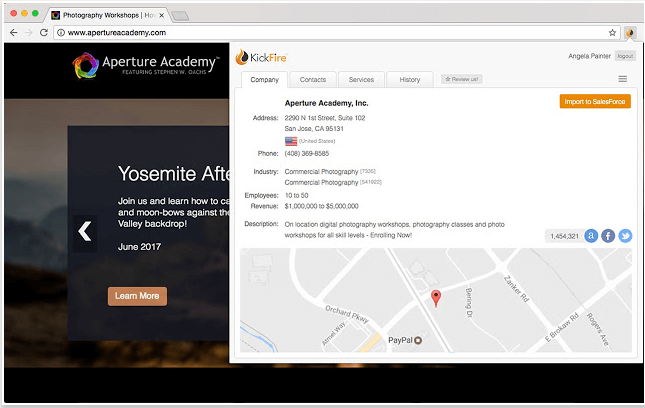 KickFire Prospector promises to reduce the time your sales team spends prospecting, increase the amount of qualified accounts in the sales pipeline, and maximize productivity. It also offers a browser extension designed to find leads, get verified contact information, and push new accounts into your CRM − all without having to leave a website. KickFire also offers IP address intelligence & B2B firmographic data that allows you to translate IP addresses to companies, identify anonymous web visitors, and integrate account data into your technology stack – all based on company's IP address
Leadspace
Website: leadspace.com
Price: Demo required (details)
Free option: None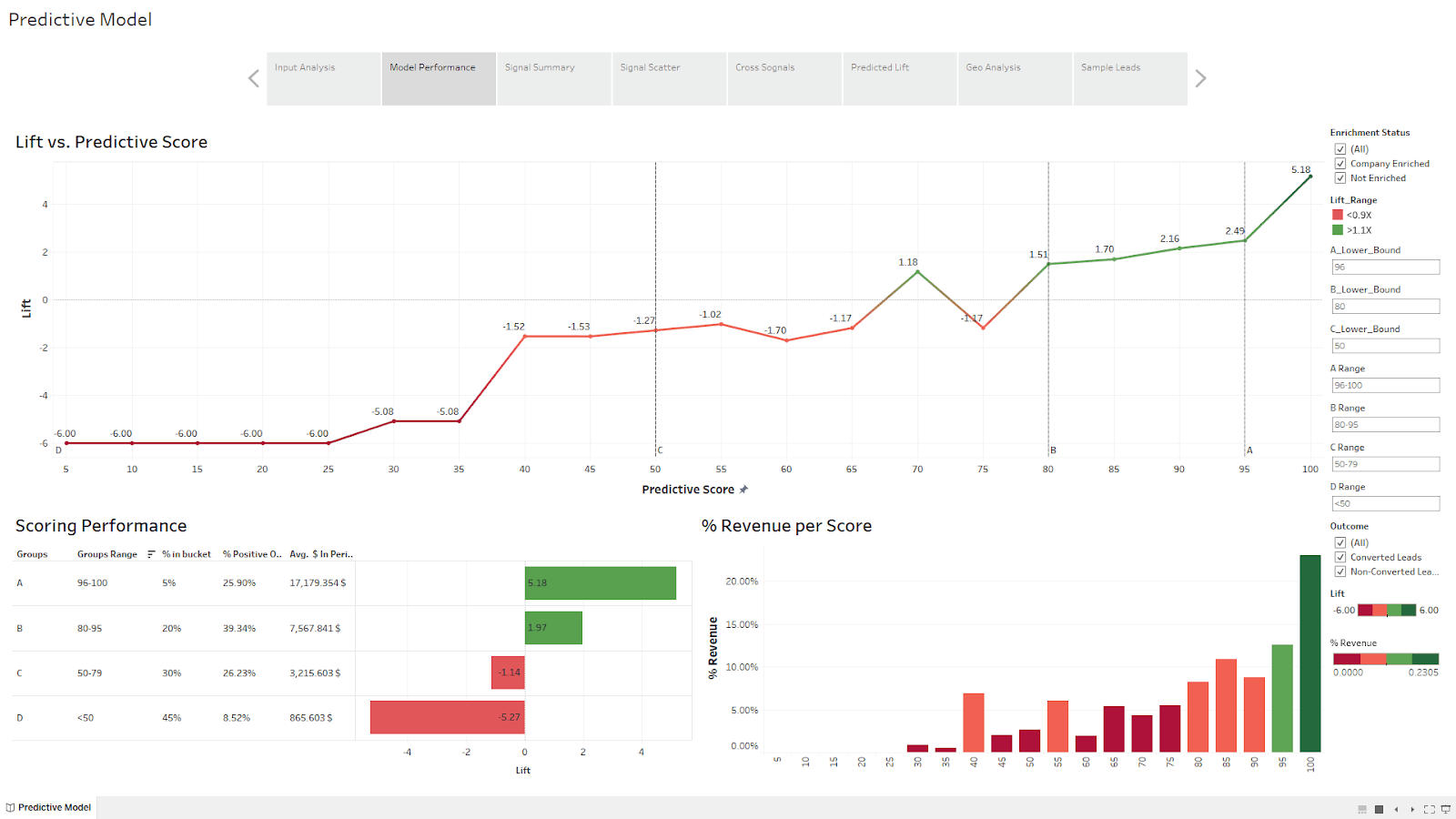 Leadspace B2B Audience Management Platform provides Sales and Marketing with up-to-date, highly accurate data and intelligence on the account and individual level to find, engage and convert their ideal customers – with turnkey integrations into leading CRMs, including Salesforce.
Leadspace's real-time data enrichment ensures Sales have all the information they need to know who to engage with, how to engage them and when to reach out, drawing from over 40 third-party data sources to append over 100 fields of accurate, current data to each contact/lead/account. Leadspace data goes far beyond generic fields like job title or company name, to include highly actionable information like installed technologies, seniority, job responsibility and intent data. Leadspace lead-to-account matching enables efficient lead routing and account-based marketing – with site-level matching capabilities taking this a step further by providing full visibility into "parent" accounts – while Leadspace predictive scoring lets sales reps effectively prioritize their efforts by accurately predicting which prospects are most likely to buy.
For prospecting, Leadspace uses Artificial Intelligence to discover "look-alike" prospects who closely resemble your best existing customers, and then pinpoints the decision-makers and influencers within those companies for effective account penetration.
Nudge.ai
Website: nudge.ai
Price: $19.95 – $59.95 per month (details)
Free option: Limited free forever plan. 30-day free trial for paid plans.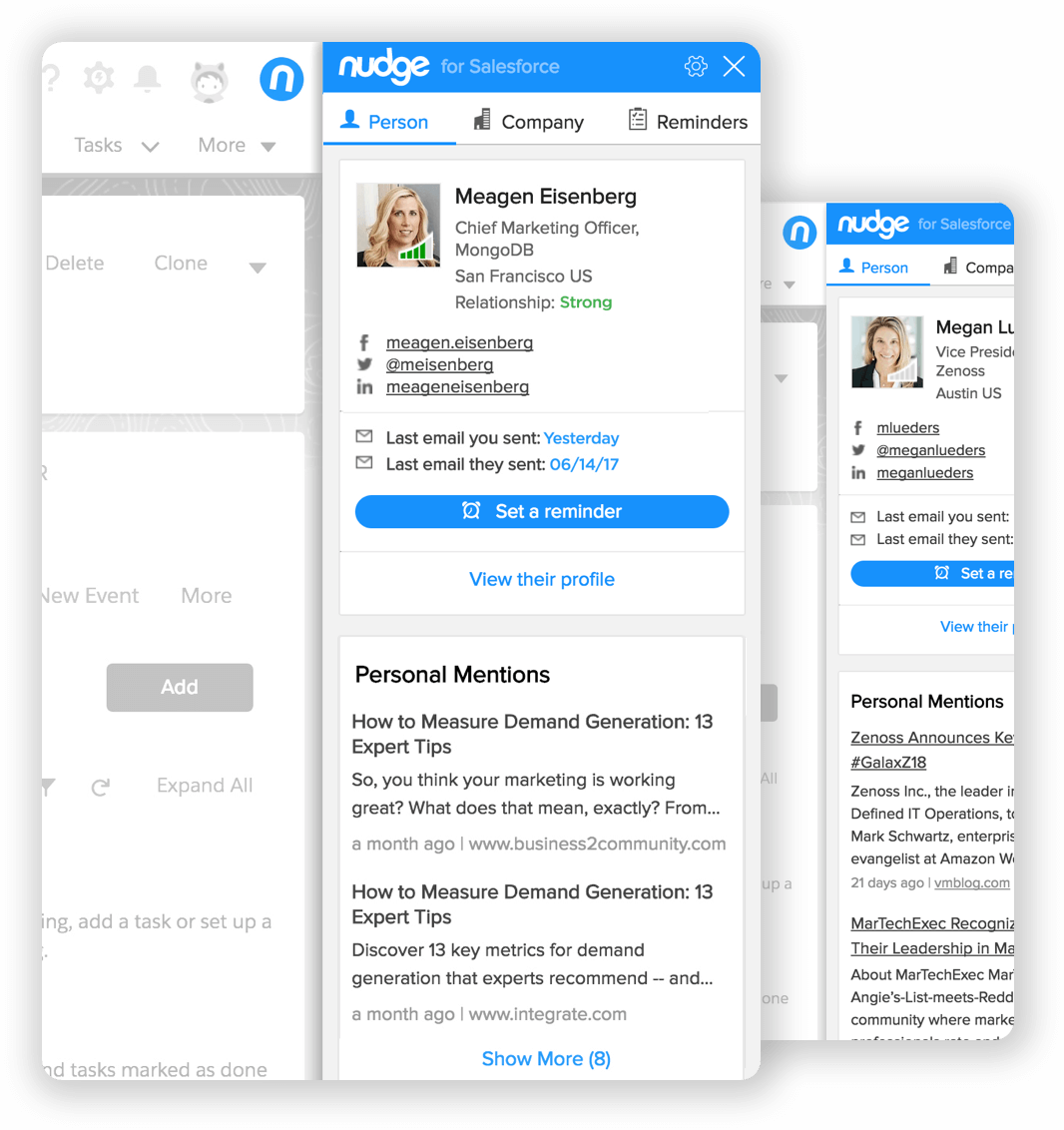 The most difficult part of winning any deal is finding it, so Nudge promises to turbo-charge your sales performance by giving you a way to access any account on your list.
Insights on a person can help spark a conversation. Being first to share game-changing company news allows you to share an interesting point of view. Knowing that the buyer is close with your CMO can lead to a warm introduction.
Nudge will do the repetitive task of digging up insights so you can act on them, and get the deal moving.
EmailAnalytics
Website: emailanalytics.com
Price: $15 per month per user (details)
Free option: 14-day fully-featured free trial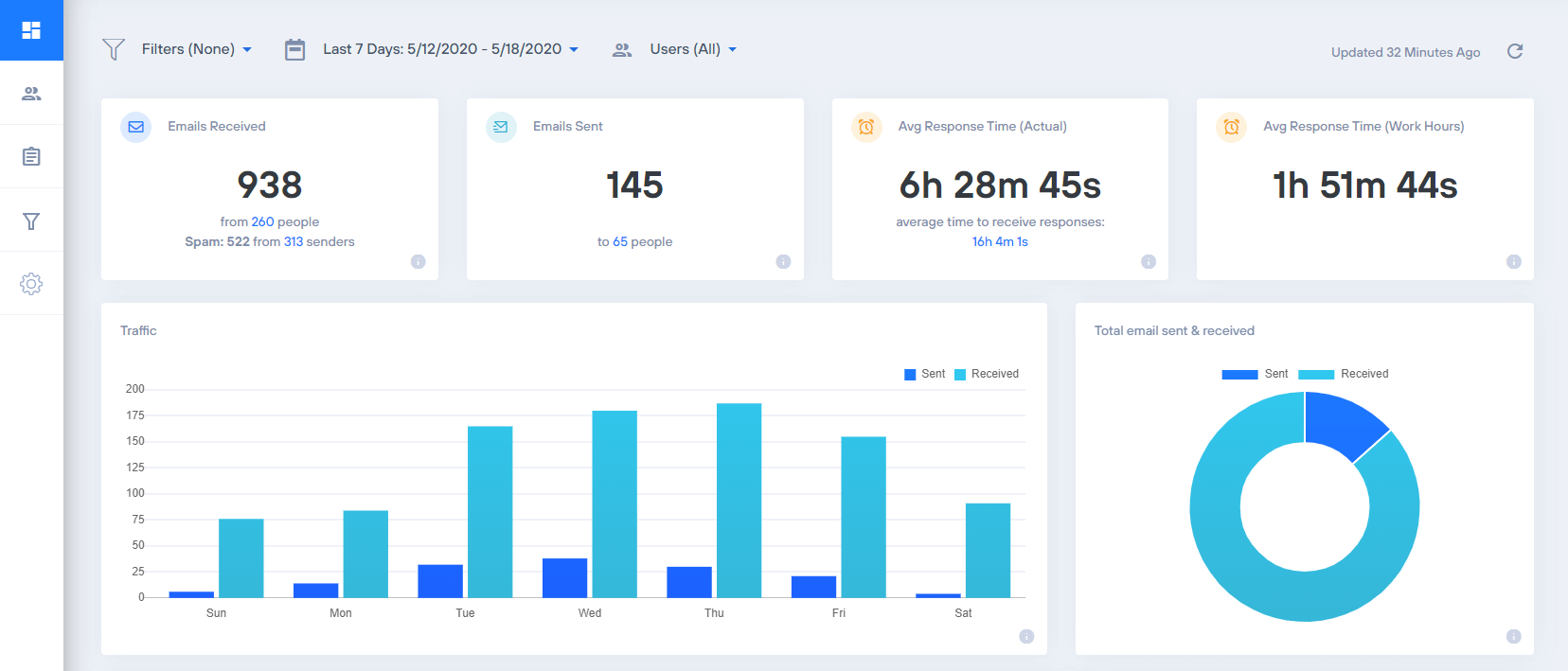 EmailAnalytics is a simple-yet-robust app that enables you to track, monitor, and visualize email activity for your team (such sales and customer service teams). It provides you with daily email reports to make it super easy to track performance for each of your team members without leaving your inbox.
Learn your team's emails sent and received, busiest times of day, busiest days of the week, and key performance indicators such as average email response time. It's all possible and super easy with EmailAnalytics.
RocketReach
Website: rocketreach.co
Price: $49 – $299 per month (details)
Free option: 5 lookups a month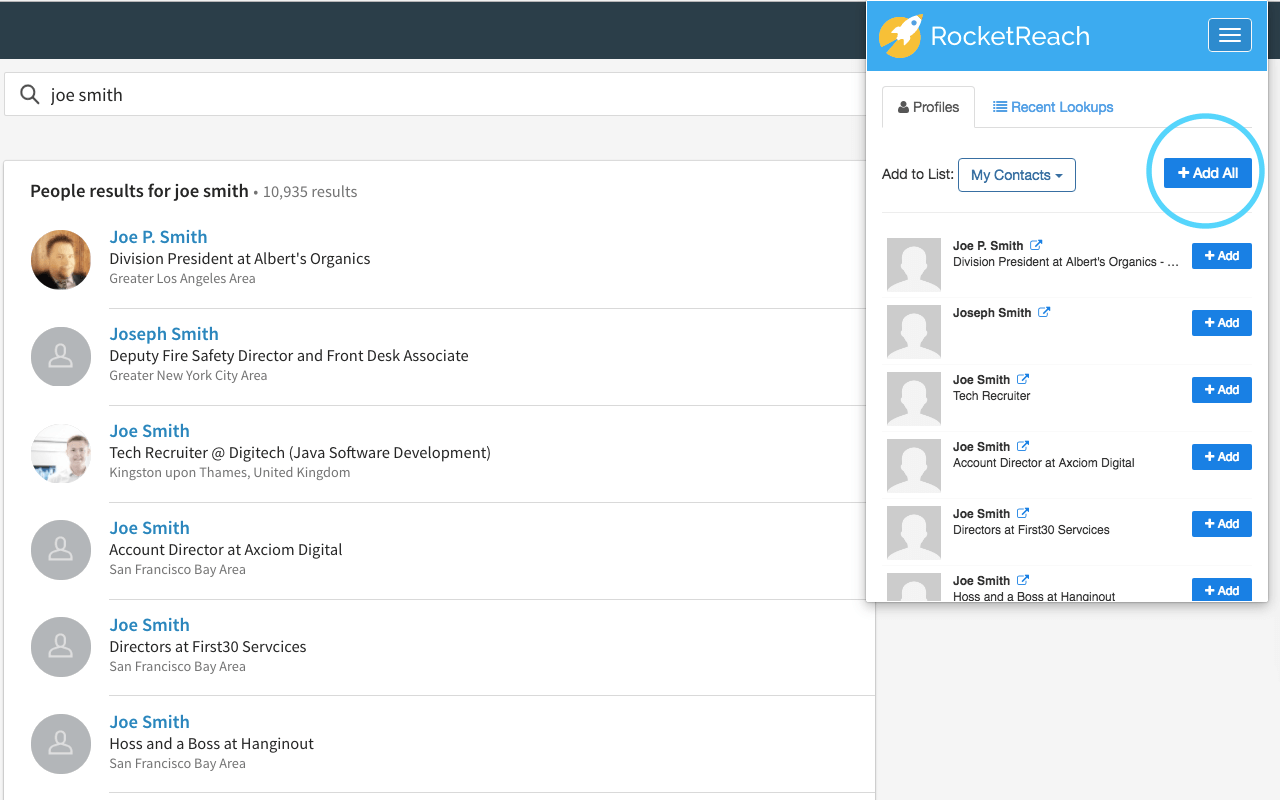 RocketReach makes it really easy for users to find contact info for sales prospects – and it promises to be super accurate at it too (it boasts over 87% accuracy, and a dataset that includes over 400 million professionals, across 6 million companies). RocketReach currently has over a million registered users, and is trusted by the who's who of the S&P 500 – including customers like Amazon, Facebook, Google, Morgan Stanley.
Refiner
Website: refiner.io
Price: $99 – $699 per month
Free option: 14-day free trial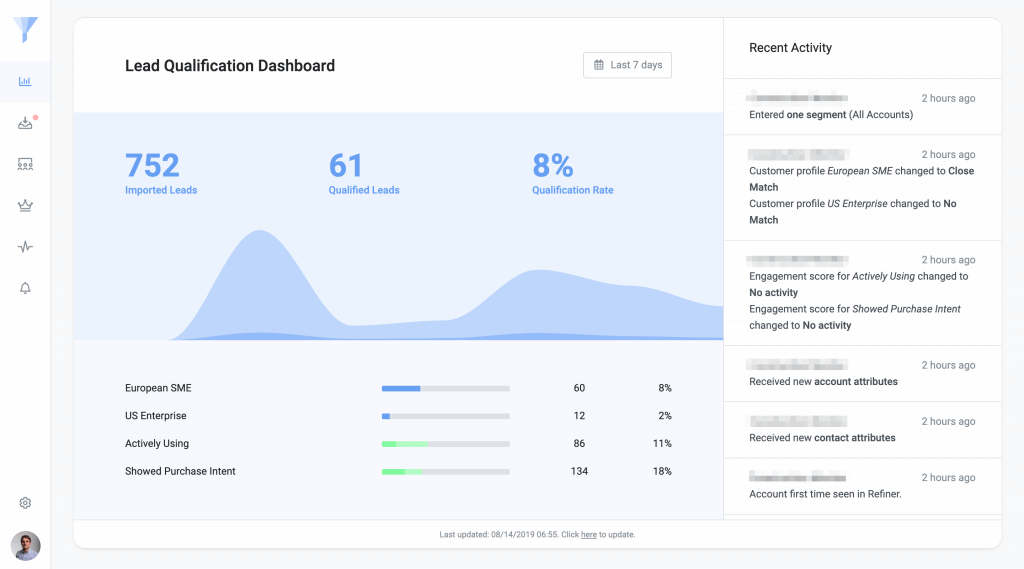 Refiner is a lead qualification software helping B2B SaaS companies with a self-service model to go upmarket by closing more high-value deals. By leveraging data enrichment and behavioral tracking,
Refiners uncovers your product qualified leads continuously and provides you with insights to start more relevant sales conversations with them. With Refiner, your inside sales team always knows which opportunities to pursue and when, and how to engage those people successfully.
SalesWings
Website: saleswingsapp.com
Price: $99 – $499 per month (details)
Free option: 14-day free trial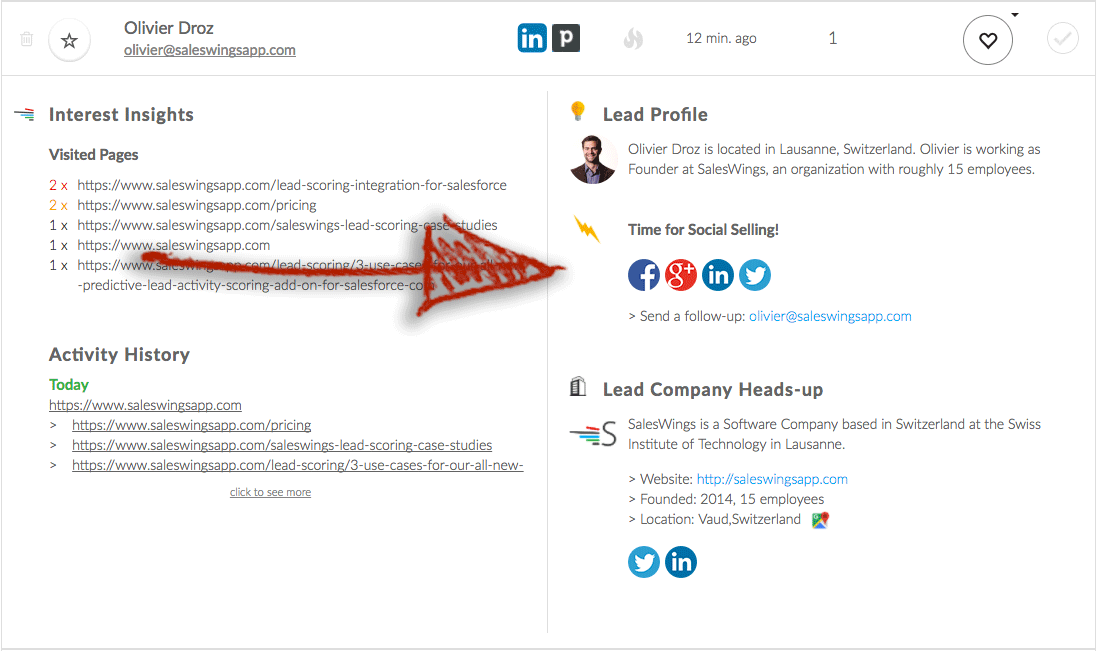 SalesWings tracks your lead's website engagement, applies lead scores automatically, and connects to sales and marketing technology to trigger actions. It does this using its own proprietary predictive activity algorithm that analyzes and compares website visits of sales or marketing leads, and automatically filters out the 5-20% most interested.
SalesWings also provides lead intelligence data, which includes information about the leads, links to their social media profiles, and key data about the company they're part of.
Synthio
Website: synthio.com
Price: Demo required (details)
Free option: 7-day free trial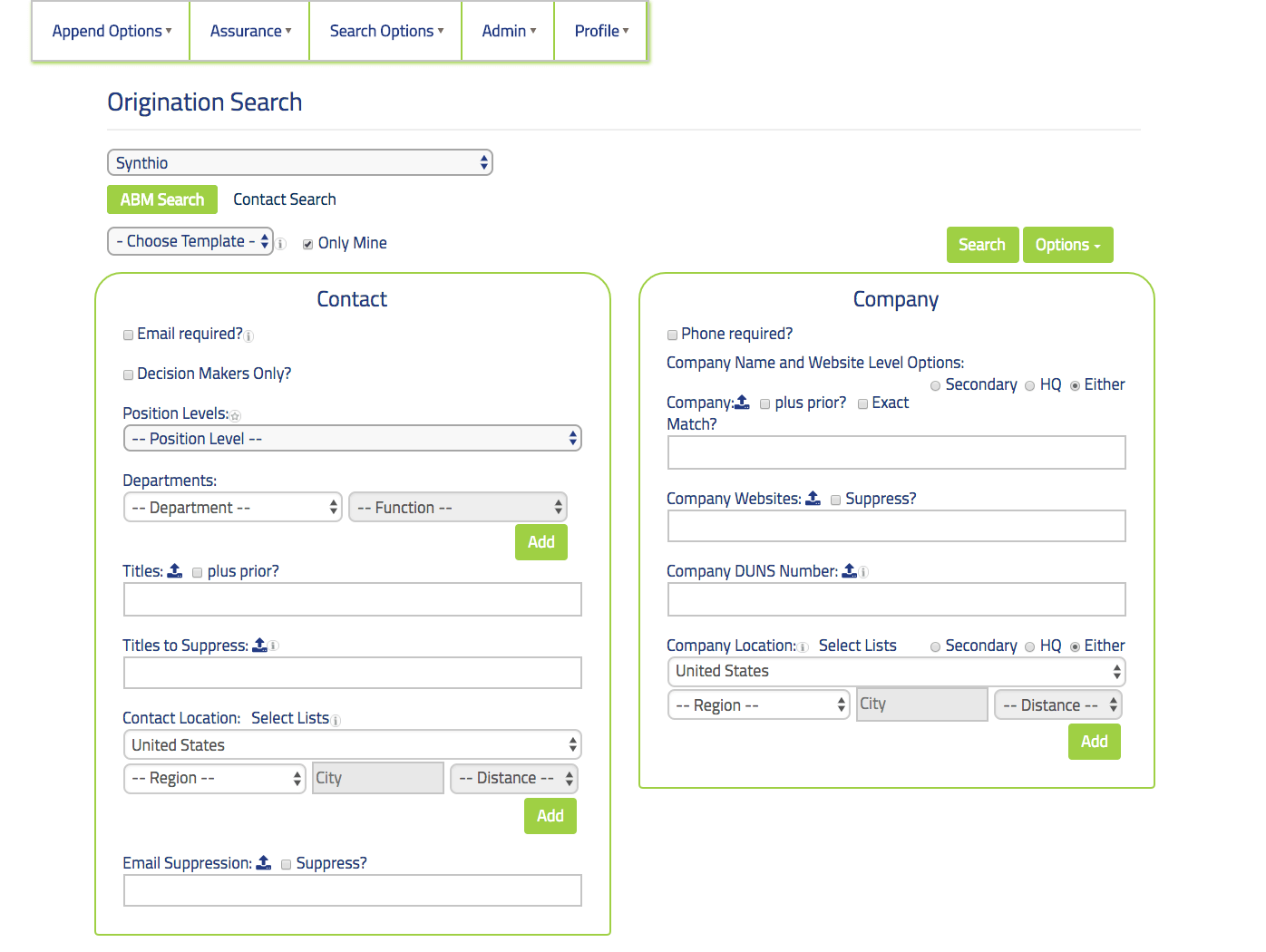 Synthio is an 'always-on' customer data platform that enables real-time data cleansing, enrichment, and database management.
Outdated data, whitespace, misinformation, and technical hurdles can create a big gap between you and the people you're trying to reach – costing millions in wasted efforts and missed opportunities. Synthio helps you close the gap with global coverage that stays current by following the people, not the company.
ZenProspect
Website: zenprospect.com
Price: Demo required (details)
Free option 1: Free 1,000 leads with verified emails and guaranteed 95% deliverability (details)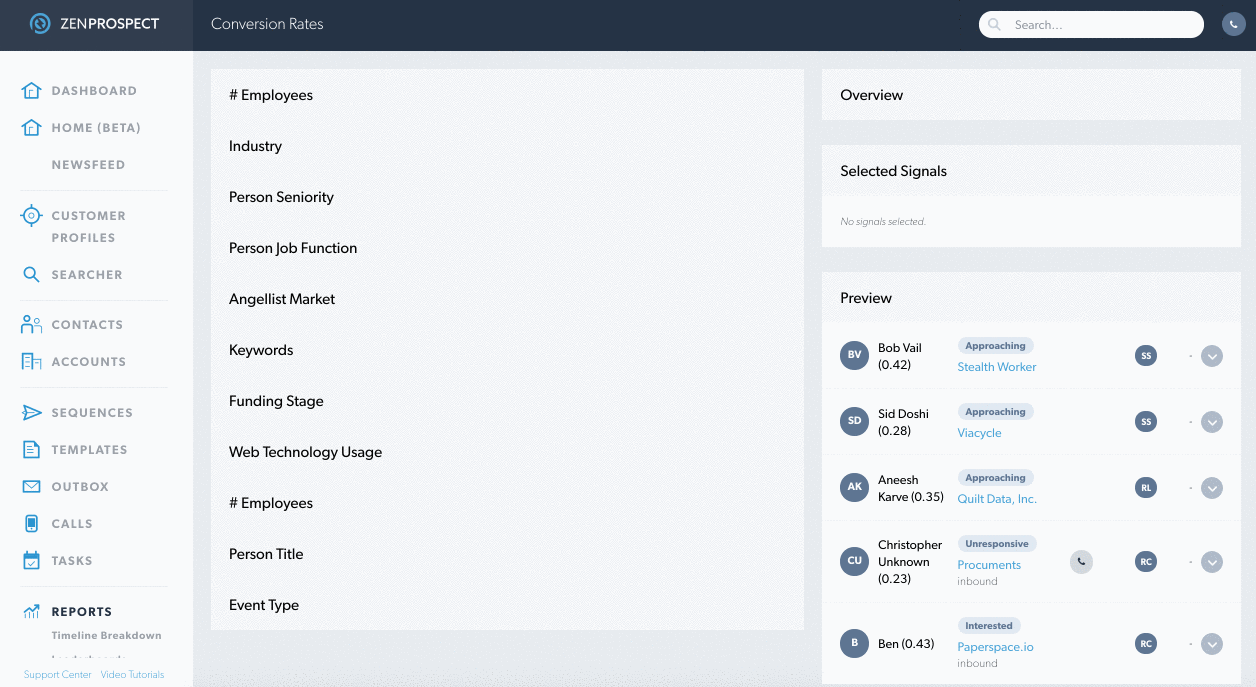 ZenProspect is a unified sales platform that helps sales teams generate qualified opportunities.
They do it by mapping their 160 million strong B2B database to their completed tasks and closed won data to provide insights on how to sharpen customer profiles.
Users also benefit from custom reporting in pre-built dashboards that have been designed to meet the needs of top sales teams.
ZoomInfo
Website: zoominfo.com
Price: Demo required (details)
Free option: Limited free trial (details)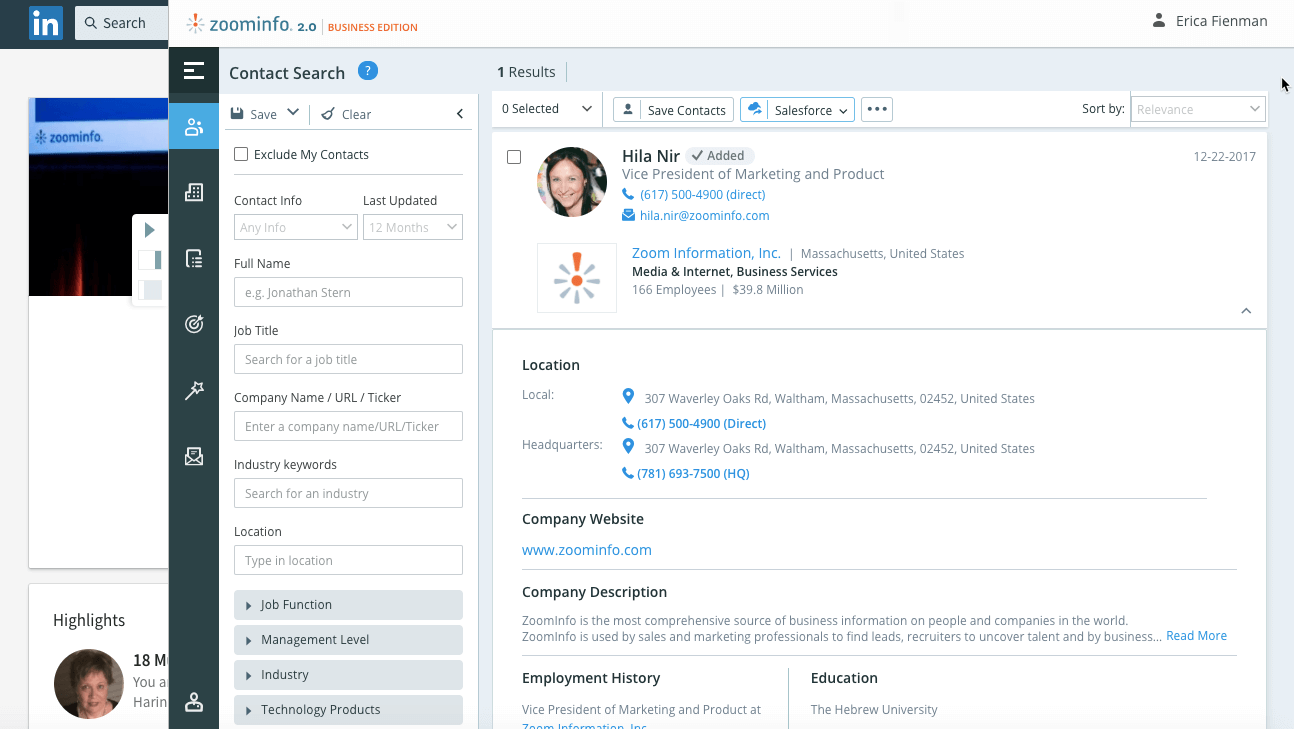 Simplifying prospecting is easy and quick with ZoomInfo's ReachOut extension. Get direct phone numbers and email addresses while viewing LinkedIn profiles, corporate websites, or Leads, Accounts, and Contacts in Salesforce.
Finding Prospects
Finding prospects is easy – so much so that there are countless companies offering to sell you "leads." Unfortunately, not many of them manage to live up to what they claim. Expect to receive unqualified leads at best, and expired email addresses and phone numbers at worst.
Here are some of the best sites around for discovering quality prospects who could benefit from your product – and are in a position to buy.
Voila Norbert
Website: voilanorbert.com
Price: $ 39 – $399/ month (details)
Free option: 50 credits for free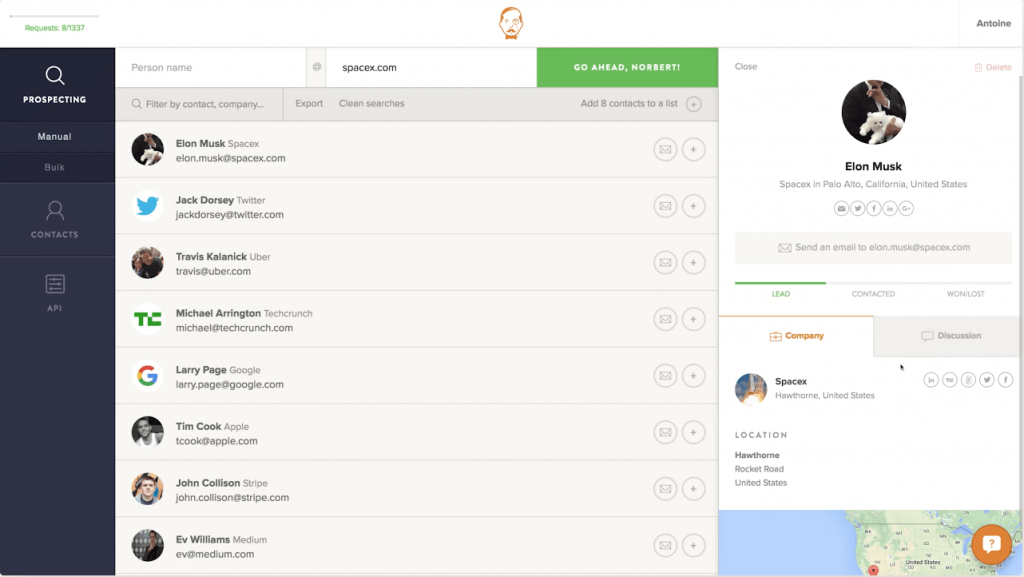 Voila Norbert claims it can find anyone's email address so it's no surprise to see it #1 in our 'finding prospects' section of the article. Ahrefs elected it the most accurate email finder on the market with an 87% success rate. Norbert offers a great pricing plan as users can pay as they go or sign up to a monthly plan depending on their prospecting needs. For professionals that have high-volume needs you can get in touch for custom pricing.
Accompany
Website: accompany.com
Price: Demo required
Free option: Relationship management app (details), Accompany for Gmail (details)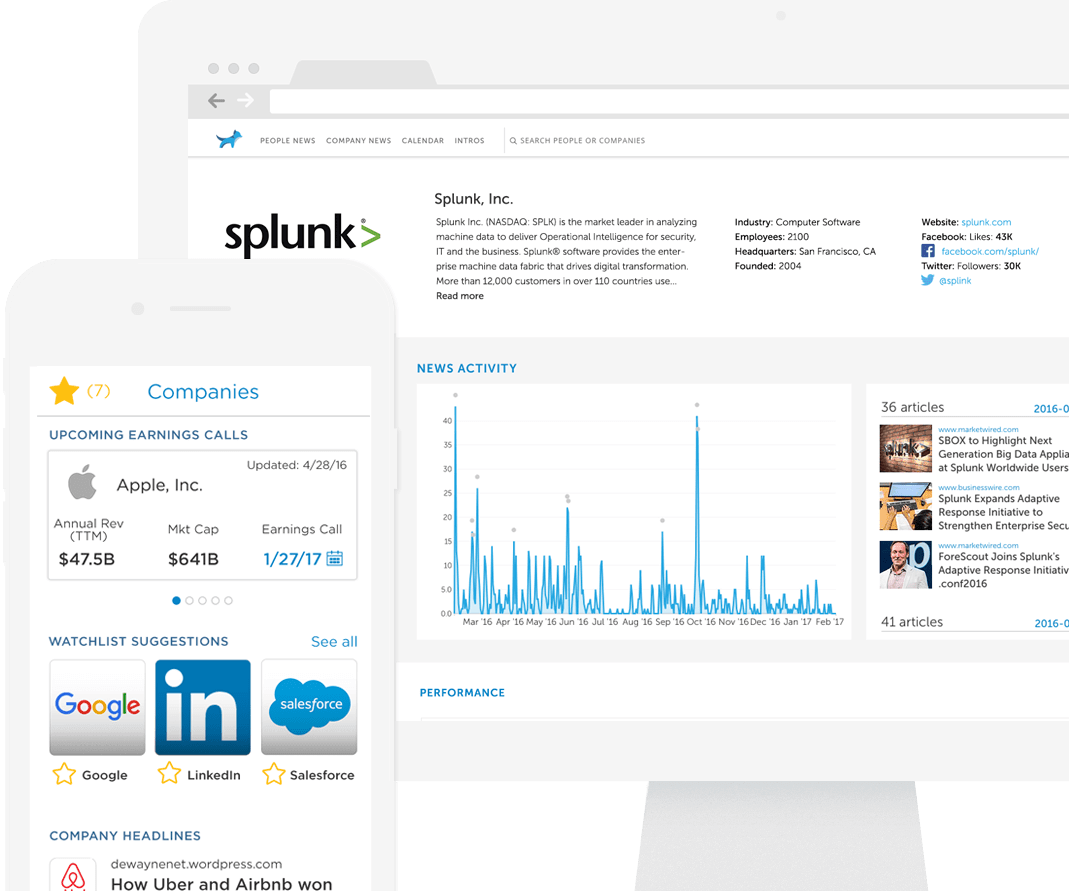 Accompany creates AI-driven products for finding new prospects and strengthening your relationships, built on the largest database of senior decision-makers in the world. Accompany's free relationship management app provides sales professionals with constant, contextual insight into the relationships that are important to them, making every interaction deeper and more relevant. Their enterprise products take things even further by providing large teams with competitive analysis, curated prospect lists, and more.
BuiltWith
Website: builtwith.com
Price: $295 – $995 per month (details)
Free option: Free forever for individual site lookups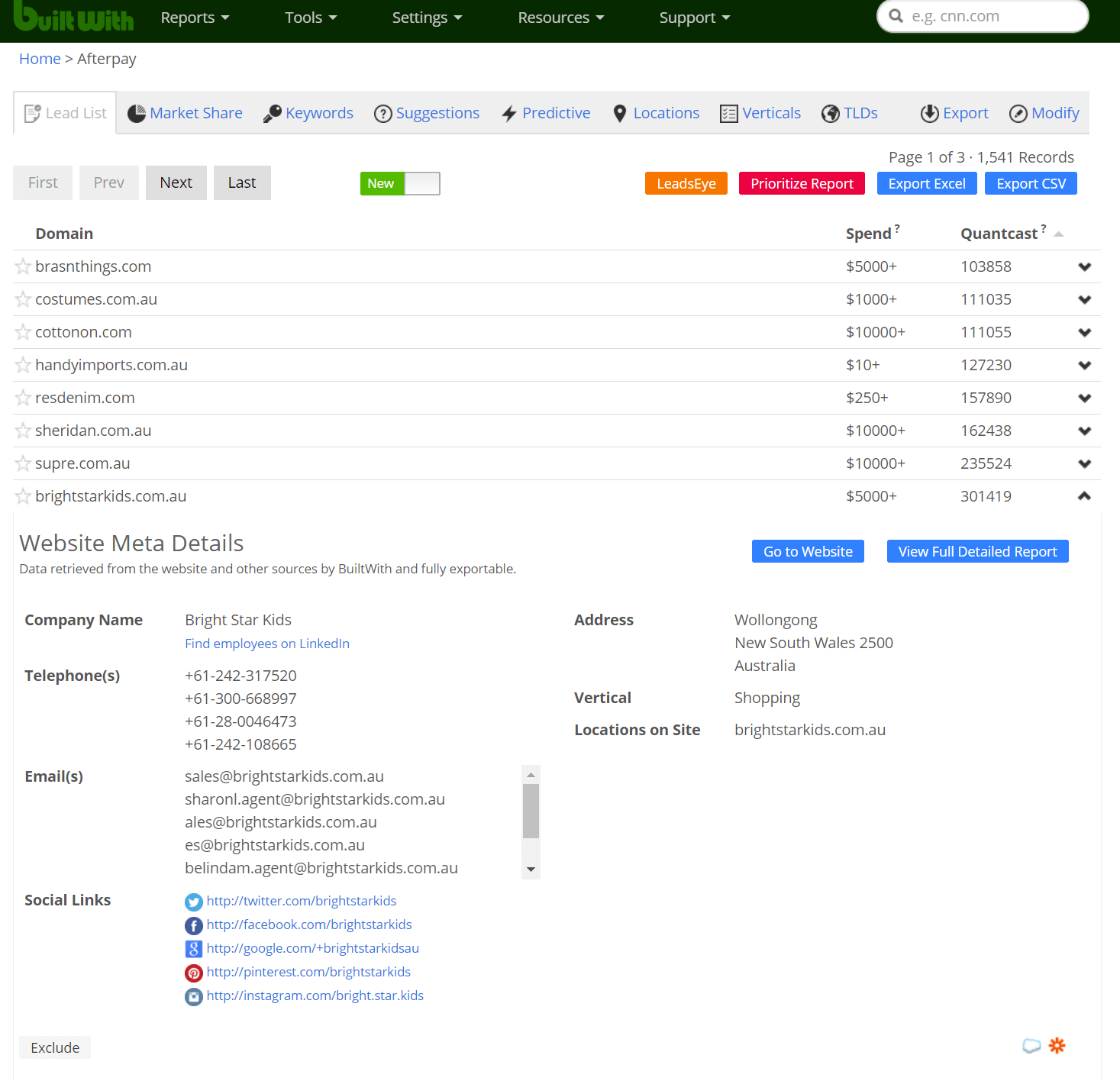 BuiltWith helps to identify websites using specific web technologies, as well as identifying technology spend, location information, verticals and many other options to filter and create a solid lead list of websites based on their technology and internet footprint.
The Big Willow
Website: thebigwillow.com
Price: $7,500 – $20,000+ per month (details)
Free option: One month use of The Big Willow Account Discovery pixel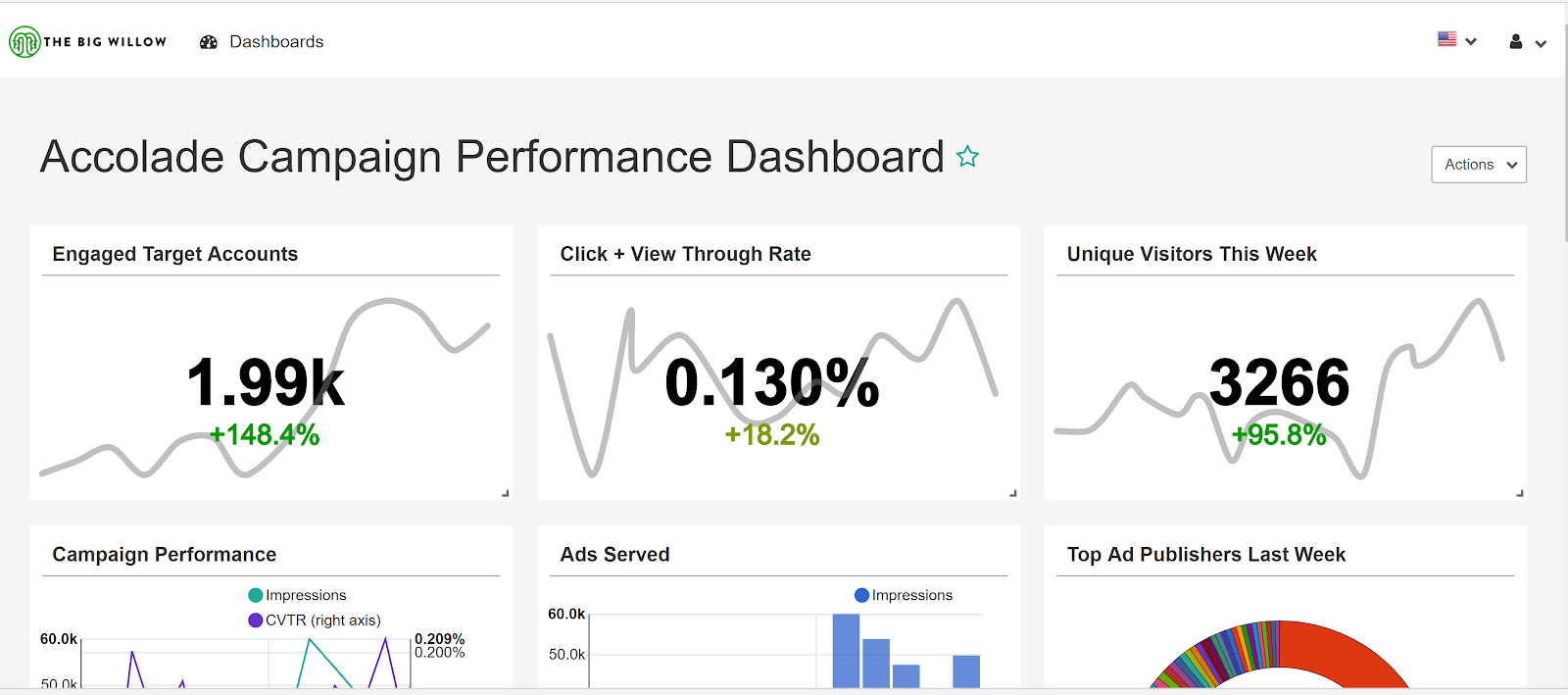 The Big Willow uses data science and machine learning to create accurate buyer intent signals that show the current total active market across hundreds of B2B categories. Sales teams can then apply their target accounts against the total active market and find out what percentage of the whole is currently in market while at the same time finding hundreds – even thousands – of lookalike companies that are sales-ready now.
DueDil
Website: duedil.com
Price: Demo required (details)
Free option: None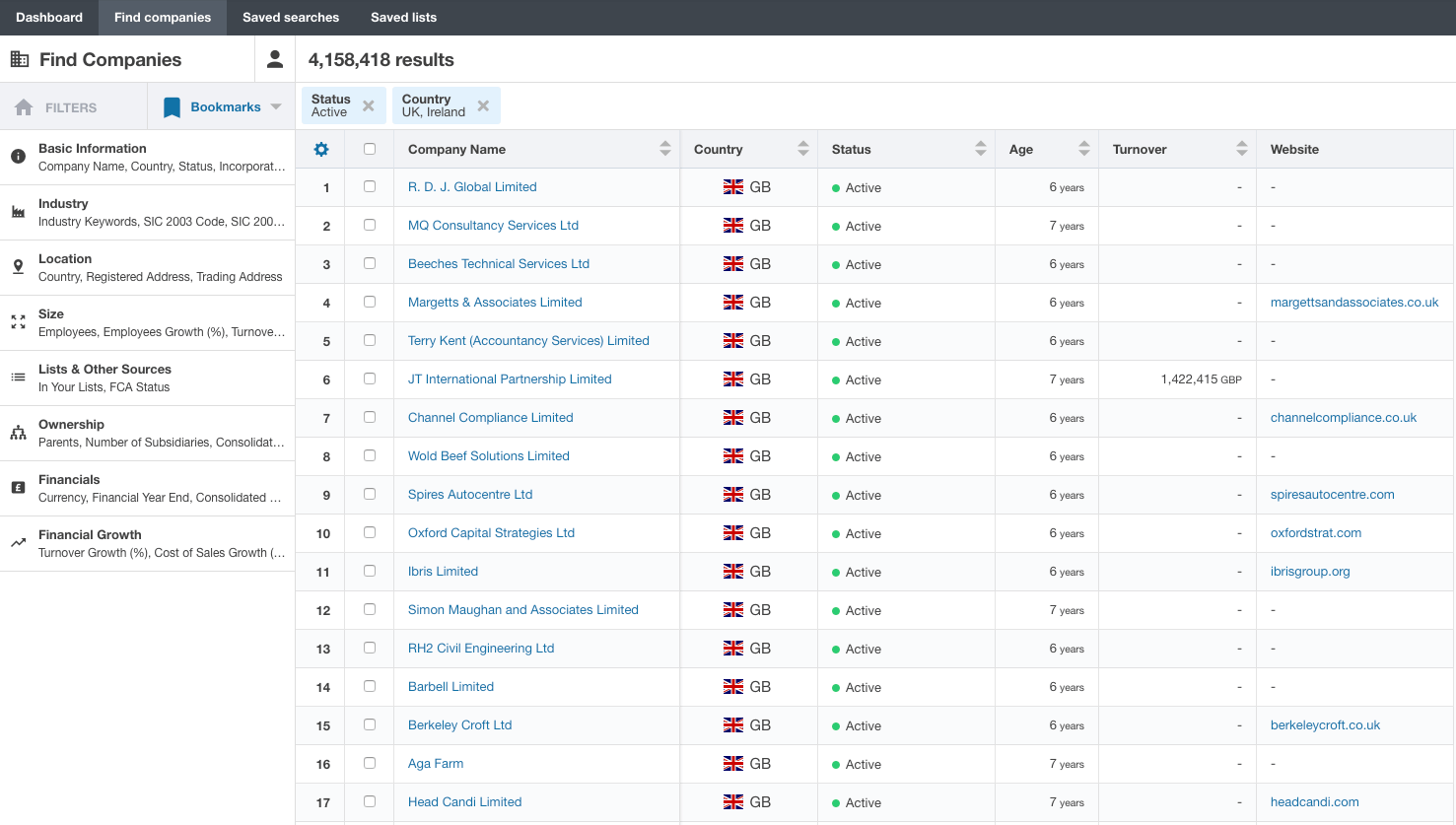 Expand your company's addressable market by identifying net-new prospects that are not currently on your radar. Strike the right balance between coverage, granularity and reducing noise. You can find the different datasets available here.
With DueDil, you can:
Create or refine your ideal customer profiles
Understand the size of your target market instantly
Export net-new prospect records directly to your CRM
Utilize an accurate source of data that can be used across multiple teams in a company
ContactOut
Website: contactout.com
Price: $19.99 per month
Free option: One month free trial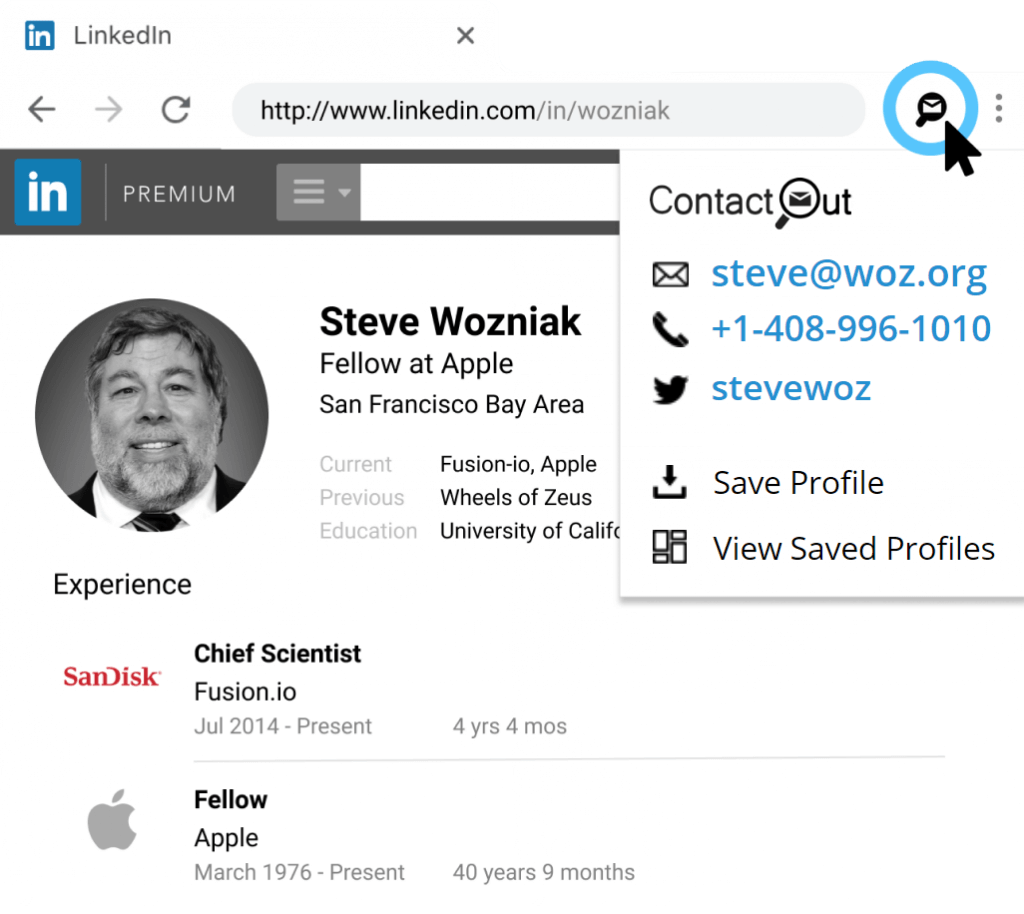 ContactOut primarily features a Google Chrome extension that helps you find the email address of anyone on LinkedIn and GitHub. It also fetches their phone numbers and their social media profiles. The tool lets you save and organize your leads in an easy-to-use dashboard. It also provides you with a comprehensive search portal that lets you find the email addresses of people that aren't on LinkedIn or GitHub.
Dux-Soup
Website: dux-soup.com
Price: $15 per month (details)
Free option: Free access to limited features

With a single click, Dux-Soup visits thousands of targeted LinkedIn profiles on your behalf, and invites them to connect with you. You can even tag prospects and leave notes, and then export the data into Excel or your CRM so you can quickly and easily share the information with your entire team.
Node.io
Website: hello.node.io
Price: Demo required (details)
Free option: None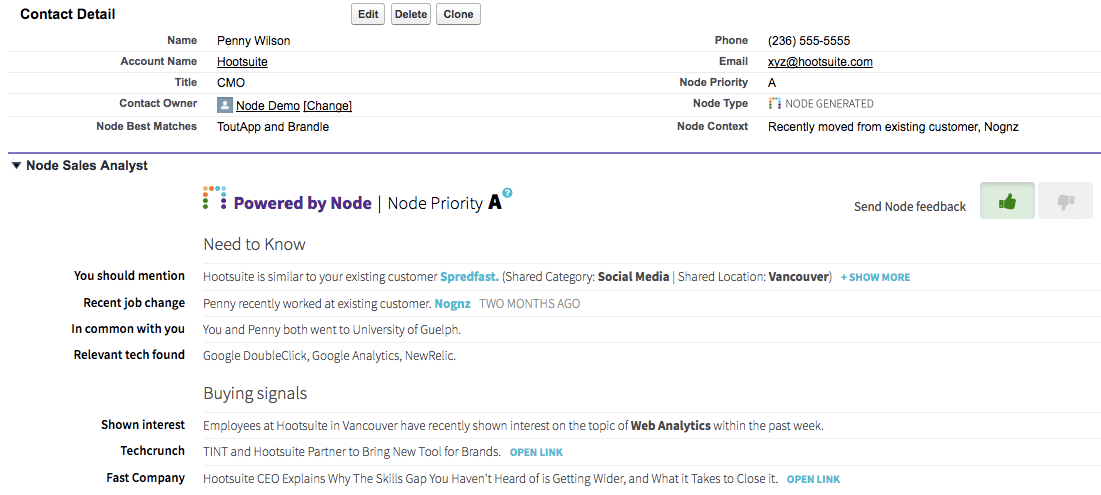 Node can help you identify new target companies that match your ideal customer profile so you can reduce research time and how long you spend on outreach. The platform also offers actionable insights on how to go after companies in new markets.
LeadSift
Website: leadsift.com
Price: Demo required (details)
Free option: None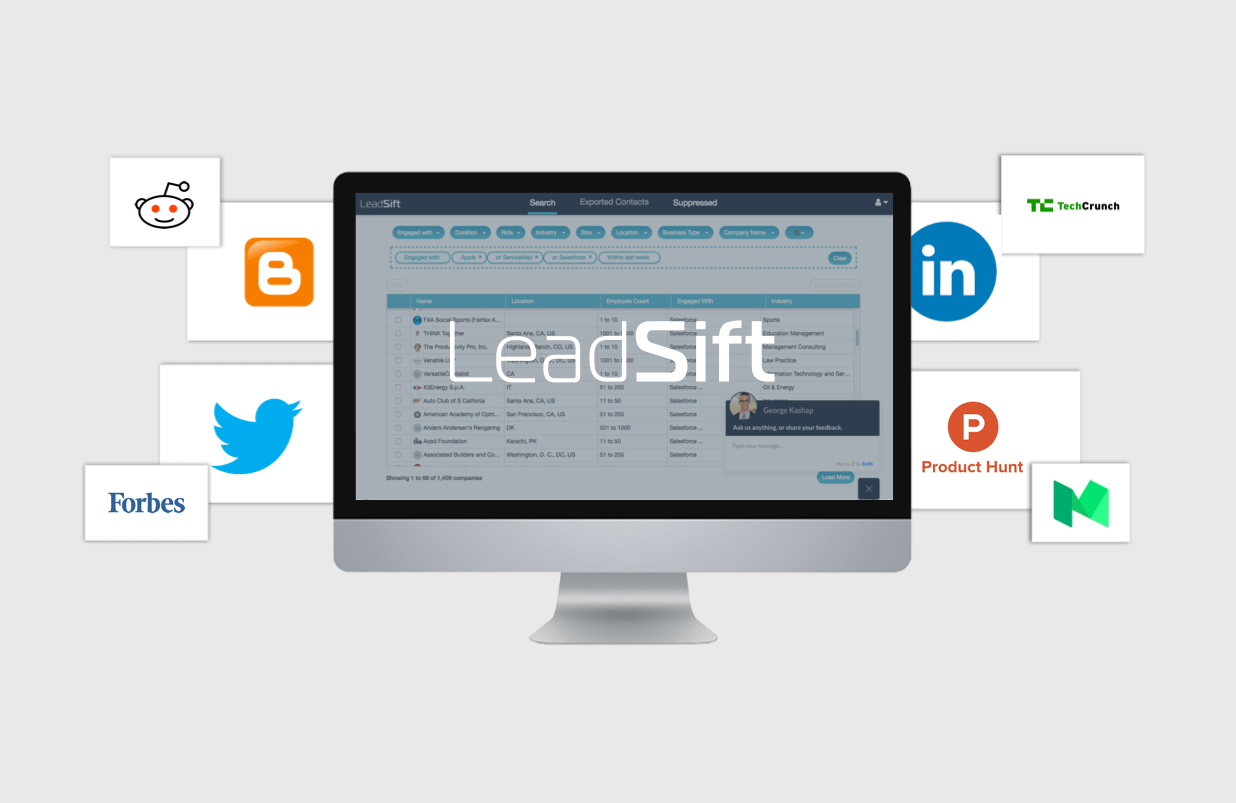 LeadSift is a sales intelligence platform that helps B2B software companies identify and reach target accounts based on how they are engaging with their competitors. The average LeadSift customer gets 200 qualified prospects each week that have signaled an intent.
Leadfeeder
Website: leadfeeder.com
Price: $53 – $269 per month (details)
Free option: 14-day free trial of premium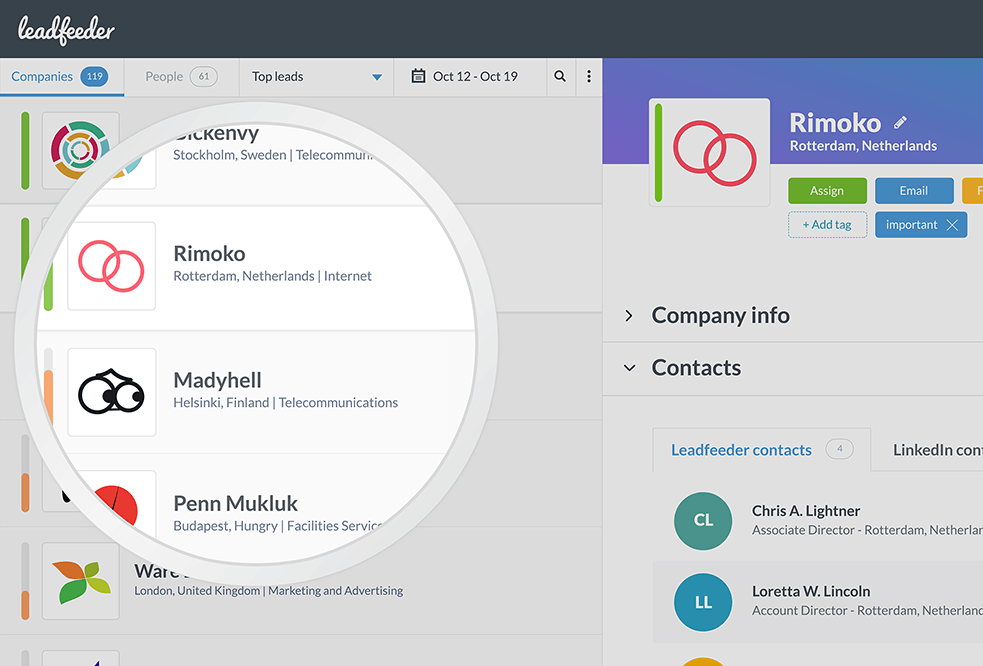 Leadfeeder is a powerful sales intelligence tool ideal for prospecting. It integrates with your google analytics to show you which companies have been visiting your website, as well as how they have been behaving there. Enabling you to intelligently connect with businesses who have already shown an interest in your services.
SalesRipe
Website: salesripe.com
Price: $49 – $129 per month (details)
Free Option: 7-day free trial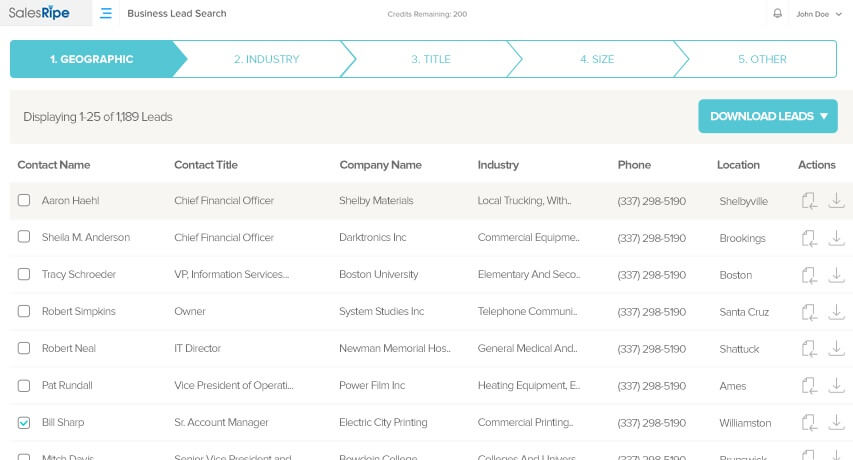 SalesRipe is an easy-to-use lead generation platform that provides targeted business sales leads. You can search by over 30 criteria including industry, location, company size, contact title, job function, management level, technologies used and more. You then get instant access to direct email addresses and phone numbers for your next best customers. There is a 7-day free trial with no credit card required.
Vainu
Website: product.vainu.io
Price: From $450 per month (details)
Free Option: Freemium accounts are offered, with access to limited features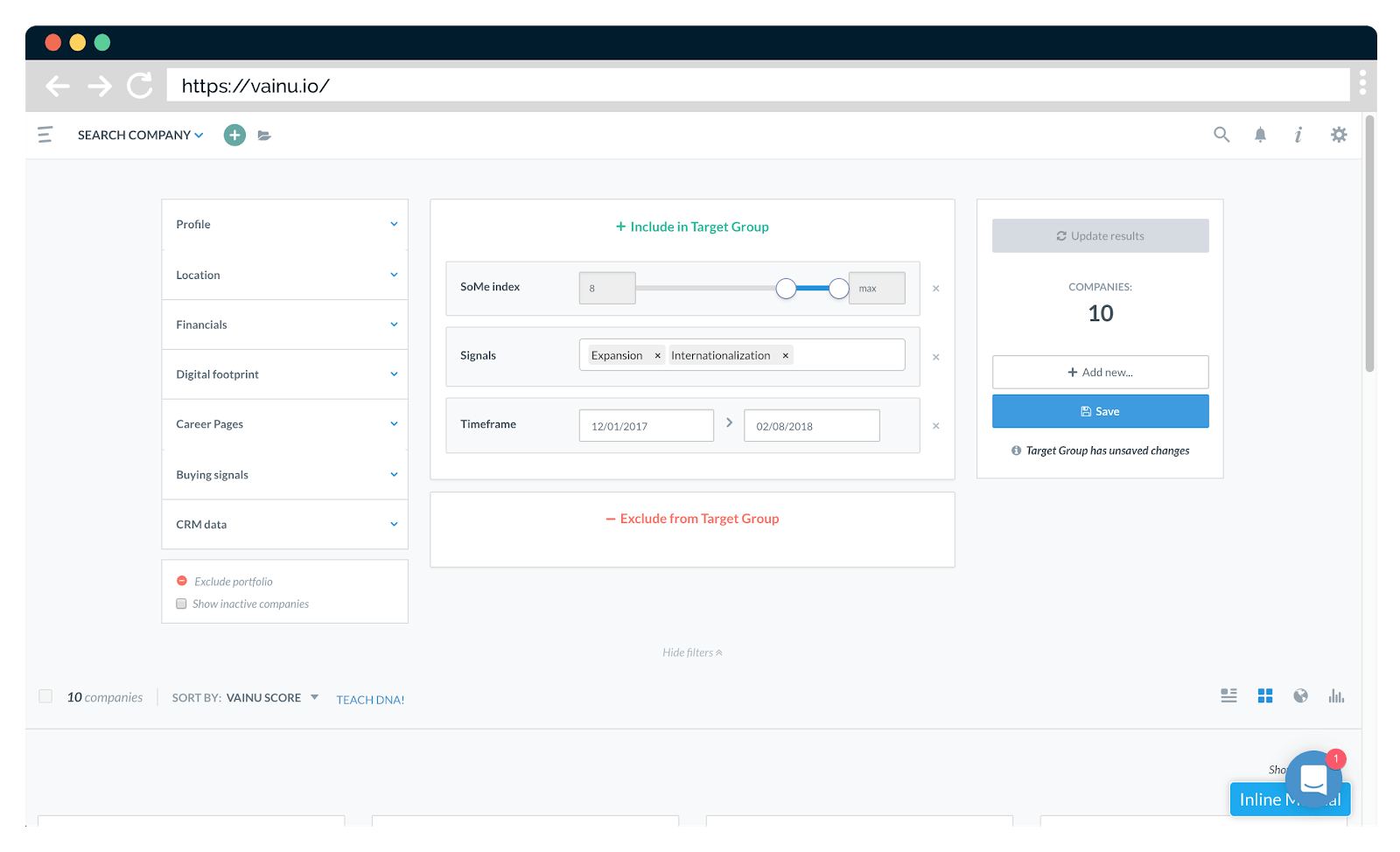 Vainu's sales intelligence platform helps salespeople find and analyze the best leads out of a database of more than 100 million companies worldwide, pinpointing the best time to contact those leads and providing salespeople with a kind of omnipotent view of their prospects. Through hundreds of filters, Vainu users find the best sales prospects using financial information, location, industry type, web technologies, keywords used on websites, job postings, mobile apps, social media presence, news on the company and many more characteristics.
Taking a data-driven, account-based approach to sales is the most efficient and cost-effective sales strategy today; according to Vainu's client data, their approach results in 70% less time spent on sales prospecting, up to 50% more meetings set and, perhaps most importantly, 36% more closed deals over older sales models.
Outbound Call Management
Empowering outbound sales agents with prospect information and tools that help them focus on the job at hand is key to increasing cold call conversions. Here are some of the best tools on the market for making outbound agents' jobs easier – and more productive.
NewVoiceMedia
Website: newvoicemedia.com
Price: Demo required (details)
Free option: None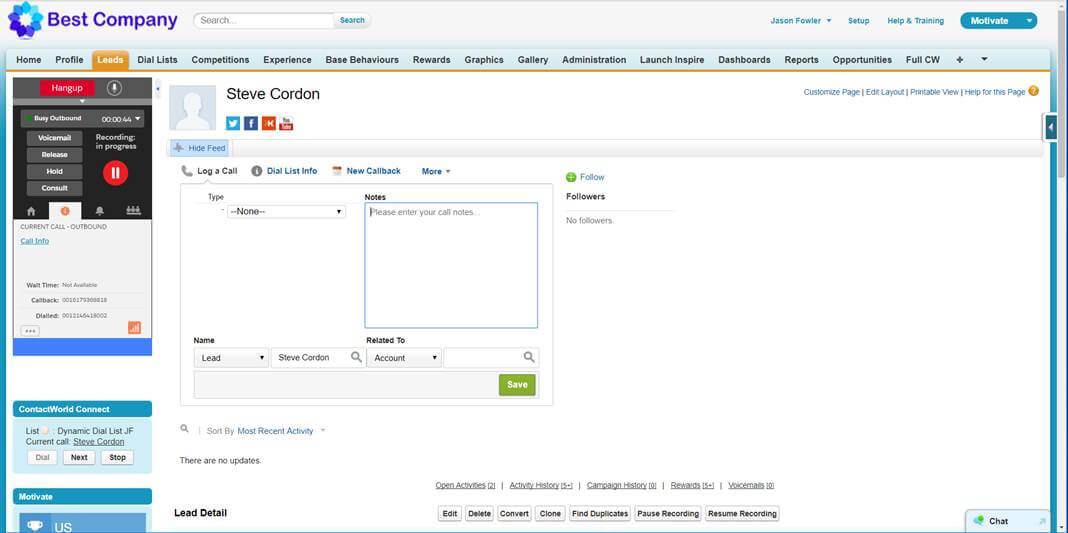 NewVoiceMedia's cloud contact center solution is designed to make cold calls warmer. It makes calls look local, for more first-time pick-ups, while the dialer prioritizes call lists, so reps can reach their best prospects first.
The platform can be integrated with Salesforce®, allowing users to leverage engagement histories across every channel, while integrated call recording and speech analytics tools make it easy for sales teams to uphold best practices.
RingDNA
Website: ringdna.com
Price: Demo required (details)
Free option: None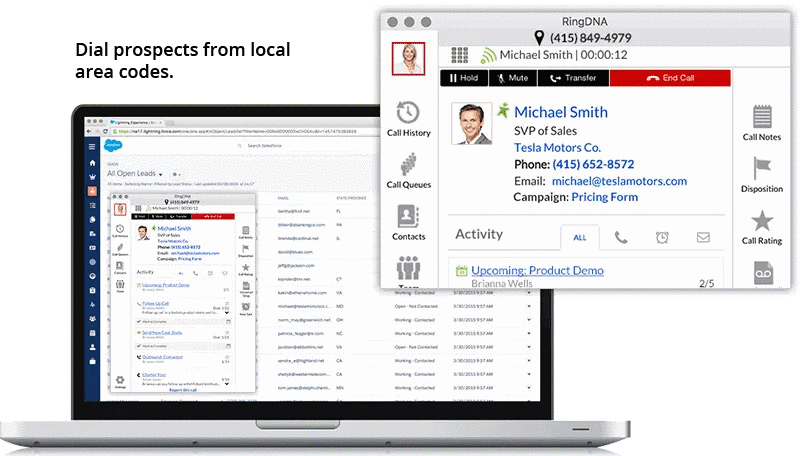 RingDNA is an inside sales platform focused on driving quality sales conversations. It exclusively integrates with Salesforce to automatically log and sync activities, tasks, and data, so reps can spend more time selling.
During calls, RingDNA's Intelligent Dialer provides reps with contextual lead data (emails sent, voicemails left, previous conversations) directly from Salesforce. All calls are recorded, transcribed, and stored for coaching sessions to improve sales performance. Call analytics are readily available in Salesforce, and out-of-the-box reports and dashboards provide instant visibility for sales managers.
Prospecting Analytics/Acceleration
The right data used in the right way can have a big impact on how effective you and your team are at nurturing and converting prospects. Here are our suggestions for top tools built to gather data and turn it into growth-focused insights.
Ambition
Website: ambition.com
Price: Demo required (details)
Free option: Limited free trial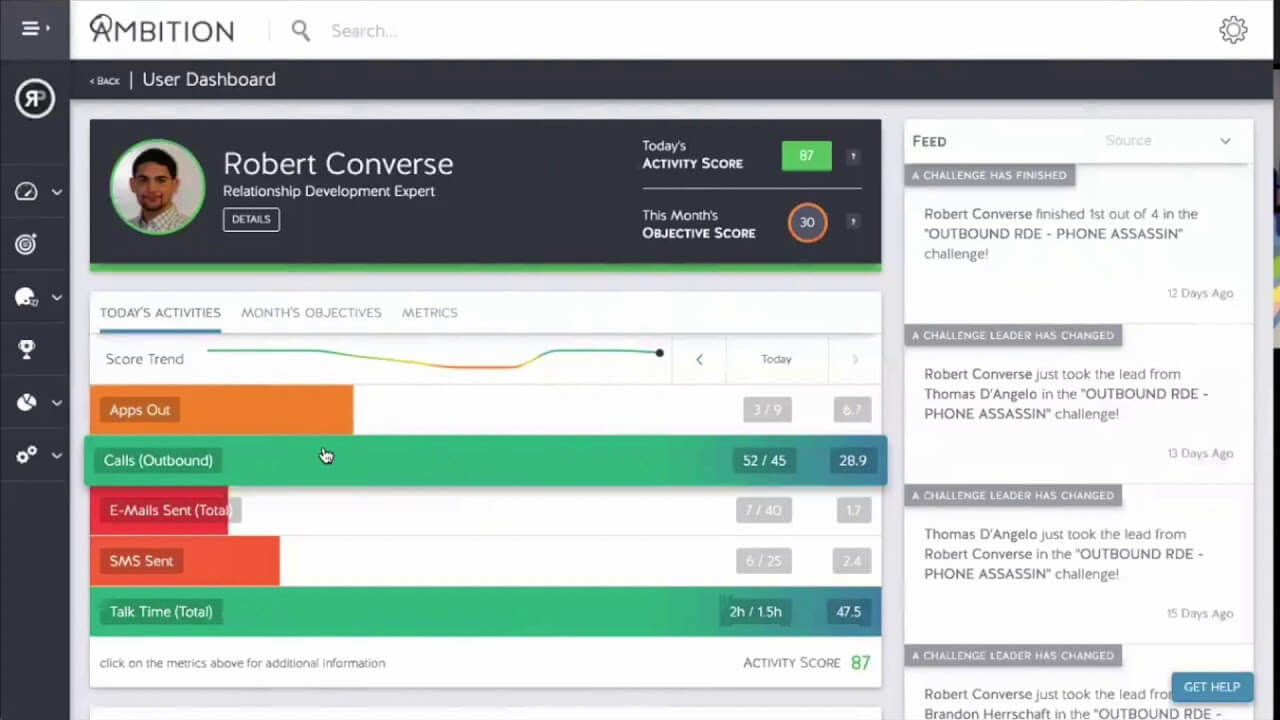 Ambition adds value to sales prospecting by giving reps ownership over their performance. The platform syncs with platforms like Salesforce, Outreach, and dialers like 8×8, DialSource, and New Voice Media to give sales teams visibility, context, feedback loops, public recognition and coaching insights that help boost collaboration, autonomy, and results on the sales floor.
Groove
Website: groove.co
Price: Demo required (details)
Free option: None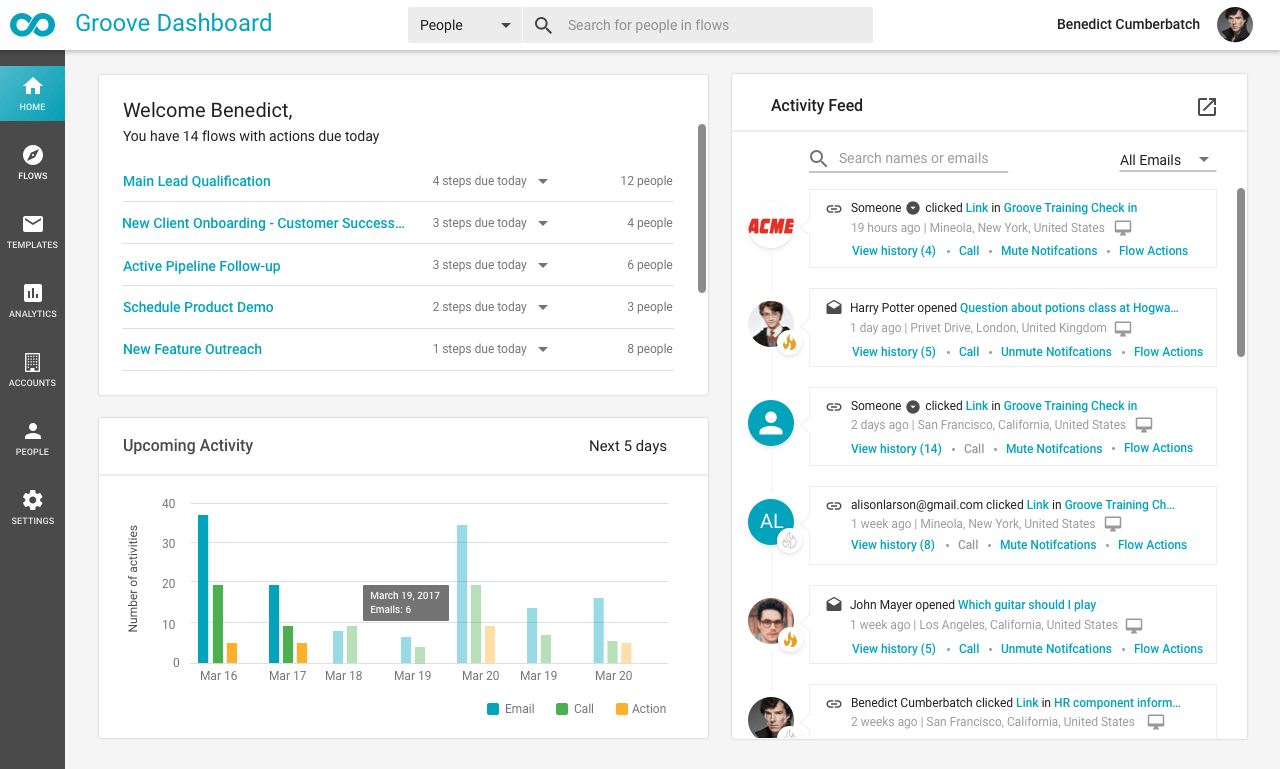 Groove is an all-in-one sales engagement platform that provides a broad range of automation, integration and analytical tools designed to deliver actionable insights which help increase efficiency and drive growth within sales teams.
Spiro.ai
Website: spiro.ai
Price: $79 per user, per month, billed annually (details)
Free option: None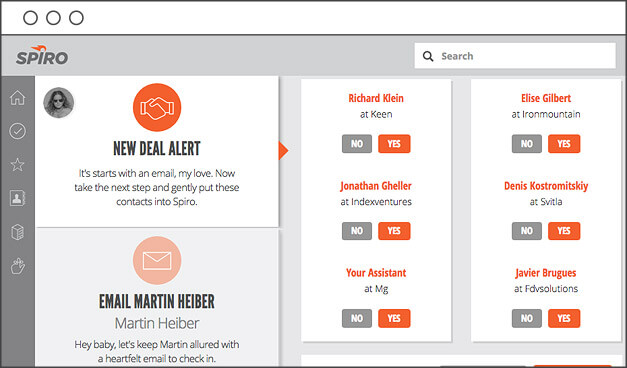 Spiro is an AI-powered CRM that automatically creates a daily to-do list for sales reps – specifically who they need to call and email.
This keeps sales reps moving from one call to the next, so they're not wasting time figuring out their next best action.
Spiro also assists in call logging, proactively creates a next step, and eliminates data entry. It even automates lead management by creating contacts and leads from your email.
As a result, Spiro customers report reaching 47% more prospects since they have implemented Spiro's AI-Powered CRM.
Point N Time Strategy Mapper
Website: pointntime.com
Price: $40 per user, per month (details)
Free option: 30-day free trial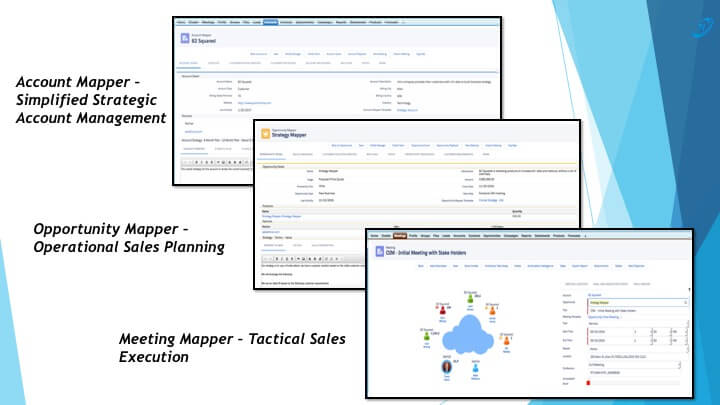 Strategy Mapper helps sales reps consistently perform their very best by providing them with a configurable, robust and intuitive sales framework within Salesforce.
Formed of three integrated components to manage key accounts – Account Mapper, Opportunity Mapper and Meeting Mapper – Strategy Mapper is fully configurable to fit any sales process and methodology.
Full-Service Prospecting
Prospecting is a time-intensive activity that could be more cost-effective if you hand over the reigns entirely to a full-service platform or agency. Here are our top recommendations for products that promise to do all the hard work for you.
LeadFuze
Website: leadfuze.com
Price: $197 – $297 per month
Free Option: None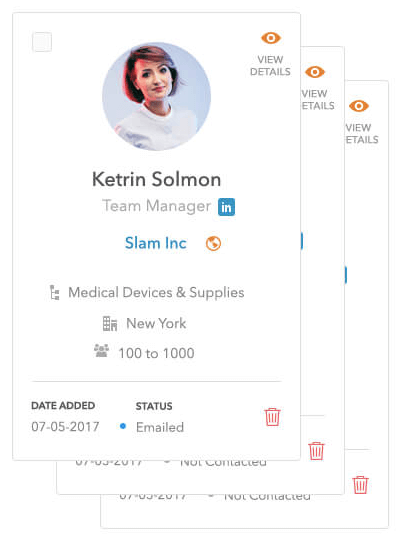 LeadFuze has an A.I. powered lead researcher (we call him Fuzebot). He completely automates your list building by searching for leads using job function, title, industry, location and more. After he's set up, all you do is sit back and watch as our software automatically uncovers double-verified email addresses, company data, and even social profiles of your contacts.
Prospect.io
Website: prospect.io
Price: From $79 – $1,699 per month (depending on how many credits you want to use) (details)
Free option: None
Prospect.io comprises a selection of tools designed to help salespeople cut down on their time spent prospecting and reaching out by 50%.
On the list-building side, they make it easy to grab emails on LinkedIn and company websites with their Chrome extension, and verify email addresses when they're imported.
On the campaign side, it's super easy to create targeted and personalized campaigns with automatic follow-ups and lots of sending options.
Prospect.io's analytics tools also allow users to measure their efforts in the most accurate way possible, taking every aspect of the campaigns into account and even informing them of how they're doing compared to other companies in their industry.
All this can even be integrated into a larger scheme that limits data entry and smooths the workflow, thanks to integrations with Zapier and PieSync, Salesforce, Hubspot CRM, Close.io, and PipeDrive.
Growbots
Website: growbots.com
Price: Available upon request (details)
Free option: None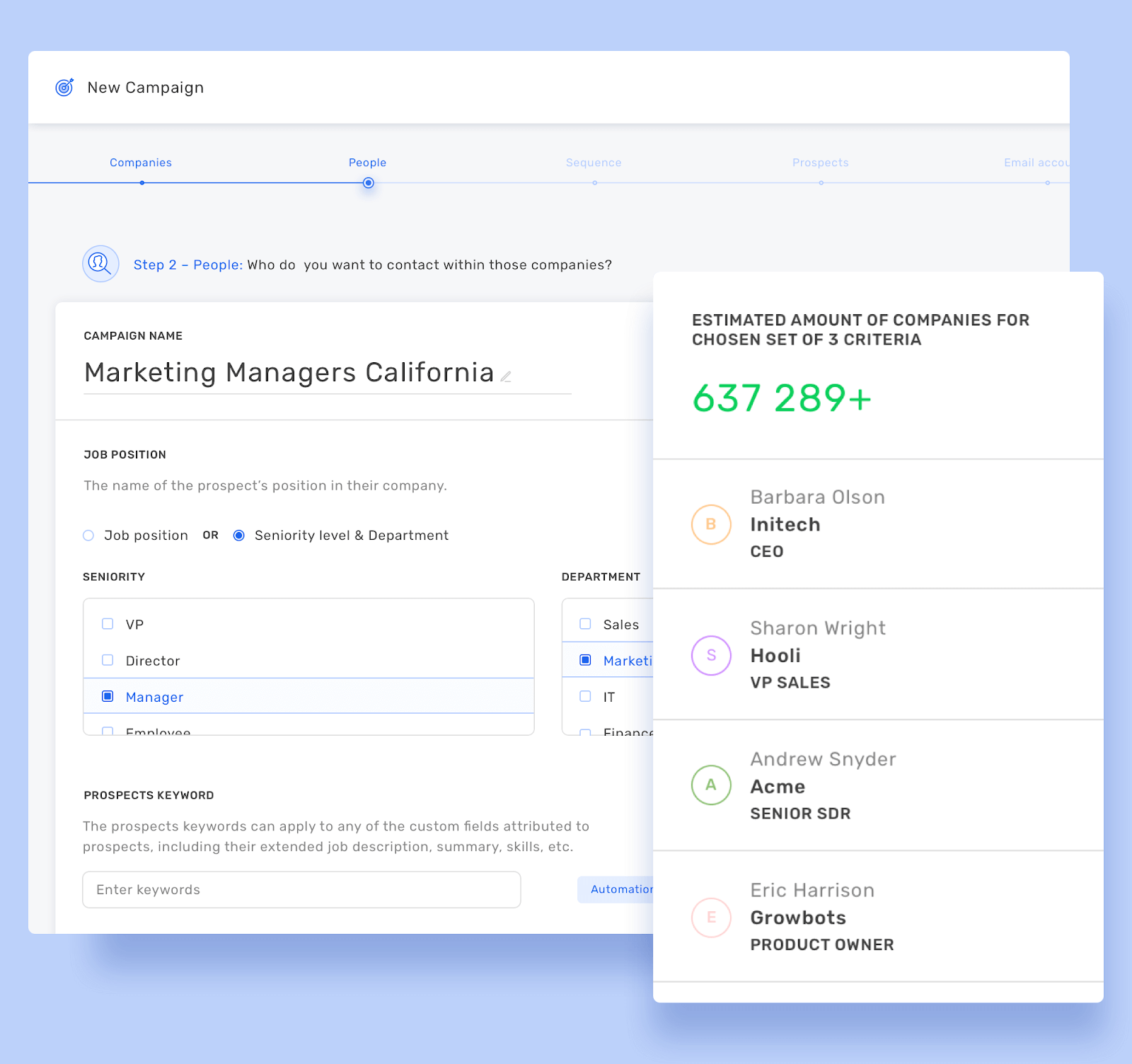 Growbots is an all-in-one outbound sales platform which automates prospecting and prospect outreach, leveraging over 200 million verified contacts and promising to save you and your team over 4 hours a day – all you have to do is select your target market from their detailed criteria, including sector, size, technographics, location, and more.
The platform then generates a list of prospects formed of all the decision-makers that match your ideal customer profile.
Inbox Enhancers
Email enhancers offer an easy (and usually very affordable) way to make you more productive, and more effective. Gmelius is our pick for the best inbox enhancer for sales reps and their teams.
Gmelius
Website: gmelius.com
Price: Premium $5 per month, Business $14 per month (details)
Free option: Available (limited feature usage)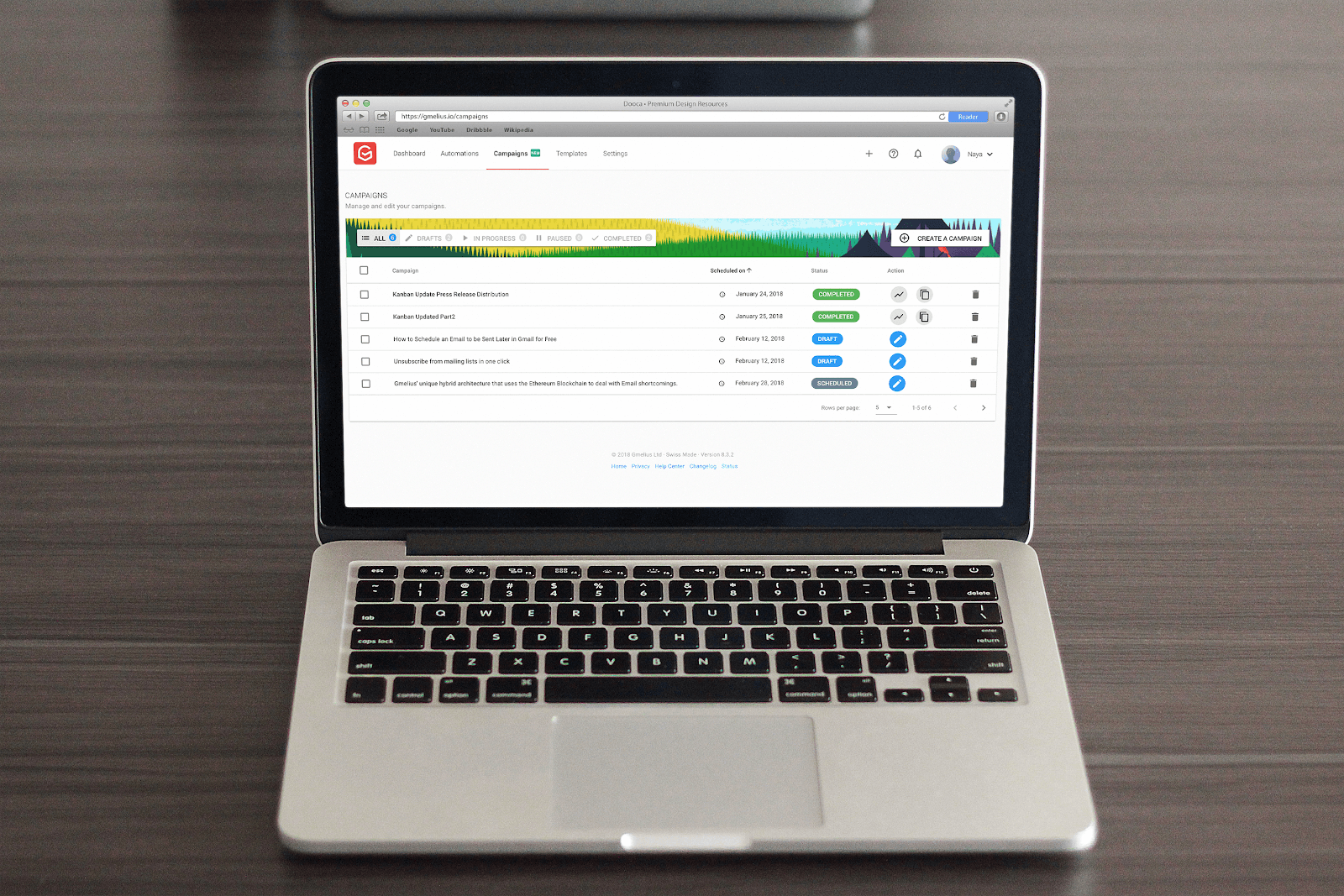 Gmelius helps professionals and business teams transform their inboxes into advanced and complete communication platforms through a variety of productivity, automation and collaboration features.
The sales suite helps sales and marketing departments automate, track and optimize their company's outreach using email scheduling (including bulk emailing and follow-up reminders), while their unique use of Blockchain technology protects organizations from email forgery and guarantees the authenticity of email communications.
Lastly, their collaborative features let teammates work together on emails and tasks right from their inbox with no forwarding, and no risk of reply-all incidents.
Scheduling Meetings
If you're indulging in any back-and-forth when scheduling meetings, you're wasting time that could be better spent elsewhere (like talking to prospects and securing sales). Try out these tools if you want to reduce the process of scheduling meetings to a single step.
Pick
Website: pick.co
Price: $3 per month (details)
Free option: None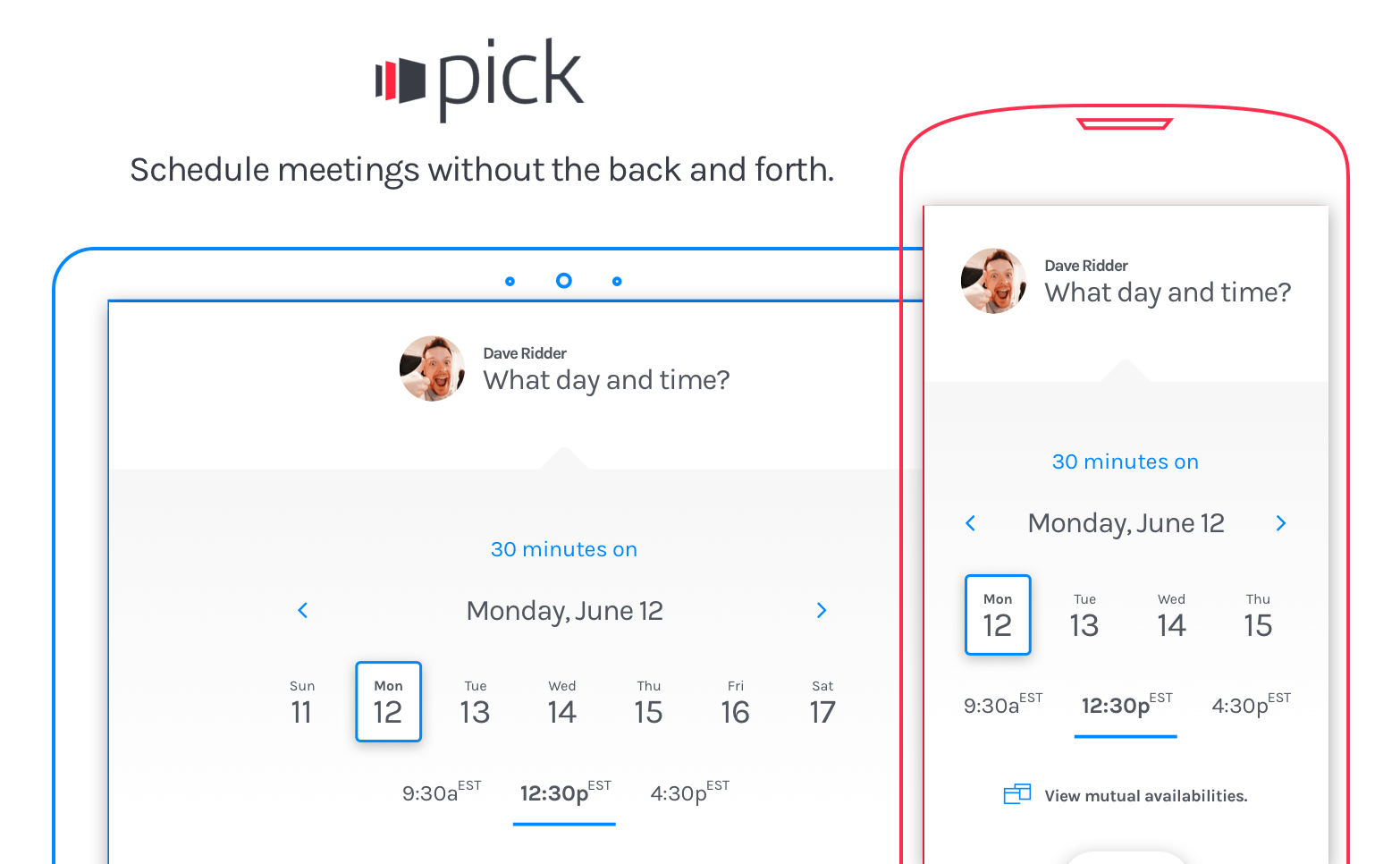 Pick is a super-simple tool designed to do one thing: make scheduling meetings as quick, easy and pain-free as possible.
All you need to do is set your availability, grab your custom URL, and share it with the person (or people) you want to set up a meeting with. Pick will then choose a time that works for everyone, send out invites, and automatically add details of the meeting to participants' calendars.
Calendly
Website: calendly.com
Price: Premium $10 per month, Pro $15 per month, billed monthly (details)
Free option: Limited free forever option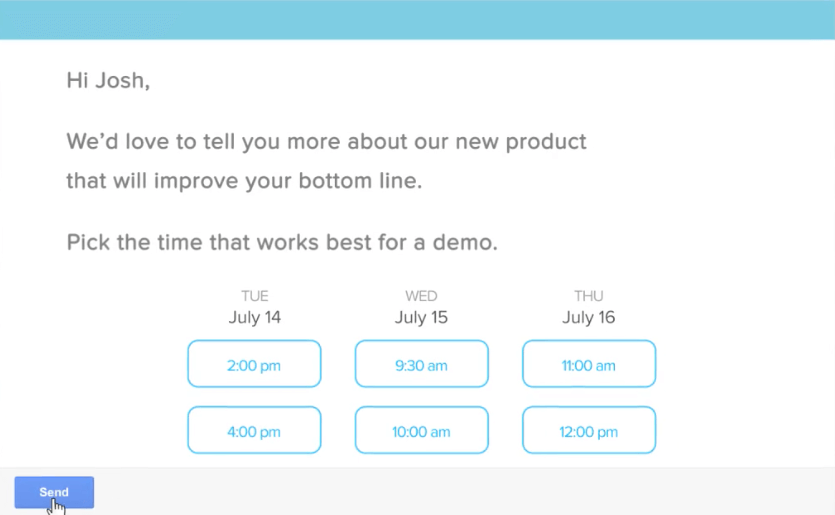 Calendly shortens the sales cycle by eliminating drop-off and compressing scheduling time. It also helps you scale your inbound sales and distribute leads more efficiently – and even fairly.
You can make pre-qualification and hand-off from reps quick and easy, or offer availability in outbound emails to offer a simple and easy way for prospects to connect with you at their convenience. Calendly can even integrate with your CRM so you can automate workflows, analyze, and report on your increase in leads and sales.
Clara Labs
Website: claralabs.com
Price: From $99 – $399 per month (depending on how many requests you want to make)
Free option: Free 2-week trial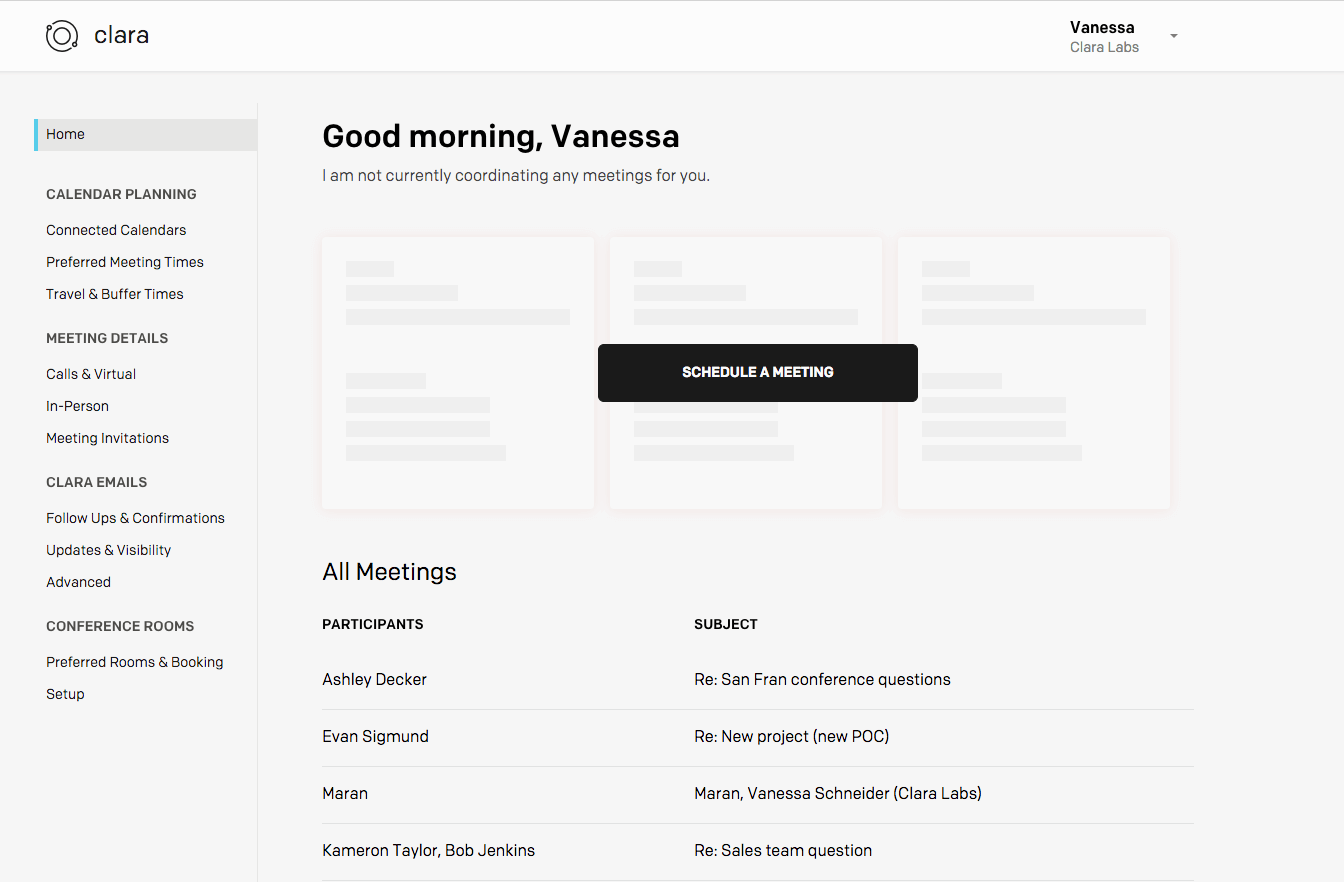 Clara Labs is an AI scheduling service that coordinates when, where, and how you meet with prospects and collaborators.
Clara gets scheduling requests from your emails and completes them while prioritizing your meeting preferences. Day or night, Clara will do the hard work of scheduling meetings for you.
ScheduleOnce
Website: scheduleonce.com
Price: From $7.50 – $32.50 per month (slightly more if you choose the monthly billing option) (details)
Free option: 14-day free trial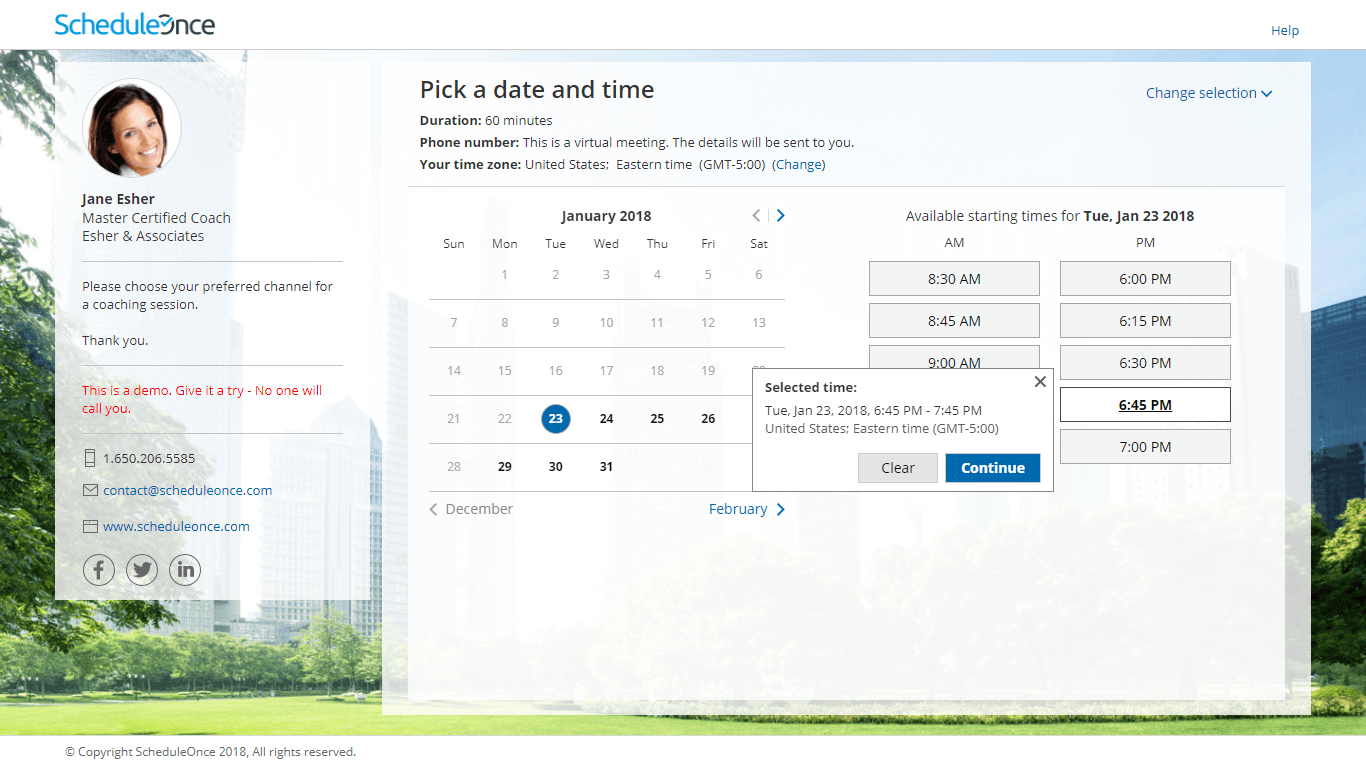 ScheduleOnce helps capture serious prospects who are ready to engage by offering prospects a direct way to connect with your team.
Prospects can schedule demos and consultations with your organization directly on your website, or from personalized scheduling invitations in your email marketing campaign. When you offer online scheduling in your email marketing campaign, each email recipient receives a personalized link. They simply select a time and it's done. Serious leads are filtered for you, and you'll discover they've already scheduled a time to meet with you.
TimeTrade Scheduler
Website: timetrade.com
Price: Demo required (details)
Free option: 15-day free trial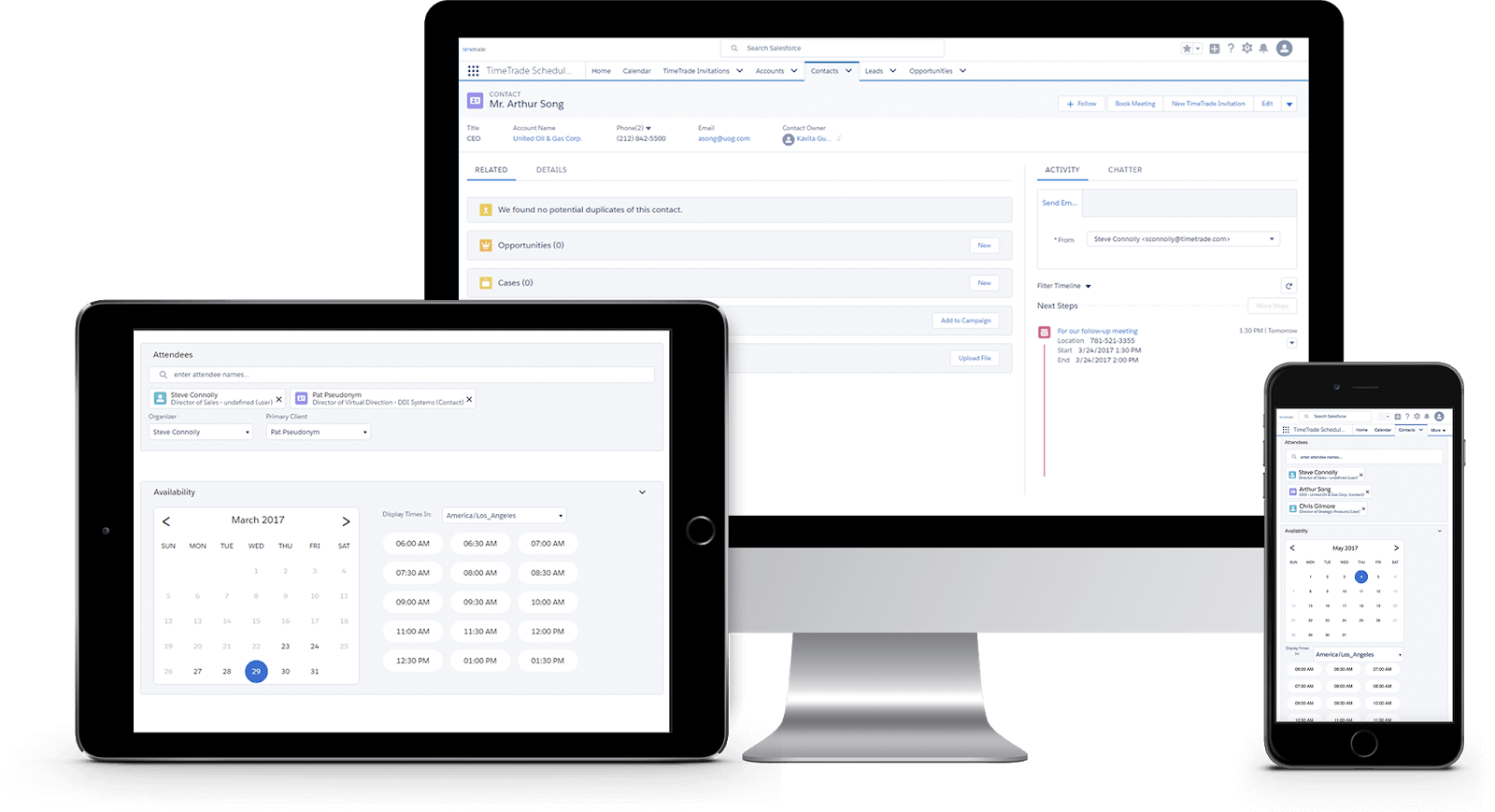 TimeTrade Scheduler lets prospects book time with you through your website, outbound prospecting, or one-to-one outreach, and promises an increase of up to 28% in sales bookings as a result.
It can also be integrated with Salesforce, enabling you to schedule appointments right within the application, saving time and making it really easy to keep track of prospects.
x.ai
Website: x.ai
Price: $17 – $59 per month (details)
Free option: Free trial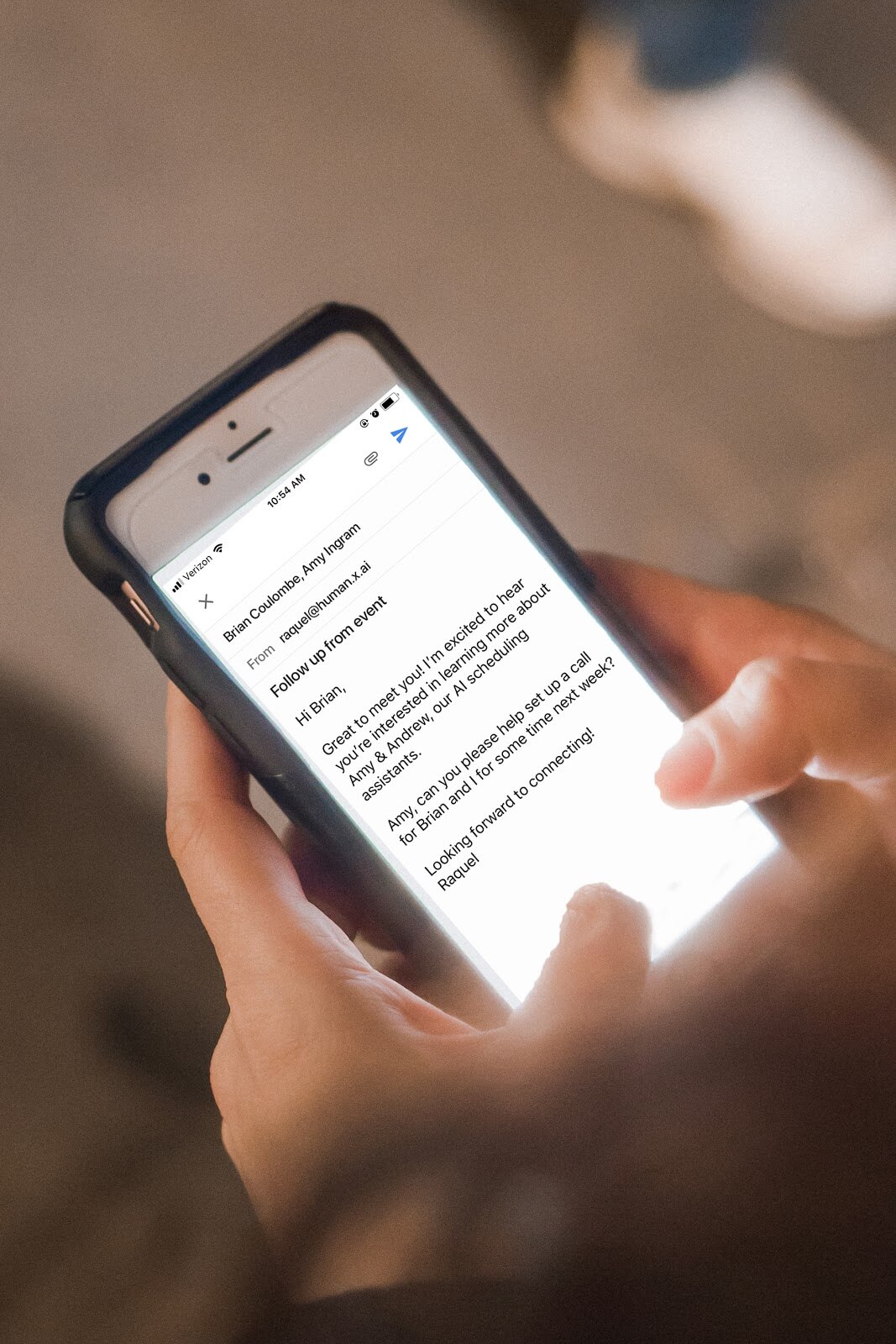 The x.ai AI scheduling assistants, Amy + Andrew, promise to save users tons of time during sales prospecting. When you've got a prospect interested in setting up a meeting, you can CC in Amy or Andrew, and they will reach out to your prospect over email to schedule the call in line with your availability and scheduling preferences.
Video
Sales reps that use video in emails reportedly see open rates increase 5x and open-to-reply rates increase 8x. Start reaping those rewards with BombBomb or Vidyard.
BombBomb
Website: bombbomb.com
Price: $39 – $49 per month (more if you choose the monthly billing option). Premium set-up accounts are available for an initial fee of $1299, and $588 per year thereafter (details)
Free option: 14-day free trial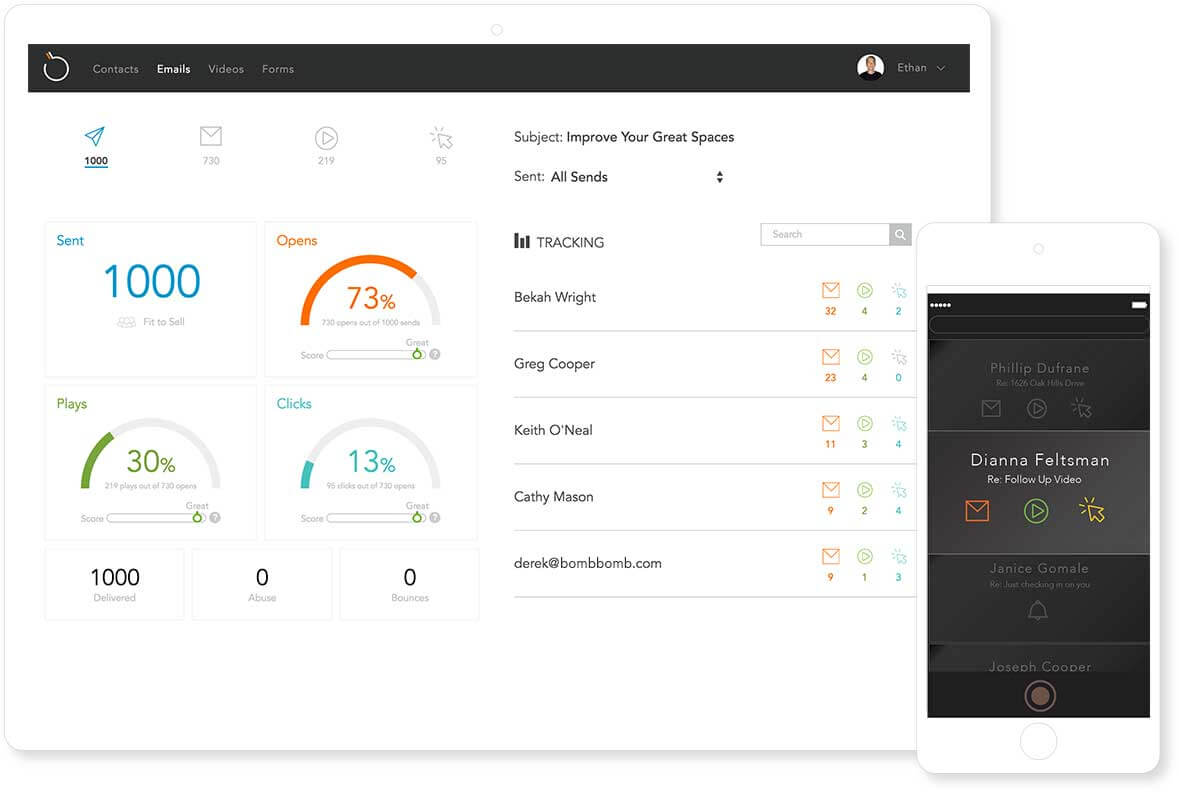 BombBomb makes it as fast and as easy as possible to record, send, and track the results of video in emails, text messages, and social media.
You can work from your laptop, desktop or smartphone, and you can integrate the tool with Gmail, Outlook, Salesforce, and dozens of other platforms.
A few stats around the power of video:
81% of BombBomb's users report more replies and responses compared to plain, traditional emails
68% report higher lead conversion
87% report higher click-through rates
56% report more referrals.
Vidyard
Website: Vidyard.com
Price: Demo Required (details)
Free Option: Free Chrome Extension (details)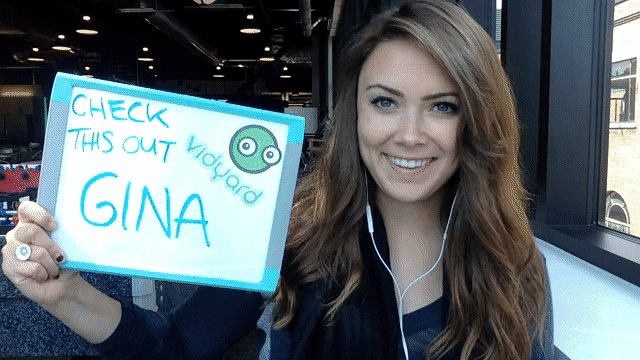 By making it simple for any sales rep to access existing video content, create new videos, compile custom playlists, share them directly with customers and prospects, and track who is watching which content, Vidyard for Sales now makes video an accessible and powerful tool for advancing customer relationships and boosting sales effectiveness.
For everyone from Sales Development Representatives (SDRs) to Account Executives (AEs) to Customer Success Managers (CSMs), Vidyard for Sales helps to improve effectiveness and efficiency throughout the sales cycle by providing centralized access to all your videos, the ability to easily record new video content, video personalization, private video sharing and viewer tracking, and native integrations with CRM and marketing tools that you're already using every day.