The 20 Best Sales Productivity Tools for 2021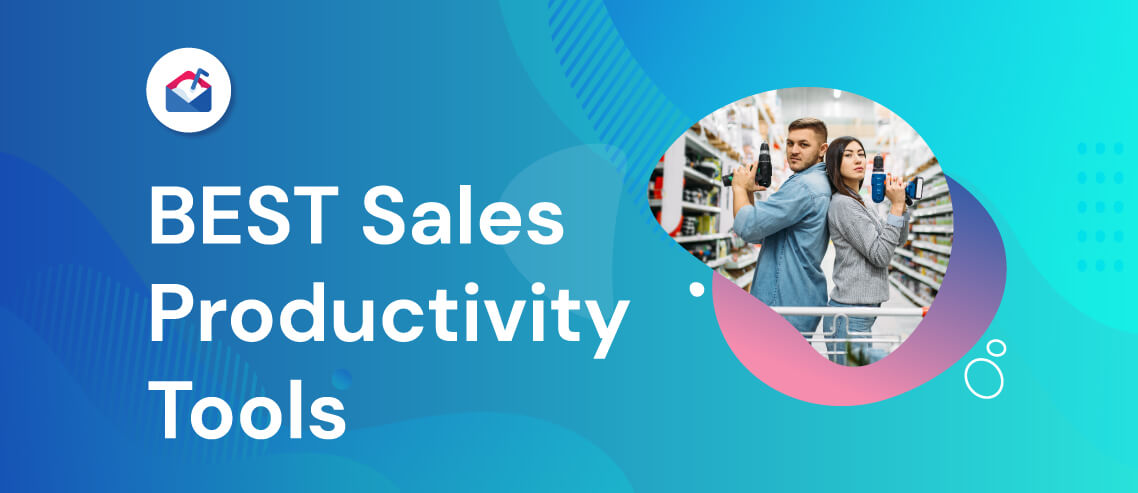 Sales reps only spend about 34% of their time actually selling. More than half of their time goes to performing tasks that can easily be automated with sales productivity tools, like writing emails, data entry, scheduling, and prospecting.
Here are the 20 best sales productivity tools for 2021—let your sales team focus on what they do best: selling.
Sales productivity tools for content sharing and management
Here are the top five content sharing and management sales productivity tools for 2021:
1. Bit
Bit is one of the best sales productivity tools for collaboration. It helps teams create sales proposals and client-facing materials in a collaborative shared workspace. Bit sends you notifications each time a prospect or current client views those materials and shares engagement metrics like how much time they spent on your sales proposal.
2. DocSend
Designed for sales teams, DocSend is a sales productivity tool that provides access to an on-demand content library. It's a centralized solution for content management with tracking and presentation tools to help you engage with clients more efficiently. DocSend helps your sales team choose the right time and way to initiate a conversation with the best prospects.
3. Guru
Guru provides your sales team with access to on-demand marketing content and information while allowing each organization to customize their knowledge base to optimize performance for their specific needs. This sales productivity tool excels at giving your team the relevant knowledge and resources that they might need during the sales process.
4. Prezi
Prezi is a real alternative to powerhouse presentation tools like PowerPoint. Its business version (Prezi Business) comes with extra collaboration features to help your sales team reach their audience across multiple channels and devices. It also allows for near limitless customization and gives access to live leaderboard analytics to track your performance.
5. Vidyard
Vidyard is the sales productivity tool to use when you want to add video content into your sales processes. From adding videos on your landing pages to embedding them in your emails, sales teams can't ignore video advertising. Vidyard streamlines the process and gives your team the edge when it comes to turning prospects into leads.
Customer relationship management (CRM) tools to increase sales productivity
Here are the top five CRM tools to increase sales productivity for 2021:
1. Agile CRM
Agile is a powerful sales productivity tool for small businesses that struggle to build sales and marketing processes. And Agile CRM integrates with email platforms, social media channels, customer service software, and many other tools that most organizations already use. Agile's solutions range from sales and marketing automation to project management optimization.
2. HubSpot CRM
The HubSpot team built their CRM to be intuitive, automatic, and as user-friendly as possible. It's widely known as one of the best CRMs for small businesses, but it also offers additional features for larger enterprises. HubSpot offers many integrations and takes care of menial tasks like recording calls and emails and managing sales data.
3. Pipedrive
Pipedrive is a near-perfect CRM platform for small sales teams with its activity-based approach and user-friendly interface. The CRM makes it easy to visualize your entire sales pipeline and see the best courses of action to move your leads forward. Pipedrive offers many customizations and integrates seamlessly with other sales productivity tools.
4. Salesflare
Salesflare is designed for sales teams at smaller B2B businesses that don't have time to input everything manually. It fills out and organizes data automatically by syncing with your social media, phone, calendar, etc., and the CRM's email integration is unrivaled. Salesflare's value is in its automation simplicity.
5. Zoho
Zoho is one of the most affordable CRMs, but that doesn't mean it's missing any big features. It offers solutions for email marketing and lead generation. The simple, intuitive UI makes it easy to use for any sales team, and Zoho integrates with the most widely used sales productivity apps, including QuickBooks, Mailshake, Google Apps, and Microsoft Office.
Sales productivity tools for prospecting and lead generation
Here are the top five prospecting and lead generation sales productivity tools for 2021:
1. DataFox
DataFox uses machine learning to sort through multiple data sources to find the prospects who are most likely to respond to your sales efforts. It helps sales teams speed through their pipelines and make meaningful connections to the right clients. DataFox helps reduce spending time and resources on prospects that aren't likely to turn into leads.
2. Drift
Drift links email and on-site chat, allowing your sales reps to send messages across platforms—start talking with a prospect through email and continue the conversation on your website. This sales productivity tool also uses chatbots to qualify prospects and route them to your sales team. Drift's integrations make it easy to sync leads between multiple platforms.
3. Growbots
Growbots helps sales teams create customer profiles and automatically finds prospects who are likely to be interested in your product. It's intuitive to use, highly customizable, and after generating warm leads, lets your sales team easily automate and execute email campaigns to help close the deal.
4. Leadfeeder
Leadfeeder specializes in finding companies that positively engage with your content. It analyzes web traffic to find which businesses show the most interest in your brand and which products are the most relevant to them. Sales teams can use these insights to engage with prospects using the right pitch.
5. Refiner
Refiner helps B2B SaaS companies qualify leads so that their sales teams don't waste time and resources on poor leads and miss out on better opportunities. This provides your team with insights like which leads to focus on, when the best time to reach out to them is, and how to approach them to make the conversation more relevant.
Best sales productivity tools for sales engagement
Here are the top five sales engagement tools to increase sales productivity for 2021:
1. Accent Accelerate
Accent Accelerate gives your sales team a complete view of each sales situation, enabling them to make the right decisions. It provides insights into selling activities and customer behavior, which are essential to achieve high conversion rates. The platform helps sales reps prioritize the most valuable opportunities through data analytics and real-time tracking tools.
2. Bloobirds
The purpose of Bloobirds is to help reduce or eliminate your sales team's administrative tasks and help make getting leads through the sales pipeline more intuitive. It also automatically collects insights so that team members don't have to manually fill out your CRM. The platform is extremely user-friendly and is an invaluable sales productivity tool for sales and prospecting teams.
3. Highspot
Through machine learning, Highspot helps sales teams manage and deliver content for every engagement scenario. It offers training modules for your sales reps and helps them implement new techniques to offer more relevant content. Highspot also provides real-time data about your prospects and leads by integrating with your CRM.
4. Klyck
Klyck helps your sales team create interactive presentations to deliver more engaging content to your prospects—the quality of your content impacts their buying behavior, but so does the way you deliver it. It also comes with advanced search options so that your sales team can find the most relevant content quickly.
5. Mailshake
Mailshake is a powerful sales engagement platform that allows your sales team to send cold emails, engage with prospects through social media and over the phone, and create all-in-one sequences from a single dashboard. It helps you scale your email outreach through automation and saves your sales team time with its integrated phone dialer.
Ready to automate your cold outreach and fill your CRM with consistent leads? Book your demo of Mailshake—the sales productivity tool designed to connect you with prospects no matter where they are.