Top 15 CRM Software for Salespeople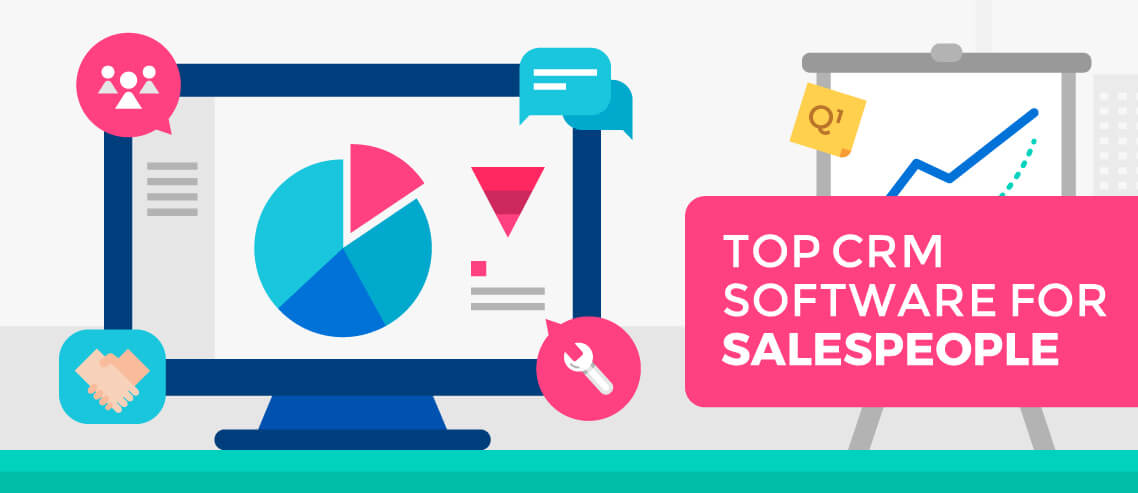 Half the battle of being a great salesperson is staying informed and organized:
Where are my leads coming from?
Which leads are at what stage of the pipeline?
When was the last time I contacted them? Should I follow up again this week?
Which tactics have been working, and which ones should I rethink?
How has each member of the sales team been performing?
Enter the CRM platform (customer relationship management).
If you're serious about scaling up your sales team, you need a CRM, and you need one that fits your company and your usage.
Below are 15 of our favorite CRMs, along with their cost (billed monthly unless noted otherwise), a screenshot of the tool in action, and details on their benefits, features, and what they do best.
Agile CRM
Website: agilecrm.com
Price: Free – $47.99 (details)
Free Option: Free for up to 10 users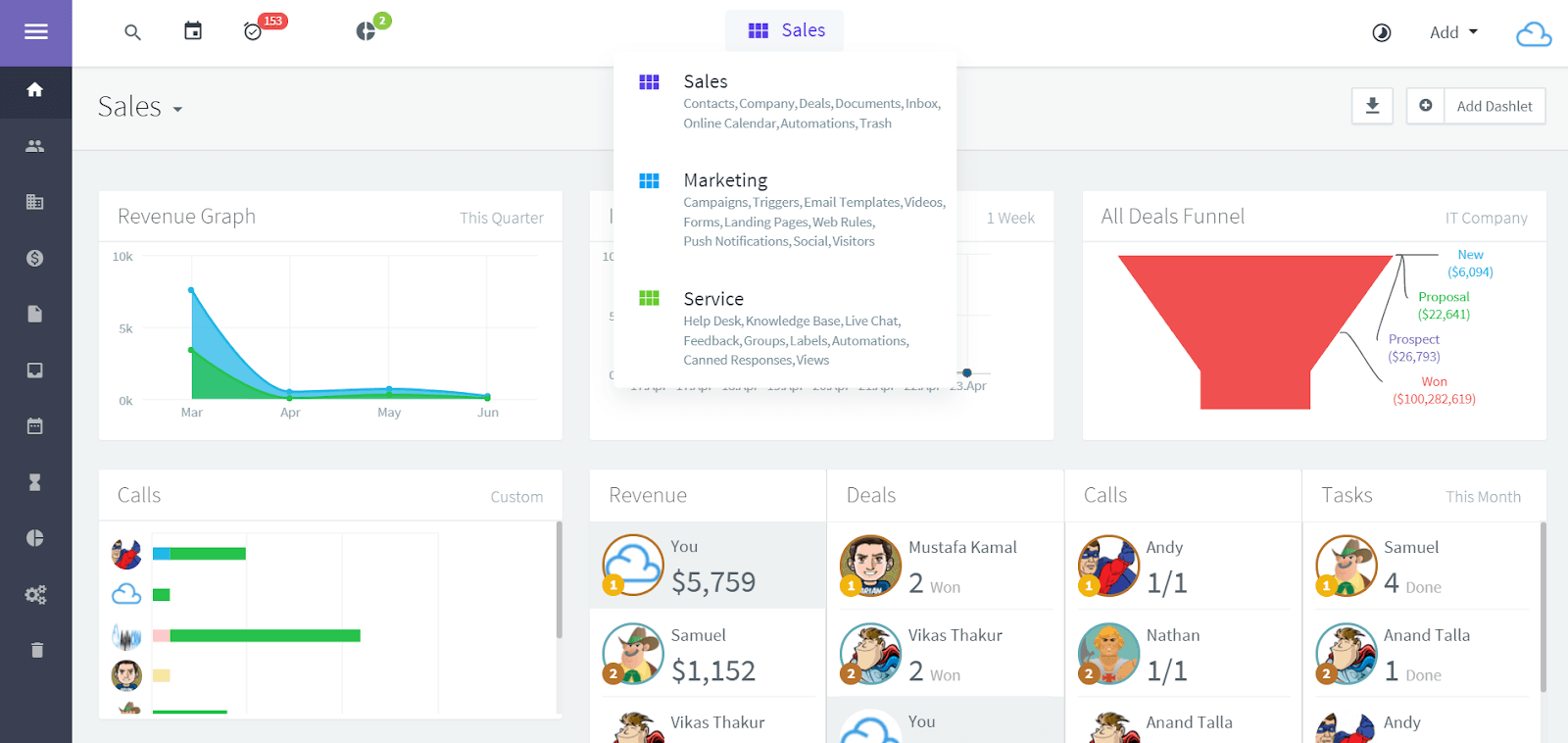 As an all-in-one CRM with sales, marketing, and support automation, Agile CRM benefits sales reps through better alignment with marketing and support. Reps get a 360-degree view of every interaction that has taken place with each lead or customer—including every marketing touchpoint, customer support cases, sales calls, deals won, and more—giving them maximum insight into each lead and customer to better drive the conversation. Plus, with over 50 sales automation features—such as online appointment scheduling, telephony, sales gamification, and lead prospecting capabilities—salespeople have all the tools they need to streamline processes, focus on the most sales-ready leads, and spend more time nurturing prospect and customer relationships.
Alore CRM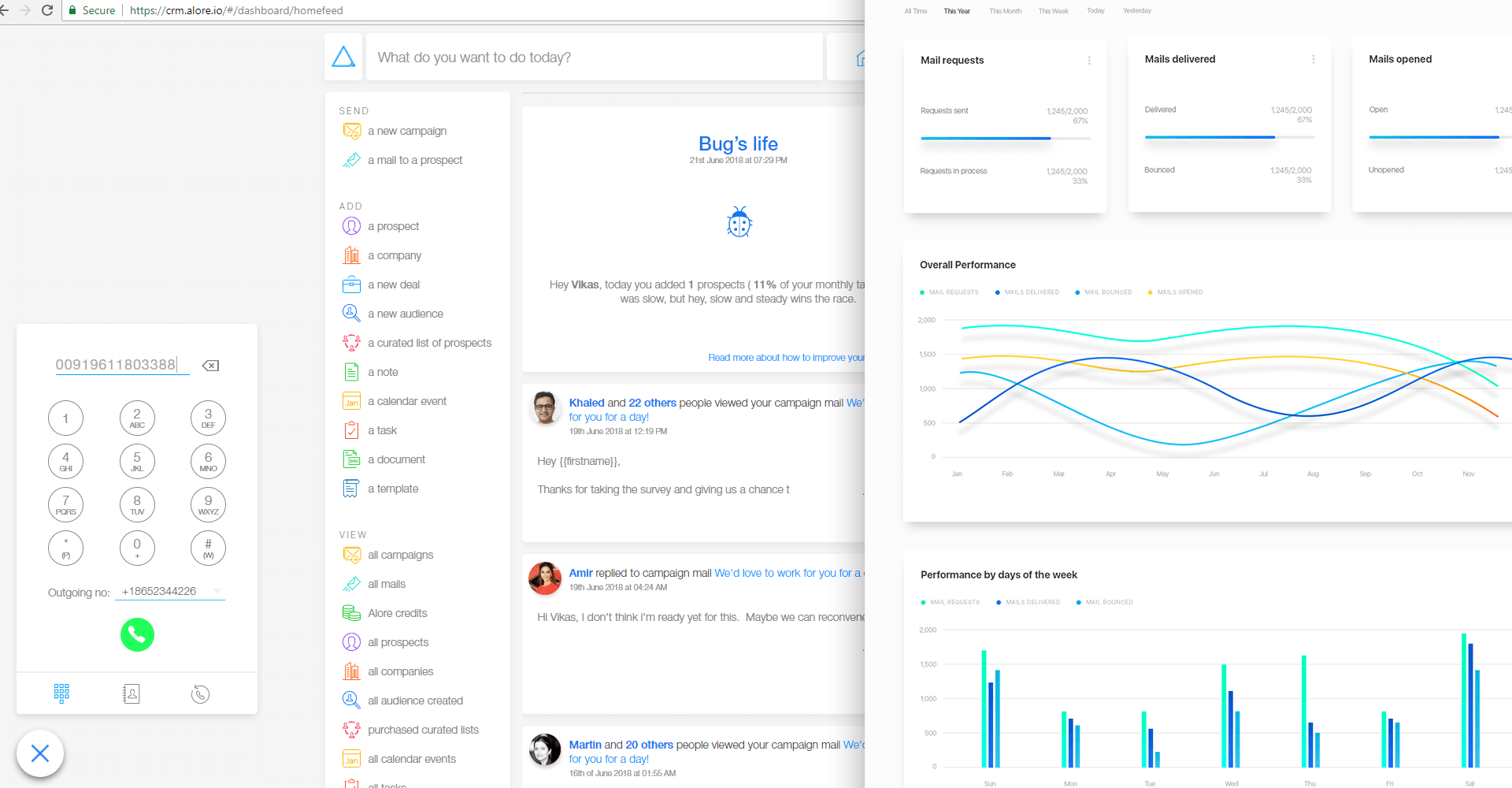 Alore CRM is a robust and integrated sales automation platform for small businesses. It provides salespeople with an end-to-end sales solution – from prospecting to month-end reporting all in a single tool. Alore champions data powered sales and have data right how it should be – Simple to digest and right in front.
They are also the first to introduce Homefeed design in a SaaS product, bringing data and activity to the forefront. Besides providing advanced CRM capability, the Alore chrome extension helps you prospect smarter. It pulls out verified email IDs of prospects from Twitter, LinkedIn and Angel simultaneously updating it into your CRM with Tags you want. Thereafter you can schedule DRIP campaigns, track links, create Facebook custom audiences in Facebook from your CRM's prospect lists etc.
Salespeople can make, record and transcribe calls from Alore via Twilio, and also generate month end reports at the click of a button. Alore successfully simplifies managing sales teams, process and progress.
Apptivo
Website: apptivo.com
Price: Free – $25 per month (details)
Free Option: 30-day free trial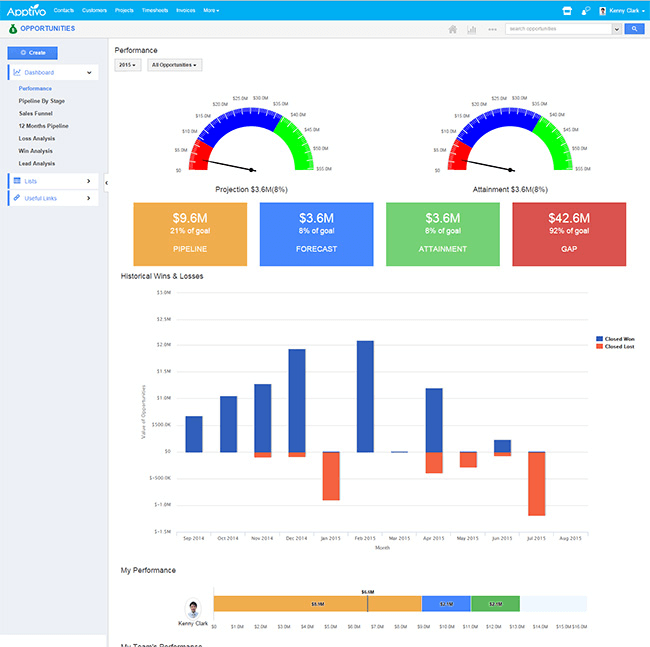 Apptivo's online CRM system is a powerful tool to manage your sales, marketing, and much more. CRM sits at the core of Apptivo's integrated suite of business apps, providing a complete suite of tools to gain a 360 view of your customer. Our CRM includes lead management, an opportunity pipeline with intuitive dashboards, and flexible workflow tools including marketing automation. Everything is completely accessible from your Android or iOS device and integrated with Office365 & G Suite.
Contactually
Website: contactually.com
Price: $59 – $599 per month (details)
Free Option: 14-day free trial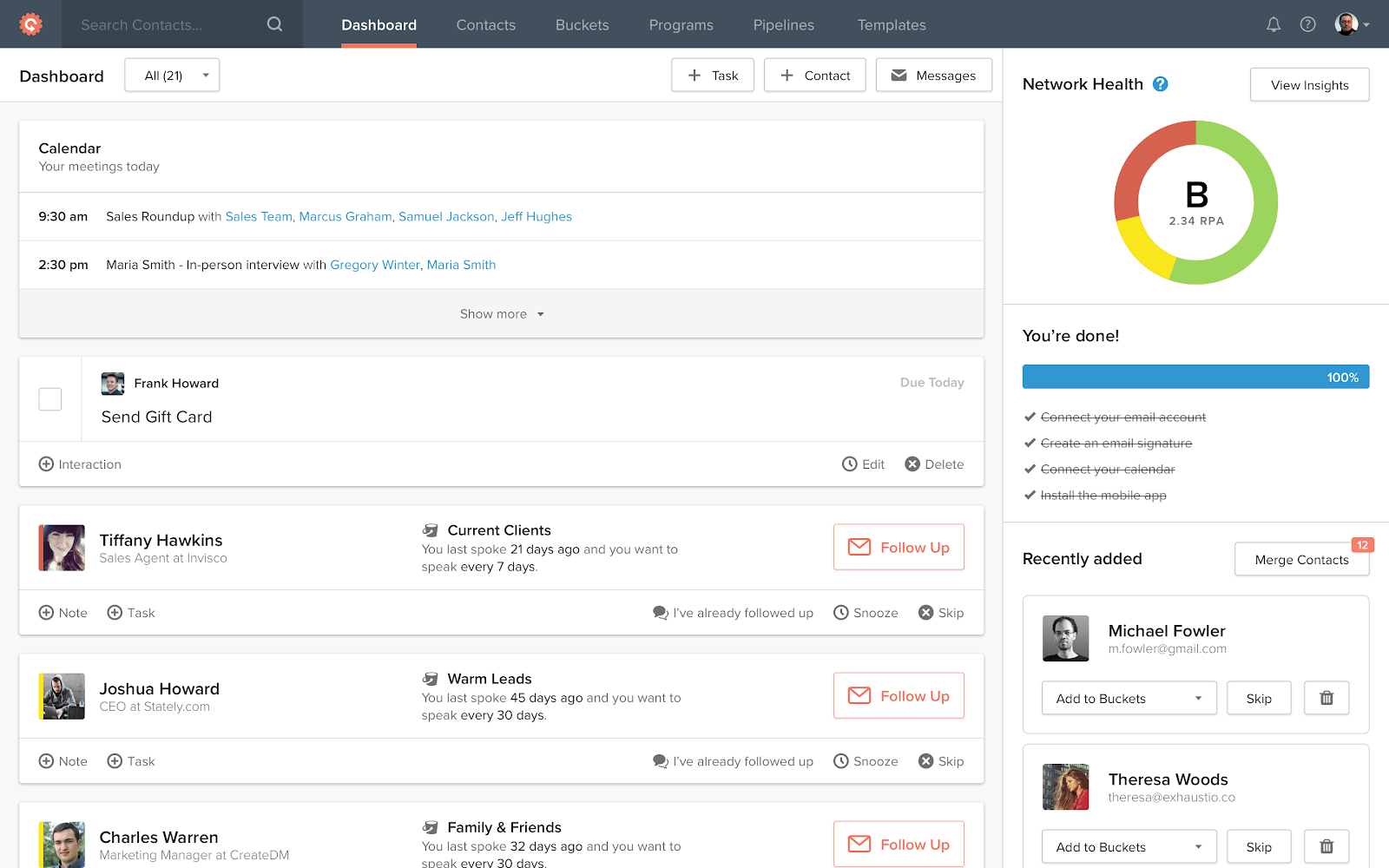 Contactually helps you maintain and strengthen relationships. By assigning the right priorities to the right clients at every point in the sales cycle, and providing the tools to help you communicate efficiently, we help you turn leads into clients, and clients into referral partners.
Contactually provides a SaaS-based intelligent customer relationship management (CRM) platform for real estate agents and brokerages that helps users develop and strengthen authentic, long-lasting relationships. In simply minutes a day, Contactually's easy-to-use platform enables personal engagement at scale, resulting in more leads, referrals, and increased business.
Close.io
Website: Close.io
Price: $65 – $165 (details)
Free Option: 14-day free trial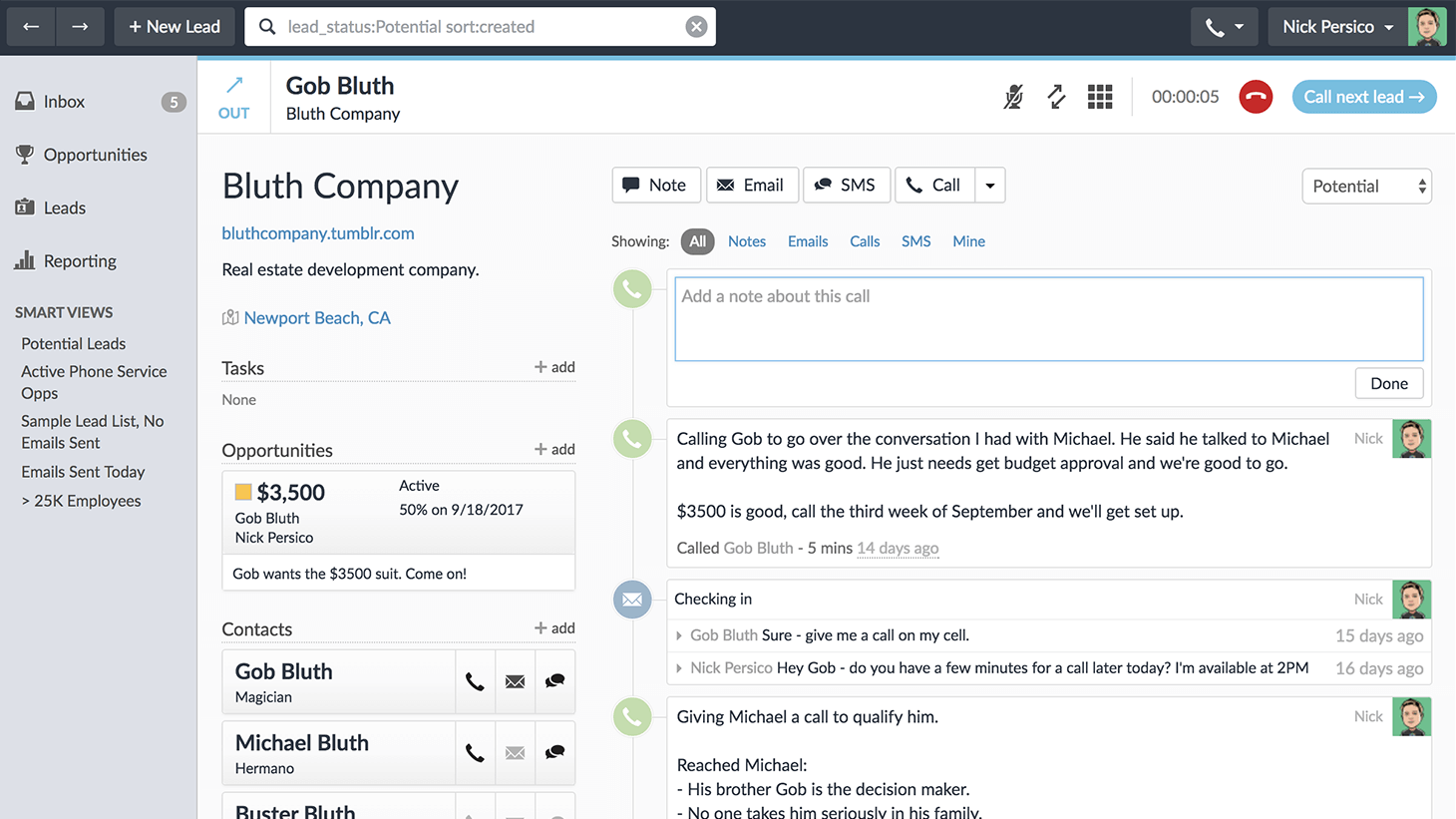 Built specifically for salespeople (by salespeople) to increase sales productivity, Close.io is the inside sales CRM of choice for startups and SMBs that comes with built-in calling, saving reps precious time and empowering them to close more deals. At the center of Close.io is the Inbox—a home base that keeps track of all your sales activities including calls, emails, voicemails, SMS, reminders and tasks—making your workflow simpler and faster.
If picking up the phone to dial prospects fits into your sales process, their built-in one-click calling and call automation via the Power Dialer feature will help get your sales team on the phone more throughout the day. Close.io also offers full team transparency, so every member of your sales team has full access to everything that's going on in the sales process on an individual lead basis.
BenchmarkONE
Website: hatchbuck.com
Price: $39 – $199 per month
Free Option: 14-day free trial
As an all-in-one CRM and sales automation tool, BenchmarkONE allows you to add contacts on the fly, track prospects through every stage of the sales cycle and follow up with targeted, one-to-one email communication. Tagging and lead scoring make it easy to create dynamic lists based on your contacts' interests and readiness to buy. Automated task creation and notifications keep you on point all day. You can also create landing pages and pop-up forms to convert on-site visitors to leads. When you know what needs to be done, you have the freedom to prioritize where to spend your time.
Hubspot
Website: hubspot.com/products/crm
Price: Free (details)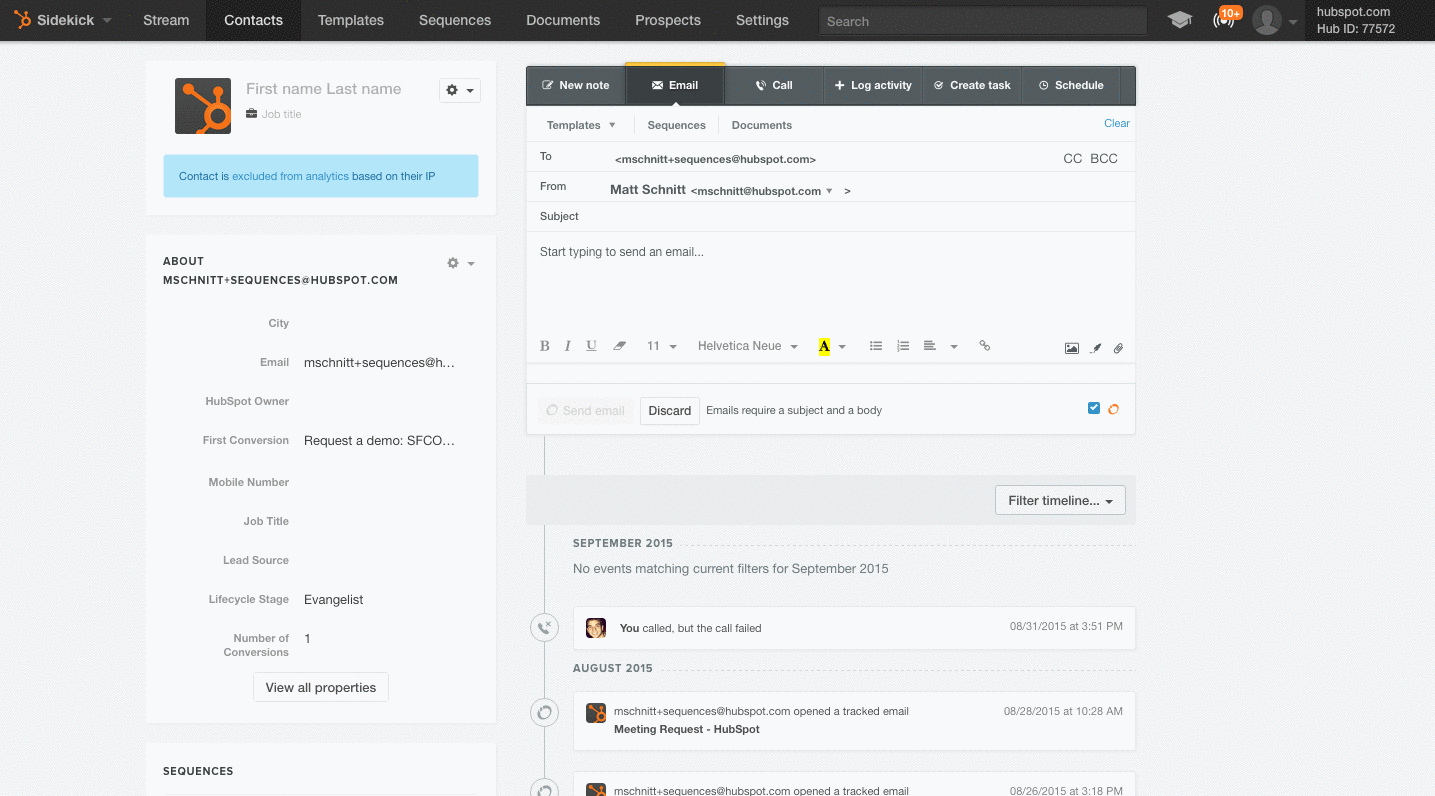 With its cloud-based, customer relationship management platform, HubSpot helps companies of all sizes track and nurture leads and analyze business metrics. HubSpot is suitable for any B2B or B2C business in a variety of segments, including accounting, construction, retail, real estate and more.
HubSpot offers a visual dashboard with a real-time view of the entire sales funnel. Users can track customer interactions automatically through email, social media or phone calls and every interaction is stored in a timeline organized by lead.
HubSpot enables users to create and manage email templates and track how well those emails are performing. The solution can also send real-time notifications for events such as when a contact opens an email or downloads an attachment.
LeadSquared
Website: leadsquared.com
Price: $25 – $100 per month, billed annually (details)
Free Option: 15-day free trial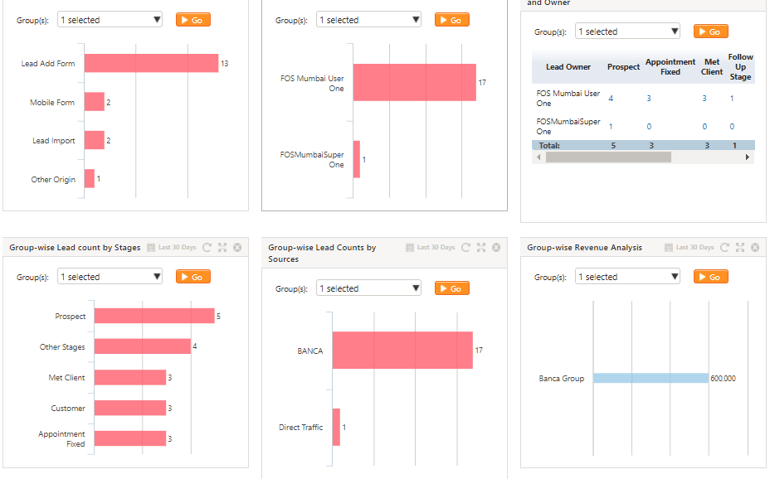 LeadSquared does what traditional CRM systems are unable to do – Help salespeople close more deals in businesses with high-velocity and high-volume customer acquisition.
In high sales-volume businesses, lead leakage is a critical problem. LeadSquared addresses this by allowing direct lead capture from all the major channels – with direct capture, out-of-the-box connectors, APIs, and mobile app, in case a field sales team is involved. The second major problem it addresses is helping sales reps prioritize the leads that are more likely to convert. It allows salespeople to concentrate on closing deals, instead of worrying about data entry and "using" the software.
Though we have clients from both B2B and B2C segment, B2C has been our sweet spot, because the sales process is fast, and the volume of sales is much higher. Major industries using LeadSquared are from Higher Education, Edtech, Financial Services (Insurance, Mortgage, Lending etc.), healthcare, real estate, hospitality and other B2C businesses.
Nimble
Website: nimble.com
Price: $12 – $25 per month (details)
Free Option: 14-day free trial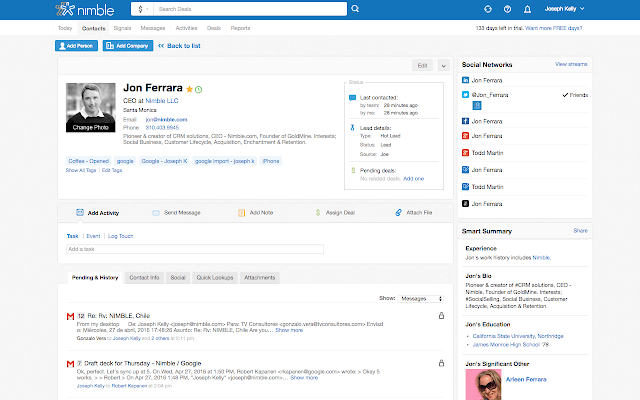 Nimble offers browser widget and mobile-based sales force automation and social CRM solution for small and midsize businesses. The solution automatically populates customer profiles and interaction histories from contact lists, email conversations and social media activity across a range of popular platforms including LinkedIn.
In addition to contact and pipeline management features such as deal tracking, task management, and alerts, Nimble also includes integrated social listening to keep customer profiles updated. This allows businesses to track which contacts are mentioning, following or engaging with them, or who are celebrating milestones such as birthdays—which in turn creates valuable opportunities for informed outreach and follow-ups.
OnePageCRM
Website: onepagecrm.com
Price: $12 per month (details)
Free Option: 21-day free trial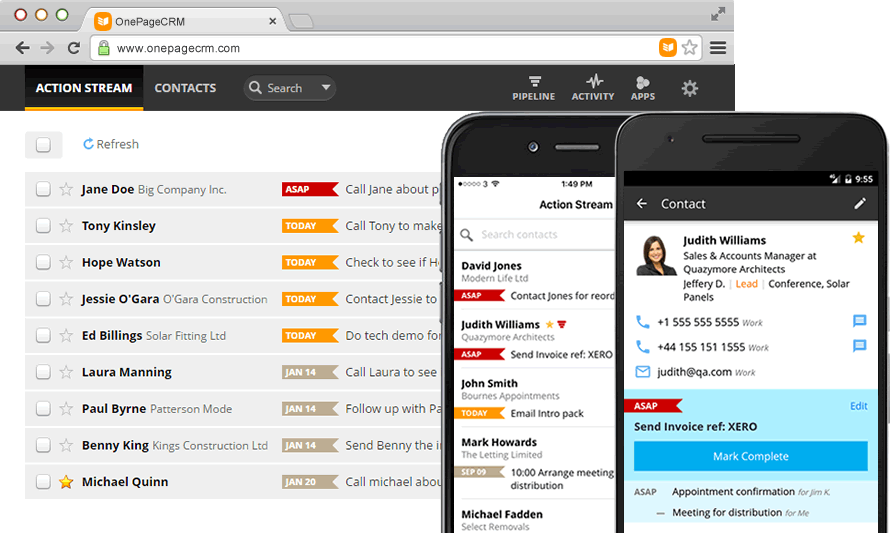 OnePageCRM is a simple, sales CRM, built using GTD (Getting Things Done) productivity principles. The software focuses on simplicity and an enhanced user experience with a single, simple "one-page" dashboard. OnePageCRM helps salespeople, business owners and SME's turn leads into customers, reach targets and grow their business fast. With a powerful Next Action focus, you always know who you need to follow up with and when. Native mobile apps on iPhone and Android are available for sales on the go so users can access their data anytime, anywhere, making sure they don't miss out on closing that deal. Salespeople can focus on selling not complex software!
Pipedrive
Website: Pipedrive.com
Price: $15 – $75 per month (details)
Free Option: 14-day free trial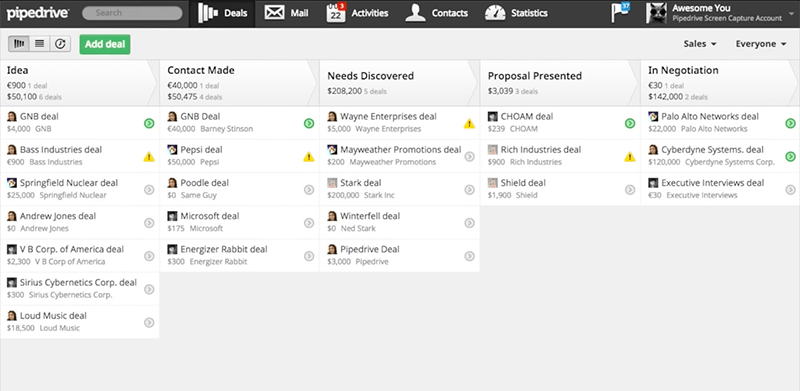 Pipedrive is a web-based Sales CRM and pipeline management solution that enables businesses to plan their sales activities and monitor deals. Built using activity-based selling methodology, Pipedrive streamlines every action involved in converting a potential deal into a successful sale. As a cloud-based application, the solution can be accessed from anywhere 24×7 using any web browser or dedicated mobile apps.
Pipedrive provides sales personnel full visibility of different sales pipelines. A robust interface displays the progress stages for each deal with the complete details for next actionable items. The activity & goal feature allows users to track the pending activities in each pipeline. Pipedrive also offers custom sales reporting tools to monitor individual and team level targets, analyze sales data and generate visual reports.
PipelineDeals
Website: pipelinedeals.com
Price: $25 – $49 per month (details)
Free Option: 14-day free trial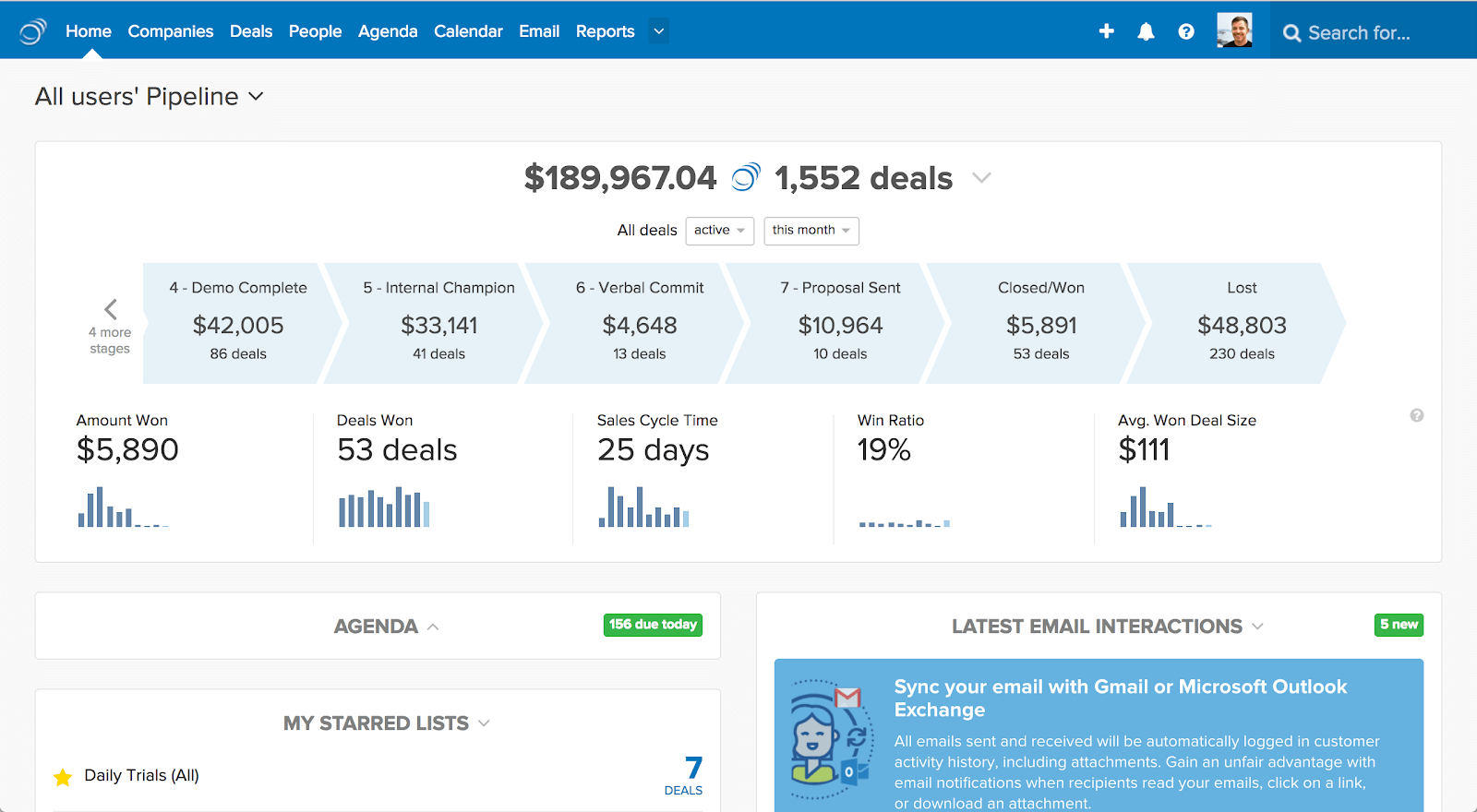 PipelineDeals helps salespeople be as productive as possible through its incredible ease of use. Our software is built around the salesperson's needs in mind to help them maximize the time they spend building relationships with customers. It's simple to search, update, and follow-up within the app. PipelineDeals is also built to look like the tools that salespeople are already comfortable using including familiar looking List Views with inline editing.
PipelineDeals also offers a unique suite of sales pipeline visibility tools, including features that automate repetitive tasks that salespeople must do. The PipelineDeals Morning Coffee Report is sent to every customer's inbox each day. It provides a daily snapshot of their current pipeline which builds a regular daily rhythm to start their day. PipelineDeals also centers on features that nurture valuable business relationships with visibility, organization, and insight while deal pages consolidate all activities, contacts, documents, tasks, and events.
Really Simple Systems
Website: reallysimplesystems.com
Price: Free – $50 per month (details)
Free Option: 14-day free trial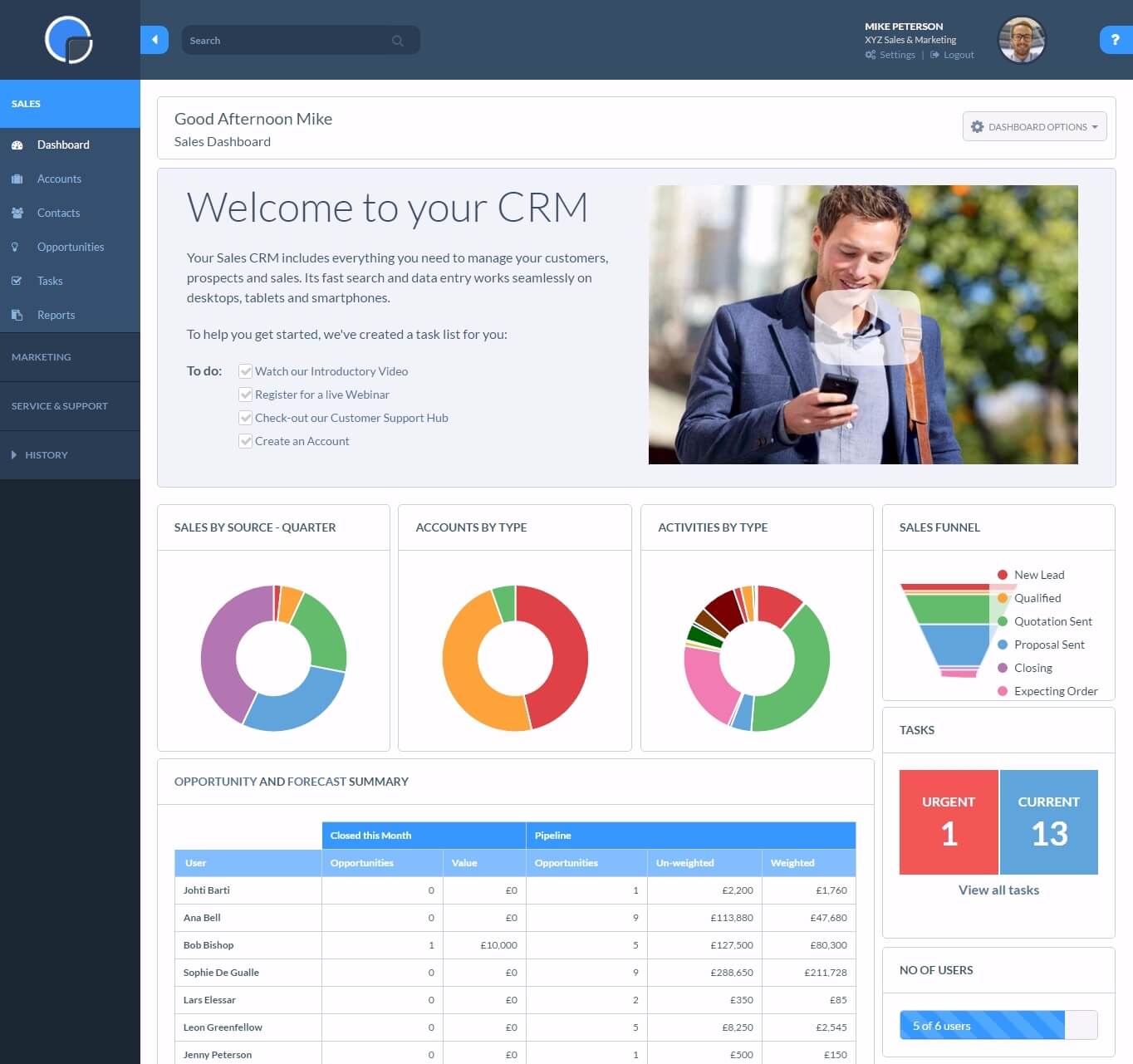 Really Simple Systems CRM helps you work smarter, managing and tracking your sales leads and customers, so you can get on with growing your business. Designed for small and mid-sized organizations, it's easy to set up and simple to use. With sales, marketing and service & support built-in you'll have all your data in one place, enabling team collaboration, better relationships and driving sales growth.
Salesflare
Website: salesflare.com
Price: $35 per month (details)
Free Option: free 14-day trial
Salesflare is a simple yet powerful CRM that automates your data to build better relationships and make more sales. It's a fast, visual and easy-to-use sales machine. Built on happiness with the latest tech, by humans for humans. Salesflare is Easy-to-use: no-frills app with zero learning curve; it's uncommonly easy to understand, navigate and operate.
Salesforce
Website: salesforce.com
Price: $25 – $300 per month, billed annually (details)
Free Option: free 14-day trial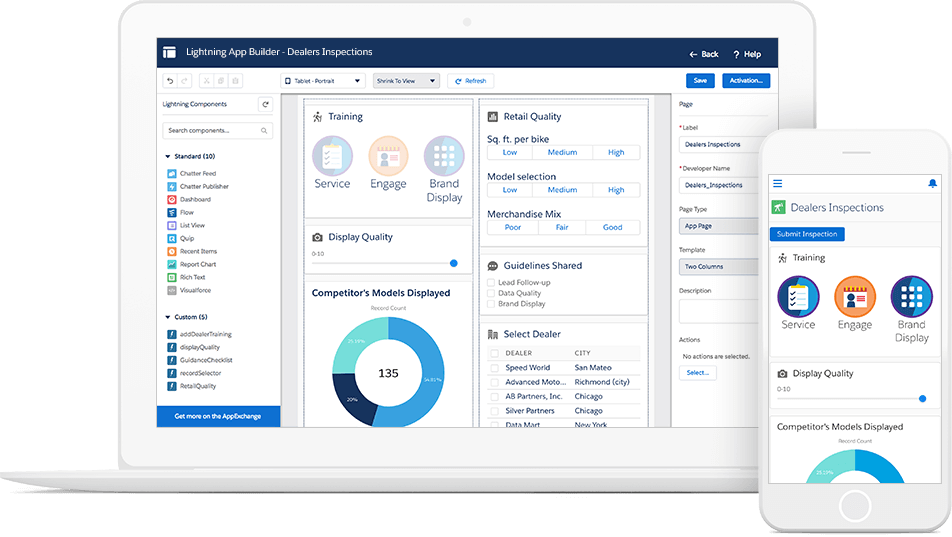 The Salesforce cloud is an on-demand CRM suite offering applications for small, midsize and enterprise organizations, with a focus on sales and support.
The Salesforce app has capabilities that include sales management, marketing automation, partner relationship management and customer service. These applications help organizations manage customer accounts, track sales leads, conduct and monitor marketing campaigns and provide service post-sale.
CRM Salesforce solutions are available only for software-as-a-service (SaaS) deployment. Force.com provides a technology stack that covers database and security as well as workflow and user interface.
Salesmate
Website: salesmate.io
Price: $12- $24
Free Option: 15-day free trial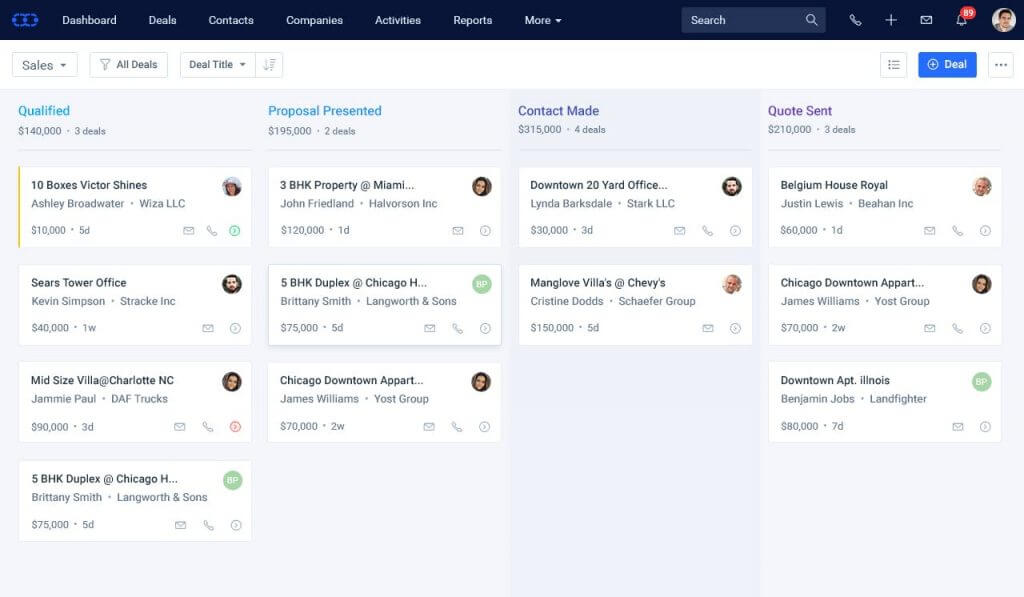 Salesmate is a truly intelligent sales CRM that helps sales reps be more productive, increases their sales and engage deeply with their customers. Salesmate helps businesses close more deals faster. With Salesmate, it got easier for businesses to manage their pipeline, save time at all stages of the sales cycle and win new customers without breaking their back on busywork.
With rich features like built-in calling, workflow automation, and shared team inbox your sales reps can be on the same page even while traveling and still be in touch with customers all the time without missing any sales opportunity.
Sellsy
Website: welcome.sellsy.com
Price: $50 – $170 per month (details)
Free Option: 7-day free trial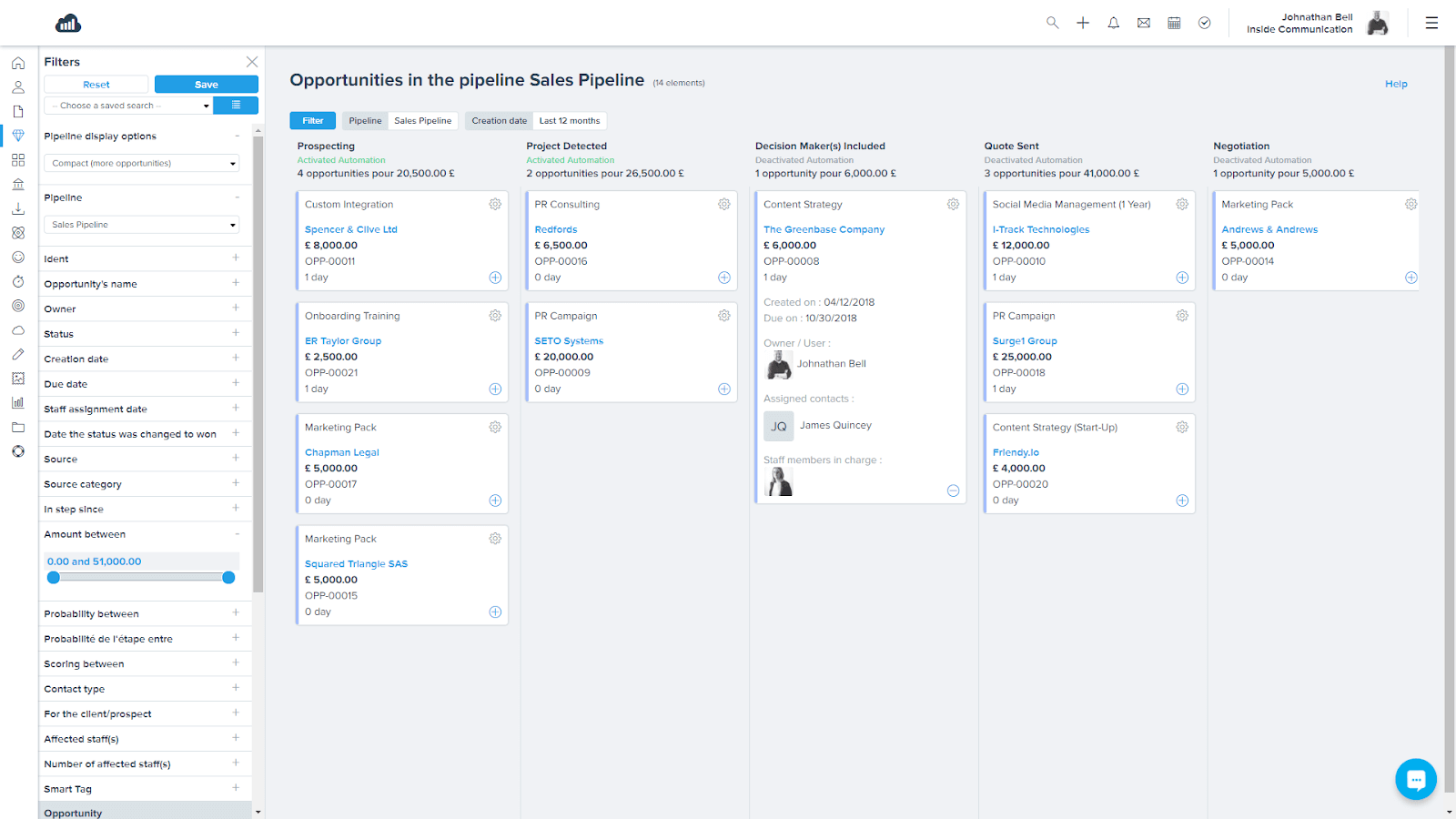 Sellsy CRM has all of the bells and whistles that you've come to expect from a CRM in 2018; such as automatic lead scoring, pipeline view/opportunity management, 2-way email sync, automatic emailing, and prospect engagement tracking. Things start to become really interesting when companies start to move beyond the CRM though, as Sellsy is also able to generate invoices, manage support tickets, track stock levels, and manage email marketing campaigns (amongst a host of other things). All of the data, all employees, and all customer touch points can be managed from one comprehensive platform.
SugarCRM
Website: sugarcrm.com
Price: $40 – $150 (details)
Free Option:  Free trial (details)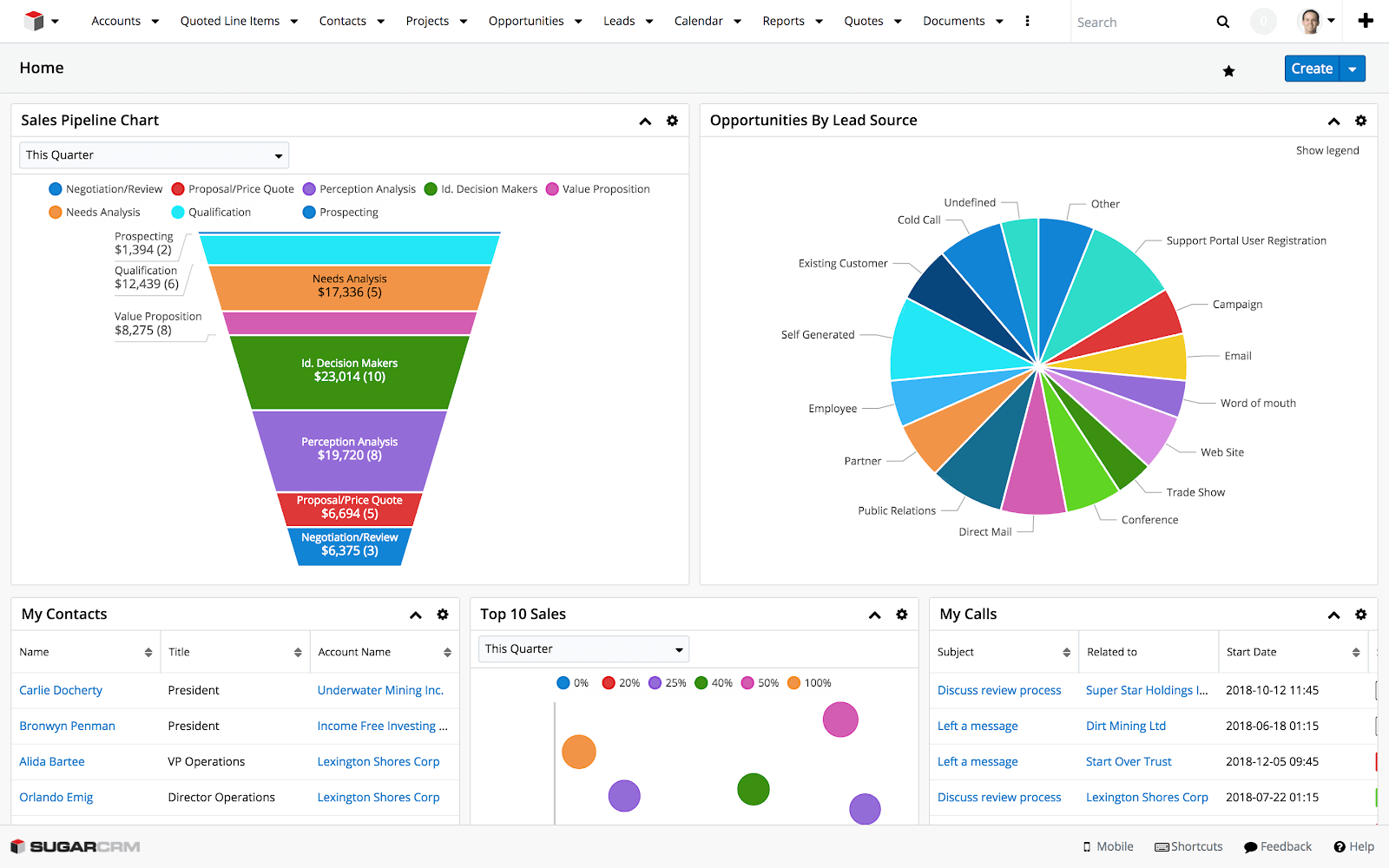 SugarCRM helps sales teams gain a holistic view of their business, uncover actionable data, and generate accurate pipeline reports. Sugar users can prioritize their sales pipeline with personalized dashboards and increase win rates with rich customer insight and collaborative selling tools. Sugar's mobile CRM app helps employees be productive and stay engaged while away from their desk. Reps use the app to stay on top of every deal, look up or update information, and never miss a moment to engage with customers.
Teamgate
Website: teamgate.com
Price: $11 – $79 per month (details)
Free Option: 14-day free trial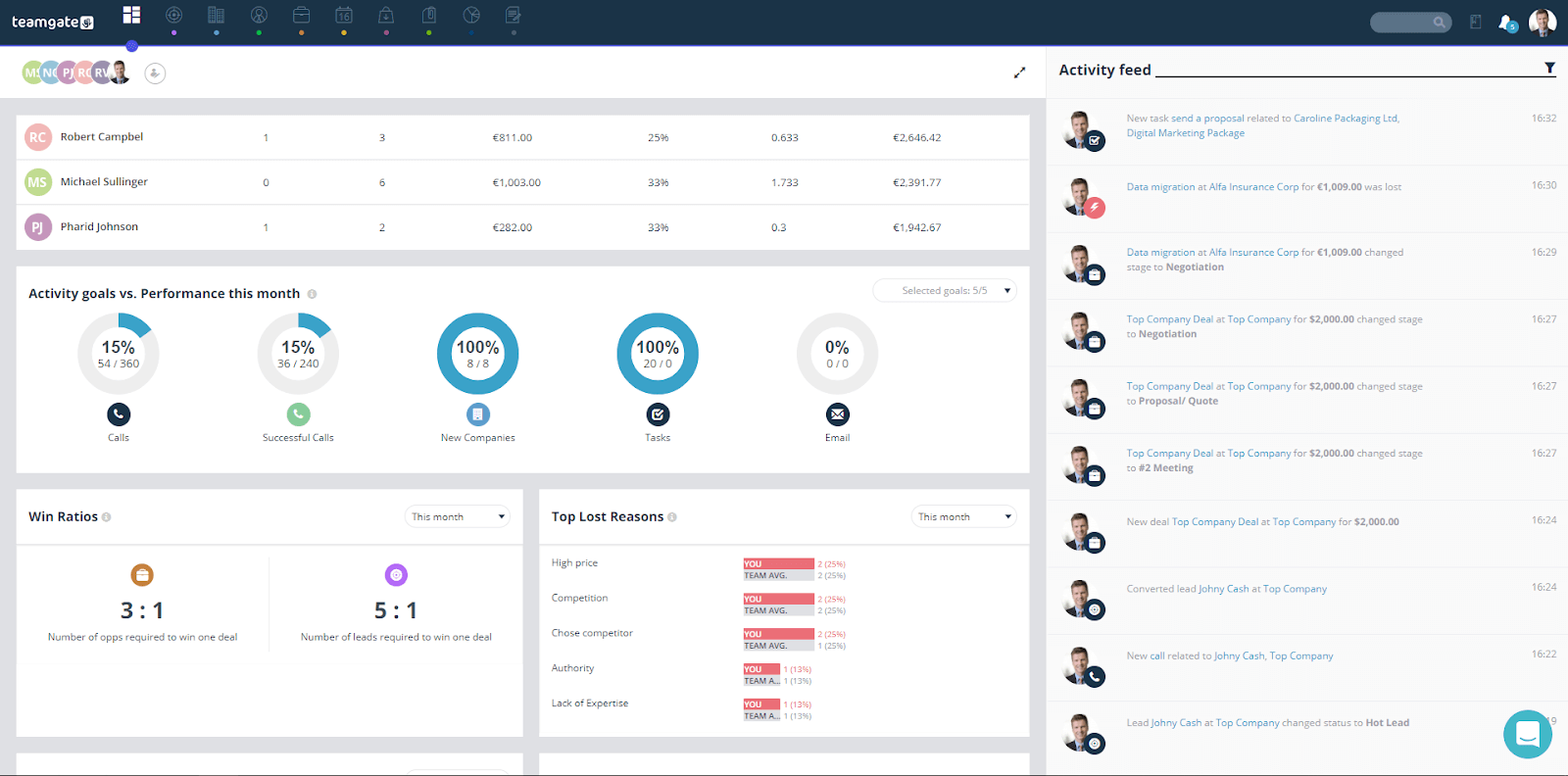 Teamgate is a web-based full process Sales CRM solution designed to strengthen and simplify your entire sales process. From lead prospecting to sales closure every step of the sales journey is enhanced by features which are both easy to learn, easy to use, and whose results can be analyzed in real time, leading to future sales and increased growth. Armed with a series of intelligent integrated features; such as Mailchimp, Zendesk, Zapier and a multitude of others, the award-winning Teamgate software provides your sales teams with both the simplicity and the strength to organically grow your business.