17 Tools Designed to Close Deals Faster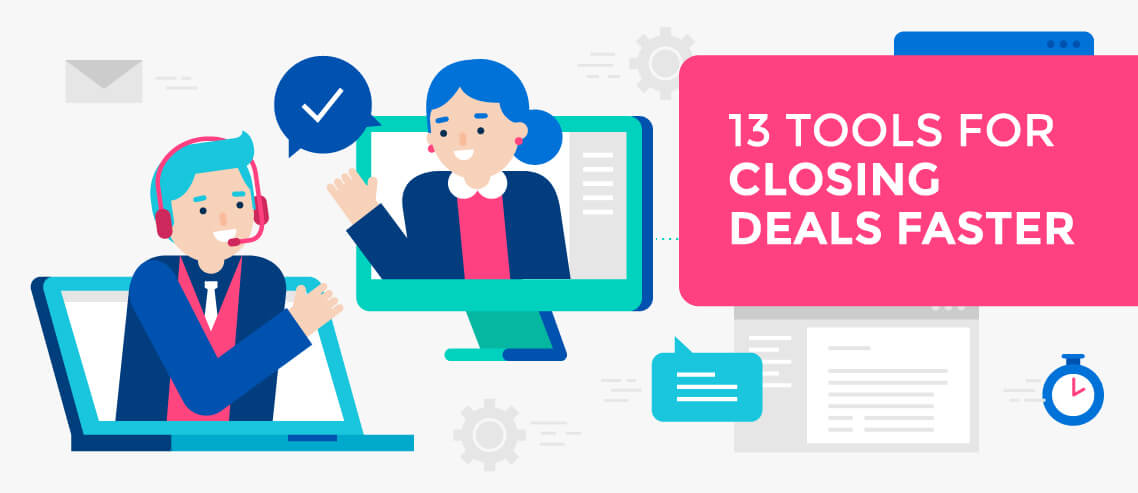 Hi, I'm a marketer. Not a Sales Manager or an Account Executive. 
The only person I've ever cold-called is my ex (bad idea) and the only deal I've ever made was with myself (no ice cream before dinner). 
I support my sales team by creating buzz around what they're selling. Positioning a product in an engaging way is my specialty, closing deals is theirs. 
So, why is this round up of tools designed to speed up the sales cycle coming from a marketer and not a sales rep? 
It's simple: they sell themselves. I'm just here to create some buzz. 
PandaDoc offers reusable proposal templates and a custom content library filled with ready-to-use and pre-approved content cut your team's proposal creation time by 65%. The best part? You can send as many sales documents as you want from a single template. You'll accelerate your deals by reducing back-and-forth negotiations through the use of redlining and commenting features, and receive real-time notifications whenever your sales proposal is opened, viewed, or completed. The proposal software integrates with your CRM, to help you crank out proposals fast and close deals even faster. 
Starts at $9/month and offers a tiered pricing structure for plans with more comprehensive features to suit a variety of business needs. 
Capterra Rating: 4.5/5
Best for: Businesses ranging in size from SMB to Enterprise. 
HubSpot is a free CRM designed to connect marketing, sales, and service teams with their customers. It's highly customizable nature and 200+ integrations make HubSpot a tool that adapts to your business, not the other way around. Sales teams, in particular, will rejoice to hear that HubSpot specializes in sales software, with an arsenal of tools built to boost productivity and push opportunities through the sales pipeline at record speed. Their sales automation tools give reps the power to turn once monotonous, data entry tasks into streamlined workflows with one click. Set email campaigns and creation to autopilot with templates, sequencing, and scheduling options. Even if you're the type of rep who likes to send original emails in real-time, you'll still have insight into valuable analytics. From the moment your lead opens an email, clicks a link, or downloads an attachment; you can implement predictive lead scoring. HubSpot helps you prioritize outreach efforts, avoid wasting time on leads who aren't interested, and close the deal quickly with those who are. 
Starts at $0/month for individual plans as well as an affordable monthly plan for larger sales teams.
Capterra Rating: 4.5/5
Best for: 
Small Business (50 or fewer emp.) or Mid-Market (51-1000 emp.) or Enterprise ( >1000 emp.)
Acquire is a fully loaded unified customer engagement platform. It hosts an array of customer support tools that help businesses to ace their customer service strategies. It helps start-ups, SMBs, and large organizations to deliver an optimum digital customer experience.
Acquire's ability to provide a unified view of all customer interactions across channels, to agents, at one place, is one of the reasons that make it stand out. The unified view can give agents all the information of a customer or a visitor needed like their previous queries, purchase history, personal details, emails, chats, etc. in a single dashboard along with the timeline. This decreases query resolution time and increases the efficiency of the customer support agent.
Moreover, this unified customer communication platform allows agents to connect with customers in more than one way through a medium like video calls, voice calls, live chat, cobrowsing and chatbot.
Price:
Contact them for pricing
Capterra rating: 4.9/5
Best for: customer support professionals and businesses of any size.
More data, more deals. Clearbit uses data findings to help you identify prospects, find more like them, and reach out to them when the timing is right. Clearbit saves sales reps time by creating targeted lists of leads in minutes, so they can focus on selling. All you have to do is set parameters — like industry, employee count, fiscal year-end, and job title — to help Clearbit narrow down the search. Once that's done, carry on with business as usual until a real-time activity alert notifies you of a qualified lead on your site. Their machine learning algorithms give you all the information you need to close more deals and grow your business.  
Starts at $99/month and increases based on CRM database size, monthly web traffic, and monthly contact creation.
Best for: Companies looking drive demand and conversion with automation, enable their sales team to grow more target accounts, and close deals faster. 
The best sales reps are helpful and personal. Drift makes it possible to deliver a helpful and personal customer experience at scale. Capture and convert high-quality leads in record time with Drift sales automation software. It's the only platform that helps your sales team deliver a personalized message on your website when prospects click through your emails. Not around when your prospect is? No big deal — a chatbot can jump in and book the meeting for you. Drift gives you the power to push opportunities through the funnel in real-time, whether you're online or not. Their Sales Assistant feature enables sales teams to deliver the personalized buying experience their customers deserve — including context for every meeting and notifications for follow-ups — so reps can have better conversations with potential customers. 
Starts at $400/month for the Pro plan. Premium plans are available for $1,500/month for teams looking to upgrade their experience. 
Capterra Rating: 4.5/5
Best for: Any business or individual with a website who wants to capture more leads, and chat with people in real-time.
Email isn't dead, it's just boring. Vidyard brings it back to life. Their webcam and screen recording tool is designed to help sales professionals connect, convert, and close more deals. You can send videos that generate pipeline, move deals through the sales cycle, and turn leads into customers. Vidyard helps you put a face to your name with video. Record and send personal videos that stand out from the noise and improve response rates, whether you're cold prospecting or responding to inbound leads via email. You can then integrate the data collected from your videos with the contact records in your CRM to keep better track of which opportunities are engaging, and how much pipeline video drives for your sales team. 
Starts at $0/month to record, send, and embed videos. Pro, Starter, and Enterprise plans are available on a tiered pricing structure. 
Capterra Rating: 4.5/5
Best for: Marketing and sales teams looking for a way to unlock and understand the revenue-generating potential of video.
BenchmarkONE is a CRM and marketing automation solution that makes small business sales easier. Their Gmail and Outlook integrations mean you can update your BenchmarkONE contacts straight from your inbox, reducing the need to bounce between windows. You can add contacts easily, track your prospects as they move through the sales funnel, and provide personalized email follow-up. Lead qualification is simple with their tagging and scoring capabilities, and tasks can be automated, which saves you time and keeps you on top of your follow-up. BenchmarkONE also enables you to create landing pages and pop-up forms so you can track on-site visitors and add them to your outreach campaigns.
Price: Has a 14-day free trial, but packages start at $39/month. Lite, Core, Pro, and Enterprise packages are available on a tiered pricing structure.
Capterra Rating: 4.4/5
Best for: SMBs and agencies looking for a simple and easy-to-use CRM and marketing and sales automation tool.
You know the drill. You fill out a form on a company's website and get sent to a thank you page that says you'll be contacted "shortly". If you're lucky, someone responds. By the time most sales reps get around to following up with their leads, they're caught in a game of phone-tag, cross their fingers and hope they get someone re-engaged enough to take the next step. Chili Piper helps qualified leads automatically book a meeting or start a phone call the moment they fill out a form on your site. You'll see dramatic improvements in your lead-to-opportunity conversion rates and create more pipeline from the same traffic. 
Starts at $25/month with a la carte style add-ons available.
Capterra Rating: 4.4/5
Best for: Sales Operations Managers, Sales Development Managers, VP Sales, Marketing Operations, Demand Generation, VP Marketing, Events Marketing Managers, Field Marketing Managers.
Zoom is where the magic happens. It's a high-definition video conferencing platform designed to streamline the process of connecting sales professionals to their prospects in real-time, or by way of pre-recorded messages. They offer a multitude of integrations that will help you close deals in record time. Connect your calendars, payment processors, project management platforms, messengers, and you'll never miss out on another opportunity to follow-up with new leads. You can even take your conferences on the go when you download their mobile app. If video conferences, webinars, and collaborative remote meetings are a regular part of your day-to-day, then Zoom is definitely a product worth trying out. 
Starts at $0/month but offers Pro and Enterprise plans that include advanced features for an increased price per host. 
Capterra Rating: 4.6/5
Best for: SMB and large enterprises that require wireless media sharing and video system interoperability.
ChurnZero helps you keep your customers once you close the deal by taking a proactive approach to Account Management. They get that you piece together customer insights from more than one channel, that's why they offer native integrations with trusted CRM and analytics platforms to help you put together your data puzzle. Every good salesperson knows that data is only useful if you can take your findings and apply them to your strategy. ChurnZero allows you to segment your customer data, define personas, and help tailor messaging to your clients. You'll fight churn, expand the potential of existing accounts, and provide the optimal customer experience with ChurnZero. 
Request a demo to explore the product and your options with a ChurnZero representative, you'll be able to make an informed decision on the right pricing model for you and your business. 
Capterra Rating: 4.8/5
Best for: Digital subscription business (SAAS, content, services) where customer engagement is key to customer success.
Mailshake helps people have more conversations, qualify more leads, and close more deals than ever before. In other words, MailShake was built for salespeople. Their priority is you, and they don't want you to waste another minute using your halfway decent prospecting approach. You'll have the ability to automate and scale your email outreach strategy, scale whitehat link building, connect with prospects through social media, and track everything. Features like mail merge and follow up ensure your email outreach is equal parts fast and effective. Its intuitive user experience makes exploring and implementing new features easy, empowering you to close more deals. You'll struggle to find software with comparable reporting capabilities, email personalization, and usability at the same price point. 
Basic, Pro, and Omni account options all priced affordably at under $100/month. 
Capterra Rating: 4.6/5
Best for: Sales professionals, founders & entrepreneurs, content marketers, and 
anyone looking to earn leads via cold outreach.
What happens when you combine proposal software, eSign software, and CPQ functionality into one tool? You accelerate deals (and save a ton of paper). eSignature tools enable you to add signature fields to documents, like proposals and contracts, collect and track them. It streamlines the whole process of securely managing signatures and positively impacts conversions. PandaDoc offers a full suite of features alongside its eSignature tool, all of which help to speed up the document creation and completion process. You can automate workflows, track documents awaiting signatures, and use the analytics tools to form a big-picture view of what's going on with every document you send. Integrations with some CRMs are available too.
Starts at $9/month for an Individual account with basic eSigning abilities. Advanced eSignature capabilities are available with the $25/month plan. 
Capterra Rating: 4.5/5
Best for: Businesses ranging in size from SMB to Enterprise.
Zapier is the productivity-cherry on top of the close-deals-faster-sundae. It's one of the most ubiquitous integration and automation tools available. It has the power to cut hours from your sales team's schedule by seamlessly enabling the flow of data and information between various apps. The service integrates with thousands of tools and more are added on a daily basis. In fact, most SaaS providers now make sure they offer a Zapier integration. So how does it work? Let's say you want all attachments sent to you via email to be available in your cloud drive and notify your project management software. With Zapier, you can automate what once were time-consuming, manual tasks and spend more time selling. 
Starts at $0/month; advanced collaboration and sharing features are included in the Starter and Team plans for a higher monthly rate.
Capterra Rating: 4.7/5 
Best for: Small & Medium Businesses. Marketers, Salespeople, Designers, and Developers.
You probably already know (and love and hate) Slack. It's a collaborative hub that connects people through conversation. These conversations, work-related or otherwise, happen in channels that are categorized by topic, project, team, or shared interest i.e. #dog-pics or #run-club. Slack even integrates with apps, like your calendar and project management tools. The information from these apps is pulled into your stream of conversation to keep everyone in the channel on the same page. Your public conversations in Slack are searchable so you and your team can find the info you need when you need it, catch up on past decisions, and work together to close deals faster. 
Starts at $6.67/month per person for a Standard plan, Plus and Enterprise Grid plans offer more features to large businesses and are available at a higher rate. 
Capterra Rating: 4.6/5
Best for: Anywhere from two-person startups to Fortune 100 corporations.
What's the point of closing a deal if you don't get paid? Avoid adding "debt collector" to your resume with Stripe: an internet commerce solution that marries the functionality of a merchant account with the convenience of a payment gateway. With Stripe, you can accept payments and deposit funds into an account, making it easier than ever to collect when you close. Stripe is truly dedicated to making sure you get paid and launches new features weekly to better suit your business's needs. Increase your revenue with the ability to reach a global audience, optimize your checkout experience, and increase conversion rates with Stripe. By using their developer platform sales teams spend less time worrying about the logistics of getting paid, and more time closing deals. 
Stripe offers pay-as-you-go pricing with a low transaction fee per successful card charge and the ability to customize your plan based on your business needs. 
Capterra Rating: 4.7/5
Best for: Any businesses that accept payments online.
Xtensio is a modern way of making your documents look more engaging, professional and intuitive. Its one of the best tools that let your presentations look engaging. It comes with an easy to use interface and is also packed with lots of amazing features.  You can use it to share, present and manage your business needs.  Trusted by various other businesses, consultants and agencies, you can use it to streamline your workflow.  Pick from 100 of pre-built templates, change color schemes, add graphics and images, and more. From marketing teams to promote their brands to the new businesses launching their brands, Xtensio helps in creating presentations and web pages.
Capterra Rating: 4.5/5
Best for: Consultancies, Agencies, New Businesses, Remote teams
Video is the most popular content right now. And for good reasons. Video marketing (when done correctly) is entertaining, engaging, and highly effective in converting views to sales. So, if you are looking to boost your chances of closing a deal, Clipchamp's free online video editor can help you easily create a video and add it to your sales funnel. Best part? No downloads necessary; just access in your browser and drag-and-drop files to create your video in the timeline. Its features let you and your sales team create a video, record screen and webcam, add brand logo and font for awareness, create GIFs for email marketing, and much more. It lets you download in 480p resolution without any watermarks, too. The affordable but powerful Business plan offers extra perks like audio and video stock, full HD exports, Cloud backup, and more. It's as simple as it gets, so empower your sales team with videos and hit your sales goals. 
Price: 
It is free to record, edit, export, and share videos. Starting at a Creator plan at $9/month, you can get more tools and features. The Business plan at $19/month offers the complete package for business use.
Capterra Rating: 4.6/5
Best for: Creating digital video content to empower sales teams and generate more brand awareness for businesses.