What is a Power Dialer: Pros, Cons and Best Power Dialer Software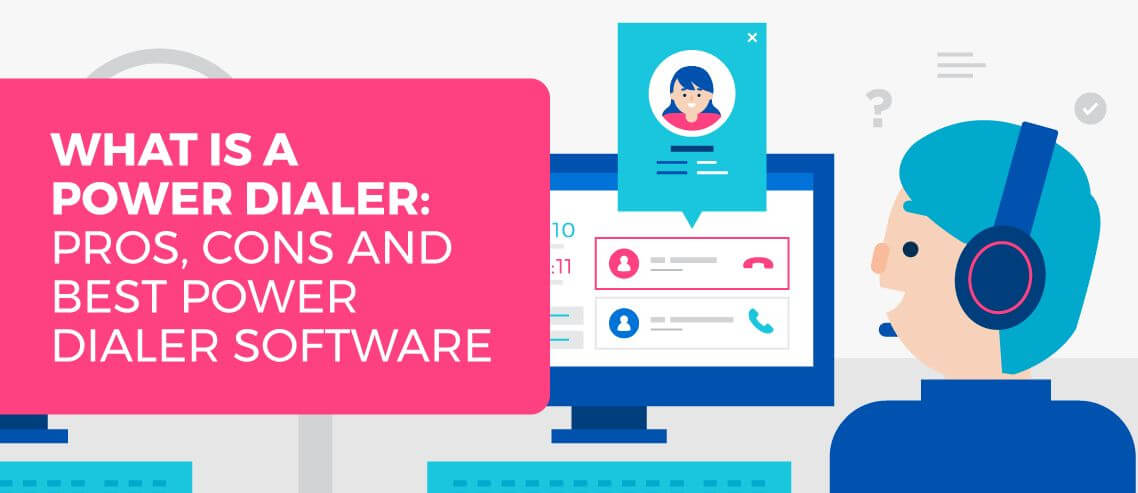 You've got targets your cold-call team needs to meet, but they just don't seem able to reach them on a regular basis. Your team is working their hardest, but you may not have the processes in place that will allow them to succeed.
Cold calling is often an inefficient process.
Time is lost dialing numbers, waiting to connect, and listening to voicemail messages. All of this lost time can be reduced though, and power dialers are one option that businesses turn to.
What Is a Power Dialer?
A power dialer is a system that automatically dials numbers on a contact list in order to find leads for your rep to speak to. This saves your sales rep from having to type in a new contact number after every call.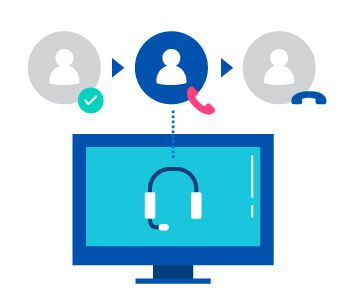 Many power dialers will connect through your CRM, accessing your contact lists and dialing the numbers when the agent is ready. With power dialers, the rep is always on the line, so prospects are connected to someone as soon as they pick up. The system waits until each call is completed before proceeding to the next.
As the rep is connected, they will get a pop-up with the customer's information, giving them a brief background and personal details. However, it doesn't afford much time to create a personalized approach to each customer, so it's a solution that's often better suited to cold calls where a fixed script is used.
What's the Difference Between a Power Dialer and an Auto Dialer?
Power dialers automate the dialing process before handing the call off to a sales rep. An auto dialer, on the other hand, automates the entire process, playing an automated message rather than connecting the lead to a sales rep.
It's important to note that there are many restrictions on the use of auto dialers, so if you intend to use any form of sales dialer, it's important that you understand the regulations in your local area.
However, personalization is a huge part of marketing and sales, which is why many businesses find the power dialer to be an effective tool. Power dialers leave the talking to a human sales rep, which allows for greater personalization.
When you can personalize your messages and make them relevant to the person at the other end of the phone, it's likely to result in a better conversion rate.
What Is a Progressive Dialer?
Progressive dialers are similar to power dialers, but they're normally used in call centers as they allow reps to get through a larger call volume.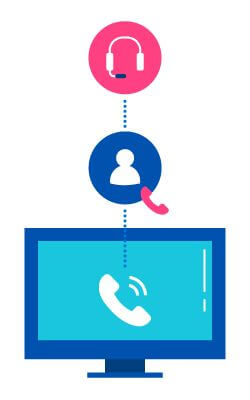 Just like power dialers, progressive dialers automatically run through a dialing list. However, rather than working on an individual basis, they direct calls to sales agents as and when they become available.
The progressive dialer waits until it recognizes a human voice before passing the call over to the sales agent, meaning that no time is lost waiting to connect. This can lead to some complications if the automation doesn't recognize a person's voice over a voicemail, but overall it can be a huge time-saver.
The progressive dialer can adapt to the speed of your operations, giving reps time to check data on the contact before being connected to the call.
What Is a Predictive Dialer?
A predictive dialer dials multiple numbers at once, screening out busy and disconnected numbers. This allows you to automatically go through your list, connecting only the live calls to an agent.
Predictive dialers automatically assign calls to free reps, so with this type of software, you need to have enough staff members to cover all of the calls. Dropping more than 3% of calls is illegal, so you have to ensure you have the capacity to handle this technology and that you're using it in the correct manner.
This is an excellent way to power through your dialing lists, but it has its drawbacks. There's little time for personalization, and you have to ensure that you're not dropping calls in order to remain compliant with the law.
Pros and Cons of a Power Dialer
There are many different options when it comes to sales dialers, so it's important that you choose the right one for your business and make sure that you don't end up paying for any features you don't need.
Here are some of the pros and cons of power dialers:
Pros
Power dialers are a quick and efficient way of getting through a dialing list. While they don't facilitate the highest level of personalization, they do allow agents to set their own dial rates, giving them a better chance to personalize their pitch than, say, predictive dialers.
In addition, always on the line when connected, so there's no delay when a prospect picks up.
Cons
A power dialer is something of a middle ground. It allows you to get through a good number of calls each day, but not as many as a predictive dialer. It also allows you a greater level of personalization than a predictive dialer, but still not at the level of other dialing options.
Reps don't get much time to understand the lead before they're connected, and this can lead to very surface-level conversations. This means power dialers won't be right for every business, and it depends on the kind of sales you're doing.
Best Power Dialer Software
There's a lot of different power dialer software to choose from, so which ones should you be looking at?
1. Aircall
Aircall's power dialer automatically grabs phone numbers from your prospect's website, adding them to your call queue.
With the dialing taken care of, your agents can quickly work their way through their listings, making use of screen-pops with information synced from Salesforce. Follow up with notes and tags in the Aircall app, and they will automatically sync to your CRM.
The basic package costs $35 per month per user.
2. CloudTalk
CloudTalk offers a simple-to-use interface that syncs with all your devices and services. With its click-to-call power dialer, it aims to limit downtime and enable your sales reps to have more meaningful conversations.
With the added benefit of live coaching, it's there to help you make sales and see a greater return on your investment.
Get set up with CloudTalk's starter package from $20 per month per user.
3. Grasshopper
Grasshopper brings the power dialer to your personal device by adding a business line. This is ideal if you're a small business and need to keep things simple and minimize costs.
This allows you to keep your work and personal number separate while accessing your business phone system from anywhere. Choose your own number and select a plan, and Grasshopper will seamlessly integrate with your business.
Get started with a Basic plan at $26 per month per user.
4. PhoneBurner
PhoneBurner allows you to connect through the cloud from anywhere, making it easy to set up your power dialer.
With two dialing modes, which it calls "fast" and "really fast," it gives you good flexibility and promises 100% delay-free connections. An intuitive CRM and intelligent features such as smart search, make it a good option for many businesses.
Get set up from $149 per month per user.
5. Five9
Five9's power dialer aims to put you in control, offering different dialing modes and allowing you to set your own calls-to-agent ratios.
With a number of different CRM integrations, campaign and list management, CTI screen pop, answering machine detection, and many other features it's a powerful tool for your business. Whether you're prospecting, qualifying, nurturing, or converting, it's got different features to help you achieve your goals.
To get started with Five9 enquire online.
6. CallHippo
CallHippo gives you a simple, easy-to-use power dialer that's designed to make your business more efficient. Import your contacts from a spreadsheet, start the campaign, and let the app keep dialing through the list for you.
With a host of different features including call conference, call transfer, and smart call forwarding, it's a quick way to improve the performance of your sales team.
Basic packages start at $14 per month per user, rising to $35 per user per month for the platinum package.
7. Dialer.ai
Dialer.ai offers a flexible package with good onboarding and support throughout. With a host of different features, including phone surveys, dynamic callerID, and text-to-speech, it can help your sales force get the most out of each call.
Pricing is based on the number of ports you require, with the basic package including 25 ports for $199 per month.
Why Mailshake's Dialer is Better Than a Power Dialer
Speed is important for outbound sales, but it isn't everything. Power dialers allow you to get through a list very quickly, but they don't easily allow for the level of personalization that modern marketing often requires.
With Mailshake's dialer, your sales reps have a huge amount of information at their fingertips, they have more time to plan out their conversations. This leads to higher quality calls and more conversions.
You need your teams to work quickly, but they also have to be in control of the process if they're going to bring some personalization to the call. With Mailshake, you've still got a dialer to get you through your lists quickly, but you can also add extra personalization that's not easy to do with a power dialer.
When considering any type of sales dialer, always be sure to check local and federal laws and regulations before you get started.