What is an Auto Dialer: Pros, Cons and Best Auto Dialer Software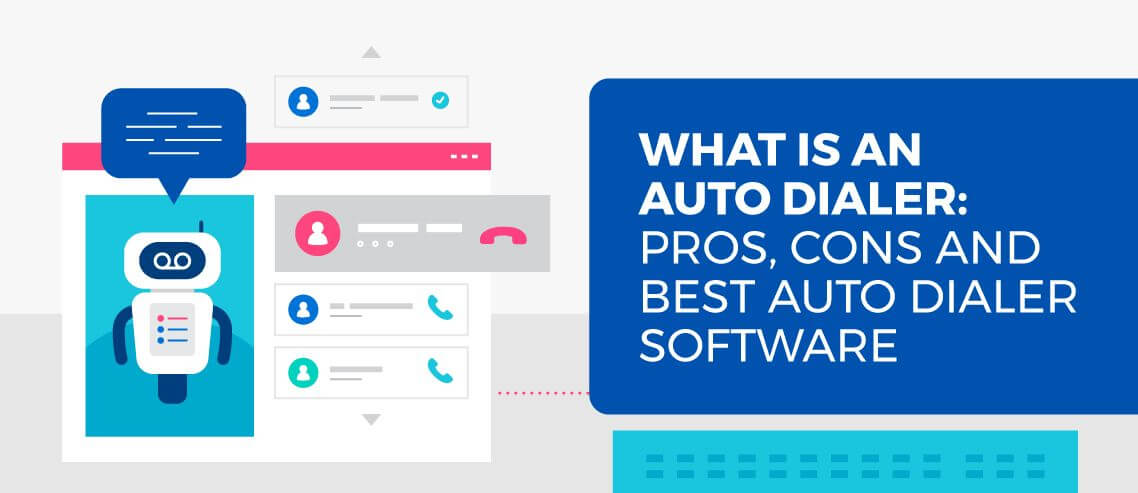 Efficiency plays a huge part in outbound sales. If there are lots of kinks in your processes, then you won't realize your operation's full potential.
Many businesses look to auto dialers to streamline the process and bring efficiency to their outbound sales — but what exactly are these tools, and are they the right option for you?
What Is an Auto Dialer?
An auto dialer is a device or piece of software that stores and automatically dials numbers. Often, it will play a pre-recorded message when the recipient picks up, but it can also connect them through to a live agent.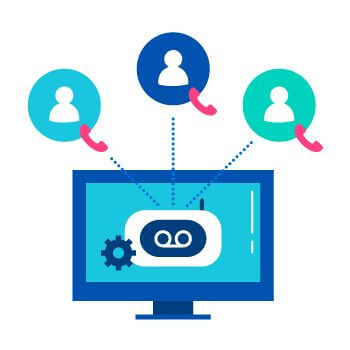 It's commonly used in call centers and among sales teams to help reps get through their call lists more quickly. However, there are strict regulations surrounding the use of auto dialers, so if you're thinking of using them in your business, it's important to make sure you understand the relevant state and federal laws.
Making outbound calls can be very time-consuming. You spend time dialing numbers, waiting to connect, and waiting on voicemail machines, which is inefficient. Auto dialers are one way to make outbound calls more efficient, helping to improve ROI.
What's the Difference Between an Auto Dialer and a Power Dialer?
Auto dialers and power dialers are very similar – they both automatically dial through a call list, dialing the next number once a rep finishes their call. What makes power dialers distinct is that they always connect the prospect to an agent, ensuring that they get a more personal phone call.
On the other hand, auto dialers may use pre-recorded messages. Both have their pros and cons.
As you can imagine, a pre-recorded message might be useful for things such as reminders about appointments, but as a sales tool, businesses generally want the human element that the power dialer offers.
Pros and Cons of an Auto Dialer
Auto dialers are a popular tool in certain situations, but they also have their drawbacks. They allow businesses to reach a lot of people very quickly, but the level of personalization within those calls is very limited.
Pros
Can reach a huge number of people in a short space of time
They only connect calls when a prospect has shown interest (e.g. by picking up)
Very useful for conveying simple messages quickly (e.g. appointment reminder, cancellation, confirmation message)
Cons
They can be seen as spammy (many people don't like receiving automated messages)
There's a delay between the customer picking up and them being connected with an agent (this makes it clear it's a sales call, causing some people to hang up)
Their use is heavily regulated (i.e., in the US it's illegal to use auto dialers to call cell phone numbers)
Best Auto Dialer Software
As with any software, there are lots of auto dialer options to choose from. It's important to make sure that you get an auto dialer that fits with your business, and the following eight companies provide good options.
1. RingCentral
RingCentral provides businesses with a complete inbound, outbound, and digital package to optimize communication. With options for preview, progressive, and predictive dialers, you can choose the solution that best suits your business.
It's a reliable, secure, and global option for your business that allows you to scale as needed.
Prices start at $19.99 per month per user, but there's a wide range of packages depending on what your business is looking for.
2. Aircall
Aircall offers a quick and simple integration with Salesforce, giving your reps screen pop-ups with information about the prospect when they're connected to the call. With easy note taking through the app, it's easy to update contacts and keep your lists in order.
Aircall's smart system is easy to set up and can allow you to quickly benefit from auto dialing. With a host of different features available, you just need to decide which ones you need and choose your plan accordingly.
The essential package starts at $35 per month per user, with a total of three different pricing options to choose from.
3. VanillaSoft
VanillaSoft is designed to give your sales reps the quick boost in productivity they need. With different auto dialing options available to suit your business, it offers a flexible solution that can integrate with your existing systems.
The base platform offers lead management, a real-time activity dashboard, customized web reporting, and several other features for $80 per month per user, with auto dialing as an add-on for $30 per month per user.
4. Voicent
Voicent gives businesses an easy-to-use auto dialer without having to pay for lots of extra functionality. Deliver pre-recorded messages to your lists, leave messages (both voice and automated) on voicemails, and transfer the call to a rep as and when needed with this clean interface.
Voicent keeps things simple and allows you to get through your lists quickly.
Prices start from $19.99 per month per user.
5. Five9
Five9 aims to make your business more agile, empower your agents, and improve the customer experience. It's a customizable solution with lots of different functions to help you get the most out of your investment.
With a range of different CRM integrations, it aims to combine efficiency with customer experience to get your sales team working at full capacity.
To get information on pricing, you'll need to contact the company directly.
6. Nice InContact
Nice InContact is an omnichannel product, pulling together your email, live chat, social media, messaging, mobile apps, and voice calls to maximize productivity.
With compliance experts working alongside you, Nice InContact ensures you're working within the regulations and getting the most out of your auto dialer.
To get information on pricing, you'll need to contact the company directly.
7. TalkDesk
TalkDesk is a cloud contact center that's designed to get you working more efficiently. With an end-to-end solution that covers customer engagement, workforce engagement, AI, analytics and insights, and lots of different integrations, this is a powerful tool for any business.
There are three different packages available, and you'll need to contact the company directly for pricing. TalkDesk has many different functions and capabilities, so it's important to take your time and make sure you're getting exactly what your business needs.
8. Genesys Cloud
Genesys Cloud enables you to handle critical processes with automated communications. It's built for business users, and with simple compliance and integrated analytics, it helps to ensure that you're working within the rules and maximizing your efficiency.
Proactive outbound digital campaigns allow you to reach a large volume of people with a simple, recorded message to get your business in front of a large audience.
Basic pricing starts at $75 per month per user.
Why Mailshake's Dialer is Better than an Auto Dialer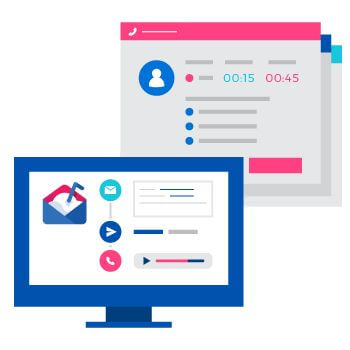 Sometimes you just need to blast out a very simple message to a large audience, and auto dialers are perfect for this. Most of the time though, you're not just trying to inform, but also get people to take action, and this requires a level of personalization that many auto dialers can't offer.
Mailshake is perfectly optimized to automate your entire communication workflow. It gives your agents time to see important information about each prospect before effortlessly dialing the next number, giving them a better opportunity to inform and encourage action.
When you're nurturing leads and closing deals, you need the human element. You can only treat people as individuals when you have information at your fingertips, and this is where Mailshake offers a superior alternative for many businesses.
Conclusion
Auto dialers are an important tool for many businesses. When you're making outbound calls, you need to be efficient, and it's hard to do this if you're constantly dialing numbers.
Efficiency isn't just about speed though, and your software needs to allow your reps to do the best work possible. Auto dialers don't always do this, so look for a solution that empowers your staff to get the most out of each call.
In addition, always be sure to look into relevant laws and regulations to ensure you're remaining compliant when using auto dialers.