8 Tools to Build a List of Targeted Prospects for Your Cold Outreach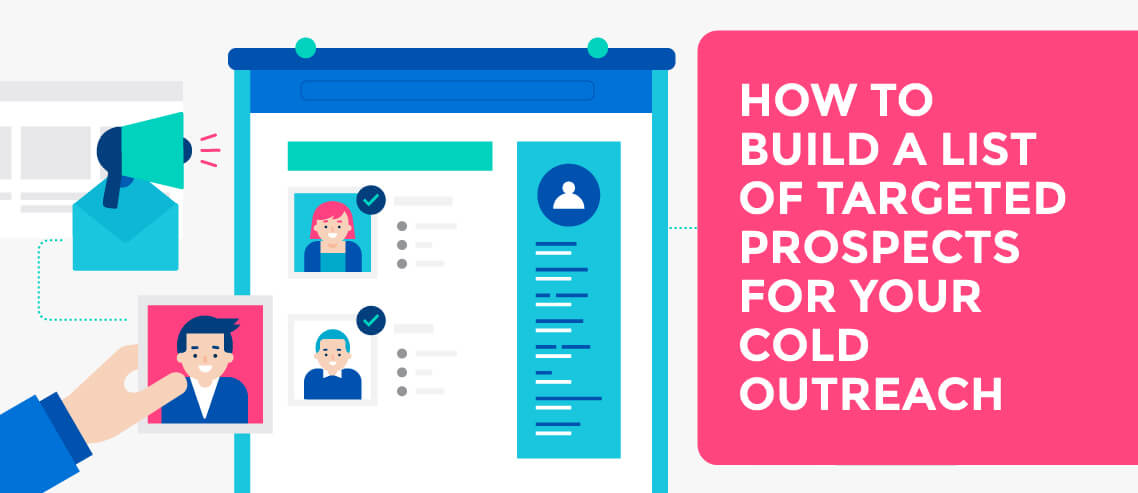 Cold email is a great way to find sales leads and grow your network. When done right, it can also help you connect with influencers, build your brand, and close the sale.
The hardest part of cold email is that – well, it's cold. The person receiving your message doesn't necessarily know you or that your message relates to them. There's a good chance they've never heard of your business, and it gives them an easy out to ignore your message.
This is why building a list of targeted prospects is so important. Finding leads that you know have an interest in your product, service, or even your area of expertise is a great way to build that initial connection.
Read on to learn about what to look for in a lead generation service, and browse our top 8 favorite tools for building a list of targeted prospects.
What to Look for in a Lead Generation Service
The top three things to look for in a lead gen service are CRM integration, search criteria, and additional automation support.
CRM integration can help you and your team use your new service with ease. It allows your lead gen service to merge with your existing database so that you avoid duplicating efforts, contacts, and data entry.
The search criteria that your lead gen service offers can be all the difference between mediocre leads and qualified leads. Outside of account and location, look for platforms that support your specific needs. For example, if you offer recruiting services, you might be interested in a lead gen platform that can find accounts that are hiring.
Finally, look for additional features that can support your prospecting. For example, some lead gen services can enrich your data with additional information that can add useful context to your database.
Our Top Eight Targeted Lead Generation Picks (and One Bonus)
1. LinkedIn Site Search
Pricing: free
This isn't so much a tool, as it is a process for those who don't have LinkedIn Sales Navigator.
Sales Navigator is a really effective platform for building a list of targeted prospects. Because it's such a powerful tool, there's already a lot out there on how to use it. Check out Alex Berman's quick video on how his team uses it, and why it's so valuable.
However, for those of you who don't have Sales Navigator (which can get pricey at $80/month), you may have found that finding prospects using LinkedIn search can be a pain.
Their search functionality is cumbersome, and you end up hitting their commercial limits quickly.
Thankfully, you can use Google search operators to find prospects, which allows you to find profiles more reliably, without touching your commercial limit.
To make this process extra fast, you can use a few simple formulas in Google Sheets, so you can paste in what you're looking for (name, company, role, etc.), and have your Google searches generated for you.
Check out the video below to see how it works, and click here to download your copy of the spreadsheet. it's a view-only version of the doc, so you'll need to click 'file' and 'make a copy' to get your own version.
2. Voila Norbert

Website: https://www.voilanorbert.com/
Pricing: Starts at 1000 leads for $39/month
Voila Norbert is a powerhouse when it comes to finding targeted leads. It keeps an updated database that's packed with B2B contacts and boasts an impressive 98% accuracy.
Best of all, it's built to scale. It's designed to handle bulk actions, native integrations, and has a great API. It seamlessly integrates into Chrome, Salesforce, Hubspot, Mailshake, and more – making it easy for you and your team to manage your leads on the go.
Prospecting packages start at 1000 leads a month, and go all the way up to 50,000+ leads a month.
If you already have your prospects but aren't sure of the quality of your list, Voila Norbert can also verify existing email lists for $.003 per email up to 500K, and $.001 per email after 500K. It's a small price to pay to keep your sender score safe.
Big companies like Facebook, Airbnb, and Oracle have used VoilaNorbert for email verification. But if you're still on the fence, Voila Norbert offers 50 searches for free.
Voila Norbert is what we use internally, because you as long as you have a name and domain or company name, you can expect to find most of your target's contact info.
3. LeadFuze

Website: https://www.leadfuze.com/
Pricing: Starts at 250 leads for $97/month
LeadFuze is another great option for automated list building. It claims to be the only lead generation service that can combine data from multiple sources while also offering unlimited access and complete list building automation.
Although many lead generation programs search based on criteria like account and location, LeadFuze can search by several interesting criteria. For example, it can search for contacts in specific roles and industries, that use certain services, that spend on Adwords, who are hiring, and more.
LeadFuze integrates with many CRMs, including Pipedrive, Salesforce, GSuite, Zapier, Mailshake, and more. Like other services on our list, LeadFuze can also export to a CSV file if you have data management or analysis you'd like to do.
As a trial, you can get 25 free leads to start.
4. Seamless.ai

Website: https://www.seamless.ai/
Pricing: Starts with 25 leads free (forever); up to $125/month for unlimited leads
Seamless AI works to help professionals create new relationships and opportunities faster than ever by using artificial intelligence technology. Seamless boasts around twenty different features, with the top four being its ability to verify emails, phone numbers, and contacts, and compile lists of your most profitable accounts.
Seamless can arrange your data into several lists and categories that help with targeted messages. For example, it can create lists based on sales, contacts, business accounts, social media, websites, and more. It can also integrate into Chrome, Salesforce, Hubspot, Outlook, and Gmail, among others.
A unique aspect of Seamless is its ability to also work across social media platforms. For example, it can search LinkedIn, LinkedIn Premium, and Sales Navigator.
5. Wiza

Website: https://wiza.co/
Pricing: Pay as you go (0.15/lead) up to $100/month
Wiza is a workhorse that's designed specifically for lead generation on LinkedIn. Wiza can generate searches and put the results into a user-friendly CSV file that your team can then use on its own or upload into your preferred CRM.
With the lowest package, you can get LinkedIn scraping, email validation, and CSV downloads for just $0.15 cents per email. It works as a Chrome extension, making it easy to integrate into your current practices.
Although it has slightly fewer capabilities than its counterparts on this list, it can be a great cost-effective option if you believe that most of your potential clients are on LinkedIn.
6. Dux Soup

Website: https://www.dux-soup.com/
Pricing: Ranges from free–$55/month
Dux-Soup is like Wiza in that it specializes in LinkedIn lead generation. In 2019, Dux-Soup was awarded the best marketing service award winner by Ignite 100.
Dux-Soup works by automatically reviewing your LinkedIn prospect profiles, endorsing their skills, and following their LinkedIn activity. It can also send personalized messages for you. You can also use Dux-Soup to conduct drip campaigns on LinkedIn. Once you get a response, you can call off the sequence so you can respond more personally.
Once you start your sales efforts on LinkedIn, Dux-Soup also lets you leave private notes on LinkedIn profiles so you can remember any special details or next steps. Best of all, these notes and tags are searchable, so you'll never scratch your head wondering what your last conversation was.
If you have international teams, Dux-Soup offers customer support during both U.S. and EU business hours, so no one will be left in the dark.
7. UpLead
Website: https://www.uplead.com
Pricing: Starts at 200 leads for $79/month
UpLead concentrates on finding and providing quality leads. Its large database includes more than 46 million contacts from 200+ countries. You can use the tool to easily build very targeted contact lists while applying more than 50 different filters (such as job title, industry or job function). Hereby, building lists of leads becomes very simple (and a matter of seconds).
Another interesting option UpLead is offering is building lists based on technologies used. That way, you can find prospects that have implemented specific technologies (such as CRM or Analytics). You can pick from a list of more than 16k technologies. Hence, you should be able to find the targets you're looking for.
Furthermore, UpLead lets you easily export your leads to the CRM of your choice and provides a decent list of integrations (Salesforce, Pipedrive, HubSpot, Mailshake, Outreach, Reply, Lemlist, Copper and more).
If you're still unsure: People from companies like Dropbox, Salesforce, and HubSpot are already using UpLead to build targeted lead lists. They have a 100% free 7-day trial with no credit card required.
8. Albacross
Website: https://www.albacross.com
Pricing: Prices start from $144/month
Albacross is a great tool for lead generation as it specializes in identifying and tracking website visitors. It provides you with all the behind the scenes information about your anonymous visitors such as the company name, size, revenue, industry, demographics, and contact information of their chief decision-makers.
Additionally, you will gain insights into the behavior of your website visitors, such as time spent on your website and buyer consideration stage. This functionality goes a long way toward optimizing your prospecting time.
The seamless integration with Zapier provides Albacross users with access to a wide range of applications such as different CRM systems, email marketing tools, etc. Thus, you'll be able to effortlessly export your targeted leads to your CRM system, email outreach tool, etc.
The best part? Once you set up your Albacross account, it'll work like clockwork. You'll have fresh leads delivered to your inbox every single day, without any action on your part!
Bonus Pick: Upwork (for Manual Scraping)

Website: https://www.upwork.com/
Pricing: Free to register
Upwork isn't your traditional lead generation platform. In fact, it's not designed for lead generation at all. Upwork is a platform that works to connect freelancers and contract workers with companies who need short- or medium-term support.
You can use it to find targeted leads by making an account and looking at people who are looking to hire within your niche or industry. For example, if you sell social media services, you might look at who's hiring in the social media category. Using the contact info you find, you can reach out to them and offer to fulfill their needs or enhance their processes.
An interesting aspect of searching for leads on Upwork is that you can see how much money they've spent on the platform. This can help you get a sense of their budget and if they're a good fit for you.
Just 8% of salespeople state that the leads generated for them by their marketing teams are of high quality. So finding the right lead gen platform for you and your team can save hours of time and produce a higher volume of qualified leads.
With these services, you can get back to doing what you do best – building personal connections and professional relationships.