5 Channels You Can Use to Generate Leads for Free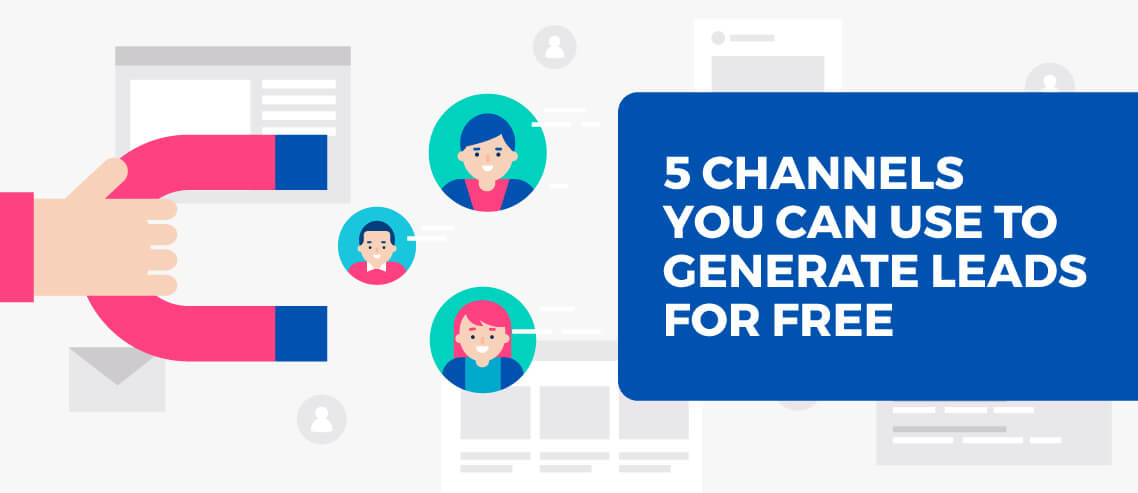 Few companies have unlimited money and time. When that's the case, you have to get creative when it comes to generating leads.
Leads are the life source of any growing company. It doesn't matter how ambitious your plan to scale is if you can't maintain that momentum with a steady stream of quality leads.
Sure, you can pay for leads. But that should be a last resort. Instead, focus on investing your available resources into free lead generation sources. That way, you can put your existing cash flow into more important things – like improving your product.
Here are the top five channels for generating free leads and how to best navigate them:
1. Influencer Marketing
Influencer marketing is a tactic that brings together brands and organizations with influencers who have a niche, loyal following who then showcase your product, service, content, etc to their audience.
Not all influencers want cash in exchange for a guest spot or review. Some are perfectly happy doing so in exchange for a free license to your software, a shout out to your followers or a discount on your product or service.
The Power of Utilizing Micro-Influencers vs. Macro-Influencers
Though micro-influencers have substantially fewer subscribers than their multi-million-follower-sized peers, they drive greater engagement and can even be more profitable. In fact, according to a 2017 study by HelloSociety, micro-influencers drive 60% higher engagement, are 6.7X more cost-efficient per engagement, and drive on average 22.2% more weekly conversions.
Take Instagram, for example. The ratio of comments and likes to followers tends to peak when an account is around 1,000 followers. Having an account with greater than 100,000 followers sees a serious decline of engagement. That's because celebrities and high influencers don't seem as relatable. People tend to interact more with those they perceive similar to themselves.
How to Connect with Micro-Influencers
Connecting is typically the easy part. Once you've found the right one all you've got to do is reach out to start a conversation. Finding the right micro-influencers in the first place takes a bit more effort.
Here are a few tips for finding micro-influencers:
Who's already blogging or using hashtags in the area you want to promote?
A corporate catering service based on Austin, TX might get big wins by targeting local foodie vloggers and bloggers or using local hashtags like #DowntownATX or #ATXeats. Naturally, if you already use those hashtags or have a similar audience, you can search through them to find bloggers and influencers to team up with.
Who's already using your products?
The best micro-influencers are the ones who already love your brand and use your product. That fan quality makes any promotion of your product seem even more trustworthy and authentic, since their audience already knows they're fond of your products (and has the added bonus of making it easier to turn them into future brand advocates).
Find these fan promoters by looking at who tags your company on social media or by searching your brand on Google beyond the 1st or 2nd page.
2. Blogging and SEO
It's no secret that blogging has powerful benefits in the form of showcasing expertise, establishing industry authority and generating leads. Boosting leads using this channel in particular comes down to getting people to your website.
How to Optimize Your Blog Posts for Generating Leads
Do your research not only to find out what your readers want to read, but also so that you're using the right keywords and phrases to rank highly on search engines. Answer The Public is an excellent resource for finding questions people are searching that you can answer in blog posts.
Provide unique value to your readers by creating one-of-a-kind, relevant and helpful blog posts. The content should resolve issues the user is facing – especially if they can't find, or can't easily find, resolution elsewhere.
Unique, value-packed content is typically loaded with hard-hitting statistics, thoughtful quotes, case studies and compelling images. Rich content like this is powerful because it resonates with readers and is highly shareable, which can widen your audience and potential for new leads even further.
End with a call-to-action. The actual call-to-action (CTA) you should use can vary greatly from page to post. But when generating leads, you'll likely want to refrain from asking people to comment or engage. Instead, focus on getting them to fill out a form so that you can enter them into your sales funnel. You can also use an exit intent popup with a simple form and call-to-action to seal the deal
Get them to do so by offering exclusive content like whitepapers, webinars, ebooks and more. Typically, these unique offerings can only be accessed through the sign-up form, are of higher quality than a generic blog post and serve the purpose of gathering contact info and segmenting the lead by interest. Check out these blogging tips to help increase site traffic, rankings and earnings.
3. Guest Posting
Guest posting can further your reach and generate more leads by allowing you to tap into other companies' audiences. In addition, you'll simultaneously build backlinks to your website, which Google and the other search engines will use to rank you higher in search results. They're truly a win-win tactic for generating leads.
Some notable examples of successful guest posting include Buffer's Leo Widrich, who attributes his consistent guest posting over a nine-month span to driving over 100,000 signups to his company. Or Gregory Ciotti, who aided HelpScout in achieving a whopping 9,000 customers and 37,733 email subscribers in just nine weeks of guest blogging.
How to Find Guest Blogging Opportunities
Advance search for key phrases like "write for us" or "this is a guest post by" to find websites looking for guest bloggers. Once you've created a list of companies, filter it by industry relevance, site authority and whether or not they post high-quality content.
Pitch industry adjacent websites for guest blog opportunities. Often you'll find that, even if they don't currently allow any guest posting, they will be open to it if you ask.
Mention and link to influencers and companies' content that you want to connect with. Industry-adjacent content creators have loyal followings of their own that you can tap into simply by starting a conversation with those creators. When you link to influencers, it can create a dialogue for possibly collaborating in the future.
Many times, they will reach out to you after your posts gain some traction and traffic for them, but it's also a great conversation starter to ask them to share your content since it links to them. It's also worth considering opening up your blog to guest posts so you can cross-collaborate, exchange value and generate even more leads.
4. Cold Calling and Cold Emailing
Cold calling and cold emailing are far from dead, and can be a great way to generate free leads. As with every other lead generation tool, you have to follow best practices to see serious results. The true art of cold emailing and cold calling comes down to being clear, concise, personalizing every touch and consistently following-up.
Some useful strategies for generating leads using this channel are to:
Find or create a list of potential leads. Depending on your product or service, you can scour LinkedIn, Google around for companies, or comb through "Top 500" lists to find leads worth reaching out to. Once you have a list, use tools like Voila Norbert to find their contact information and begin your cold outreach.
Ask industry professional for referrals. Obviously, you aren't going to reach out to your competition for leads, but often related industry professionals reach similar audience who may have an interest in your product or service. Many times, their customers will even ask for a referral in your industry. If your relationship is strong enough, they'll refer you without hesitation.
Reach back out to lost or closed opportunities. Who better to reach out to than leads you've already qualified? Sure, you lost the sale for some reason or another before, but things can change in a short amount of time. Sometimes a little persistence is all it takes to finally close the deal. There's no harm in reaching out once or twice a year to those that gave you the cold shoulder before.
Once you've made contact via cold email or cold call, begin to nurture those leads over time. One of the best approaches for this is the Gary Vaynerchuk's approach of Jab, Jab, Jab, Right Hook. To sum up the approach, you have to consistently provide value over and over again until you earn the right to ask for the sale.
5. Third Party Listings
When searching for leads, sometimes it is easiest to go for the lowest hanging fruit – those searching for answers. Websites like Quora are ripe with people looking for answers and who are open to advice. Often, the answer to their problems could be your product or service. And although Quora isn't a place for direct selling, it is a place to open lines of communication, establish yourself as a thought leader, build trust and build familiarity with your brand.
Typically, the most successful lead generators on Quora are sincere, add value at every exchange, and have a reputation for being helpful. While you're doing all those things, be thoughtful about how you place links back to articles you've written to get people to your website. Update your bio filled regularly with relevant offers and links to your content. Users will naturally gravitate there to read more about you if you demonstrate value and expertise.
Getting Started with Free Lead Generation
Lead generation isn't easy, but it's an absolute necessity for each and every business to survive.
While some companies can find ways to make paid leads profitable, it shouldn't be your first – or even your main – source of leads. If you ride the micro-influencer wave, churn out truly great content, make time for guest blogging, and remember cold outreach is far from dead you should be swimming in free quality leads in no time.