Top 12 Sales Training Programs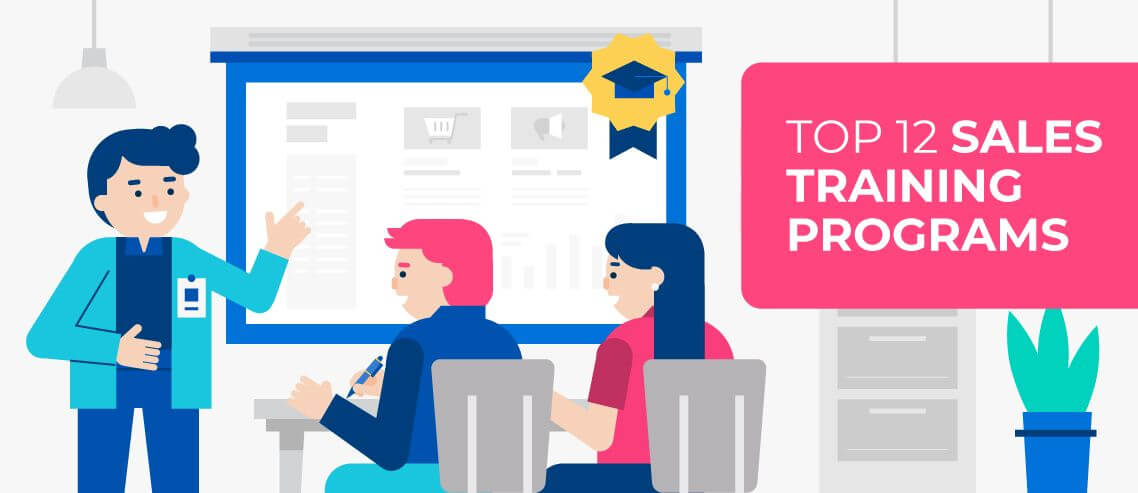 In a fast-moving industry like sales, regular training benefits everyone – from sales reps to your CEO to your clients.
Indeed, 56% of salespeople said sales training supports the achievement of sales goals at their company, with the top three most popular topics being identifying customer needs, building relationships, and presenting value.
Professional development is key to employee engagement, and a failure to provide the right training not only affects your bottom line, but it could see your team abandon ship.
With this in mind, here are the top 12 sales training programs that you should consider for your sales team.
Ariel is all about developing empathy and authenticity – and using this blend of skills to adapt and grow opportunities.
The thinking behind this approach is that customers have now gained control of the sales process. With so much competition out there, leads are going to opt for the sales rep that they feel is genuine and understands them and their challenges the most.
The company's holistic solutions blend technology and experiential learning. Sales reps who attend this course can choose from programs including:
Storytelling for Professionals
Sales Effectiveness
Coaching for Improved Sales Performance
Problem Solving Negotiations
Effective Finals Presentations
Hoffman Training is a hugely popular one-day course that was started by renowned sales executive and entrepreneur Jeff Hoffman.
This is a very well-rounded course; it's one you'll want to send your entire sales team to – managers included.
Hoffman Training focuses on a number of areas of sales including prospecting, discovery, negotiation, closing, and sales management.
It spans the entire sales cycle, beginning with grabbing prospects' attention and ending at successfully winning their business.
This program offers a variety of workshops and corporate training programs to suit your business – all of which are designed to boost the performance of each and every sales rep in your team.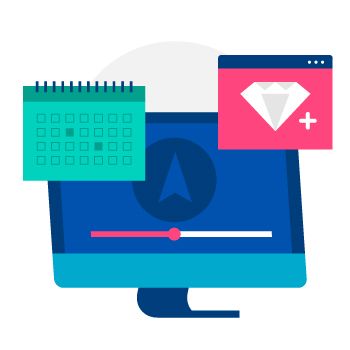 Factor 8 markets itself as "sales training built by sales leaders."
This means that it sets your sales reps up for the real world of sales. Factor 8 doesn't teach your reps how to thrive in a world where their leaders have endless time to spend coaching them, or where they have the luxury of face-to-face appointments.
Instead, it teaches them how to get sales right in today's fast-paced office environment where most of the selling happens over the phone, by email, or on LinkedIn.
So what's included?
The curriculum looks at how to book appointments, add value to leads and clients, and gain and develop new business.
One of the best things about this course is that it's super hands on. Reps are taught new tactics, and then they immediately try them out in real world settings.
While many sales leaders might be reluctant to opt for training as they're worried about a short-term drop in productivity, most of Factor 8's training days actually boast higher sales activity and results than regular sales days.
Finally, the team trains managers on how to coach and how to encourage and develop their sales reps' new skills going forward. Factor 8 then leaves the team with The Sales Bar access, which gives them ongoing training, scripts, audio samples, and coaching guides so they can continue to educate themselves.
Storytelling has been a marketing buzzword for years – and now it's hit sales too. Selling With Stories will teach your team how to employ one of the oldest skills in the book to make sales.
This two-day course focuses on sales messaging and communication, and is perfect for salespeople and managers, as well as business leaders.
Attendees learn the science behind persuasive storytelling, the four parts of a compelling narrative, and the best time to work storytelling into the sales process for maximum impact.
During the course, your team will get the chance to create their own stories, giving them the tools to apply this new skill to real world settings the minute you get back to the office.
Do you feel like you and your team barely have time for training?
Then you'll probably like the sound of the Rapid Learning Institute.
This innovative training company offers virtual micro-learning courses in order to up-skill salespeople – fast. If you use this program, you'll get access to bite-sized sales training modules based around micro-learning principles.
The concept delivers short video lessons – between six and ten minutes long – that focus on one idea at a time. The Rapid Learning Institute believes that short, focused lessons support better knowledge retention.
The content itself is tailored to the seller's skills, role, and problem areas. This gives your sales reps the opportunity to tackle their weakest areas and upskill super quickly.
The program comes with coursework that surrounds prospecting, demonstrations, handling objections, relationship-building, and more. Attendees also complete skills assessments and assignments to help them retain the material.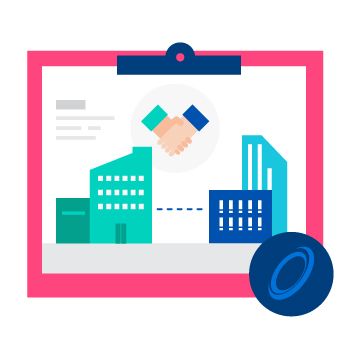 Strategic Social Selling, an on-site course by Tony Hughes, teaches your sales team everything they need to know about one of the most important sales skills of the 21st century.
Comprising two days – or four half-day sessions – this social selling course is intended for B2B sales reps, in groups of 20 or less.
Not only does it help sales reps to craft a strategy for building their network, and educate them on using social platforms for outreach and engagement, but it also assists them in building their own personal brand.
It's in this way that, according to Hughes, "salespeople become 'micro-marketers' who personally own the process of creating a sales pipeline."
If you're seeking a comprehensive sales course that covers the entire B2B sales process, the Sandler Selling System could be the right program for you.
This program offers ongoing training on everything from prospecting and closing to giving an effective demo and overcoming sales objections. Its methodology is based on the core idea that both the buyer and the seller should be equally committed to the sales process.
The Sandler Selling System is a huge operation and runs from multiple locations across the US, making it easy and convenient to find your closest center.
Want to educate your team on inbound sales?
You'll struggle to find a better teacher than the HubSpot Academy.
This three-hour online course focuses on the inbound sales methodology. In other words, how can you get leads to come to you?
HubSpot believes that inbound is the future, and sales reps who rely solely on old-school tactics will struggle to sell. This course promises to modernise their approach, and covers everything from developing personalized presentations to identifying potential buyers.
Unlike most sales courses, HubSpot's Inbound Sales program is completely free. What's more, after passing the exam at the end of the course, you get a badge which can be displayed across numerous channels including LinkedIn.
Does your sales team rely heavily on calls?
Whether you're recruiting new hires, or simply think your reps could do with a refresher, it's vital that your team are experts at your primary sales tactic.
Smart Calling College, offered by Art Sobczak, delivers on this front.
This online course comes in the form of two hours of self-paced video modules per week, across four weeks.
Smart Calling College delivers a comprehensive training program that teaches reps how to engage buyers right at the start of a call, how to add value at every touchpoint, how to resolve objections, how to gain a follow-up call, and more.
Attendees gain access to a workbook, live coaching sessions, and an online forum, in addition to the videos.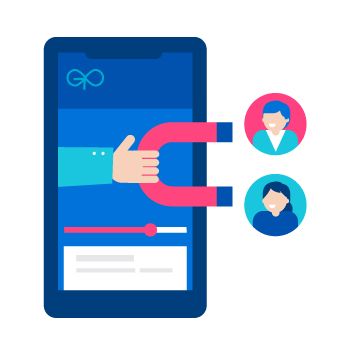 Award-winning author and business coach David Brownlee is the mastermind behind GoSkills, a training program used by Fortune 500 companies, major universities, startups, and entrepreneurs.
The online program is designed to help sales professionals gain proven sales techniques, increase revenues, and nail down valuable clients.
Furthermore, if there's a particular skill you or your team need to master, GoSkills can help here too. It also provides training for skills like project management, public speaking, customer service, and Excel.
As its name suggests, Bespoke Online Training – run by MTD Sales Training – is completely tailored to your team. The course takes place online, but its length, focus, intended audience, and price varies depending on your specifications.
As a sales leader, you're best placed to understand your team's needs, learning preferences, strengths, weaknesses, and pain points. This is why you'll work with the MTD Sales Training team to design the program. You bring your sales knowledge to the table and they bring their educational knowledge and vast resources.
The program can involve video, animation, audio, role-playing, and quizzes, and can range from 20 15-minute sessions to 40 5-minute sessions, depending on your team's needs and schedules.
Even more flexibility is on offer. You can choose whether to deliver the course on smartphones and tablets, or make it a laptop-enabled course.
Value Selling Associates trains salespeople in its sales acceleration formula: the ValueSelling Framework. According to the training provider, this formula can be applied to startups, mid-sized businesses, and Fortune 1000 companies.
The framework is built around the concept that selling on value rather than price genuinely works.
Value Selling Associates utilizes a combination of educational methods to get their message across. These include on-demand courses, instructor-led workshops, video-based reinforcement, and activity-based coaching.