Top 21 Sales Management Books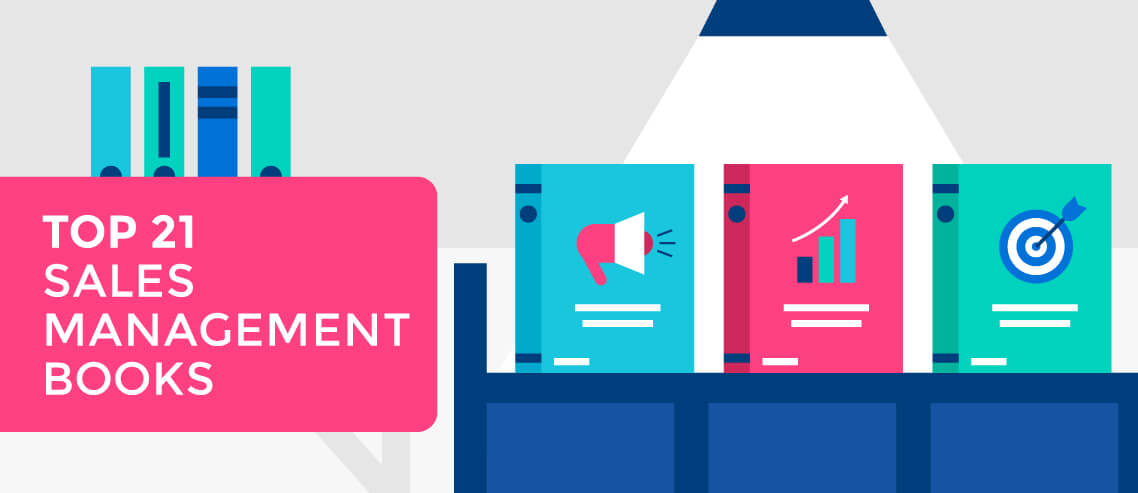 How many books do you read each month? How about in a year?
Maybe you feel like there's no time for a "luxury" like reading. Or maybe it's just never been your thing. I'm here to tell you, there is and it should be.
"If I have seen further it is by standing on the shoulders of giants." ~Isaac Newton
We live in an age when information can be shared, disseminated, and distributed with unparalleled ease. And that goes beyond just the internet and its millions and millions of blogs, websites, and community portals.
Books. Whether borrowed from the library, purchased from a bookstore or an online platform like Amazon, listened to via a service like Audible, or downloaded to your e-reader of choice, books on every conceivable topic are available to you quickly and affordably.
Worldwide, book publishing revenue is expected to hit $121.08 billion USD by 2021, and 41% of American adults read 15 or more books per year. Of course, most of us probably read far fewer than that.
But the story gets a bit more interesting if we focus our attention on CEOs and executives. On average, they read 4-5 books each month, or 48-60 books per year. Why?
To stand on the shoulders of giants.
The best CEOs and executives are constantly learning, improving, expanding, exploring, and shaking things up. But 48-60 books per year? That might sound insurmountable. The trick is to break it down.
"I went to Amazon and looked at the medium average number of words per book, and it came out to about 64,000 words. So let's say the average person reads 200 words per minute. We're talking about 320 minutes to get through a book, which is about 45 minutes a day, to read a book per week. That makes it a little more realistic." ~Jim Kwik, Speaker, Brain Coach, and Founder of Kwik Learning
That's a bit more actionable. Can you set aside 45 minutes each day? Of course. Watch a little less television. Turn off the computer. Stop lurking on Facebook and Twitter. Spread it out. Use your commute, a bit of your lunch break, or 15 minutes before bed.
It is possible.
But what do you get in return? It always comes back to return-on-investment. You get knowledge. Experience. Entertainment. Dos and don'ts. Insider insight. Tips, tricks, and hacks.
Everyone from the CEO down – in every industry – would benefit from developing a daily reading habit. Memoirs. Biographies. Non-fiction. And yes, fiction, too (all work and no play makes Jack a dull boy). Check out some of the biggest CEOs and the favorite books on their shelf.
As a sales manager, you wear a lot of hats and juggle a lot of balls. You're responsible for coordinating people and resources to hit department and individual sales goals.
You're in charge of planning, reporting, recruitment, and more. You have to have communication skills, organization skills, motivational skills, and time management skills. You need to be a problem-solver, a question-asker, and cool under pressure.
And you should be a reader.
To that end, we've compiled the top 21 sales management books for you to add to your wishlist this year.
1. Agile Selling
Jill Konrath is a sales strategist and keynote speaker in addition to being a bestselling author of four books. Agile Selling is Konrath at her best.
Sales is a long game. We know that. But in a modern business world in near-constant flux, it's important to be quick on your feet, too. New products, new company, new job, service launch…salespeople need to be able to absorb a great deal of information and sell quickly and efficiently as often as they need to nurture and close.
Learn, master, and deliver immediate results. That's the message from Agile Selling, and Konrath provides the tools and strategies to do it. She offers insider advice, explains her framework for agile selling – chunking, sequencing, connecting, dumping, practicing, prioritizing – and introduces the concept of MED, or Minimum Effective Dose.
"Loaded with tactics, tips, and new habits, Jill's book is a game changer for any salesperson who wants to thrive in the new connection economy." ~Seth Godin
It's a power-packed 63 chapters – each with a one-sentence summary – on how to become a faster, more agile, commanding, more efficient seller.
2. How to Win Friends and Influence People
This one first appeared in 1936, and has been a mainstay of both business and self-help ever since. No matter the person or industry, you'll learn valuable and timeless ways to exert greater influence on those around you.
Based on one of his popular self-help courses, How to Win Friends and Influence People is author Dale Carnegie's most famous book. It was recently named the seventh most influential book in American history, ranked 19th on Time's 100 Most Influential Books, and has sold over 30 million copies worldwide, with another 100,000+ added to that tally each year.
[lyte id="EnDF26QwNH0″ /]
The book contains only four sections:
Part One: Fundamental Techniques in Handling People
Part Two: Six Ways to Make People Like You
Part Three: How to Win People to Your Way of Thinking
Part Four: Be a Leader – How to Change People Without Giving Offense or Arousing Resentment
"Be wiser than other people if you can; but do not tell them so." ~Dale Carnegie
Within each section, you'll be introduced to techniques and common-sense thinking that worked in 1936, and continue to work in the 21st century. Carnegie's brilliance is in the no-nonsense and straightforward way he talks, writes, and explains.
"Any fool can criticize, complain, and condemn—and most fools do. But it takes character and self-control to be understanding and forgiving." ~Dale Carnegie
It's a classic for a reason.
3. Cracking the Sales Management Code
Obviously, this one is going to appeal to a sales manager based on the title alone. Cracking the Sales Manager Code by Jason Jordan is an operating manual for the modern sales force.
[lyte id="1tB3c80MhHI" /]
It's a playbook, a how-to guide, and a collection of best practices based on the most recent studies and data, all in one place.
Chapters include "CRM, Reporting, and a False Sense of Control," "Building the Foundation for Control," and "Managing with Processes and Numbers." Jordan promotes what he considers the three most important components in the modern sales world, the 3Ms: management, metrics, and methodology.
Gain wisdom on the five processes that drive sales performance, the metrics you can and cannot control, how to prioritize conflicting goals, and more. The book provides the steps to efficiently manage your sales team.
"Sales may be an art, but sales management is a science. Cracking the Sales Management Code reveals that science and gives practical steps to identify the metrics you must measure to manage toward success." ~Arthur Dorfman, National Vice President, SAP
4. The New Strategic Selling
Selling is all about strategy.
And those strategies are constantly changing to meet the needs of the marketplace, the target audience, and the platforms we use to find, buy, use, and consume.
So it stands to reason that a book called The New Strategic Selling by Robert Miller and Stephen Heiman would be on the "must read" list for sales managers and personnel alike.
[lyte id="diShJG1XX8c" /]
Originally released in 1985, it revolutionized sales and marketing of the day, and continues to exert its influence on modern business.
Among its many "Eureka!" moments is the at-the-time-unheard-of idea of the win-win scenario, which fundamentally changed the way we view and approach sales. The runaway success of the book made Miller Heiman into one of the world's most successful and sought-after leaders in sales development and consulting.
Uncover tools and techniques for identifying the real decision-makers in any company, how to nurture steady revenue over "boom and bust" in a new area, and how to completely avoid the biggest mistake when it comes to your competition.
With a tagline like "The Unique Sales System Proven Successful by the World's Best Companies," you know it's got the goods.
5. Sales Management. Simplified.: The Straight Truth About Getting Exceptional Results from Your Sales Team
Wouldn't it be nice if there was a "[Blank] Simplified" guide for everything in our lives? Parenting, relationships, cooking, investments, sports, fashion, conflicts, and anything else we deal with on a daily basis?
We may not be there yet, but Mike Weinberg has done sales managers a tremendous favor in writing and publishing Sales Management. Simplified.
"…whether you're a beginning sales manager, an experienced sales manager trying to improve an underperforming team, or a successful sales manager…this book is for you." ~Jack Malcolm
Weinberg, as his title implies, identifies and simplifies the common mistakes and problems afflicting the modern sales department. He offers easy-to-understand and easy-to-implement solutions for those issues. No more. No less.
Divided into only two parts – Blunt Truth from the Front Lines, and Practical Help & A Simple Framework for Exceptional Results – his book is a straightforward how-to and how-not-to guide for those looking for results.
The straight truth for those who want it. Look no further.
6. Coaching Salespeople into Sales Champions: A Tactical Playbook for Managers and Executives
According to author Keith Rosen, the difference between salespeople and sales champions isn't sales training.
It's sales managers.
A bold claim, perhaps, but few would argue that the right leadership and management can make anyone better at what they do. Coaching Salespeople into Sales Champions: A Tactical Playbook for Managers and Executives explores this concept in detail.
[lyte id="wPnE2MdZhLI" /]
Building on his L.E.A.D.S. Coaching Framework, Rosen delivers the steps needed to lead your sales team into better productivity, higher profits, and increased efficiency. He outlines the six guiding principles of masterful coaching, the six deadly coaching mistakes (and what to do instead), tactical coaching, vulnerability-based leadership, facilitating an effective coaching conversation, and more.
And it's all geared specifically to sales managers and executives. You couldn't ask for a more targeted product.
7. Fanatical Prospecting
One of the biggest challenges facing any sales department is generating a steady stream of leads. Jeb Blount provides the ultimate guide to leveraging the channels that matter today: social selling, email, text, telephone, and yes, even cold calling.
Fanatical Prospecting provides the how and the why to keep your funnel packed with the prospects you need to succeed.
"The techniques Jeb teaches in Fanatical Prospecting work. If you want your sales team to get better fast, then buy this book for every sales rep in your organization now." – Don Mikes, Senior Vice President, Penske
His laws (30 Day Rule, Law of Replacement, Law of Familiarity), frameworks (5 Step Telephone Framework, 4 Step Email Prospecting Framework, 7 Step Text Message Prospecting Framework), 5Cs of Social Selling and more, will lay it all out for you – step by actionable step.
23 chapters. Infinite insight.
8. Sales Insanity: 20 True Stories of Epic Sales Blunders
Sometimes, the best learning comes from seeing what not to do. We learn from our – or even better, someone else's – mistakes.
Author Cannon Thomas apparently feels the same way, and has collected the best of the worst for your edification.
These aren't just sales blunders. They're epic sales blunders (and how to avoid them). Sales Insanity will make you laugh, cry, cringe, and groan. But you will come away a better sales manager. Thomas provides salesperson insanity and sales management insanity in equal measure.
Sometimes, the best teachers are those who have failed before you.
9. To Sell is Human
Daniel Pink has made a career of examining and explaining the reasons why we do what we do.
His bestseller Drive looks at the surprising truth about what motivates us, while To Sell is Human explores the surprising truth about moving others. It's a New York TImes, Wall Street Journal, and Washington Post (among others) bestseller.
"Artfully blend(s) anecdotes, insights, and studies from the social sciences into a frothy blend of utility and entertainment." ~Bloomberg
The bulk of To Sell is Human is devoted to "How to Be" and "What to Do."
Pink shares his six crucial elements of a great elevator pitch, five frames for a more compelling and persuasive message, three rules for understanding another's perspective, the ABCs of moving others, and much more.
[lyte id="nKrBitIQrgo" /]
Ready to find out what they all are? Grab a copy today.
10. Zig Ziglar's Secrets of Closing the Deal
Zig Ziglar needs no introduction. He was a salesman, motivational speaker, and bestselling author. You've encountered his ideas at some point, even if you didn't know it was him. He's that influential.
A few of his best quotes include:
"If people like you, they'll listen to you, but if they trust you, they'll do business with you."
"You were born to win, but to be a winner, you must plan to win, prepare to win, and expect to win."
"Your attitude, not your aptitude, will determine your altitude."
"Isn't it amazing how much stuff we get done the day before vacation?"
"Stop selling. Start helping."
"You will get all you want in life if you help enough other people get what they want."
"People often say motivation doesn't last. Neither does bathing — that's why we recommend it daily."
"A goal properly set is halfway reached."
Good stuff all around. His Secrets of Closing the Sale gives us Ziglar at his best: unassuming, charming, and wildly insightful.
[lyte id="8iOUDtOWwU4″ /]
Ziglar provides 100 creative closes (like the Shame Close seen above), the five reasons people don't buy (no need, no money, no hurry, no desire, no trust) and how to overcome them, guidance on being genuinely warm, enthusiastic, and having integrity, and more.
He's a legend. Listen to what he has to say. And thank me later.
11. Aligning Strategy and Sales: The Choices, Systems, and Behaviors that Drive Effective Selling
Sales and strategy. Strategy and sales. You can't have one without the other.
Frank Cespedes is a professor at Harvard Business School, and Aligning Strategy and Sales is his latest book in a career that has covered sales, marketing, management, and everything in between.
[lyte id="kbp-Rytdtr0″ /]
The disconnect between your sales efforts and strategy can cost you time, money, and a lot of wasted effort. If they're not properly aligned, you're shooting blindfolded in the dark and hoping to hit the target.
With insight that only 40+ years in business can give you, Cespedes reveals how to diagnose and fix issues, link your strategies and sales, manage the people and systems under your supervision, and make new connections within and without your organization.
To summarize: align and thrive.
12. Your Sales Management Guru's Guide to Leading High-Performance Sales Teams
Ken Thoreson is a speaker, author, consultant, and president of Acumen Management Group, Ltd. His Your Sales Management Guru's Guide To: series has books on recruitment, compensation plans, and advice for first time managers.
Of particular interest is the Leading High-Performance Sales Team installment for those wanting to increase the overall performance of those in their department.
"Ken Thoreson has hit a home run [with] the Your Sales Management Guru's Guide series. If you want to take your sales team to the next level, read these books!" ~Jeb Blount, CEO of SalesGravy.com
Thoreson provides hundreds of actionable ideas on everything from creating sales contests to motivate and build better teams, to time management and measuring and monitoring sales activity.
13. The Sales Acceleration Formula
Ready to ramp things up in the sales department? Look no further than Mark Roberge and his Sales Acceleration Formula.
"A new breed of disciplined, data-driven leaders are re-shaping the field of sales. The Sales Acceleration Formula explains why." ~Tony Robbins
When Tony Robbins is a fan, you know you're doing something right. Roberge was the SVP of Hubspot between 2007-2013, increasing their customer base from one to 12,000+ and taking the company to over $100 million in revenue.
How did he do it? He explains all in the Sales Acceleration Formula. Roberge gives step-by-step instruction on hiring and training for success, delivering the same quantity and quality of leads month after month, and using new and existing technology to make it all faster, easier, and stronger.
[lyte id="RG_eyn0fRXs" /]
If you're looking for your first or next $100 million in revenue, Roberge has the tools and techniques to help you do it.
14. The Only Sales Guide You'll Ever Need
Strategist. Tactician. Speaker. Author. Practitioner. Anthony Iannarino is, knows, and does. Calling your book The Only Sales Guide You'll Ever Need is a bold assertion, but Iannarino walks the walk and talks the talk. His staffing firms generate $50 million in annual revenue, and he routinely works with some of the biggest businesses in the world today.
Early in his own career, Iannarino realized that the market, product, and competition combined don't matter as much as the seller. And that means anyone in sales can get better, regardless of their niche or product catalog.
Over the years, he's condensed his findings into a comprehensive list of powerful mindset beliefs and a skill set of key actions for sales success in any industry. The result is The Only Sales Guide You'll Ever Need.
15. Sales Manager Survival Guide: Lessons From Sales' Front Lines
It's survival of the fittest out there. Give yourself a fighting chance with David Brock's lessons from the front lines.
The Sales Manager Survival Guide gives you the tips, tricks, and skills to not only survive in a very challenging position, but to thrive while doing it.
"This is THE go-to resource for sales management!" ~Mike Weinberg, author of Sales Management. Simplified.
From Part 1: The New Sales Manager to Part 9: Your Future as a Sales Manager, Brock addresses the things that actually matter for those on the front – and back – lines. Metrics, training, coaching, analyzing, leveraging, reviewing, goal setting, and responding to market shifts. It's all there. Clear, concise, and easy to digest.
16. Nuts and Bolts of Sales Management: How to Build a High-Velocity Sales Organization
Chock-full of battle-tested techniques for creating a high-velocity and sustainable sales organization, Nuts and Bolts of Sales Management by John Treace is a go-to resource for identifying and solving the common and not-so-common problems that can cause a company to fail.
Treace has designed a guide for turning chaos into calm, moving from Cultural Foundation to People and Management, on to Systems and Operations, before tying it all together with Sales Tips and Final Thoughts.
17. The Accidental Sales Manager: How to Take Control and Lead Your Sales Team to Record Profits
The sales manager often finds him or herself in a position they neither planned on or coveted. Maybe they were promoted from within the sales department (does a great salesperson make a great sales manager?), or maybe they were moved vertically or horizontally from another department. Either way, they suddenly have to know and deliver a lot.
Enter The Accidental Sales Manager by Chris Lytle to the rescue.
[lyte id="pdQ0afb-5As" /]
It's a virtual how-to guide on learning the job while on the job and still leading your team to better sales, bigger profits, and winning results.
18. The Sales Development Playbook
With decades of experience, Trish Bertuzzi is the president of The Bridge Group, Ltd., an inside sales consulting and implementation firm. She has collected lessons learned over that time to create The Sales Development Playbook.
"People get hung up on the wrong questions around sales development: templates, tools, and tricks. The Sales Development Playbook asks and answers the right questions. If you're looking to increase qualified pipeline, read this book." ~Mark Roberge, author of The Sales Acceleration Formula
Looking to build new pipelines and accelerate revenue growth? Bertuzzi walks you through the six elements to do so: strategy, specialization, recruiting, retention, execution, and leadership.
How many of you are looking for more new customers? How many of you fall into the "easier said than done" camp?
Get this book.
19. Sales Coaching: Making the Great Leap from Sales Manager to Sales Coach
It's a trend you've probably noticed on this list already: a sales manager is more aptly a sales coach.
Sales Coaching: Making the Great Leap from Sales Manager to Sales Coach by Linda Richardson further strengthens the belief that managers "make" people do their job, while coaches help them do it well. Which would you rather be?
Richardson includes new chapters on technology, remote coaching, quarterly coaching plans, and coaching more effectively in addition to the classic guidance that appeared in the first edition.
20. Influence: The Psychology of Persuasion
Salesperson, sales manager, or just John Q. Public looking to become a bit more convincing, Robert Cialdini's seminal book Influence: The Psychology of Persuasion introduced us to concepts widely accepted and used in virtually every industry, profession, and argument.
The six principles of persuasion as outlined by Cialdini are:
Reciprocity
Scarcity
Authority
Consistency
Liking
Consensus
The book explains the psychology behind each, while outlining how best to use it to your advantage.
[lyte id="HOypv1AqYu0″ /]
If you're looking to be more persuasive – or just to understand more about why we say "yes" and not "no" – you won't be disappointed.
21. The 7 Habits of Highly Effective People
Want to be a more effective person (whatever that means)? Want to gain insider secrets about the people that just seem naturals at it?
Stephen Covey has the answers and reveals them in his international bestseller The 7 Habits of Highly Effective People.
The habits are easy to find: be proactive, begin with the end in mind, put first things first, think win/win, seek first to understand and then to be understood, synergize, and sharpen the saw.
But it's Covey's charismatic and engaging manner that makes the book worth reading. Find out the what, why, and how for each of those habits, and be a more effective sales manager, parent, colleague, sibling, spouse, and friend.
[lyte id="ktlTxC4QG8g" /]
Sales manager or not, this book will make you a better all-around person.
The job of the sales manager goes beyond "just" managing the sales team. There's a lot you should, could, and will do.
Take the time to learn from those who have tried and succeeded, those who are experts, and those who have blazed trails new and old.
So read…and stand on the shoulders of a few giants.