Sales Process Management: Everything You Need to Know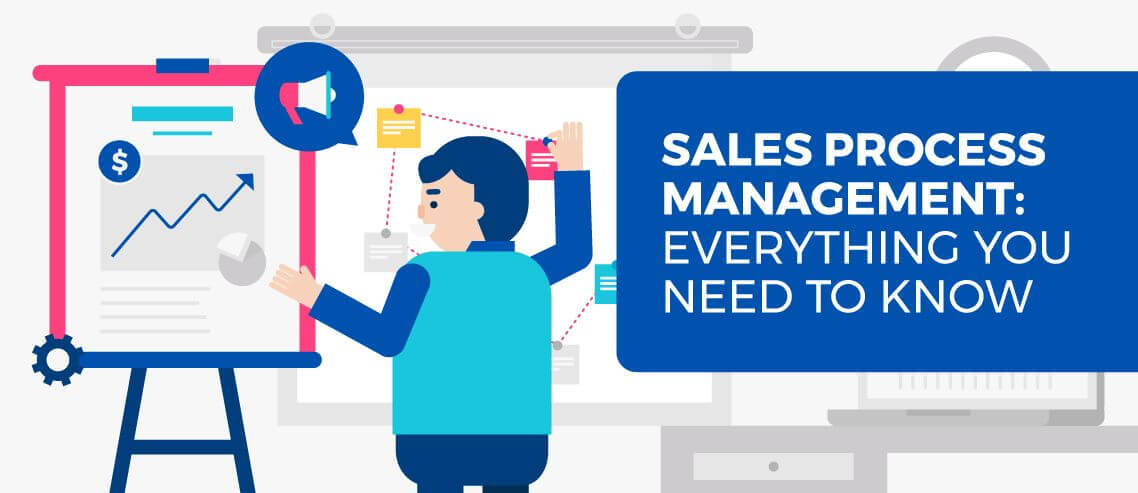 Great sales teams don't just happen. Instead, they're built – brick by brick – by leaders with a data-driven focus on proper sales process management.
And although every team has its own weaknesses, true sales leaders recognize that effectiveness in all of the following sales functions is necessary for success:
Operating according to a defined sales methodology, with the appropriate workflows and processes in place.
Defining and capturing core activities so that they can be checked against best practices and continually measured for impact.
Hiring the right people, and then training, managing, and motivating them to ongoing success.
Establishing the right metrics to track against, depending on the company's profile and needs.
The following resources can help, whether you're lagging behind on the priorities defined above or any others that are critical to your company:
Setting up your sales process
The Top 8 Sales Methodologies to Consider for Your Business
Sales doesn't – and shouldn't – look the same at every organization. This guide introduces you to eight popular sales methodologies, in addition to offering suggestions on which may be the best fit for your team.
How to Rock the 7 Sales Cycle Stages in 2020
In between identifying a prospect and closing the sale, there are five other sales cycle stages you'll need to master for sales success in 2020. Make sure you're giving equal consideration to each stage through the tips in this article.
7 ways to improve your sales pipeline to boost revenue
You can't have sales success without a healthy pipeline. This article, from contributor Ana Duenas, Sales Development Manager at PandaDoc, offers seven strategies for improving the health of your start-to-finish sales cycle.
Sales Process Mapping: What It Is and How to Do It
According to Sujan Patel, a sales process is made up of "the explicit steps taken at each stage of the buyer's journey to get prospects from one to the next." Optimize your process with the tips found here.
Sales playbooks define everything from the way you train new team members to how you onboard new clients. Invest in creating your own to ensure a consistently positive experience for stakeholders at all stages of your sales process.
A 4-Step Sales Process to Streamline Your Deal Flow
It's easy to over-complicate your sales processes. Here, contributor Ariel Wolfe, Vice President of Sales at Belkins, pares sales down to four steps that can streamline deal flows for even the most complex companies, products, or services.
Top CRM Software for Salespeople
It's 2020 – there's no reason to be doing sales without a strong CRM working on your behalf. This Mailshake guide reviews today's most popular programs, based on their pricing, features, and free trial availability.
What Is Sales Enablement? (Plus 7 Steps to Get Started)
The best salespeople are those who are empowered to respond quickly to customers' needs. Sales enablement – including the seven steps shared in this article – is the approach you'll want to take to equip salespeople for success.
7 Tips for Business Development Success
Few big ticket or B2B sales happen overnight. Long sales cycles and complex decision-making processes mean you may be nurturing some deals for a long time. Use these seven business development tips to make the most of the process.
What Is B2B Sales? (And What Does a B2B Sales Rep Do?)
Though many people think of sales in terms of business-to-consumer (B2C) relationships, there's tremendous demand for business-to-business (B2B) sales reps as well. See what differentiates the two in this article.
Managing your team
Sales Velocity: What It Is and Why It's Important
The faster you can close a lead, the more sales you can make. That's the idea behind the concept of "sales velocity," which is covered in greater, more practical depth in this article from Sujan Patel.
Sales Reporting Best Practices
Is your sales team reporting on the right KPIs and metrics? Are you measuring results across the right intervals? Check your current approach and assumptions using this guide to sales reporting best practices.
Sales Meeting Ideas to Keep Your Team Motivated and Focused
Ineffective sales meetings aren't just boring. If they prevent growth or decrease morale, they could actually be hurting your team's performance. Here are 14 ideas for running better sales team meetings.
How to Set Effective Sales Goals for Your Sales Team
Sales goals shouldn't be "one size fits all," yet that's exactly how many teams approach setting target metrics. For better results, consider the suggestions offered here on setting effective sales goals that'll motivate all members of your team.
7 Sales Training Ideas for Your Next Sales Meeting
Every sales meeting you host should include a practical training component or other actionable takeaway for team members. If your past sessions have felt a bit flat, give any of these seven training ideas a try in your next meeting.
Managing a sales team requires a different set of skills than succeeding on your own as a salesperson. Use this primer – which covers everything from sales hiring to effective leadership – if you're new to sales leadership.
7 Sales Team Motivation Strategies That Cost You Nothing
The idea that sales reps only perform when big financial bonuses are on the line is a myth. These seven strategies can help you leverage their innate competitive instincts without spending a single penny on performance incentives.
8 Non-Financial Sales Incentives to Motivate Your Sales Team
Need more non-financial sales incentive ideas? Add these eight strategies to your arsenal as well to motivate your team without unnecessary costs.
How to Hold a Productive Sales Meeting
According to Hubspot Director Dan Tyre, "meetings suck." In this Mailshake interview, he shares his best practices for keeping sales team meetings focused, productive, and even enjoyable.
How to Improve Your Sales Team (3 Steps for Upleveling Performance)
Stagnant growth leads to sales underperformance. Continually invest in improving your sales team with this three-step process from Mary Grothe, CEO of Sales BQ®.
100+ Sales Statistics to Drive Your Strategy
Want to create a more data-driven sales strategy? These 100+ sales statistics – covering everything from lead generation best practices to time-tested tips for closing sales – can help get you started.
How to Improve the Sales Process (Hint: It Starts with YOU)
According to Dale Dupree, Leader and Founder of The Sales Rebellion, most sales people struggle. That doesn't mean they shouldn't be salespeople – it just means that they need a better process for personal and professional development, like the one shared here.
Sales Targeting: The Shotgun Approach to Selling is Dead
Volume alone isn't enough to fill your pipeline or keep your closed-won balance healthy these days. Rather than the traditional shotgun approach to sales, today's most effective people go after key accounts in a highly-targeted way.
Finally, if you're looking to invest in your development as a sales team leader in 2020, check out this list of 21 great sales management books that'll help you take your career to the next level.