10 B2B Lead Generation Companies to Crush Your Growth Goals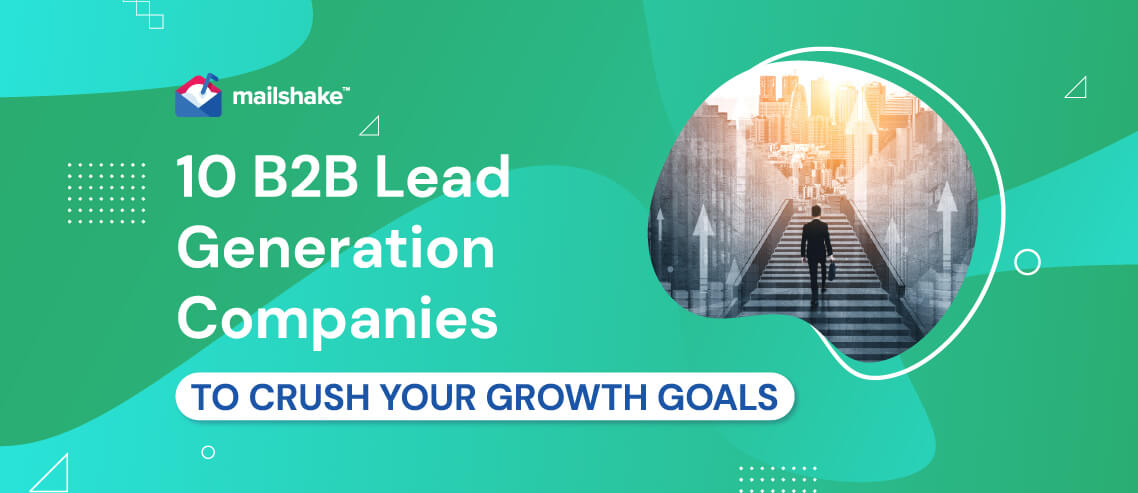 Lead generation is absolutely vital to the growth of your business. It's no surprise marketers ranked it as their number one content marketing goals for 2019 and 2020, according to SEMrush. Unfortunately, generating leads is hard. It requires a lot of time and effort, and it doesn't happen overnight. Fortunately, help is at hand, because there are lots of lead generation companies out there that promise to do the legwork for you.
What does a lead generation company actually do?
Have you ever actively searched for a solution through a Google search? Maybe you needed a new project management tool or a product to automate your email. Or perhaps you stumbled across an advert for one of those tools on social media.
Either way, there's a good chance you'll have landed on a page that compelled you to fill in a contact form to find more information. Your information – most likely name and email address – will then have been forwarded to someone tasked with verifying your details. Having done so, they'll pass that information on to a third party, who'll get in touch and attempt to close the deal.
How do B2B lead generation companies get leads?
Lead generation companies use a range of tools and tactics to help them bring in warm leads for their clients.
Content syndication is a key tactic. A lead generation company might take a piece of content you've created then push it out via social ads or email marketing to drive traffic to your site, build brand awareness, and capture the interest of potential buyers.
Many lead generation companies also rely heavily on cold outreach. Rather than arranging a product demo there and then, the goal of these cold calls and emails is to set up an appointment with your sales team.
So which are the top B2B lead generation companies?
There's no shortage of B2B lead generation companies out there, but some are better than others. These are some of the best:
Callbox
A lead generation company can only be as effective as the potential prospects it's able to access. With a global database of contacts spanning more than 35 million companies, it's safe to say Callbox has plenty of reach. The company uses six lead generation channels to connect with and engage prospects:
Voice
Email
Social
Chat
Website
Webinars
As well as generating leads, Callbox works with clients to improve their sales productivity – helping them to get in front of more potential customers and close more deals – by giving them access to a whole suite of sales and marketing tools through HubSpot and its proprietary solution, Pipeline.
CIENCE Technologies
CIENCE Technologies has an undeniably impressive client list that includes global brands like Microsoft, SAP, and Uber. As its name suggests, CIENCE is at the cutting edge of lead generation technology. Its methodology, assisted by natural language processing, goes way beyond simple demographic factors when building targeted prospect lists, including data types such as:
Firmographics
Social behavior
Tech stack makeup
That has helped it develop a database comprising tens of millions of up-to-date prospect records.
As well as sales research outsourcing, the lead generation company offers inbound and outbound sales development assistance, and CRM migrations.
SalesPro Leads
The SalesPro team has a combined 100 years of experience in generating high-quality leads for its clients. Dedicated to tracking down sales-ready leads and compelling them to book a call with your sales reps, the company takes a heavily personalized approach to building lead generation programs. It's equally comfortable running integrated marketing campaigns leveraging multiple contact channels – such as calls, email, and social media – as it is rolling out a simple go-to-market approach.
CloudTask
CloudTask's mission is to help clients find the right prospects, book sales qualified meetings, and ultimately increase revenue. In other words, exactly what you'd want a lead generation company to do. As a CloudTask client, you can choose from a "standard" lead generation service – in other words, outsourcing the task of prospecting and arranging meetings to its sales development team – or get additional support from its sales administration and sales chat functions. It works with several high-profile sales technology partners, including Drift, HubSpot, and RingCentral.
LeadGenius
LeadGenius generates leads by working with B2B data that signifies buyer intent, encompassing factors like:
Reading certain types of online content
Attending physical and online events
Recruiting for certain positions
Growing specific departments
Hiring velocity around a given job title
Interacting with your competitors
To access all that hard-to-find data, the lead generation company uses AI crawlers to scour the web, with its in-house research team then verifying all the information collected and using it to develop high-impact email outreach campaigns.
N3
N3 offers outsourced inside sales that help clients identify, accelerate, and close new and existing sales opportunities. Its inside sales services range from supporting clients with onboarding, provisioning, cross-selling, and up-selling, to running the full sales cycle, assisting buyers at each stage of the journey until they are ready to convert. With a global presence spanning more than a dozen offices, N3 is capable of delivering lead generation programs in over 25 languages.
SSM
Founded back in 1989, Strategic Sales & Marketing (SSM) has generated more than seven million B2B sales leads and completed over 50 million new business sales presentations on behalf of its clients. It specializes in sourcing leads and booking appointments for companies with specific sales cycle challenges, such as:
Reaching decision-makers at owner, director, VP, or C-suite level
Dealing with long sales cycles involving multiple touchpoints
Identifying prospects facing a specific challenge, problem, or issue
The company specifically focuses on the B2B services, manufacturing and distribution, business insurance, and IT industries.
DiscoverOrg
DiscoverOrg claims to offer the most accurate B2B intelligence and contact data on the market. It promises that its data is 95% accurate, verified by its in-house research and data team, and updated at most every 90 days. As well as connecting its clients with accurate, valuable B2B leads, DiscoverOrg offers them impactful information before they pitch to a prospect, increasing their chances of closing the deal. After all, that's the ultimate goal of any lead generation program.
OutboundView
OutboundView helps its clients design, develop, and implement outbound marketing campaigns, inside sales strategy plans, and appointment setting services. It offers B2B companies access to a daily list of leads displaying buyer intent signals, such as:
Hiring for specific jobs
Searching for your competitors and other relevant keywords
Posting on LinkedIn and interacting online
Attending events
Armed with that data, all your sales team needs to do is follow up with those prospects (and hopefully close the deal).
Fluent
Fluent claims to boast one of the largest marketing platforms in the lead generation industry, with the ability to capture key attributes from more than 30 million consumers a month. That level of reach allows it to support marketers in building their own highly personalized prospect lists and reaching qualified audiences across multiple devices and platforms. Fluent's audience segments are rated as up to 93% accurate and surpass Nielsen Digital Ad Ratings' benchmark figures by as much as 204%.
How do I pick the right lead generation company?
There's no such thing as the "perfect" lead generation company for every single B2B brand out there. After all, generating leads for a SaaS business is very different to doing the same thing for an ecommerce company or a recruitment business.
The fundamentals of lead generation are broadly similar across industries – identify what a "good" prospect looks like, find a way to reach them, and compel them to learn more about the solution you're promoting.
However, a great deal of specialist knowledge may be required to engage prospects around niche products. Simply put, if you are facing a choice between two equally strong lead generation companies, it makes sense to go with the one that has the most practical experience of speaking to prospects in your industry.
Another important factor to finding the right lead generation company for you is to understand exactly how you want leads to be delivered. Remember you're paying for a service – you don't need to change your whole sales process to fit in with the methodology of a third-party provider.
If you already have a well-resourced team of sales development representatives, you may simply need access to a list of names and contact details. But if your sales function lacks bandwidth, it makes sense to choose a lead generation company that will contact each lead and arrange an appointment. It might cost you more money, but it will almost certainly help you generate a better return from your leads.
Similarly, you might not be satisfied with a simple list of leads. You might also want those leads to be scored to help prioritize those that are most likely to buy. Or you might require assistance with nurturing those leads, only taking over the process at the product demo or pitch stage.
Remember: Leads Need to Close
Every lead generation company seems to promise a unique approach based on its own methodology. Lots of them talk up their intelligent use of technologies like machine learning and natural language processing.
But while all that talk might sound impressive, that doesn't mean those companies will be a good fit for you.
Ultimately, before you draw up a shortlist of potential lead generation companies to work with, it's vital you understand what the ideal partner would look like. A lead is only useful if you have the time and ability to nurture them until they're ready to buy.