How to Use Job Boards & Review Sites with Mailshake to Generate Leads at Scale
How to Use Job Boards & Review Sites with Mailshake to Generate Leads at Scale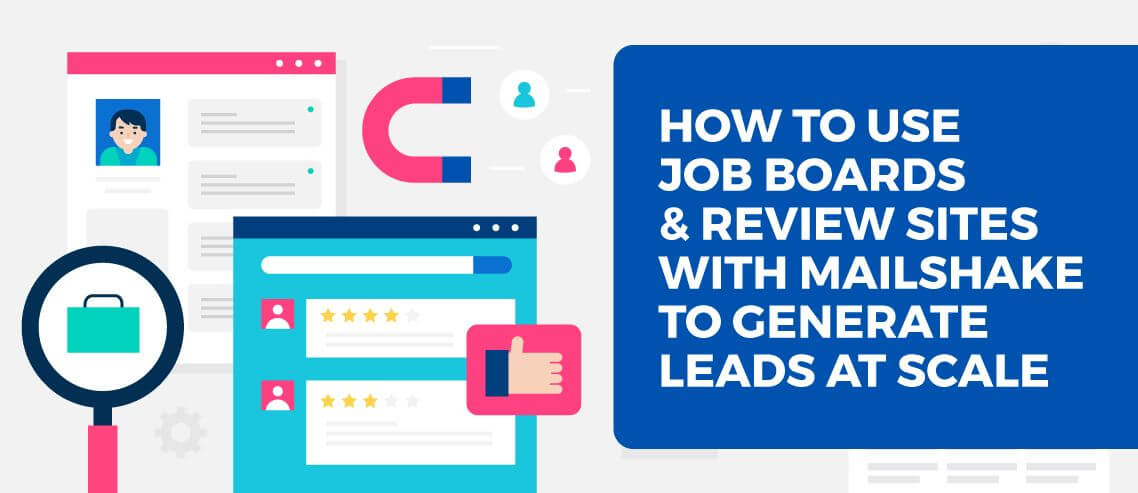 Pearl Lemon is an SEO & lead gen agency based in London, with clients predominantly in the UK and US. They've come up with a really simple and scalable approach to lead gen that uses Mailshake to reach leads generated on job and B2B review boards like AngelList and Clutch – and it's delivering real results, both for them and their clients.
So how are they doing it? Their Founder & CEO Deepak Shukla talks through how they use a couple different processes to find prospects, reach out to them, nurture them through the buying process and ultimately turn them into deals…
Process 1: Reaching Prospects at the Buying Stage via Job Boards
Job boards like AngelList aren't just great platforms for tracking down vacancies at startups or investment opportunities. If you know how, they can also be a rich source of leads.
The team at Pearl Lemon browses the startup jobs category based on pre-built criteria. Specifically, they're looking at job ads for:
Sales, marketing & business development roles
Salaries of $10-200K
Full-time or contract roles
Profiles that have been active within the last two months
Worldwide location
Remote-only roles
Why do they do this? Well, it's not because they're trying to hire a new sales rep. It's because the businesses posting those job listings are ideal prospects for Pearl Lemon – they're actively looking for people to help grow their business.
By clicking "Apply," they can find out who the HR or hiring manager is for that particular role, which means the Pearl Lemon team can easily track them down on LinkedIn and use a tool like Skrapp to source their email address.
That person can now be added to their prospect list, which is a Google Sheet that details where the prospect was found, along with their:
First name
Email
Company name
Job title
They'll update this spreadsheet with a new batch of prospects at least once a day.
Now this is where we come in. Having built up a prospect list, Pearl Lemon uploads all those potential customers to Mailshake and builds out personalized email sequences incorporating information from the job board – things like their first name, the name of the company, and the type of role for which they're hiring. As Deepak explains:
"Just using what we found on AngelList, we're able to write an email that effectively feels very timely, very personal, and doesn't feel like cold email spam. Even when people say 'no,' we get really positive responses."
It's a simple process, but it's delivering real results. Why? Because it identifies companies and decision-makers at the point where they're actively seeking a solution. It's repeatable, scalable, and it works.
In the example campaign Deepak showed us, Pearl Lemon had sent 499 first emails, generating a 64% open rate and 3% reply rate. So far, this campaign has produced 35 leads.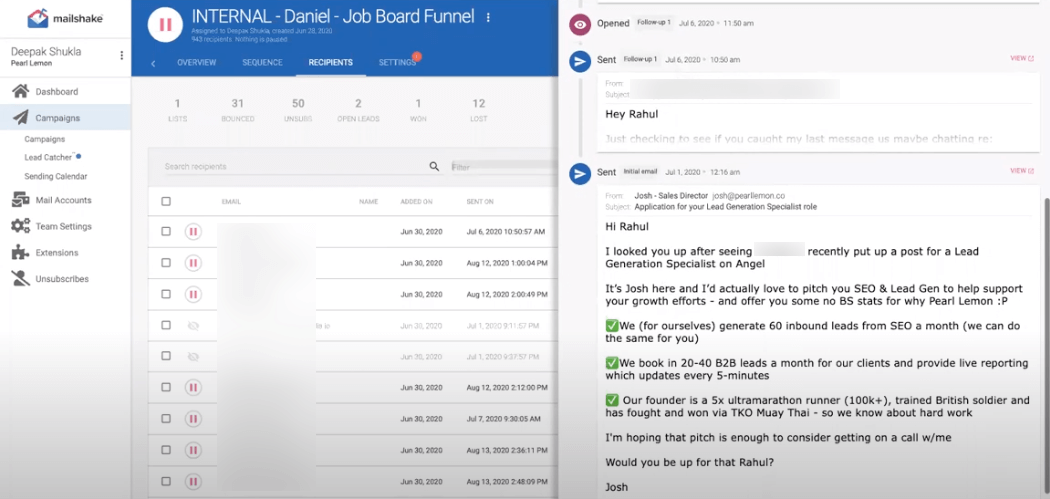 Process 2: Striking Up a Conversation Using B2B Reviews
This one's a bit different.
Whereas the job board-based process taps into timeliness – those prospects are looking for a solution right now – this approach is more about striking up a conversation by demonstrating interest in the prospect's business.
Pearl Lemon understands that B2B sellers – marketing agencies, software developers, web designers – use review platforms like Clutch because they care about growing their business. So they'll choose an industry area (web development, for instance), choose a company within that category, and click through to their Clutch profile.
Now, they take a look around. Specifically, they're interested in seeing the reviews that agency has received – who's leaving them and how many they've received in total. They'll pick out one of those reviews and use it as a conversation-starter (more on this later…).
Next, they head to LinkedIn, look up the agency in question, and identify the key decision-maker. Most agencies have fewer than 20 people, so it's generally pretty simple to pick out the person who controls the purse strings. Again, they'll use a tool like Skrapp to scrape the decision-maker's contact details and add all the relevant information into a Google Sheet:
First name
Email address
Company name
Industry on clutch (i.e. what they do)
Number of reviews left on Clutch
The industry of the client that left the review
What the testimonial says (they'll copy-paste a sentence from the review into the Google Sheet)
The decision-maker's LinkedIn URL
"We're not building huge lists here," Deepak explains. "We're just expanding our database by around 20 prospects a day. This way we're scaling it, but still keeping it personal."
As with the first process, now it's time for Mailshake. Once all the prospects are uploaded, they'll add them to an email sequence that draws the prospect in by referencing the client testimonial, before going on to explain how Pearl Lemon can help them: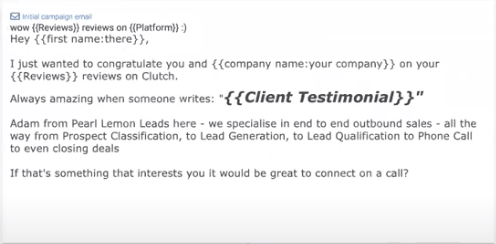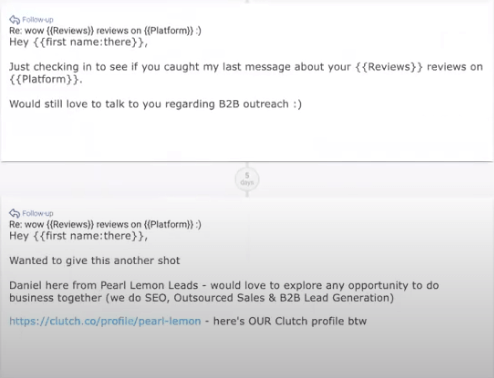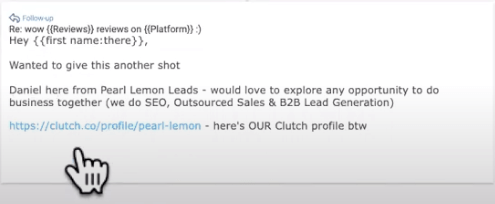 Again, it's a simple process, but it's generating results. In the campaign Deepak showed us, a total of 420 emails were sent, producing a 72% open rate, 69 replies and 32 leads.
What Pearl Lemon is doing doesn't require a degree in data science. It doesn't include dozens of steps and require thousands of dollars to implement.
Yet it produces super effective, relevant, highly personalized emails because Mailshake makes it so easy. As Deepak explains: "It's so straightforward it could be given to anybody."