How Square Peg Scaled Their Recruiting Outreach with Mailshake
How Square Peg Scaled Their Recruiting Outreach with Mailshake
Square Peg is a modern staffing agency and job platform that helps companies hire in a data-driven way. What makes them unique is that they go the extra mile with candidate matching by using psychometric assessments, behavioral attribute tracking, and soft skill identification. Those extra data points help companies get better matches with their talent screening so they can make well informed hiring decisions.
For candidates, it means less job hunting, which is critical since candidates have a measly .04% chance of talking to a person when they apply to a job board. With Square Peg, they have a 70% chance of getting an interview. It takes less than 10 minutes to create a candidate profile, and Square Peg takes over from there, pitching the candidate's skills and experience to companies seeking them.
Square Peg's service requires a first-rate team and an equally impressive stack of tools to pull off each month. Since their entire focus is matching candidates and companies, they cater to both B2B and B2C clients, which presents a unique challenge for their business model.
The Search for an Effective Solution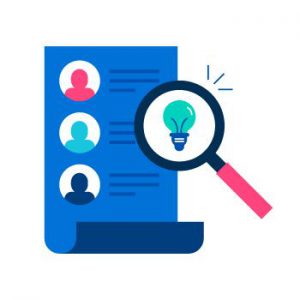 With over 30,000 active users on any given day, they needed a robust marketing solution to keep their talent pool and job pool proportionate. To accomplish that, they're reaching out daily with a mix of cold emails, warm-emails, and semi-warm emails to both new users and old users that have dropped off. They needed a solution that not only allows for a wide range of uses but also enhances their aggressive daily multi-channel outreach approach. After exhausting their options, they found Mailshake to be their champion.
Claire McTaggart, Square Peg's founder, notes: "We've tried seemingly every solution out there, and none come close to the ROI we get with Mailshake."
Not All Email Outreach Tools Are Created Equal
Through their experiences with seemingly every email outreach tool on the market, Square Peg found that most of them over-promised and under-delivered. They wanted a solution that was cost-effective and had the power to grow with them as they scaled up. Mailshake was the clear winner for their budget and for scalability.
Deliverability was another huge factor in selecting the right email outreach tool, and it was another factor that set Mailshake apart from the competition. In particular, Mailshake allowed Square Peg to leverage multiple domains and warm each one up slowly by spacing out emails and not sending too many from any one account.
McTaggart praised Mailshake's capabilities: "Other platforms let you make mistakes more easily. Mailshake spaces out emails, ensures your list is clean, emails are valid, and runs all sorts of safety checks that keep your emails from getting flagged as spam."
She went on to say that Mailshake does exclude more emails than other platforms, but that's a great thing because they have cleaner campaigns with higher deliverability as a result.
Data-Driven Process Enhancements
Ease of use and analytics were two more major driving forces when McTaggart and her team at Square Peg were deciding on an outreach tool. Launching Mailshake was fast and seamless thanks to the simple UX and UI. They acknowledged that it does take a little time to warm up some campaigns, but in no time, they were launching campaigns using their usual methods and seeing results.
Over time they decided to shake things up and leverage Mailshake's merge fields to compare their personalized emails against automated campaigns. Many companies, including Square Peg, have seen stellar results by sending highly personalized, targeted, individualized emails to potential B2B customers. Every account was heavily researched, and every email was written in great detail to make the strongest connection possible.
They were shocked to find that using automated emails that weren't personalized on Mailshake netted them the exact same result as the personalized ones. The merge fields personalized each email by industry and company name, but that's it. Same results, but a ton of time saved each week with one small change.
Trending the Right Way
Mailshake has rapidly become an integral part of Square Peg's marketing efforts. Since the switch, they've seen tremendous growth: 1,000 signups complete with a 50% open rate for cold campaigns and a 6% click-through rate (CTR), which they're ecstatic about.
McTaggart's confidence in Mailshake has soared since seeing such impressive results, but she says it's not just about the initial growth:"Scalability is huge with Mailshake. It's not just about the results you see in two weeks, but what you can expect in a month, two, and down the line."
That positive trend means everything to her team and has been the most positive part of their Mailshake experience. Open rate, click-through rate, and sign up rate is improving week over week with Mailshake with no signs of slowing down. They're always looking to improve and have complete faith that their goals of 200 email sign-ups a day and a 5% bump in open rates will happen with Mailshake as a trusted partner.