5 Simple SEO Problems Killing Your Lead Generation
5 Simple SEO Problems Killing Your Lead Generation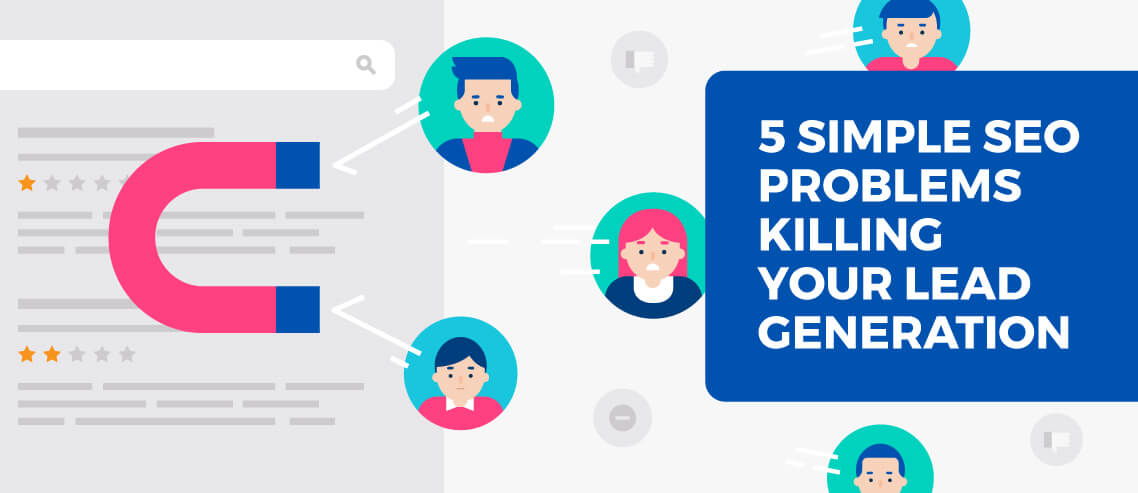 Lead generation is critical to businesses of all shapes and sizes. It's vital for companies to be able to identify prospective customers and clients and secure their business. It's the only way they can survive, grow, and thrive.
Equally as important is a strong SEO strategy. A strong SEO strategy will help your business stay in Google's good graces, enabling you to achieve that high SERP ranking that's crucial to grabbing web traffic (and therefore plays a pivotal role in lead generation).
In that context, SEO is about making sure your site and your business are seen by prospective customers and clients – like it or not, how well your site ranks is a reflection on the quality of your business. Problems with your SEO can kill lead generation and undo all the hard work you've done to cultivate new customers.
If you want to keep your hard-earned leads, you need to sidestep the SEO pitfalls that can derail your progress. Here are five simple but all-too-common SEO problems, that could be found with an SEO audit, that could be harming your lead generation efforts, and how to fix (or avoid) them.
1. Ignoring User Intent When Creating Content
One important ranking factor that most website owners overlook is content relevancy. You spend an hour or so researching relevant high volume keywords and identifying suitable terms, and then you spend a few more hours creating content and hoping it will rank. Yet there's a good chance you never checked to see what content was actually ranking for that term in the first place.
It's a common mistake, and one that can impact your ranking for current keywords. Creating content that's not meeting your audience's needs isn't going to do you any favors. For example, some sites frequently create how-to guides or other informational content; in the meantime, searchers are looking to actually buy the product. That's a serious mismatch.
If people are looking to make a purchase, they don't want to read the "Ultimate 5,000 Word Guide to [INSERT TOPIC HERE]!" Instead, they're probably looking for a page with a product description and a 'buy' button. Other sites make the opposite mistake, optimizing their sales pages for keywords that would be better suited to informational content.
To avoid these types of problems, you need to research the content that's currently ranking for the keywords you plan to target.
Make sure to check the following:
Do the headlines of the content that is currently in the top five positions in the SERPs have a common theme? For example, are they all list posts?
What content is provided by the top five pages currently ranking on Google? For instance, are they sales pages or blog posts?
It all sounds rather obvious, but it's all too easy to overlook user intent in your rush to create your next amazing piece of content. It's important to note that low search volume keywords can get you traffic and paying customers too.
Capturing user intent has advantages beyond SEO. For example, if the visitor is just after information, you can capture that lead using a relevant content upgrade that fits with their interests, and then nurture that lead through a targeted email marketing campaign.
2. Issues With Structured Data
Another problem that can kill your lead generation is a technical one: structured data. Structured data is a technical way of presenting information on a webpage, which Google describes as:
"A standardized [sic] format for providing information about a page and classifying the page content."
At its most basic level, structured data refers to code in a specific format – it's coded for a website using in-page markup.
It's vital that Google and other search engines can recognize and read your site's structured data, since they use it to better understand what pages are about. When used correctly, structured data also makes pages eligible for special search results features and enhancements, such as:
Knowledge panels
News carousels
Direct answers
Rich review snippets
One common structured data issue relates to the appearance of rich snippets. When you have rich snippets activated, your content is a lot more prominent in the SERPs, as shown in the screenshot below: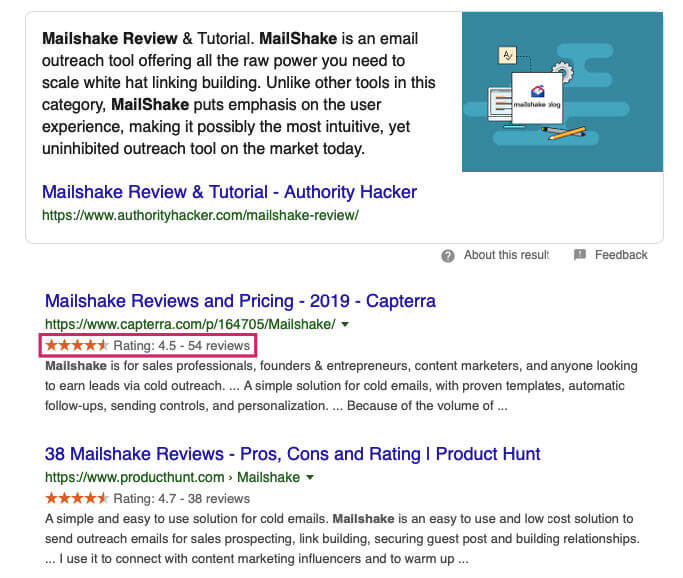 Rich snippets are used a lot on ecommerce sites and review sites. If you run a website in these niches, not having rich snippets activated (or having them activated incorrectly) will almost certainly harm your organic CTR (click-through rate), and potentially your search results.
In short, poorly-coded structured data means that sites don't get the review snippets.
A common error a lot of sites make is not including review markup within the product markup of their structured data. That may be because they've wrongly assumed that the third-party app handling their reviews will do it for them. If you're not getting review snippets, the app probably isn't doing so – or at the very least, it's not doing so in the correct way.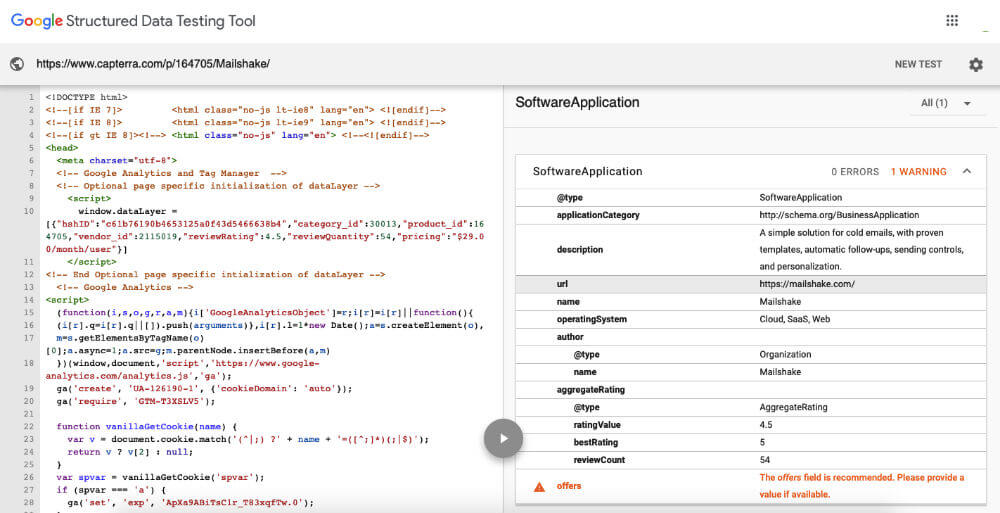 To remedy this problem, you'll need to inject review markup. Google makes this as easy as possible by providing some working examples of correct review markup via their structured data testing tool.
Get review markup and your wider structured data right, and it will be good news for your lead generation.
To fix other technical SEO issues on your site, you can find a list of the best Google analytics tools here.
3. Unenticing Metadata
Metadata is critical to both SEO and lead generation. It's the information about a page that your site sends to a search engine, and it appears in the <head> section of your website. The most common examples are the meta title and meta description.
Meta Titles
The title element of your metadata is the main title of each of your pages. It's what gets displayed in bold blue text on a SERP. It's also a very important ranking factor for Google, because the title tells Google what your page is about. The search engine uses it to help decide how the page should rank for different keywords.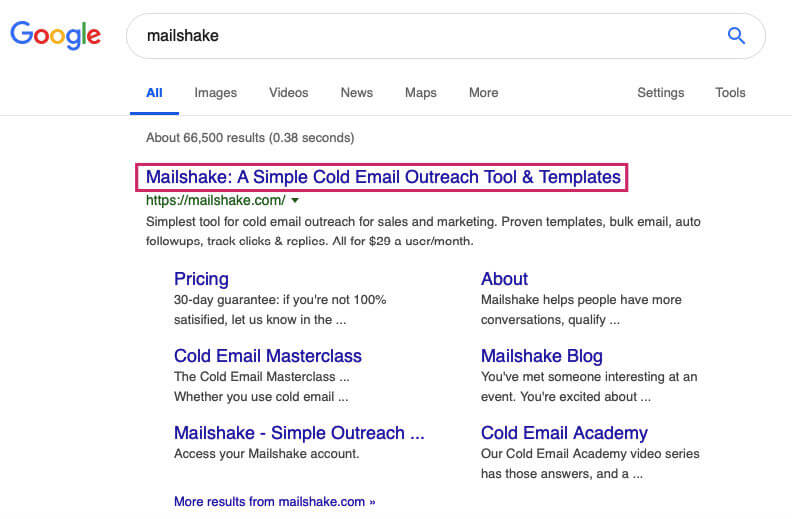 The title of your pages is also the first thing that searchers see. Their decision to click on a page is based largely on the page titles. As such, meta titles need to capture attention and persuade searchers to click. If they do, your page's CTR will be much higher, which will then also have a positive effect on your future ranking.
Meta Descriptions
The meta description was once the main way to tell Google what a page was about. Now, the search engine 'reads' the whole page, so meta descriptions are more important for telling searchers what pages are about.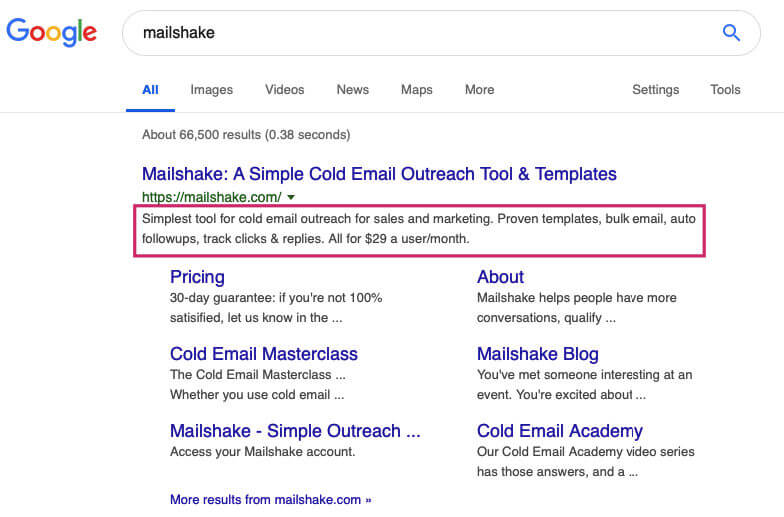 Sometimes Google displays your meta description in black text beneath your page title on a SERP. Once a searcher has been attracted by your title, they'll usually also read that description. So good descriptions can help with CTR and turning leads into real site visitors.
Simple Tweaks to Improve Your Metadata
Small and simple changes to your metadata can exponentially help SEO and lead generation. Ensure that your titles include the page's focus keyword, ideally at the beginning of the title. They should also end with your company or site name for branding purposes.
Title length is also important. Since you want the whole title to display to searchers, that means keeping them as concise as possible.
Improving your metadata can have an impact on your lead generation. In addition to including the desired keywords, your meta descriptions need to be useful and attractive to your leads; reading the description should convince them that your page is the one they want to visit.
"At Chamaileon.io, which is a fast-growing collaborative email design builder tool – a typical SaaS B2B web application – the marketing team uses GTM to fix small SEO issues and implement the right metadata without the help of developers. This way the marketing team have the freedom and controls all the behavior tracking, lead generation and content analytics tools and important metadata injection by themselves."
~Gergely Nagy, Chamaileon.io
Assuming you have Google Analytics installed, you can test how well-optimized your meta title and meta description are on the Search Engine Console. If a URL has a high position in the rankings but a low CTR, you should optimize both the meta title and meta description.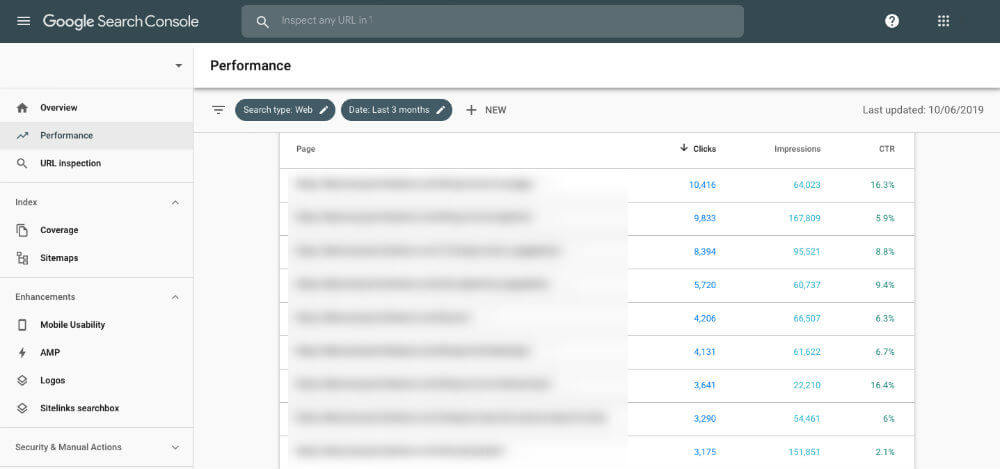 Over time, through small tweaks to your meta title and meta description, you can improve the CTR. This will help improve the overall ranking of the content.
4. Problems With Competing Pieces of Content
Of course you want your site's pages to rank as well as possible for important keywords for your business, so the more pages you have that target those keywords, the better – right?
Actually, no.
Having multiple pages or pieces of content targeting the same keyword is a common mistake made by lots of sites. It can have a negative effect on your SEO, and, by extension, your lead generation.
That's because content targeting the same keyword is essentially competing with itself. When you have multiple posts targeting the same keyword, Google gets confused about which piece of content you actually want to rank for that term, and each of your pages serves to eat into the possible traffic of the others.
This harms the search rankings for all of these pages. (Rather ironically, the more content you have on your site and the larger the content marketing team, the more likely you are to face this problem.)
What's more, it dilutes the positive effects of your link building for the keyword, since your links will be spread among many pages instead of all pointing to one authoritative page.
The results of competing with yourself can only be negative. Each of your pages will have a lower CTR and diminished authority, and they'll all be less likely to rank as well as they might have otherwise. Lower ranking pages will be seen as less authoritative by searchers, and therefore, they'll have a negative impact on your business's lead generation.
"One of the trickiest things you might end up dealing with is multiple versions of the same piece of content in different places without the canonical URL set. This can easily happen if instead of linking to the same file or page, you upload it multiple times across your resource center, help center, and blog. Pro tip: keep a depository of your content for your team to link to. This way they will have the right link when they need it."
~ Michal Leszcynski, GetResponse
This is sometimes called 'keyword cannibalization', which reflects the level of damage it can do to your site.
Fortunately, it's simple and easy to identify and solve this particular problem. There are several strategies, such as topic clusters and the removal of duplicate content, that can help marketers think more strategically about content creation.
A good example of a website with a lot of duplicate content is Business2Community. Given that the content is user-generated, the site often has several posts targeting the same keyword: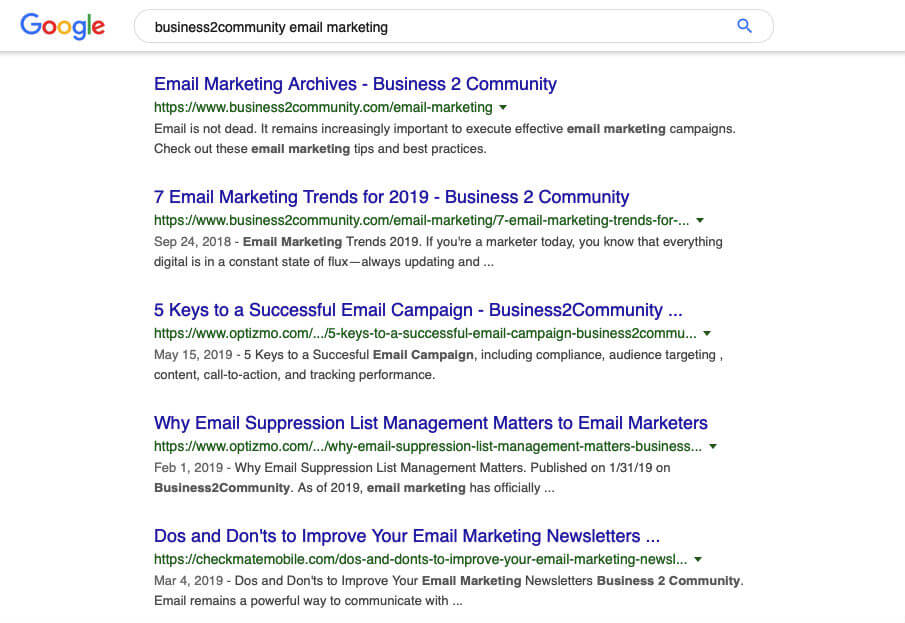 Identifying and Solving the Problem
You can identify keyword cannibalization manually or with a keyword mapping tool. For the former, you need to build a simple spreadsheet listing your URLs and the keywords they target. The latter will present you with the same information. Either way, you can then see when you have multiple pages targeting the same keyword.
There are two main ways to solve the problem. The first – and best – is to make structural changes to your site. When it comes to improving site structure, you may choose to cluster your content. That means choosing the most authoritative page for each keyword and making it a 'pillar page', which is a page that you want to rank for a keyword.
You may then need to repurpose your other pages a little. You can tweak each to focus on a different longtail keyword so that the pages will not be in direct competition with each other. They will still, however, help your pillar page to rank for the original focus keyword. You could also create brand-new content to serve as your pillar pages.
The second way to solve this problem is to use 301 redirects to consolidate your content. 301 redirects may be necessary if you have multiple pages already ranking for an important keyword. A redirect will let you consolidate those pages without losing the link juice.
Implementing redirects or improving the site structure will help your visitors figure out what content on a specific topic they should be reading. Solving this issue will not only improve your SEO performance, but it will also improve user flow across your website that can help sales.
5. Slow Page Load Times
If your pages load slowly, then more of your site visitors will leave without engaging with your content. Google doesn't want to show the content to people who are likely to abandon it because it provides a bad user experience. So page speed is an important search ranking factor for Google.
Slow loading can also have a real impact on your bottom line. Data from Amazon showed that a page load slowdown of just one second could cost it $1.6 billion in sales each year.
Load speed is even more critical to mobile users. According to Kissmetrics data, 40% of people abandon a page that takes more than three seconds to load. That's why Google has recently gotten behind Accelerated Mobile Pages (AMP) in a big way. It's also why you'll want to do everything you can to improve your site's load speed.
It's relatively easy to check your page speed using Google tools: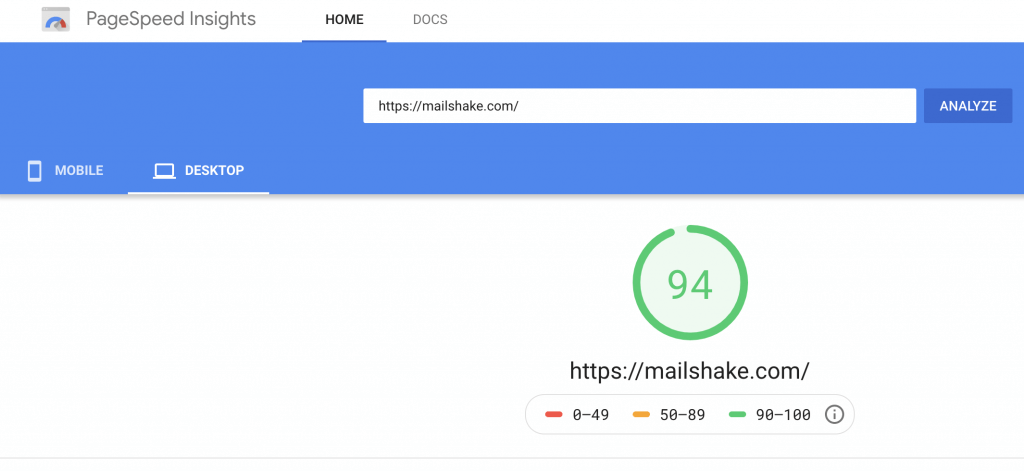 Many of the issues that Google will highlight are technical problems that are difficult to fix. However, image size, one common problem that impacts page load speed, is an easy fix.
First, make sure you limit the size of your images. Second, use image dimensions to create multiple versions of an image for different devices. This will reduce the load time by ensuring the most relevant image is loaded for the size of the device.
Resolving these issues will generally improve load time, especially for mobile, where responsive image optimization is more of an issue.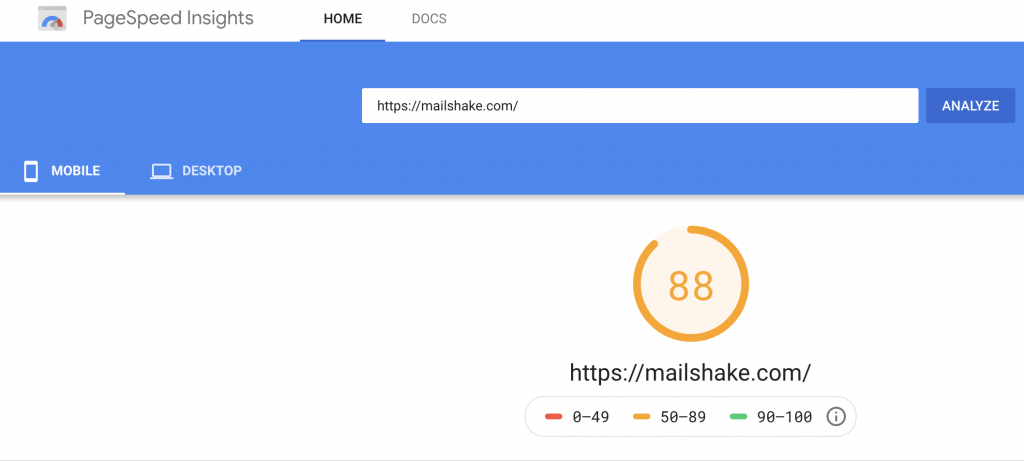 You might also want to consider asynchronous loading, which means images load after the other elements of your pages.