What is a VoIP Number? Everything You Need To Know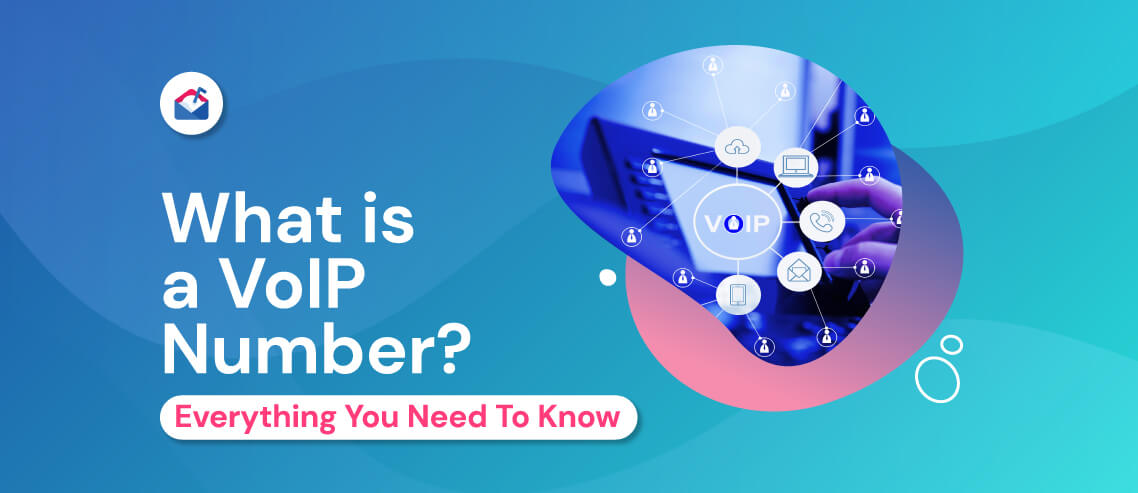 If you've been researching business phone numbers, then VoIP is an acronym you've probably been seeing everywhere. What exactly is a VoIP number, though, and how does it work?
What is a VoIP Number?
A VoIP number (Voice over Internet Protocol) is very similar to a traditional landline number, but with a key difference—it can be used to make calls from any internet-enabled device.
When you sign up for a VoIP service, you'll be able to choose your VoIP number, allowing you to make and receive calls from the same number, but across all of your devices. VoIP phone numbers can work with your desktop, laptop, tablet, smartphone, and VoIP-enabled phone.
In today's modern business world, being able to work on the go is important, making VoIP numbers a go-to option for many companies.
The Difference Between VoIP and Regular Phone Numbers
The key difference between VoIP and regular phone numbers is the way they send calls. A VoIP phone number uses the internet to connect calls, whereas a regular phone does so through traditional phone lines.
This is the main reason why VoIP numbers can work across all your devices, replacing your traditional landline.
It also means VoIP numbers are extremely easy to set up and can be more cost-effective than traditional numbers. Many VoIP systems are hosted externally, meaning there's less (if any) on-premise equipment to set up and maintain.
What Are the Different Types of Virtual Phone Numbers?
One of the main reasons virtual phone numbers are so popular is because of convenience. They can take just a few minutes to set up, and allow people to make calls from anywhere – a big bonus in today's world.
Convenience isn't the only benefit though, and many businesses also benefit from the flexibility choosing a virtual phone number offers. With different phone number options, this is something that can give your business the edge when making calls.
1. Local numbers
Location is a huge part of marketing and sales. People want to support local businesses, and they often feel they receive a better service from those local companies.
For larger companies that offer local services in many different locations, this can be a challenge when making outbound calls. With a traditional phone number, you don't have that trust factor of a local dialing code.
VoIP phone numbers allow you to choose your dialing code so you show a local number when calling your customers. This makes it easier for callers to connect with you and can lower distance calling costs.
2. Toll-free numbers
If you need customers to get in contact with you regularly, then you don't want them to have to pay each time they make a call.
VoIP numbers allow you to create a toll-free number (1-800 numbers) so your clients don't have to pay to contact you. This gives businesses more credibility and means there's one less barrier stopping people from reaching out to you.
3. Vanity numbers
Branding is important for your business, and your phone number can play a part in this. If you've got a memorable number that's relevant to your business, then it can stick in people's minds and encourage them to call you.
For instance, if you run Boris' Pet Supplies, then you may want to get a vanity number like 1-800-BORIS-PET. You can choose your own VoIP vanity number and make your contact details specific to your business.
How Do I Get a VoIP Number?
To get a VoIP number, you need a VoIP service plan.
There are lots of different providers and plans available, so the important thing is to take the time to make sure you get the right service for your business. The great thing with VoIP service plans is that they allow you to scale as needed, so make sure you're not tying yourself into extras that you don't need.
Once you've chosen the right plan for your needs, then it should be quick and easy to get your VoIP number set up.
How to Get VoIP Phone Service
If you're going to get a VoIP number and make calls through the internet, then the first thing to ensure is that you've got a good internet connection. An unreliable internet connection is going to lead to poor quality calls, and this is the last thing you want.
Once you've decided a VoIP phone service is the right option for you, then setting up shouldn't be difficult.
Do some research on the best VoIP service providers (keep reading to see our recommendations), select your VoIP number, and decide on any optional VoIP devices you might want to make use of (some people like to work with a traditional handset, whereas others are happy working through their devices).
What Kind of Equipment Do I Need?
The key element of a VoIP phone service is your internet connection, so make sure you've got reliable high-speed internet.
Depending on how you plan on using your VoIP number, you might need a few basic pieces of equipment.
Computer
Headset
VoIP phone
VoIP adapter (to adapt a traditional handset)
If you choose to make calls through your computer, then you might have to download some software which your service provider will talk you through. An alternative option that many businesses decide on is making use of VoIP phones that plug directly into your broadband connection.
Best VoIP Number & Service Providers
There are many VoIP service providers out there. If you're going to invest in these services, you want to know you're getting value for money though, so here are some of the best VoIP number and service providers.
Nextiva was named the best business phone service by U.S News, and it offers lots of great features. With free toll-free, virtual voicemail, and auto attendant, it gives you the tools you need to make the most of your VoIP number.
By bringing together VoIP, video, and chat, Nextiva allows you to communicate via your customers' preferred channel, improving the customer experience. Its top-rated app allows you to work from any device, making your business even more agile.
Grasshopper is a great option for people who want to merge their business and personal devices. This makes you much more reachable and allows you to take your work with you.
With a range of toll-free, local, and vanity numbers, Grasshopper offers unlimited calling, call forwarding and automated attendant all at a very manageable base price. This can save you money, and make you look more professional while allowing you to do business from anywhere.
Google offers some of the most widely used business software in the world, and as you might expect, it also has a good VoIP option. It offers a basic VoIP service at no cost and can be used on all landlines and mobiles.
This service might not be quite as complete as some of the other options on the list, but it's a great way to create a VoIP number without incurring many costs. If you have basic needs, then it can be a perfect option.
GoTo Connect offers a cloud phone system that's built for businesses. With a variety of features and all the business plugins you could need, it's a powerful option for companies that are looking to upgrade their phone systems.
With high-level performance, 24/7 support, and enterprise-grade security, it's got all the extras businesses are looking for, helping you to get set up quickly. Choose your VoIP number, and add a preconfigured VoIP to get started straight away..
Phone.com is another VoIP provider that aims to offer a modern, work-from-anywhere solution. It's an excellent option for vanity numbers and couldn't be easier to set up.
With a range of different plans, it allows you to select the features you need, meaning you pay only for what you use. It has options for call recording, call analytics, CRM integration, and lots of other features, so it's well worth exploring.
Phone.com is a quick and easy way to get started with your VoIP number.
How to Protect Against VoIP Fraud
VoIP numbers might be very useful for legitimate businesses, but they can also commonly play a role in VoIP fraud. This is because a number can build trust when someone sees it on their incoming phone calls.
For example, if you receive a call from a local number or an authoritative vanity number, you're probably more likely to take it. This allows fraudsters to use VoIP numbers to get their foot in the door with a potential victim.
This shouldn't put legitimate businesses off from using this vital business tool, but it's something consumers should be aware of. A caller ID isn't necessarily a true representation of where a call is coming from.
Vishing (VoIP Phishing)
Most commonly when you experience VoIP fraud, it's as part of a phishing scam. This is where fraudsters attempt to gain personal information (bank account details, login details, etc.) with the help of a recognized or trusted phone number.
While it can be difficult to trace the true source of a call when a VoIP number is being used, it's important to be aware of the techniques they use and avoid discussing personal details in unsolicited phone calls.
Conclusion
A VoIP number is an essential part of modern-day business.
Gone are the days of a fixed landline telephone that makes calls through telephone lines. Instead, VoIP services allow businesses to link their devices and make calls through the internet, helping them to do business from anywhere.
With options for local, toll-free, and vanity VoIP numbers, there are plenty of options to choose from.