12 Best Sales Apps for Salespeople in 2021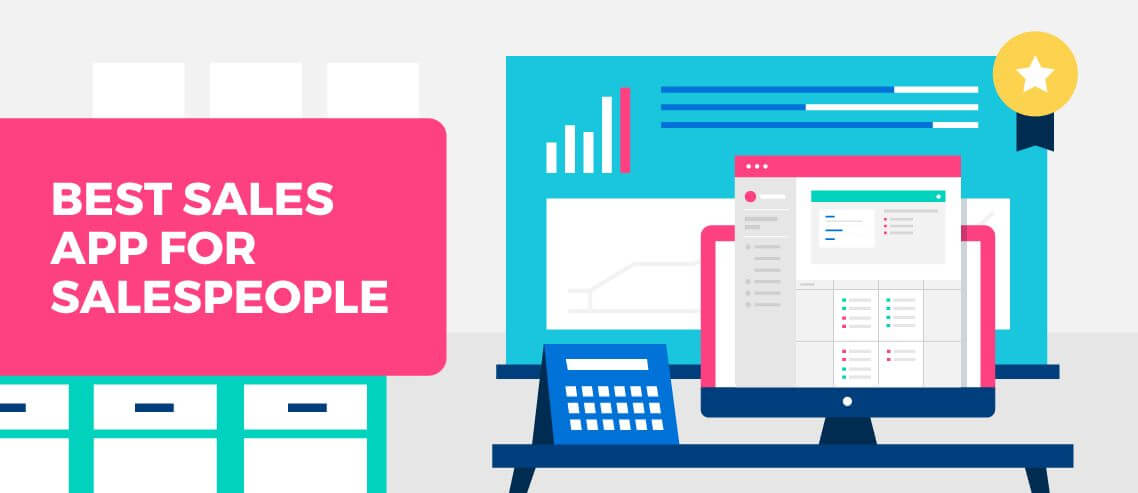 In order to remain competitive, salespeople need to make sure that they're up on current trends and technologies. But while there are countless sales and productivity tools on the market, not all of them are worth the investment.
If you need an upgrade to your sales arsenal, we've got you covered. In this guide, we'll go through 12 of the best sales apps for salespeople in 2021. We'll cover the two main characteristics to look for in an app, as well as features, pricing, and what makes them unique.
By the end, you'll have a good idea of where to start as you add more sales apps to your tool belt.
Characteristics of the Best Sales Apps
Any sales apps that you're considering adding to your tech stack should – at the very least – have the following two characteristics:
Ease of Use
Sales tools are supposed to help salespeople make sales, not give them a way to waste an afternoon twiddling with different settings in an attempt to get their software working. If a sales app requires too much time and effort to learn, the tool will end up hindering productivity instead of enhancing it.
The best sales apps have an easy-to-use interface that makes sales easier, not harder. The layouts are intuitive, settings are easy to find and configure, and overall, the user experience is a pleasure.
Integrations
Apps don't live in bubbles. The average salesperson uses several different apps and platforms, such as a CRM, LinkedIn, Facebook, Gmail, etc., to organize their leads and work efficiently.
Industry-leading apps fit in nicely within a salesperson's existing workflow instead of forcing them to reconfigure their work around the app's needs. Integrating a new tool into your current stack should be a breeze.
Top 12 Sales Apps for Salespeople in 2021
Mailshake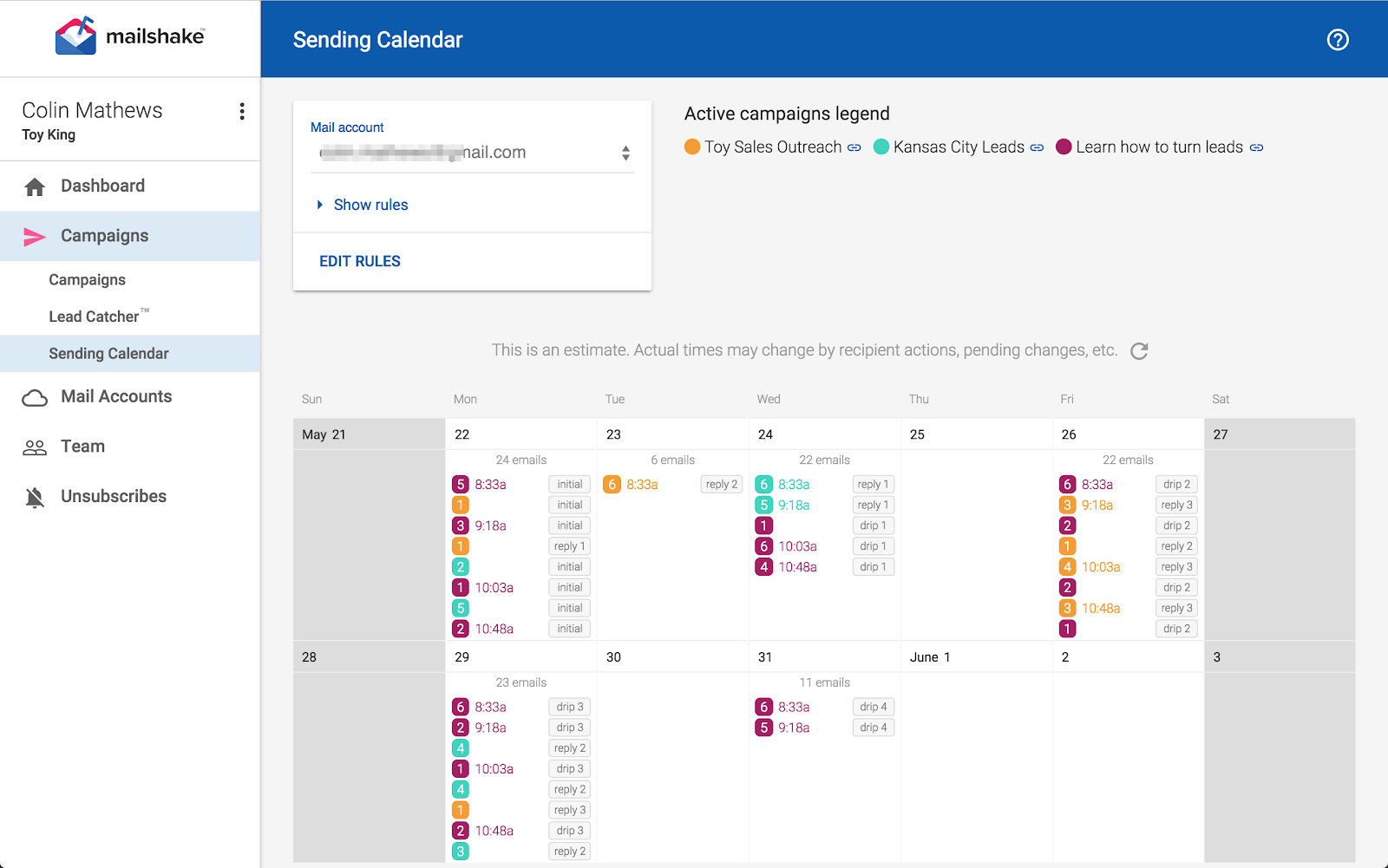 Website: mailshake.com
Price: Email Outreach $59 per month/user. Sales Engagement $99 per month/user
Free Option: Unavailable
Mailshake is a sales engagement platform that facilitates the planning and execution of multi-channel outreach campaigns with high levels of personalization. Mailshake can connect to your personal email, phone, and social accounts to help you reach your leads via the channel that's best for them and most likely to make a sale.
With Mailshake, salespeople can plan their personalized campaigns in advance and then let them automatically execute. When a lead responds, salespeople can reply to them directly through Mailshake's platform or with their own personal email.
The platform is also fully loaded with analytics that can help you evaluate which campaigns are working best, and which need some retooling.
Leadfeeder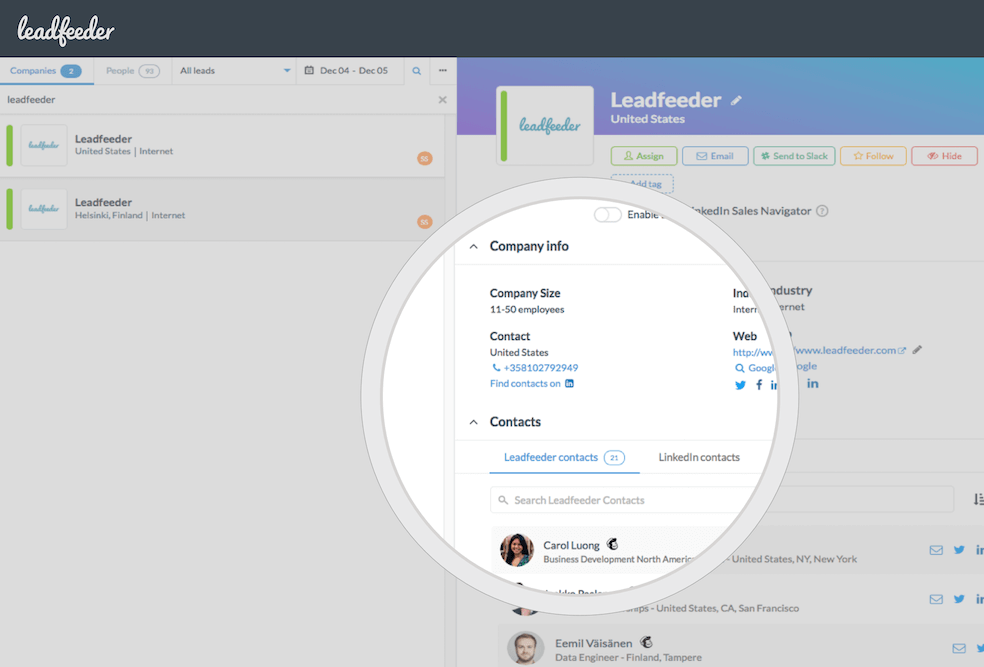 Website: leadfeeder.com
Price: Starts at $55 per month
Free Option: Leadfeeder Lite
Leadfeeder helps salespeople uncover hidden leads by providing them with a list of companies that have visited their own company's site. Since these leads are already familiar with your company to some degree, they are generally easier to convert than completely cold prospects, which leads to a higher return on your sales efforts.
Leadfeeder breaks its process down into four steps. First, the app identifies visitors to your site. Then, it prioritizes those visitors based on the actions they take while browsing through your website. Next, it provides company contact information for those leads, and finally, it updates your CRM with that information.
Voila Norbert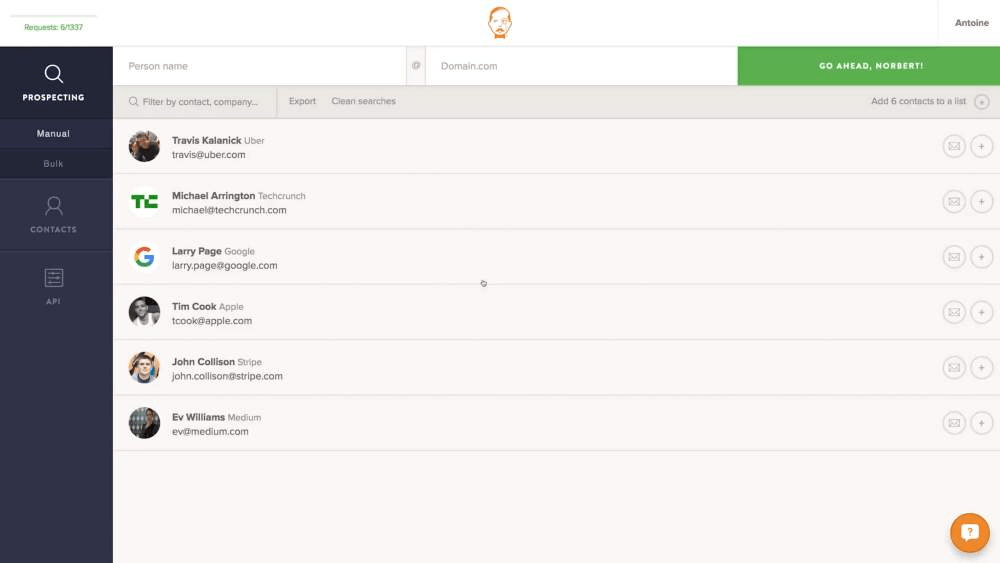 Website: voilanorbert.com
Price: Valet $49 per month. Butler $99 per month. Advisor $249 per month. Counselor $499 per month.
Free Option: 50 free searches
Voila Norbert is an email finder tool that, as you may have already guessed, helps you track down hard-to-find business emails.
The tool is intuitive and easy to use. Simply enter a person's name and their company's domain, and Voila Norbert will search through its records to find a verified business email address for that person. It will also provide a confidence score to let you know how likely it is that it's found the correct email.
Voila Norbert also does bulk email searches, in which you type in a business's domain, and the app will pull all the emails that it has for that particular domain. It's a great tool for both targeted outreach emails to specific decision makers and for more general research of potential leads.
Right Inbox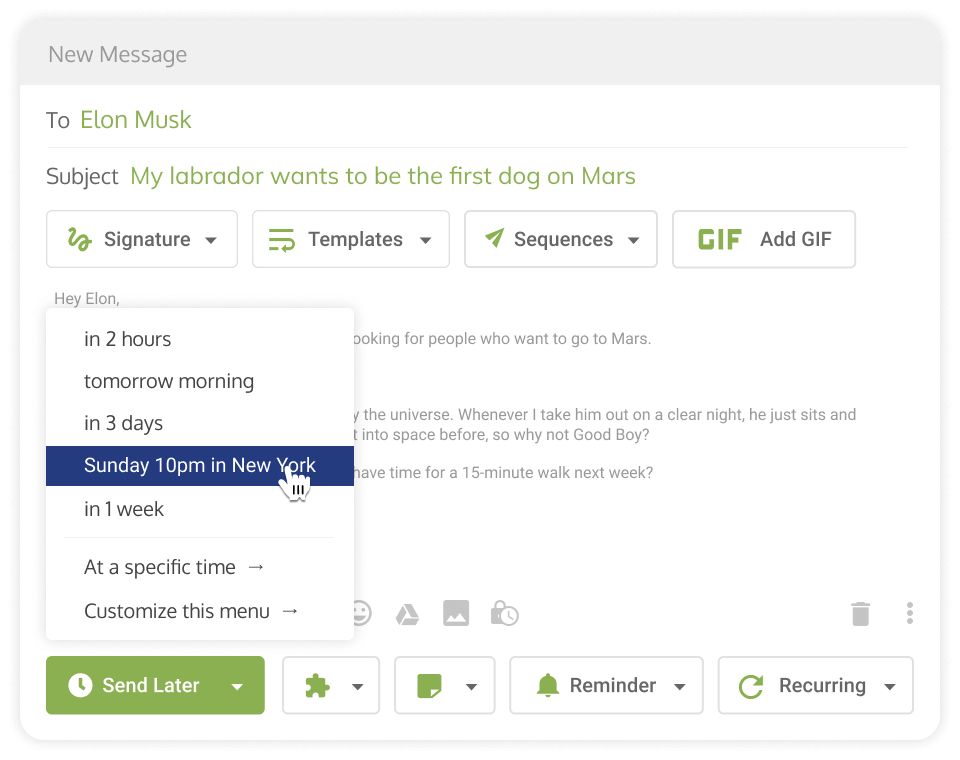 Website: rightinbox.com
Price: $4.95-$5.95 per month (yearly plan), $6.95-$7.95 per month (monthly plan)
Free option: 10 emails/month
Right Inbox is a Gmail extension that helps salespeople maximize the utility of this popular email platform. It provides several useful functionalities, like signature swaps, email templates, sequences, and email scheduling.
Salespeople will likely find Right Inbox's templates to be particularly useful. If you're involved in cold outreach, you can draft up a template that you can pull up with just a few clicks whenever you're reaching out to a new lead or prospect.
Plus, you can also use Right Inbox's sequences feature to schedule follow-up emails if they don't reply to your first one – all from within the Gmail editor.
LinkedIn Sales Navigator
Website: business.linkedin.com/sales-solutions
Price: Starts at $64.99 per month (yearly plan)
Free Option: No
LinkedIn Sales Navigator is a tool that helps salespeople make the most of LinkedIn's already vast and powerful feature set.
Sales Navigator is somewhere in between a standalone app and an upgraded version of LinkedIn. It provides powerful features that allow salespeople to connect with more extensive networks of potential leads.
For example, generally, you can only send messages to people in your network on LinkedIn. However, LinkedIn Sales Navigator provides salespeople with at least 20 InMail messages per month, which can be sent to anyone regardless of whether they're within your network or not.
It also provides more advanced and targeted search features, syncs with CRMs, and customized lead lists. Plus, it can even make automated lead recommendations based on leads you've already saved on the platform.
Hubspot Sales Hub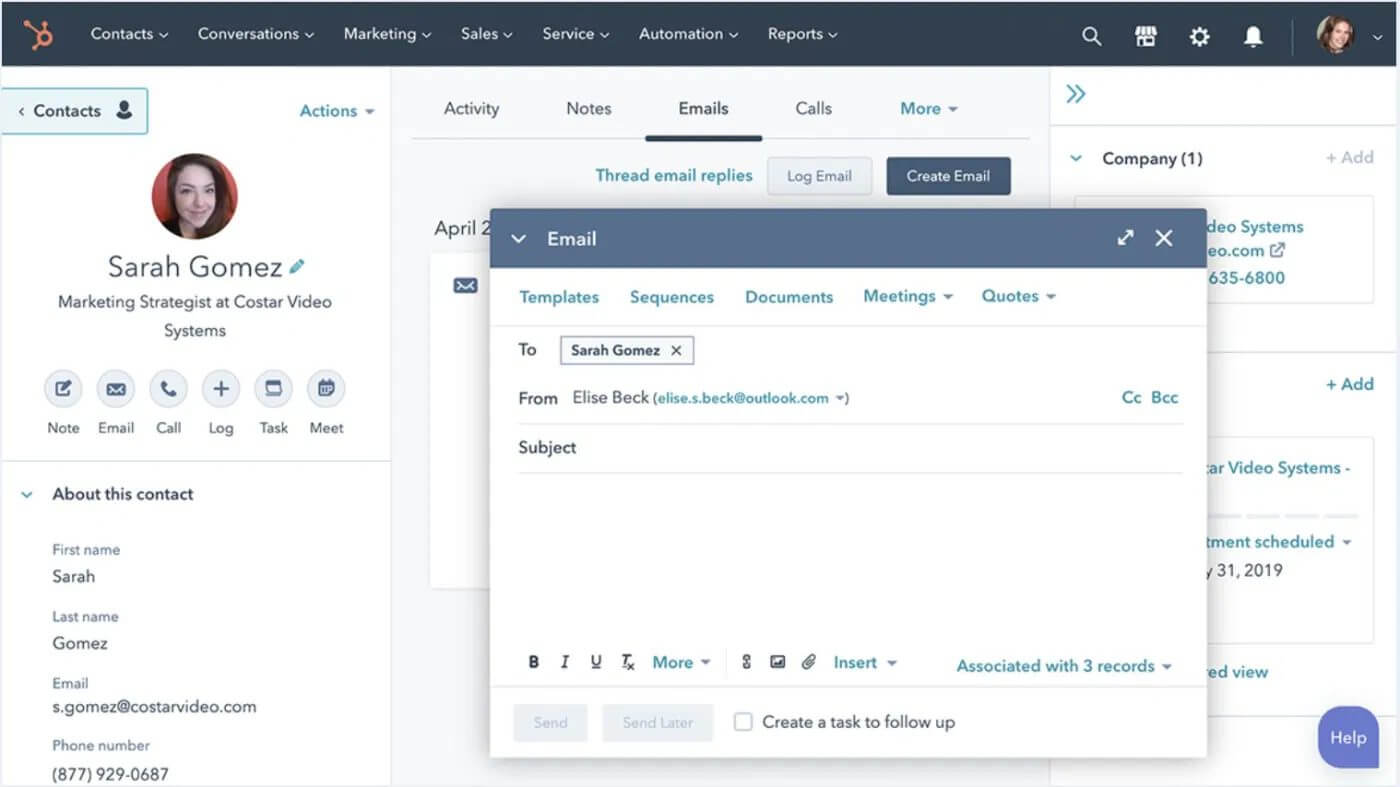 Website: hubspot.com/products/sales
Price: Starts at $45 per month (yearly plan)
Free Option: Various free tools available
Hubspot is one of the most popular sales platforms, and for good reason. Its feature set is deep and powerful, and it comes packed with loads of integrations that allow it to fit easily into most pre-existing sales workflows.
Sales Hub is a sales CRM that provides useful features like email templates, email tracking, and call tracking and recording. It also includes a Kanban-board style sales pipeline tracker that can be used to keep a closer eye on deal flow.
Other useful features include sales management playbooks, branded quotes, sales automation, and live chat.
Hubspot is constantly adding new integrations and apps to their marketplace, so you can expand this tool's functionality with hundreds of integrations and plugins. Some popular choices include Gmail, Outlook, WordPress, LinkedIn, Zoom, Instagram, and Quickbooks Online.
Zoominfo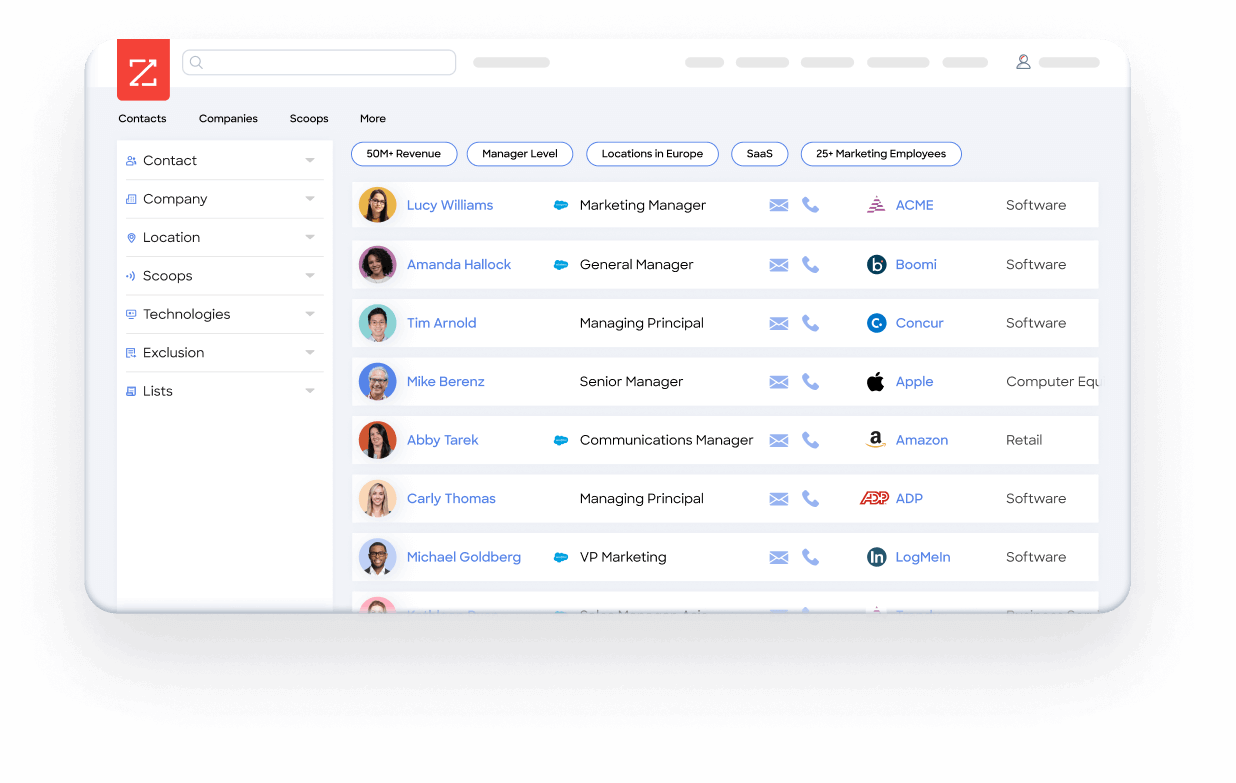 Website: zoominfo.com
Price: Not available
Free Option: Free trial available
Zoominfo is a SaaS company that provides a database full of B2B contact data. It has some of the most extensive and accurate listings available, so salespeople that are on the hunt for new prospects will likely find value in Zoominfo.
Not only does this app give you contact info, but it also provides you with data about changes at the companies you're scoping out. For example, Zoominfo can tell you about recent hires, people who have left, and what's going on with that company in the news.
It can also provide indicators of different companies' intents, so that salespeople can prioritize outreach to companies that have signalled they may be ready to buy.
CrystalKnows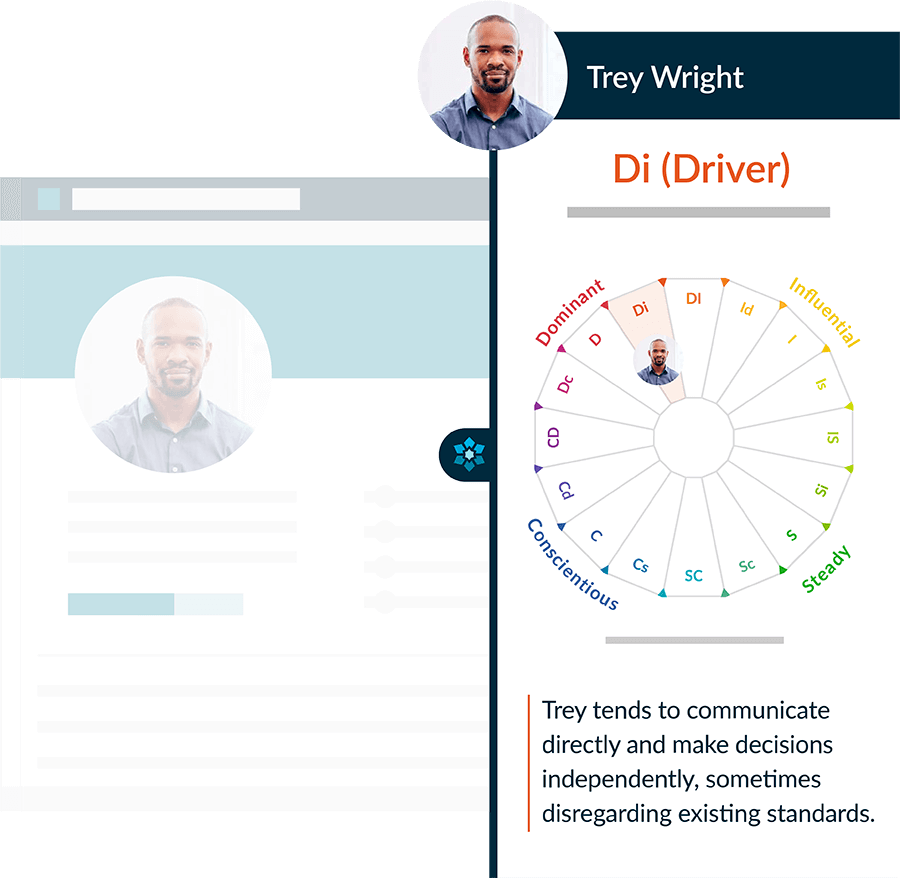 Website: crystalknows.com
Price: Not available
Free Option: No
CrystalKnows is a useful platform for both individual salespeople and sales managers.
For individuals, CrystalKnows can make sales more efficient by predicting leads' personalities through a handy Chrome extension. For instance, it can tell you whether a lead is more dominant or conscientious, which may alter your approach and strategy. Additionally, you can construct playbooks for various personality types and situations.
Sales managers will find CrystalKnows useful when hiring new salespeople as well as finding how to best utilize their current team members. It can provide insights into how team members work so that their unique skills and personalities can be best put to use.
Vidyard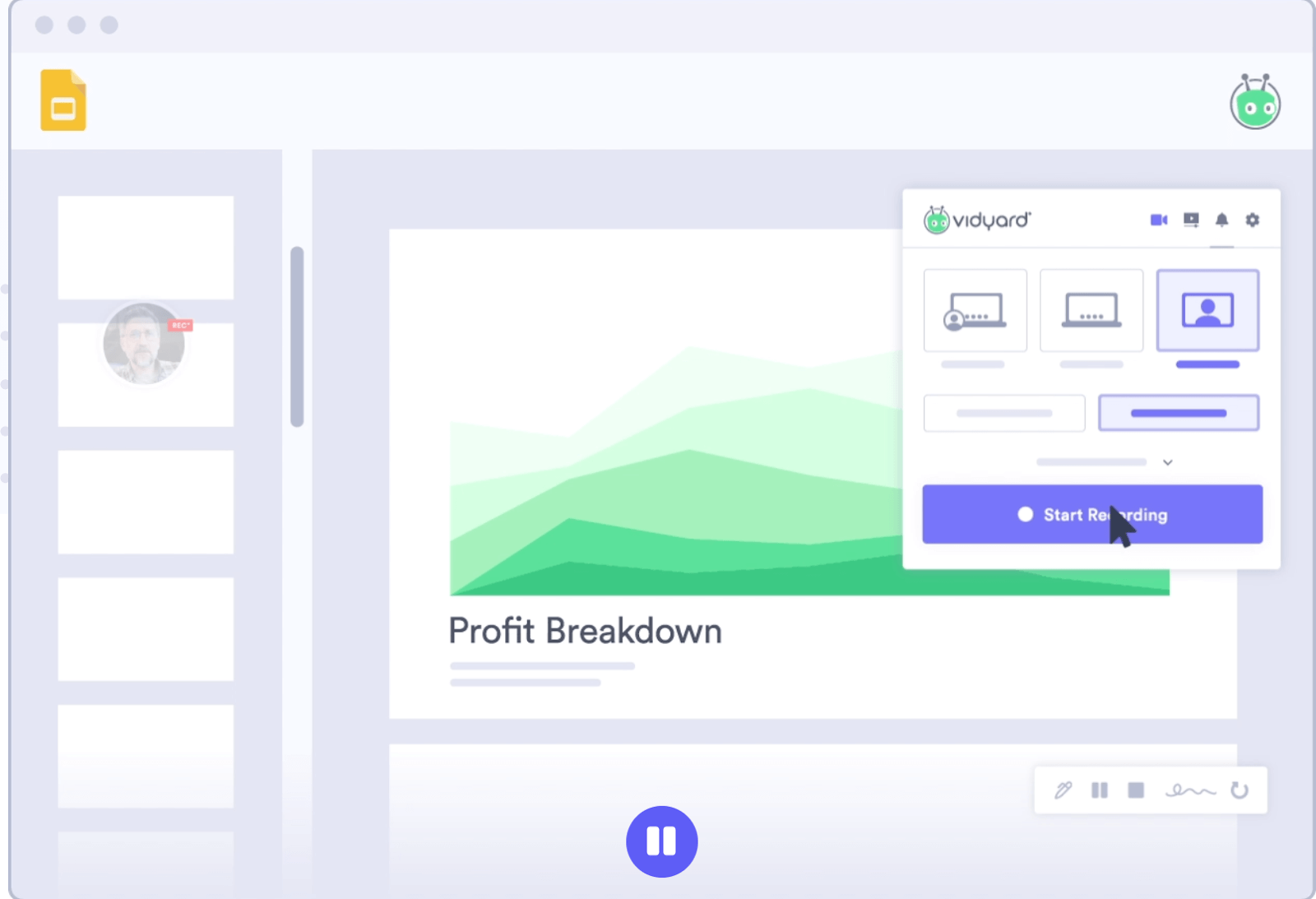 Website: vidyard.com
Price: Starts at $300 per month for teams
Free Option: Free plan available for individuals
Vidyard is a video hosting platform that makes it easy to add videos into your emails and other communications. It helps you add a personal touch to your sales work even when you can't be there face to face.
Essentially, Vidyard takes personalization to the next level. Instead of using mail merges to add a bit of basic information about a lead into your emails, you can use Vidyard to record personalized videos for them. This works particularly well when you're onboarding new customers, conducting demos, or even just trying to send out a holiday greeting.
Vidyard supports screen recordings and is always ad-free. It's a great app to add into your sales toolbox, especially as video becomes more and more important in today's shifting sales and marketing landscape.
Vainu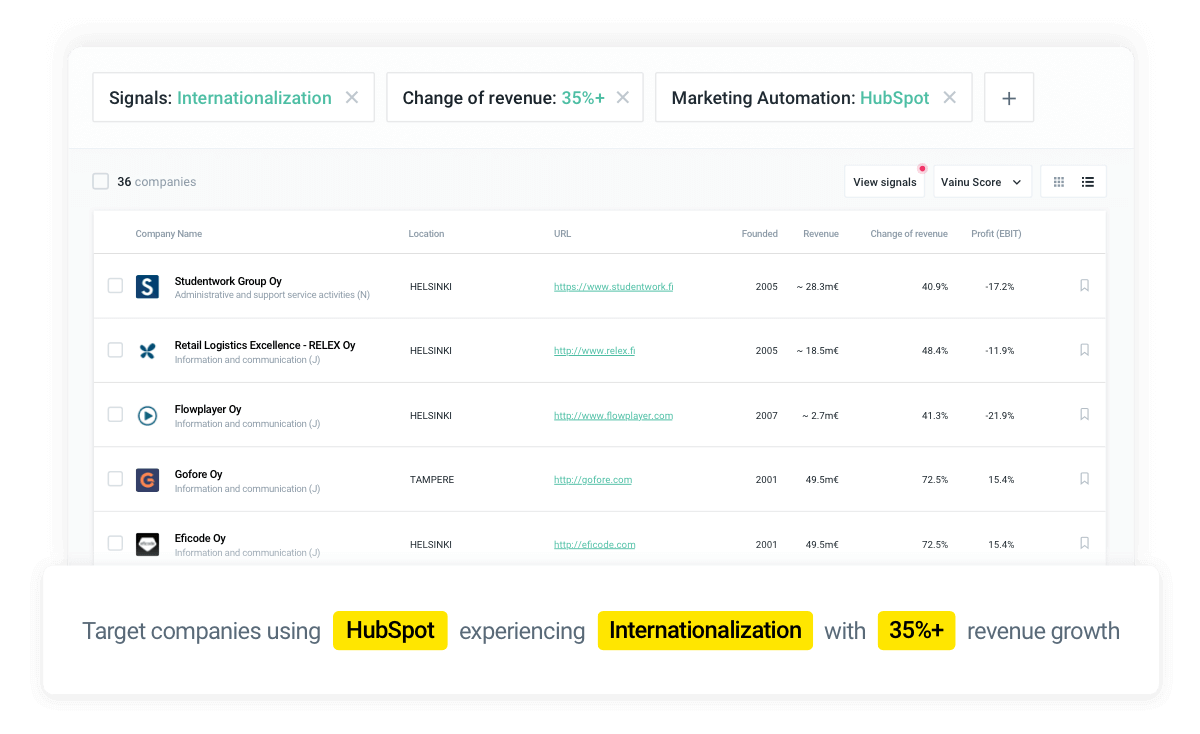 Website: vainu.com
Price: Starts at $7,250 per year for teams of 5 salespeople, plus $675 one-time onboarding fee
Free Option: Unknown
Vainu is a B2B information database that is specifically focused on the European market. It includes data from over 29 million European companies, and it's easily searchable, even with very complex search criteria.
For example, users can run a search for companies that are using Hubspot and experiencing internationalization with at least 35% revenue growth, as you can see in the screenshot above.
You can also automate certain sales actions based on company updates. For instance, you can tell Vainu to automatically send a congratulatory message if a company appoints a new CEO. These sorts of automated interactions can be tied to many of the different updates that Vainu can monitor for, like receiving funding, expanding to new locations, and more.
HelloSign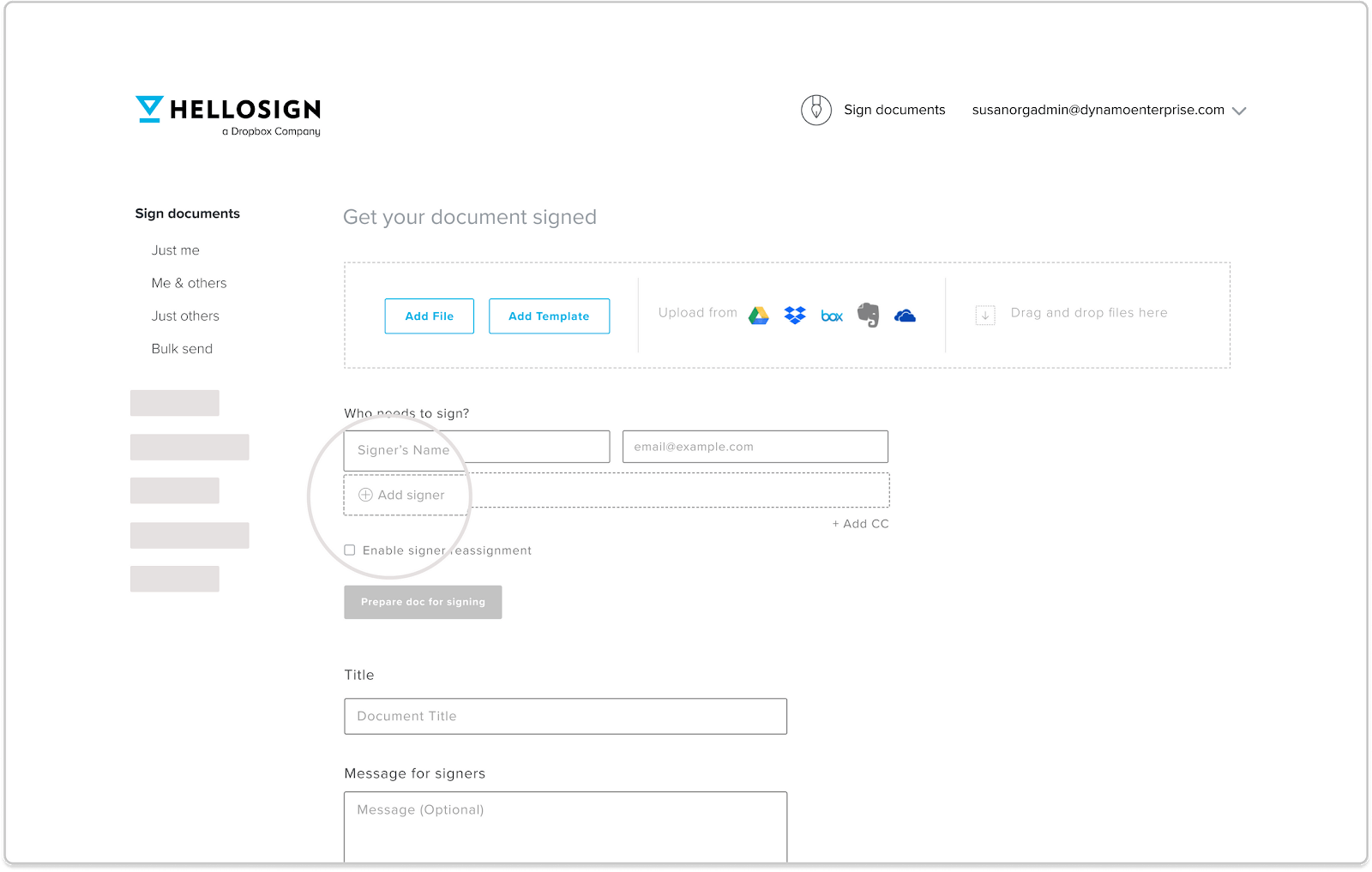 Website: hellosign.com
Price: Starts at $15 per month/user
Free Option: No
HelloSign is an app that allows salespeople to send legally-binding and signable contracts online.
With HelloSign, you no longer need to send your lead a PDF of a contract, ask them to print it out, sign it, scan the signed version, and then send it back to you. This process is frustrating for everyone and is hardly efficient.
Instead, HelloSign allows you to send documents where all signable fields are clearly highlighted, and leads need only type in their name to sign. If you're looking for a cheaper option, you can have a look at Signaturely's esignature creator.
Google Meet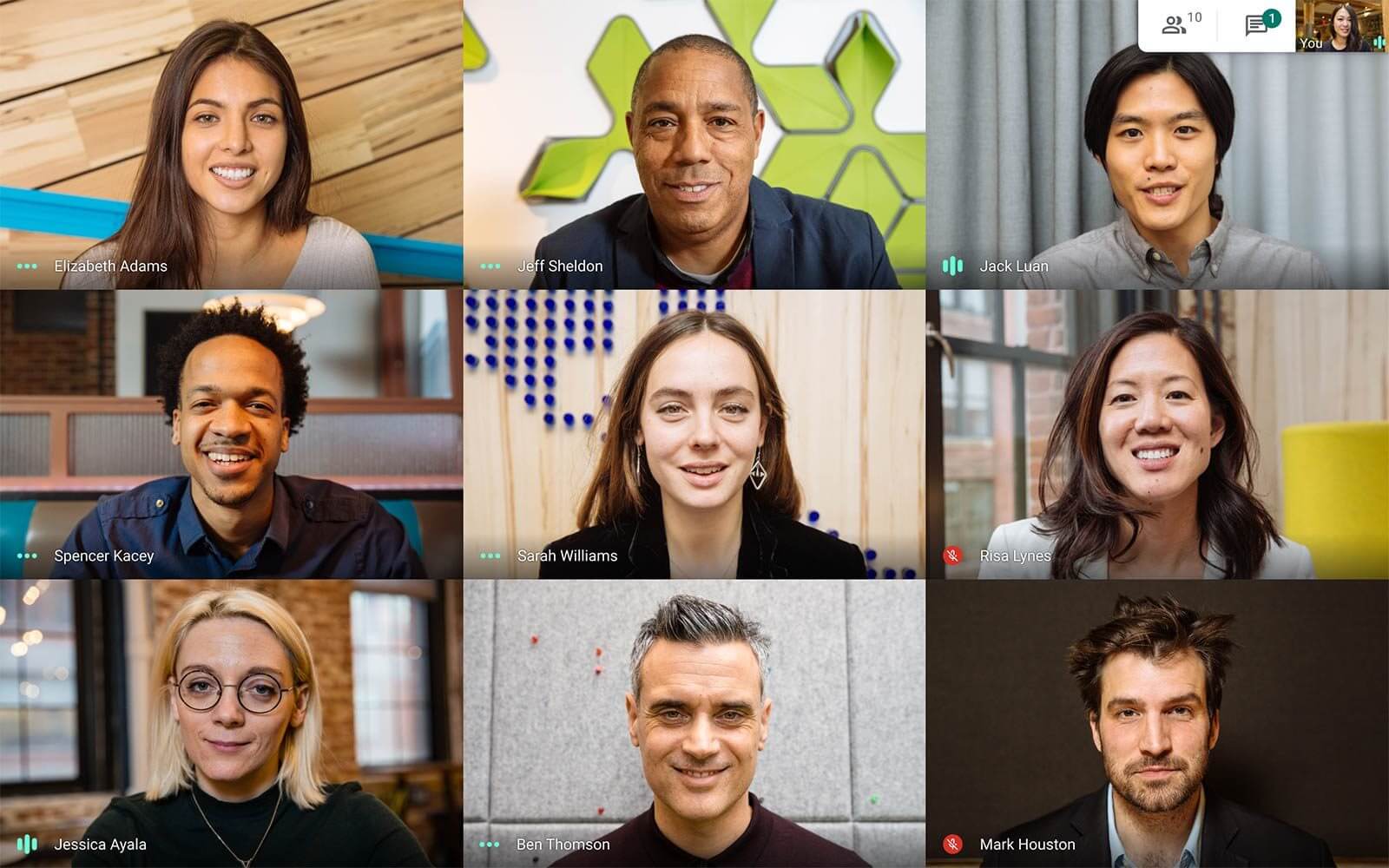 Website: meet.google.com
Price: Free with a Google Account
Free Option: Yes
As more and more teams shift to remote work, Google Meet provides a solution that is not only powerful, but completely free. In fact, everyone with a Google account already has access to Google Meet.
Google Meet allows for unlimited meetings of up to 100 participants for a maximum of 60 minutes with the free version. Paid versions allow meetings of up to 300 hours and 250 participants.
Useful features of Google Meet include screen sharing, adjustable layouts, and live closed captions. On the paid versions, you can have meeting recordings saved to Google Drive, dial-in numbers, and intelligent noise cancellation.
Key Takeaways
The apps listed here are 12 of the best tools currently available to salespeople. In addition, many of these apps work even better when they're combined – for example, combining Voila Norbert for lead discovery with Mailshake for outreach – so don't be afraid to mix and match them to come up with the perfect stack for your unique sales style.