Value Over Sales: How Promotehour Uses 'Good Email Outreach' for Leads and Sales
Value Over Sales: How Promotehour Uses 'Good Email Outreach' for Leads and Sales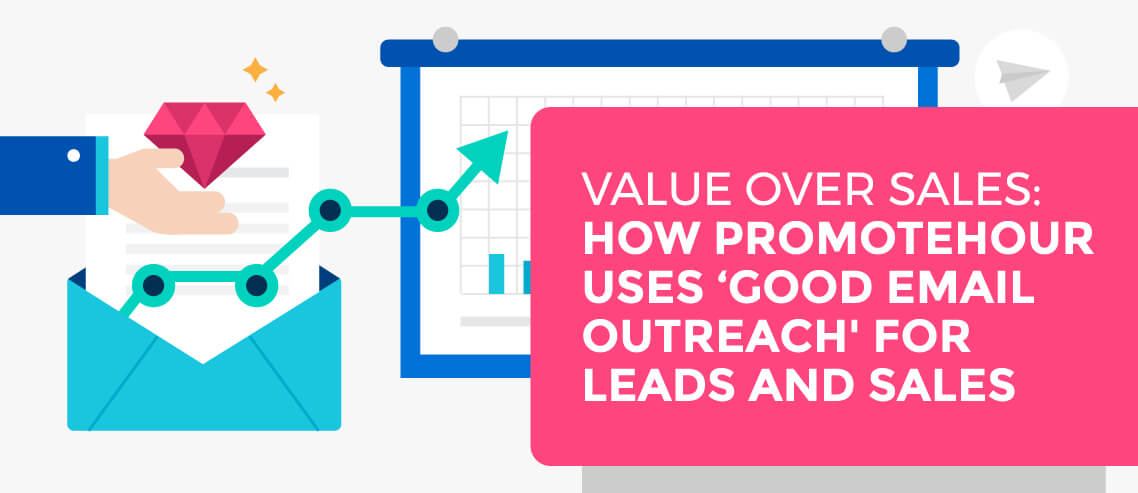 The days of 'spray and pray' campaigns are well and truly behind us. Sending out to thousands of recipients and hoping a few will respond is counterproductive at best. You'll end up annoying most of them with irrelevant messages resulting in complaints that'll hurt your sender reputation.
Don't do it.
Email outreach and marketing can be a mighty weapon in your arsenal if used properly. I recently spoke to Mona Soundankar at Promotehour to discuss their value-first approach to selling PR services.
About Promotehour
There are two types of exposure: paid and earned.
On the paid side, you can go with things like Adwords, Facebook Ads, sponsored posts, or more traditional radio and television spots.
On the earned side, you essentially have media coverage, and that falls under the purview of public relations, or PR.
A PR firm can take the lead on your earned exposure and get your story in front of more eyes.
Enter Promotehour.
They help startups and new businesses get the press they need at or soon after launch. They've successfully captured media coverage for their clients in outlets that include TechCrunch, MakeUseOf, Entrepreneur, BuzzFeed, and more, at a startup-friendly price that most of the bigger PR firms can't or won't offer.
And they generate more than half of their new business with email outreach.
Good Email Outreach
You've likely heard this method referred to as cold email outreach because the recipients, for the most part, don't know you.
Soundankar and the Promotehour team take a different viewpoint:
"We internally refer to cold email outreach as 'good email outreach'. We strive for outreach that doesn't upset or annoy 98% of the cold email receivers for the sake of converting 1-2%. Good outreach is where we first give something for free and sell later." ~Mona Soundankar, Co-founder of Promotehour
That's email outreach done right in theory and practice: value first, sell second (or third, or fourth).
Finding Targets
Catering exclusively to startups, Promotehour has no shortage of potential targets. In fact, there are about 100 million startups opening each year worldwide. That's about three every second.
The only requirement is a desire to generate media coverage, and virtually every startup in every industry falls into that category. Any recently-launched startup is a qualified lead. You just need to find them.
"We use Palash.io, a service of our sister startup," says Soundankar. "It's currently invite-only and in private beta, but it provides us with 100 leads of newly-launched startups every day."
There are other sources like online directories, of course. In fact, finding potential targets is the easiest step in the process.
It's what you do with the names and email addresses that matters.
First Contact
Startups just about to launch or recently launched are looking for a lot of different services and tools. They're open to receiving messages from providers. They need help.
That said, you don't just want to hit them up with a big ask or commitment with your initial email. "As an entrepreneur myself, I never appreciated those unsolicited emails asking me to schedule a meeting or sign up for a service," says Soundankar. "There was very little value to me and my daily workflow."
With Promotehour, the approach has always been value first. Give them something high-quality, valuable, relevant, and useful. No ask. No sell – hard, soft, or otherwise.
"If the startup likes it, they might go for our paid services later. If not, it was still a free resource which they would find useful." ~Mona Soundankar
At Mailshake, we know this approach works. Period. And on a couple of levels.
For starters, everyone likes getting something for free. It creates goodwill and positive sentiment towards you and your brand.
It also moves a lead from cold to warm without any additional effort. Even if they don't respond, they now know your name. If and when you reach out again, you're no longer a complete stranger to them.
Finally, it also leverages the psychological principle of reciprocity. When someone gives us something or does something for us, it creates a sense of "owing them one." And for the most part, we want to return that favor as quickly as possible. That might mean signing up later, or referring you to a friend, or something else entirely.
Reciprocity is so powerful, it's one of Cialdini's six principles (or weapons) of persuasion.
So, a value-first outreach message provides something valuable for free. That's it. No more. Seems simple, but it's a compelling approach.
The Promotehour cold email outreach template is short, straightforward, and value-first:
Hello!
I'm David from Promotehour. I just came across <startup name>, so thought I'd reach out.
I wanted to share a free resource we created for startups like yours:
Free list of 100+ Startup directories to submit your startup
Hope you find it useful!
Cheers,
David Sharmay
Need guaranteed press coverage? Get it here.
The template doesn't ask for anything and doesn't waste any time, but it does provide convenient value while getting the name Promotehour in front of them. That's a huge win.
The Strategy Behind the Email
This is a great example of keeping things simple and not overthinking it.
The email is quick. It's clear what the resources are, so the value to the recipient is immediately apparent. And the name 'Promotehour' is explicitly mentioned, without going into details that they don't care about anyways.
Beyond sending the above template, Soundankar says there are three guiding principles for their 'good outreach':
No follow-ups. Follow-ups are great in most scenarios, but Soundankar finds follow-ups to unsolicited emails somewhat pushy and annoying.
No selling. Only value.
Only those that respond to the initial message receive a personalized pitch.
As for not following up, it may go against the conventional wisdom, but Soundankar strongly believes the risk of annoying outweighs the potential benefit.
In her experience, recipients do one of three things:
They ignore or delete the email (not interested)
They check the resources but don't respond (not ready to engage)
They check the resources and respond to say thanks (they're ready to talk)
Only the response earns a response. Those that click through to the resource will see a header that encourages them to learn more about Promotehour at their discretion.
Again, not pushy. Not aggressive. Not salesy.

It's hard to know for sure that those who ignore the email are uninterested with absolute certainty, but there are ways to make it the likely reason.
One of them is using a straightforward subject line.
The subject line for Promotehour's outreach is clear and simple: "Free lists of tech media outlets and directories to promote <startup name>."
It works for two main reasons:
It's personalized with the startup name. Personalized subject lines are 26% more likely to be opened, and improve click-through rates by an average of 14%.
It explicitly states what's waiting for them if they open the email. No guessing.
Anyone who doesn't open or click is just not interested. Move on.
Bringing It Home
Those that send even a quick 'thanks' will receive a personalized response from Promotehour. Then – and only then – will they pitch their service.
A typical response to those recipients looks like this:
Glad you liked it, Lucas!
CryptoTrader is quite interesting. We have a pretty good list of journalists who write about Bitcoin, Crypto and can possibly write about it. And we can also pitch a guest post on Crypto Tax to big crypto media outlets. We have a few good contacts including at CoinDesk.
We have pretty affordable PR plans which start at $599 which come with our press coverage guarantee: https://promotehour.com/#pricing
Would you be interested in it? Feel free to ask if you have any questions.
Promotehour has crafted a simple 'good email outreach' plan that minimizes time wasted for both them and their targets while maximizing their reach and chances of success. It demonstrates how easy email outreach can and should be.
It's the very definition of 'good'.