How SiteCare Builds Better Lists to Generate Leads in Any Industry
How SiteCare Builds Better Lists to Generate Leads in Any Industry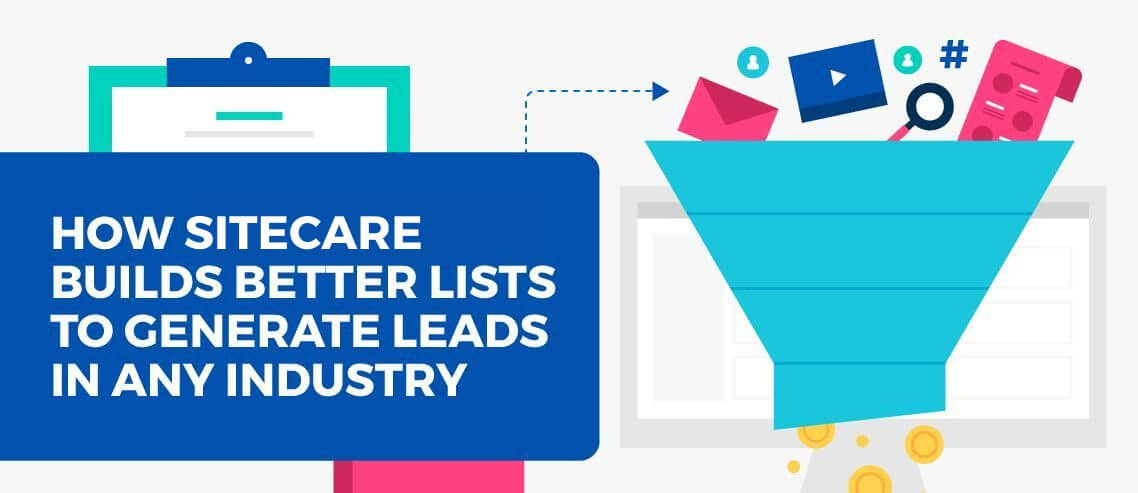 SiteCare is a business lead generation agency based in Atlanta, Georgia that serves clients worldwide. What makes SiteCare unique is what its VP of Digital Strategy, Jason Bagley, calls creating a "YES list."
The basic premise of a "YES list" is only chasing down prospects that you're truly thrilled to work with, that make you say, "yes, yes, yes, I want these clients," instead of settling for companies that may be a mediocre fit. Bagley and his team at SiteCare help clients curate such a list and spend extra time prospecting so they can bring warmth to their cold emails and book their dream client meetings.
Like most lead generation agencies, SiteCare relies on a strong software stack to make them more efficient. I sat down with Bagley to learn more about how SiteCare leverages the power of Mailshake to send better emails, generate more leads, and ultimately book better meetings.
Spend Critical Time on List Building
Bagley and his team recognize that their B2B client base isn't selling hundreds or thousands of products or service packages each month. On the contrary, they're looking for 5-10 more meetings a month.
That kind of targeted focus means prospecting is more important than ever. It means sending targeted email campaigns with about 400-600 emails each month versus thousands or tens of thousands.
Seeing results on a smaller scale requires deep prospecting. A recent client of SiteCare's is a digital marketing agency that tried time and time again to reach big car brands like Mercedes-Benz.
For eighteen months, they sent email after email, and each campaign fell flat. After hiring SiteCare to take over their email lead generation efforts, they were able to book the meetings with Mercedes-Benz after just one campaign.
The difference? You guessed it: better prospecting.
The agency didn't get their targeting right and sent emails to the wrong people at the company. They also didn't quite nail the messaging in their emails because each email was self-centered on their agency and not on what they could bring to the table for Mercedez-Benz.
SiteCare spent extra time prospecting, reinvented the email copy to be more solution-oriented, and tried out some simple subject lines. Sometimes the smallest details make all the difference.
Formulate the Right Approach
With SiteCare, every project begins with some sort of benchmarking.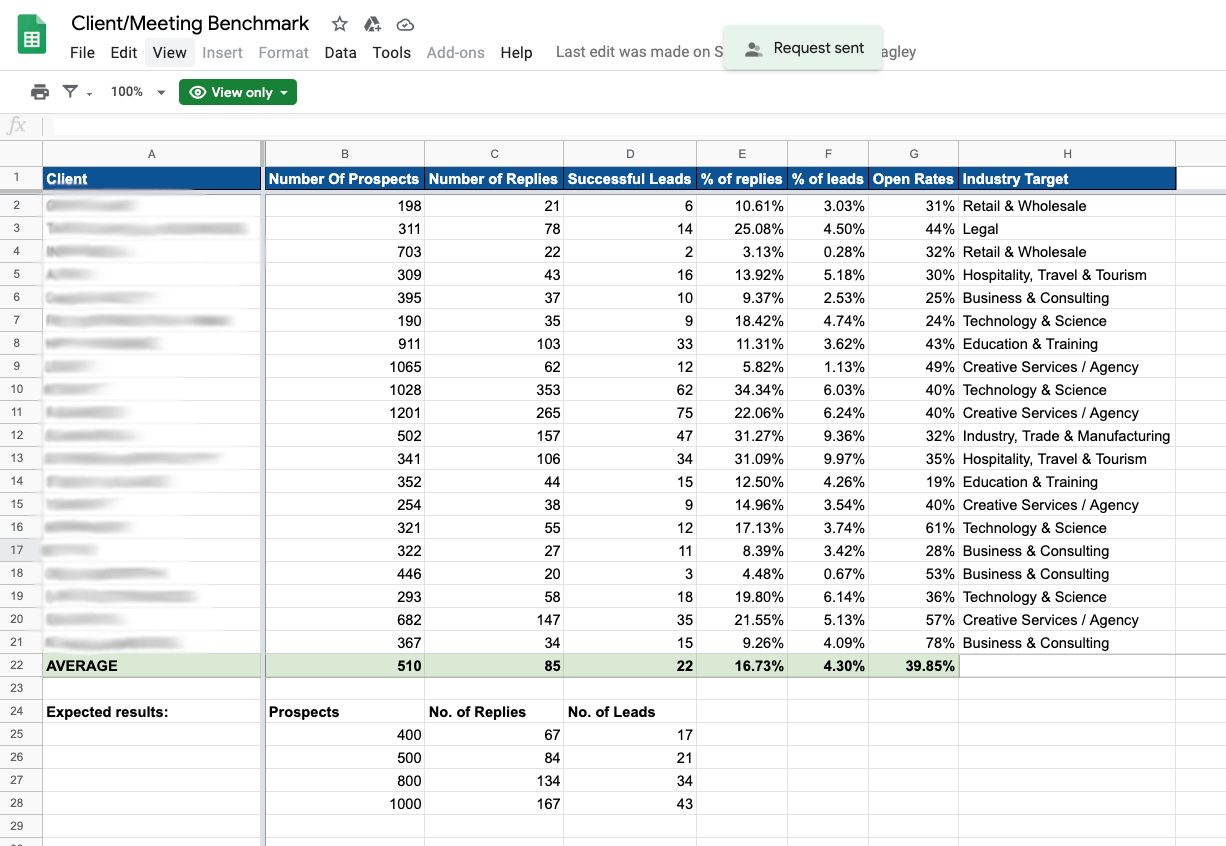 This entails a test campaign of sorts to see how many opens, replies, and leads Bagley and the SiteCare team can receive in their first campaign. Bagley stresses that those metrics only matter to his team: "Clients rarely care about open rates and reply rates. They care about how many meetings you can bring them."
Benchmarking is crucial to formulating the right approach because even the best product or service will fall flat if clients aren't opening or replying to emails.
Another key area Bagley and his team dig into is whether the company is pushing the right service offering or product line. Often, their clients have 2-3 items they're pushing and have a general idea of their "lead product or service" that will get their foot in the door.
Yet, it's often a secondary focus item that really moves the needle on finding opportunities and facilitating meetings.
For example, one of their clients is a managed IT service provider that ran some campaigns centered around helping companies navigate working remotely during the pandemic. The message roughly read, "Everyone's remote now, and we'll look after your teams by making sure everything is operational and secure."
While it seemed like a logical value proposition in today's climate, the campaign ended up falling flat. However, when they switched gears to push domain and email security services alongside a "digital health score," it evoked an emotional response that had people replying and setting up meetings at a rate they'd never seen on their own.
Evoke Real Emotion With Your Emails
Bagley's not shy about pointing out bad emails. He says, "Go look at your inbox. I'm sure it's full of awful cold emails with people just rambling on about themselves." The hard truth is that nobody cares about you or what services you provide. They care about themselves and their problems, and your message should be custom-tailored to understand and solve those problems.
That's day one stuff, and lots of people understand that, so you need to write your emails with a more direct approach. Evoke some emotion and say things that they're not expecting a typical prospecting email to say like:
"At the end of this email, I'm going to ask you for a meeting, so prepare yourself for that."
Or
"I'm waiting for your profanity-filled reply."
Say something that shows personality and will make them do a double-take. Bagley says he sometimes gets emails that say, "I'm not interested, but I love your emails." Beyond evoking emotion, it's imperative that your emails follow a structure that's relevant, keeps their attention, and compels them to reply.
Two such approaches are:
Problem/Solution Emails
Show that you've done your research and truly understand what sort of problems they're probably worrying about:
"Listen, I know what it's like to get close to the end of the month, and you don't have enough money to pay your staff" or "I know what it's like to not have enough leads in your sales pipeline."
Once you have their interest, you slide in that you have ideas that can help them.
Deposit/Withdrawal Emails
Just like a bank, to make a withdrawal, you need to make a deposit first. For complex products or services that are harder to sell, you have to keep being useful and provide value again and again until you've earned some trust.
Here's what that looks like in action:
"I've got two things I'd like to show you that can help you get more sales leads. One of them is actually this email I'm sending you."
Naturally, they want to know what the second thing is and notice how you're not asking for a 30-minute meeting. You're just looking to evoke enough interest to earn a reply and start the conversation.
Bagley finds this approach works really well, even if you haven't done the actual research. When they reply, you can take two minutes to comb their website to look at what the company does and come up with a couple of ideas they can try.
The Results
Bagley and his team at SiteCare have tried other email marketing software and found Mailshake to be the best value for their business. Yet, he stresses that even the best email marketing software won't save you if you're sending weak emails.
He explains further by saying, "the problem is rarely that you're not sending enough emails or that you're not using Mailshake correctly; it's that your emails aren't compelling enough and you're not targeting the right people."
If Mailshake works for industry pros like Jason Bagley and SiteCare, then chances are it'll work for you too. Reach out to our team at Mailshake to start a conversation.