LinkedIn Selling Strategy: Everything You Need to Know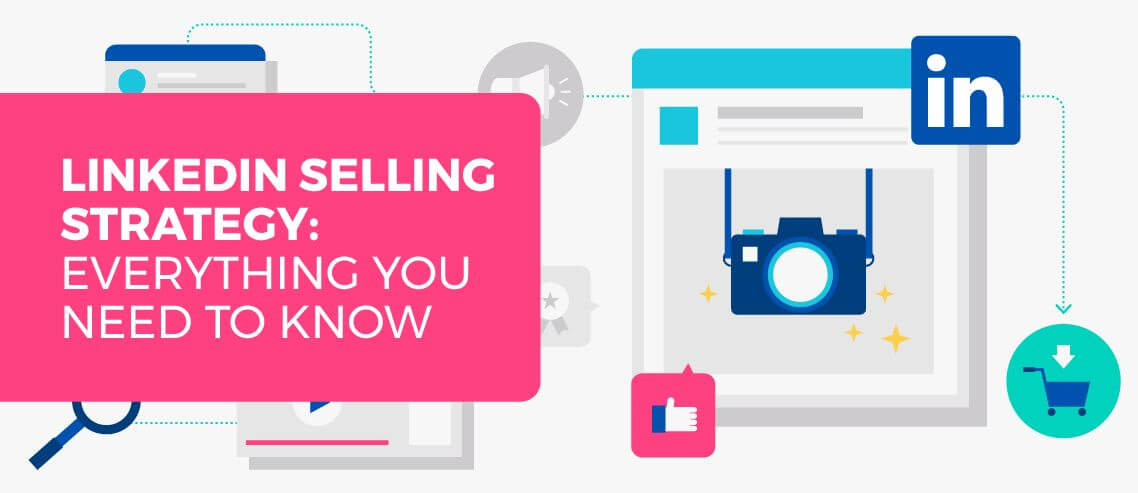 According to LinkedIn, four out of every five of the platform's members drive business decisions, giving the network twice the buying power of the average website.
That's a huge opportunity for salespeople, but how do you take advantage of it? How do you find the right prospects amidst LinkedIn's 630M+ members? Should you connect with them, reach out via InMail, or sign up for a Sales Navigator account?
Don't panic. LinkedIn may not be the most intuitive platform to use in the sales process, but the 10 articles below will get you up-to-speed on how to:
Integrate LinkedIn into your overall social selling strategy
Send connection requests that get accepted
Build a compelling profile that gets noticed by decision-makers
Cut through the clutter to identify hot prospects
Establish an authoritative professional brand
Ready to get started? Pick an article below and start improving your LinkedIn sales workflows today:
LinkedIn Connection Request Message Best Practices + Templates
Don't be "that guy" who sends low-value LinkedIn connection requests. Discover how to connect appropriately and successfully using the best practices and templates shared in this article by Sujan Patel.
How to Write High-Converting LinkedIn Prospecting Messages
Although cold emailing and LinkedIn prospecting serve the same purpose, they shouldn't be executed in the same way. In this article, Lead Cookie's Jake Jorgovan explains the difference between the two, as well as offering 11 tips for LinkedIn outreach.
14 Best Practices for LinkedIn Prospecting
Finding prospects on LinkedIn can feel a bit like digging a needle out of a haystack. This article takes you start-to-finish through the process, from setting up your profile the right way through to using InMail and syncing your CRM.
LinkedIn Lead Generation: How to Close More Deals on LinkedIn
If you haven't been successful with LinkedIn prospecting in the past, this step-by-step process from Cody Dufrene can help. In particular, use his template outreach sequence as the basis for your own prospect messaging campaign.
How to Leverage Your LinkedIn Summary for Sales (With Examples)
What do you put in the all-important summary section of your LinkedIn profile? If you, like most people, struggle to write about yourself, the summary examples for salespeople in this article can help get you started.
How to Create a Social Selling Strategy
LinkedIn is a great resource for salespeople, but it may only be a part of your larger social selling strategy. Take a look at this article for practical tips if you're struggling to balance sales investment across multiple social platforms.
The Fastest Way to Build Social Proof (To Grow Your Sales Pipeline)
Podcasting is an underutilized resource for building social proof – and LinkedIn can play a vital role in helping you create a must-listen audio show. This tutorial from Jason Bay of Blissful Prospecting shows you how to do it.
How to Leverage LinkedIn Voice Messaging in Your Sales Cadences
Want to shortcut your way into your prospects' LinkedIn inboxes with a technique few salespeople are using? Take a look at Morgan Ingram's "10-30-10" approach to effective LinkedIn Voice Messages.
How Salespeople Can Leverage LinkedIn to Build a Personal Brand
While LinkedIn is great for sales prospecting, it also provides a platform for personal brand building that can be used to reinforce authority and develop thought leadership. Here's how to do it, according to Alex Low, co-founder of DLA ignite.
20 Steps to Optimize Your Social Profiles for Selling
Finally, before you dive too deeply into LinkedIn prospecting, make sure you've optimized every possible aspect of your profile. Cross each of these seven LinkedIn-specific steps off your list, and update your Facebook and Twitter profiles while you're at it.