How to Use LinkedIn Sales Navigator in 2021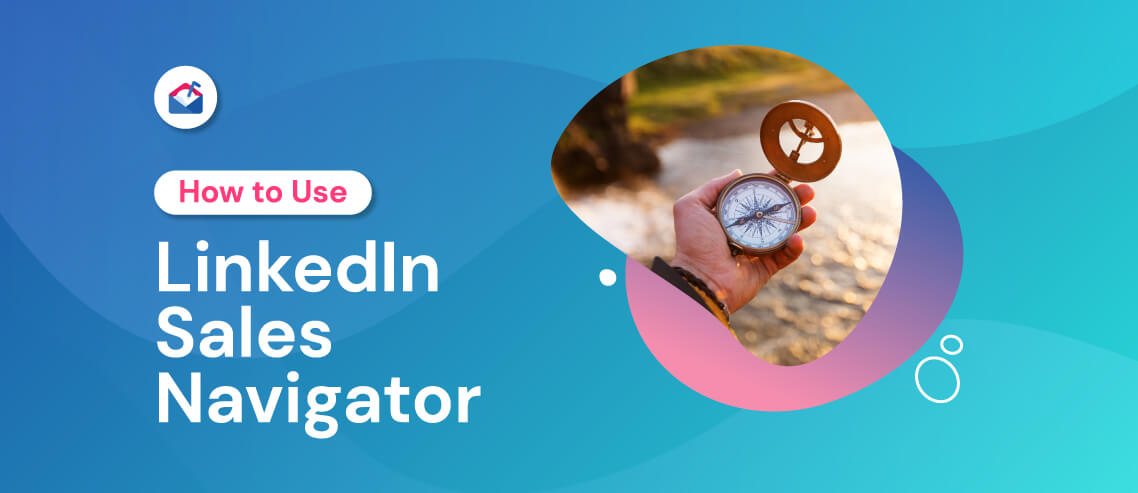 The number of sales channels never ceases to expand. First, there was yelling in the town square, then mail, then telephone calls, and finally email.
Now? Social media, especially LinkedIn, has entered the scene as the latest method of communication to make it on every sales rep's roster.
Here, we're going to take a look at LinkedIn Sales Navigator so you can better understand how to integrate it into your sales process.
LinkedIn Sales Navigator
Lots of people think of LinkedIn as a free social media platform, like Facebook and Instagram. And this is true — to a point.
But LinkedIn also has several paid solutions aimed at various professionals, such as recruiters, sales reps, and job seekers.
LinkedIn Sales Navigator is LinkedIn's paid sales product. In short, it provides sales professionals with tools that allow them to conduct advanced searches and connect to CRMs.
Sales Navigator also allows users to send messages, called InMail, to people that aren't in their network. This is a great help for cold outreach campaigns.
LinkedIn Premium vs. Sales Navigator
Although LinkedIn is generally viewed as a free platform, LinkedIn Premium, another one of the company's paid solutions, is still fairly well known by LinkedIn users.
However, LinkedIn Premium should not be confused with LinkedIn Sales Navigator, as the two serve very different purposes.
LinkedIn Premium comes in two flavors: Career and Business. Both versions include LinkedIn Learning courses, they let you see who viewed your profile, and they provide access to InMail. Career is aimed at job seekers, and includes access to interview prep. Business provides company insights, so businesses can keep track of their competitors.
Sales Navigator, on the other hand, offers tools specifically for sales, such as advanced search and CRM integration.
How Much Does LinkedIn Sales Navigator Cost?
LinkedIn offers three different Sales Navigator plans, each with different features and a different price tag. Each tier is aimed at different use cases, so you'll need to decide which one best fits your needs.
All three plans offer the following features:
Unlimited search, up to 15 saved searches, and the ability to see who's viewed your profile over the last 90 days
15 saved search alerts per week
Advanced search and sales spotlights
Unlimited lead and account recommendations as well as sales preferences
Outlook web integration and the Sales Navigator mobile app
2,500 profiles displayed per search
Here are the features offered by each of the three tiers:
Sales Navigator Professional
Features:
Access to job seeker and LinkedIn Learning
20 free InMail messages per month
Pricing: $99/user/month or $79.99/user/month billed annually at $959.88/user/year
Sales Navigator Team
Features:
No seating/user limits
Free trials for up to 10 users
Up to 10,000 leads saved per seat
30 free InMail messages per seat per month
TeamLink access
Usage reporting
Import Salesforce account and lead data
Salesforce and Microsoft Dynamics 365 integration
25 profile unlock credits per seat per month
Unlimited Smart Links
Pricing: $149/user/month or $108.33/user/month billed annually at $1,300/user/year
Sales Navigator Enterprise
Features:
Unlimited seats
50 free InMail messages per seat per month
10,000 saved leads
TeamLink access
TeamLink Extend access
Usage reporting
Import Salesforce account and lead data
Salesforce and Microsoft Dynamics 365 integration
25 profile unlocks per seat per month
Advanced admin functionality including Single Sign-on and Employee Directory Integration
Unlimited Smart Links
Pricing: Custom pricing. Contact LinkedIn directly for a quote.
How to Use LinkedIn Sales Navigator
Like any tool, using LinkedIn Sales Navigator to its fullest extent will take practice and skill. However, these steps will get you up and running quickly.
Start with the Free Trial
Before you invest in Sales Navigator, take advantage of the free trial that LinkedIn offers. This will give you some time to start playing around with the features and decide whether this is a tool that's worth spending money on for you.
The trial lasts for 30 days, so you'll have plenty of time to experiment and decide whether it's working out.
Configure Your Sales Navigator Account
Upon signing up for Sales Navigator, you'll have the ability to set up your account to your liking. You'll probably want to start by adding some LinkedIn connections as leads to follow, finding some companies you'd like to keep an eye on, and setting your niche and your geographic region.
You can also sync your CRM, set up TeamLink, and connect any other integrations you plan to use.
Get Familiar with LinkedIn Sales Navigator Features
Most of your time on Sales Navigator will be spent using four pages: advanced search, lead lists, account lists, and Discover.
You can use the advanced search page to perform very precise searches. Some of the filters you can use include:
People search:

Company size
Company type (public, non-profit, etc.)
Function
Industry
Seniority level
Years at current company
Leads mentioned in the news
Leads with recent job changes
Leads with recent LinkedIn activity
Company search:

Company headcount growth
Company revenue
Company size
Fortune (listed on Fortune 50/100/500)
Headquarters location
Hiring on LinkedIn
Recent senior leadership changes
The lead and accounts lists pages will display all the leads and accounts you've saved to your LinkedIn Sales Navigator account.
Automated Lead Generation
LinkedIn Sales Navigator makes finding new leads easy with its automated recommendations. LinkedIn takes note of your sales preferences, past saved leads, and more to recommend leads for you.
This can be particularly useful when reps are having trouble finding leads and need some new places to look.
Tag Your Prospects
If you're not organized, your sales process can quickly get out of hand and slow you down. Luckily, Sales Navigator helps reps keep their leads organized with tagging and notes.
You can use these tags and notes to indicate who is involved with each deal, jot down special traits and information to remember about each lead, and anything else you can think of.
Save Searches to Save Time
Chances are that you're not going to do an entirely new search every time you fire up Sales Navigator. Instead, you'll likely just periodically check for updates on the same few search terms.
Thankfully, Sales Navigator lets you save your searches, so you can check for new leads without having to re-enter your search parameters again and again.
Mailshake LinkedIn Integration
Thanks to Zapier, Mailshake integrates with LinkedIn.
When a lead on LinkedIn fills out a Lead Gen Form, Mailshake will automatically add that lead to your Mailshake campaigns. This not only saves you time but will also help you keep your data organized and reduce human error from copying contact data over by hand.
With this integration, you'll never have to worry about forgetting to add a lead into Mailshake or misspelling an email address — the integration will take care of everything for you. No copy-and-pasting from lists involved.
Key Takeaways
LinkedIn Sales Navigator is a useful tool for sales professionals that want to use LinkedIn to find new leads and prospects. Some of its most handy features include advanced search and InMail messages.
A free trial is available, so interested sales teams can try it out before deciding whether to invest in one of LinkedIn's three paid subscription plans.