NEW Mailshake Features: Lead Temperature, Company Based Pause, and More
At Mailshake, we have been working on multiple new features that will make it easier for you to focus on the best leads in your campaigns.
We have just released an exciting feature that will allow you to quickly see a visual of which leads are most engaged.
Introducing…Lead Temperature.
At a glance, you can tell if a lead is cold, warm, or hot.
These icons showing the temperature of a lead are based on multiple metrics that indicate what level of engagement each lead has.
COLD is no to limited engagement (0-1 opens only).
WARM is calculated with multiple opens, clicks, or multiple campaign emails opened.
HOT is calculated with many opens, multiple opens with clicks, a reply, or Lead Creation
If there is no action taken on a lead from warm or hot for a set amount of time, the lead's temperature will drop to show the lead is going progressively dormant.
In your Mailshake account, you can find lead temperature in the following areas:
Open Tasks
Lead Catcher
All Prospect Panels
Campaign Prospect Pages
The Lead Temperature feature is available to all Sales Engagement plan customers. If you currently have an Email Outreach plan, now is a good time to upgrade to get this feature and improve your sales workflow.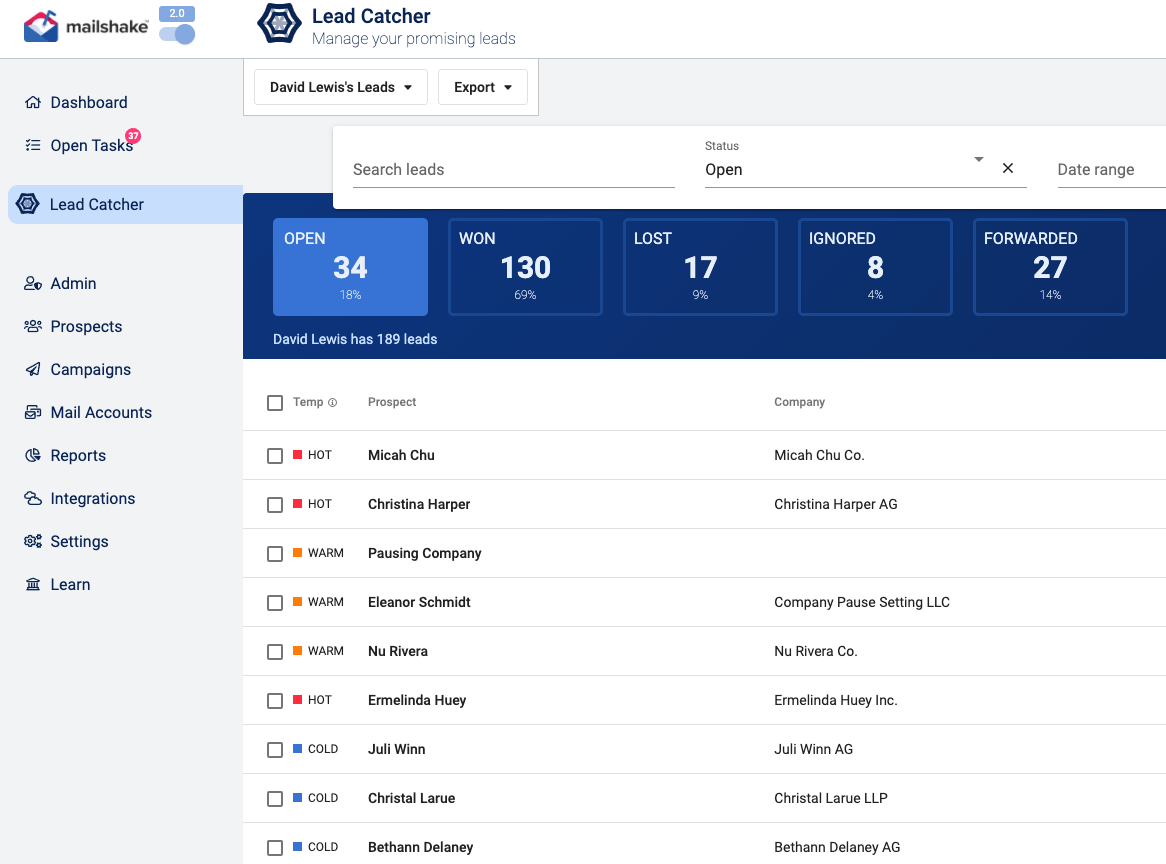 Screenshot of Lead Temperature
Company Based Pause
In other exciting news, Mailshake has a new feature that will allow you to work on leads with account-based marketing methods.
Email outreach can be effective when you contact multiple people at target companies. This gets your emails in front of more than 1 decision maker and increases your chances of engaging with leads at that company.
With the new Company Based Pause feature, you can now select whether you want to pause emails to other people at the same company if another prospect at that company becomes a lead. This is a campaign-level setting.
After enabling this setting on your campaign, Mailshake will automatically stop sending emails to other people at the same domain once someone else at that company domain is converted to a lead.
This is a powerful way to save you time by automating the workflow for engaging with your ideal companies.
Other Updates to Simplify Your Workflow
As always, the team at Mailshake is continually working to make our software as simple as possible for customers.
We've heard your feedback and have made the following updates:
Microsoft email aliasing – Add an alias from your Microsoft 365 account.
Mark as complete drop-down – The "Mark as complete" button now has a drop-down functionality so you can easily perform a secondary action while marking as complete.
Dialer country number selection – International leads can now be called with number selection available from Canada, UK, France, Germany, and Australia. Best of all, it's still FREE to make calls using the dialer in Mailshake if you have the Sales Engagement plan.
Login to your Mailshake account to see these updates. We look forward to hearing any feedback and helping you to save time while growing your revenue and leads.