Inbound vs. Outbound Sales: What's the Difference?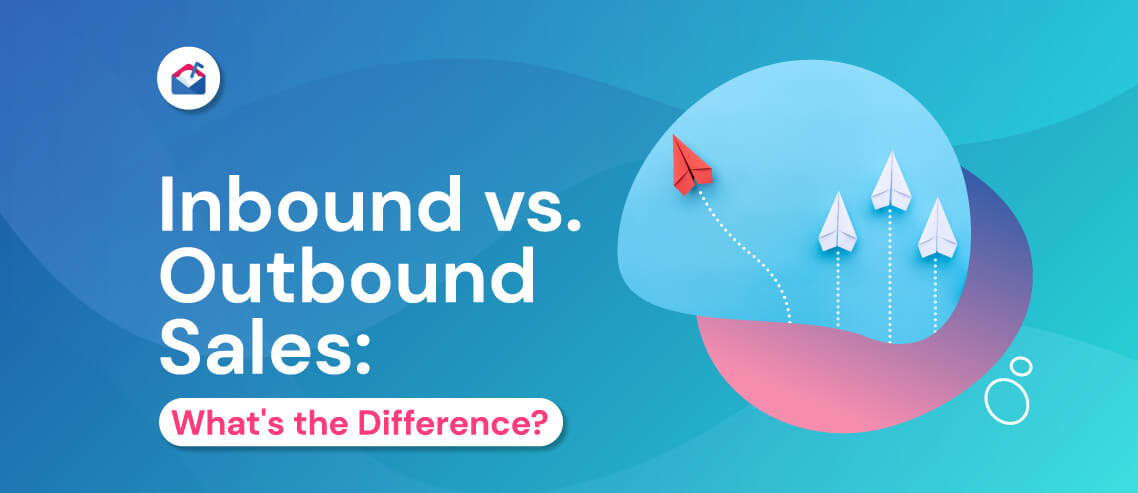 What's the right sales strategy for your company? While inbound sales strategies are known for being cost-effective and relatively easy to scale, outbound sales campaigns are a powerful way to build customer relationships and close the deal.
Which strategy should you choose?
Both approaches have their pros and cons and are effective tools to help accomplish your sales goals. Ideally, the best strategies incorporate both inbound and outbound sales techniques.
Let's start by defining inbound and outbound sales and their differences.
What are inbound and outbound sales?
Inbound and outbound sales strategies are polar opposites—each one has varying KPIs, metrics, and goals.
So, what's the main difference between inbound and outbound sales?
Prospects initiate inbound sales by following your inbound channels, exploring your product, and, ultimately, making a buying decision. Sales teams make outbound sales through strategies like cold emailing and calling, where they reach out to the buyer.
Inbound vs. outbound sales—how do you choose the right one? Let's start by taking a closer look at the two strategies.
Inbound sales
When you hear the term "inbound sales," you're likely thinking about content. While that's not completely incorrect, content marketing is more of a means to an end of fulfilling the true goals of inbound sales by:
Exposing potential buyers to your brand. The modern-day buyer spends time learning about your company and products to determine whether you're the right fit for them before even considering making a purchase. Your inbound content is where they'll go to find it.
Building trust with your prospects. Relationships aren't built with a single outreach. You have to educate prospects about your brand and products in a way that speaks to them. The quality and relevance of your content will set the tone of your relationship with potential buyers and determine how they will respond to you.
Offering free advice. Giving freebies in the B2B world is tricky. When a prospect is looking for solutions to their problem, they'll typically run into a ton of content offering run-of-the-mill suggestions that aren't tailored specifically to them. Creating inbound content with information that can actually help your prospects can mean the difference between making a sale or not.
Outbound sales
While the concept of inbound sales defines how potential customers who find your company see your brand, outbound sales is about how you present yourself to your prospects. It's not always an easy task—outbound strategies involve sending sales messages to prospects who aren't necessarily expecting them. Outbound sales let you:
Inform potential buyers. Even if your products rival those offered by industry leaders, you likely don't have the power of being a household name. Hoping that potential buyers will stumble upon your company by chance is not a good strategy. You need to introduce yourself to the right prospects before your competitors reach them.
Engage with prospects. Human interaction is key to making sales. Your sales team's ability to assess a prospect's needs and offer the right solutions makes all the difference in them making a buying decision. Interacting with your audience, whether over email, social media, or phone, is how B2B companies close deals.
Get quick results. Interacting with prospects through communication channels like emails and calls allows sales teams to evaluate their needs, behavior, and responses instantly. This makes it easier to get a clear view of their customer journey and determine whether or not your current sales communication strategies are working.
Inbound vs. outbound sales strategies
Now, let's look at some examples of inbound and outbound sales strategies.
Inbound sales strategies
Some common inbound sales techniques include:
Interlinking. Including internal links in your content is a necessity, not an option. Doing so helps move your prospects from one piece of content to another, giving you the most possible value from your inbound strategies. Don't forget link building to get your content in front of more potential buyers!
Raising awareness through testimonials. Leveraging customer testimonials is an excellent way to help ease B2B buyers through your sales funnel. Encouraging your customers and partners to leave feedback for you will help boost your inbound marketing strategies.
Constant content creation. Prospects want updates—if your content production suddenly stops for a long period of time, they'll likely make assumptions like the company is going through a hard time or even that its solutions no longer exist. Create a content production schedule and stick to it.
Outbound sales strategies
Here are some commonly used outbound sales techniques:
Sales onboarding. Finding the best sales reps isn't easy. Instead of waiting around for the perfect fit, it might be better to invest some time and resources into training your current team. By creating sets of guides and pitch outlines, you can ensure that your sales reps have a thorough understanding of how to represent your company, products, and outbound strategy as a whole.
Keeping it simple. While an omnichannel approach is basically a necessity, don't overdo it. Pick the channels to perform your outreach that will work the best right here and right now. It's important to find the channels that your ideal prospects use and focus on those. For example, many B2B companies advertise on LinkedIn, but if a large portion of your prospects don't use the platform often, it might be better to invest in a more viable channel.
Customizing content. Content isn't just for inbound strategies. Many outbound campaigns rely on sending cold emails, and it's crucial to pay attention to how you write them. Don't send generic emails using outdated templates. You should customize your outreach messages to target your ideal customer's pain points and their industry goals. Build a narrative, keep it consistent, and keep it relevant.
Check out these effective cold email templates to generate more leads!
Combining your inbound and outbound sales strategies
In modern-day sales, it doesn't pay to focus on one sales channel while ignoring others. It's also ineffective to spread your marketing and sales budgets across every possible channel. That's why building a solid foundation for your inbound and outbound sales strategies is so important. This includes:
Customer profiles. For both inbound and outbound sales, creating a detailed customer profile is essential. These profiles help you gain an understanding of who your best prospects are, their pain points, and what they respond best to.
Data. Without the right data, how will you know which prospects you should focus on? Use every analytics and research tool you have available to gain data on your customers' behavior and what drives them to make a purchase.
Technology. Experiment using different platforms and sales tools to find which ones work best for you. Customer relationship management (CRM) and sales engagement platforms can make finding your ideal prospects, turning them into leads, and closing the deal a streamlined process.
While inbound and outbound sales come from different directions and have their own distinct strategies, they are also interdependent.
It's difficult to build an outbound sales strategy without a solid foundation, and that's why inbound is necessary. However, for your inbound sales strategy to be successful, you need prospects to visit your website and consume your content, which is why outbound is also a necessity.
Want to learn more about how to optimize your outbound sales strategy? Sign up for the free Cold Email Masterclass and start turning your prospects into buyers.