The Pocket Guide to Cold Email Outreach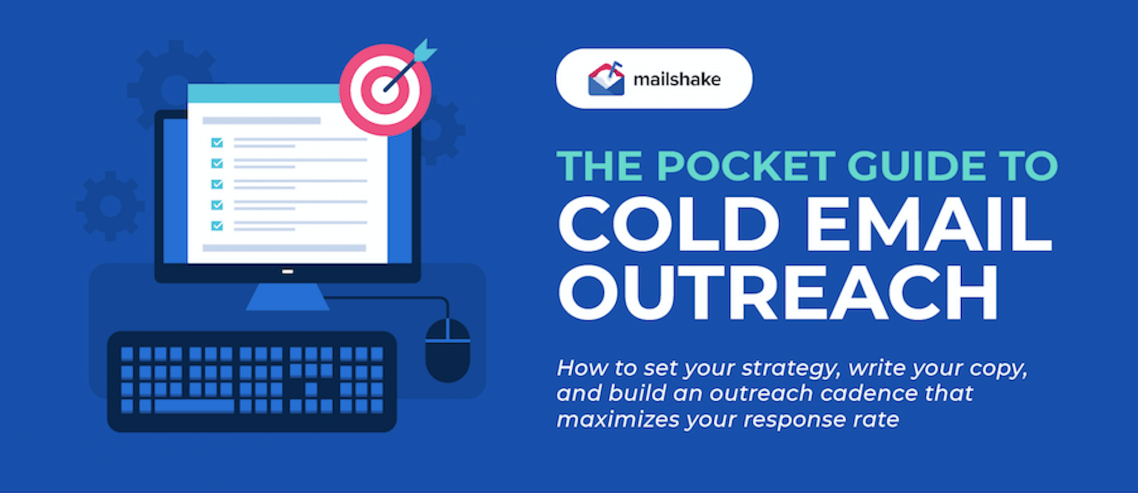 Our team at Mailshake has helped thousands of customers send millions of cold emails. We've also written extensively on the subject.
We took all of our first-hand experience and distilled what we've learned down to fewer than 600 words.
Still have some questions? Scroll down for sources that dive deeper into everything we cover in this cold email pocket guide.

The Mailshake Advantage
Mailshake empowers you to automate, optimize, and scale every part of your outreach strategy:
Personalize your emails in bulk with powerful mail-merge
Maximize deliverability by scheduling your sending calendar to limit the number of emails you send per day
Set follow-ups to send a certain number of days after the previous email
Pause follow-ups if you receive a reply, or trigger follow-ups if an email is opened or a link is clicked
AB test subject lines and body copy
Reply to leads from within Mailshake
Sync your campaigns with your CRM
Mailshake also allows you to incorporate social media and phone into your outreach cadences.
Sign up for Mailshake and if it's not a fit, let us know within 30 days for a full refund. Or, schedule a demo and learn more about how Mailshake can supercharge your outreach.
More resources
In addition to this cold email pocket guide, check out these additional resources:
The Cold Email Masterclass
An 8-chapter eBook with everything we know about cold email, including:
Building your outreach list
Copywriting subject lines and body copy
Personalization
AB testing
Following up
Interviews with sales experts
If you want to learn about the strategy of cold email, start here.
How to Identify Prospect Buying Signals to Find Perfect Outreach Opportunities
Alex Greer of SignalHQ shares how to identify when a prospect is potentially interested in your solution, and find a ripe opportunity to reach out.
How to Use the AIDA Model in Sales Emails
Our favorite copywriting formula: Attention, Interest, Desire, Action. This article walks through (with examples) how to leverage the AIDA formula for your outreach.
Cold Email Tips: 5 Ways to Take Emails from Boring to High-Converting
A list of practical tips to live by in your cold emails, along with examples of good and bad emails.
How to Personalize Any Cold Email Using The "CCQ Method"
Personalization is key to an effective cold email campaign. This article/interview cold email expert Jack Reamer dives into his CCQ Method for personalization; that is, personalizing an email via a commonality, compliment, or question.
Cold Email Subject Lines: 12 Best Practices + 38 examples
You won't get anywhere if people aren't opening your emails. Follow these 12 best practices, and draw inspiration from 38 subject line examples, to make sure you're maximizing your open rates.
15 Cold Email Templates To Generate More Leads
Everything you need to start writing your cold emails. Best practices for subject lines, body copy, CTAs, personalization, with 15 templates and an overview of how to get the most out of templates you find online (because copypasta never works).
Step-by-Step Guide to Optimizing Your Cold Email Deliverability
Beyond the technical elements of deliverability, this article dives into more strategy related tools to use and best practices to follow to maximize deliverability.
The Practical Guide to Staying GDPR Compliant With Your Cold Emails
Cold email is still allowed by GDPR, but there are steps you have to be taking to make sure you're in compliance. This article dives into those steps.
How to Warm Up an Email for Cold Outreach
If you create a new email address for cold outreach, you have to make sure it's set up properly and ramps up it's sending schedule over a period of weeks; otherwise, you're risking getting blacklisted and banned. This article gives you everything you need to know to warm up an email address for outreach.
How to Write a Follow-up Email After No Response
How to approach your follow-ups and set a strategy, including how long to wait between follow-ups, how many to send, and how to send follow-ups that pique interest.
The 5 rules for writing compelling follow-up emails
Templates to draw inspiration from for your own follow-up emails