The 4-Step LinkedIn Sales Sequence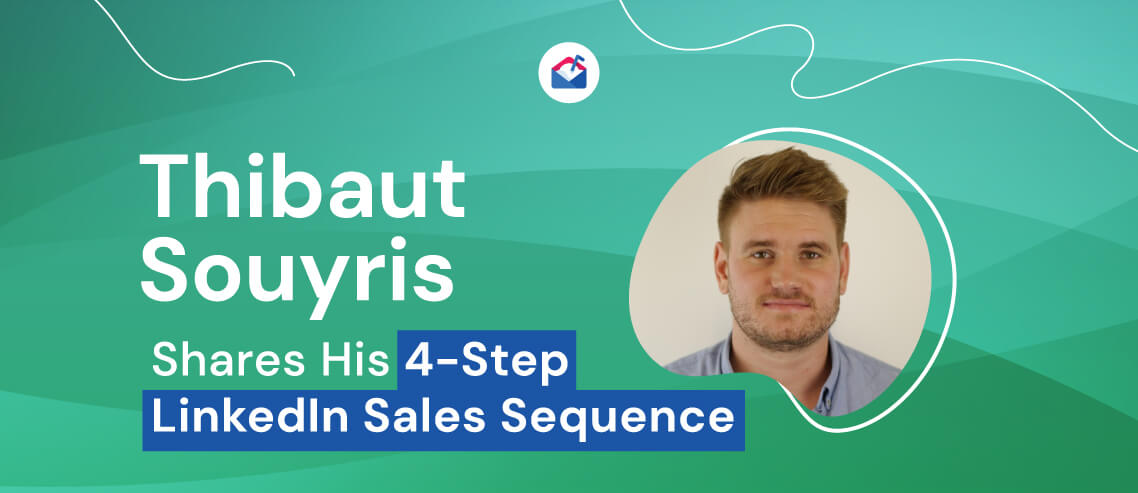 Tired of using the same old playbook to generate new appointments and opportunities? Want to stop getting hung up on, or having your messages go into the trash? Then you're in the right place.
Over the past six months, I've been using a 4-step LinkedIn sales sequence that is surprisingly simple and effective. It's by far my most effective strategy to date, getting me a consistent reply rate of 37%. And don't worry, it has nothing to do with cold calls — I hate those.
So without further ado, here's the easy 4-step cold outreach sequence that any SDR, AE, or B2B sales team can use to get engagement from prospects and close more deals:
Step #1: The Soft Connect
We've all been there. You hop into LinkedIn and see a new random connection request. If you don't know this person, you're likely to decline it. This is especially the case if there isn't a custom message attached.
But in the LinkedIn sales sequence, the connection is the top of the funnel. If you fail here, then you'll never get the chance to generate new meetings or opportunities. So it's important that we make our outreach unique.
I do this by ensuring my connection requests include two important elements: a trigger and a teaser:
Trigger – this is what triggered you, or caused you, to reach out in the first place. It's the "reason why." Prospects naturally question why someone is contacting them, so you need to answer that for them proactively.
Teaser – now that you've told them why you contacted them, they need a reason to contact you. This is called the teaser. You must tease some important information or other type of value to encourage your prospect to accept the connection and continue their conversation with you.
Here's what a great soft connect looks like with the aforementioned trigger and teaser:
"Michael, I noticed you liked David's recent post about overcoming objections (trigger). If you're interested, I've got a 2 minute video to help your reps overcome objections and close more opportunities. (teaser)"
The soft connect strategy above seems ultra simple. Yet, this one-two punch achieved a 70% connect acceptance rate for me.
Step #2: Vidyard Video
Step 2 is to follow up with the prospect by sending them a short but custom Vidyard video. (Vidyard's one of my favorite tools at the moment because of how easy it is to create quick content).
Whatever software you use, I really recommend using video. It's common sense that it makes your communications more engaging. But there's also plenty of data backing it up.
Here's the video script you can use a template for your own follow up videos:
"Hey Fabian, I hope you're doing great. I noticed that you recently landed on my LinkedIn profile, and I'm curious to know if you found everything you're looking for. And if you're into it, I'd love to share a quick video on how your team can start more conversations with prospects on LinkedIn. So if that sounds interesting, let me know and I'll send it over."
Notice how it mimics the soft connect outreach in the first step. It simply follows sales best practices by keeping it short and sweet, telling them why I'm reaching out, and teasing a benefit.
Step #3: LinkedIn Voicenote
Two days after sending the Vidyard video, I follow up again. Only this time, it's with a LinkedIn voicenote. This engages the prospect in a different way to keep it fresh. First we used text, then video, and now audio.
Here's how the voice note is structured:
Trigger
Question
Teaser
CTA (Call to Action)
Trigger: "Quick follow-up on my video from 2 days ago."
Question: "I'm curious, are your customers on LinkedIn?"
Teaser: "If the answer is yes, may I share a cold outreach sequence template with your team? It gets between 30% and 37% reply rate."
CTA: "I thought you'd be interested, so let me know."
Again, this structure answers hidden questions your prospect has such as "why are you contacting me?" and "what's in it for me?" Notice I also added a qualifying question into this step.
I ask if their customers are on LinkedIn. This subtle question implies that their customers need to be on LinkedIn for my template to be useful for them. Making prospects jump through small hoops like this help them to value your content as more specific and relevant to them.
Step #4: LinkedIn Text
Two days after the voice note, I send a follow up, two-word LinkedIn text:
"Any thoughts?"
It's short and to the point. By now, if they haven't reached back to me with my engaging links, videos, or audio message, there's not much more I can say to convince them. The power of this final followup text is really to remind them of me and stay top of mind.
Results
By sending this sequence to 588 people, 206 replied. And out of the people who replied, 20% of them booked a call. Out of the prospects who hopped on a call, I converted 66% to new opportunities. Not bad for a simple 4-step sequence.
Time and Work Required
You might be looking at this and thinking that creating hundreds of personalized messages and videos is a huge time investment that requires a full-time salesperson. But I don't have employees and you don't have to either.
I tracked my time spent in a spreadsheet. It turns out I averaged less than 30 minutes to create 3-5 videos and add 5 new prospects on a daily basis. You can check out this course if you want to record videos fast like I did.
Final Thoughts
Connecting with new prospects on LinkedIn isn't getting any easier. As the platform becomes more saturated with salespeople hunting for the same leads, you need a way to stand out, get connected, and schedule meetings. Luckily, I've done the hard work for you.
Save yourself 6 months of trial and error, and simply plug this sequence into your sales process today. And don't forget to let me know how it worked for you!