Hiring Remote Salespeople in a Remote Environment
Hiring Remote Salespeople in a Remote Environment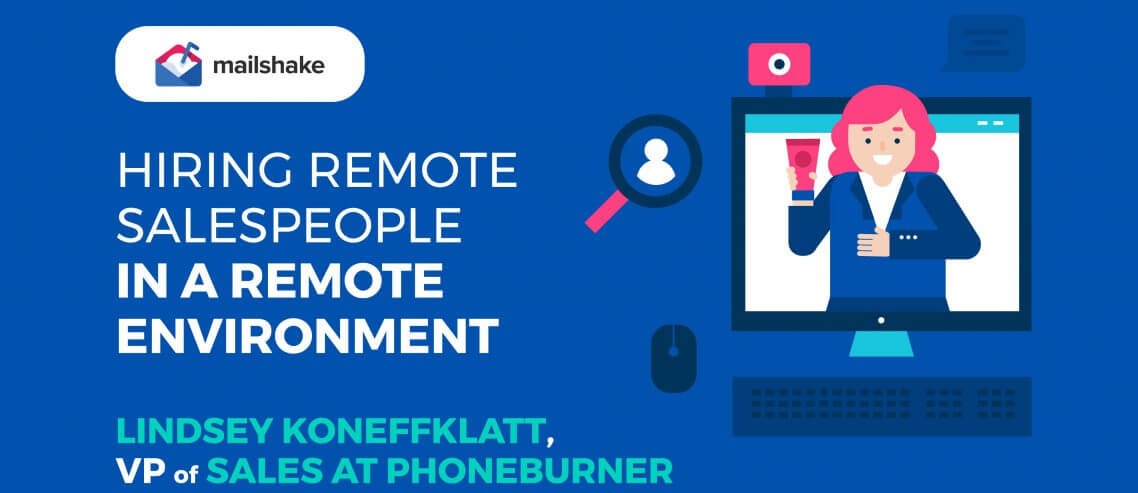 While lots of companies have operated remotely or semi-remotely for some time, many have only this year been forced to embrace the "new normal" as a result of the Covid-19 pandemic.
With this in mind, I sat down with Lindsey Koneffklatt, VP of sales at PhoneBurner – which has always been a remote company – to see what I could learn from Lindsey's huge expertise and experience around hiring remote salespeople.
"We're a team of 10, so over the past few years we've definitely made a few remote sales hires," she says. "I have a process down, and I think it's pretty refined at this point."
Ready to hear about it? Let's go.
[lyte id="kFcBjfPcDbk" /]
What's the Difference Between Hiring Remotely and Hiring in Person? [1:05]
Lindsey outlines a number of specific things bosses can build into the application process when hiring remote salespeople that "help you identify the character traits of a person who's gonna be successful in the position of a remote sales process."
First on her list is the position description, and building "some very specific directions" into that, to prove that the applicant has actually read the full job description.
"We include some really specific, just really basic directions in the job application to require a cover letter and a resume submitted as a PDF doc," she explains.
This lets the hiring manager know two things:
Does the applicant care about the job enough to read the entire job description and follow its directions?
Can they convert a document to a PDF?
Hiring managers should also use an employee hunter software that allows them to screen candidates by phone, Lindsey advises.
"For anybody who's going to be working over the phone, that phone screen element to the job hunt is really really helpful to the employer [as they] weed through potentially thousands of applications, and find the folks who are willing to take that extra step, but also to screen how they sound over the phone," she explains.
"Are they able to articulate themselves and able to articulate their ideas clearly? Do they sound friendly and pleasant? Do they sound professional?"
The final project PhoneBurner gives candidates "is intended to help the applicant as well as the employer to identify if this is gonna be a good fit."
Candidates are asked to learn more about PhoneBurner and then convey that information back to the company within a written paragraph that outlines what the solution offers, and what the brand's value proposition is.
They are then asked to create a two minute elevator pitch that details how they would share the solution with a prospect and explain the value prop.
"These two steps allow us to see, do they have their written communication skills and can they communicate verbally, and how do they show up in those videos?" Lindsey explains.
"Do they show up put together and ready – like they're actually wanting a job – and really dedicated to the project? Is it clear they've taken the time to research our company to really provide an accurate answer to the value that we offer?"
Is There Anything You Do to Make the Position More Attractive? [6:43]
Lindsey explains that PhoneBurner's remote working policy is a serious USP when it comes to attracting candidates.
"We like to highlight the 'work from anywhere in the world' aspect of the position, and that's something we've always done since we [have always been] a remote company, and right now I think that's something that's very attractive to people – that they can work from anywhere in the world," she says.
"Anywhere might just be within the safety and comfort of their own home, and within this day and age that's very attractive."
While outlining the "intangible benefits of working remotely," Lindsey also makes it clear to candidates that PhoneBurner its virtual operation "down to an art."
"We can all work remotely, but also all work collaboratively and support one and other and make this a great place to build your career," she says.
Furthermore, she notes that PhoneBurner pays "a lot more attention than some companies" to explaining who the company is and what the culture is like.
"We like to have fun, we like to make it a family kind of feel," she says. "We really try to rope people into our culture and understand that this is a great place to work – that people will build their careers here, that we're always promoting from within."
"It's easy to think that a remote position might be lacking in that, so we want to highlight that that won't be lacking – quite the opposite."
What Do You Do Differently When Managing a Remote Team? [8:52]
During the early days of an employee's PhoneBurner career, Lindsey explains that managers ensure they are "working very closely" with the new hire by holding regular Zoom meetings.
"I have one-on-one meetings as well as group meetings with new hires," she reveals. "We have a very structured onboarding and training schedule."
What does this look like?
Lindsey blocks new hires' schedules out hour by hour, and ensures the day is bookended by independent activities, so they get a taste of the flexibility and freedom of remote working early on.
"I also assign a mentor to each new hire – somebody on our sales team who's a veteran sales rep, who can partner with them and just answer any questions they might have, so they've got a bit of support – a friend on the team," she says.
"Somebody they can go to to ask any question without feeling silly. Because they're going to have a lot of questions early on, and we'll do our best to guide them through with structured training, but working remotely, it is a challenge – there's no water cooler moment – so you have to be intentional about creating that opportunity for team members to connect."
Further to this, Lindsey is keen to ensure the company's newest employees get to know their colleagues quickly through a genius coffee date initiative.
A virtual coffee date with a different colleague is built into their schedule every day for the first three weeks of employment.
"It's like a meet the team interdepartmental coffee date where they're connecting for 30 minutes via Zoom and asking any questions they might have of that employee," she explains.
Lindsey notes that through learning about different roles within the organization, new employees are better able to understand the context of their own role – and feel less isolated.
"I found that's extremely helpful in just bringing people on board, making them feel like part of the family."
Want to hear more about Phoneburner? Visit to phoneburner.com to start a free trial. Alternatively, give the team a call any time and they'll be happy to take you on a one-on-one walkthrough.