20 Gmail Extensions That'll Turbocharge Your Inbox in 2021
Gmail is widely accepted as one of the best – if not the best – free email providers around. In the ten years since it launched, it's reached 1.2 billion users, 20% of the email market share (second only to the iPhone), and a minuscule 0.05% of wanted email falsely classified as spam.
It boasts an intuitive user interface, it's secure, and it offers plenty of storage (15 GB). Better yet, Gmail can do so much more when you plug in one of the many extensions on offer to users.
Here are 20 of the best to take you from Gmail user to Gmail power user in 2021.
"Take control of when you send and receive email messages."

Cost: From free to $7.95 a month (the free account is good for 10 messages/month, while a paid yearly account with unlimited emails is only $5.95/month)..
Right Inbox makes email much more functional with a few simple yet intuitive add-on features. More than 250,000 professionals use Right Inbox every day to increase their email productivity. If all you're looking to do is control when your emails go out, have recurring emails, and get reminders to help you organize your email communications, inbox, and life, RightInbox is more than sufficient. Right Inbox added 6 new features worth checking out, in particular the email tracker feature and the email templates feature. Right Inbox now offer 5 free email tracking credits per/month on their free account plan.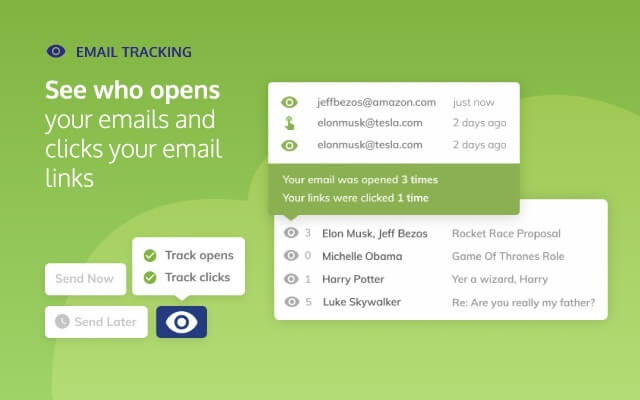 "Run your entire business from your inbox."

Cost: From free (for personal users) to $89 per user/per month for an enterprise account. For most businesses, the $39 per user/per month corporate plan should suffice.
Streak makes it easier to get things done by turning your Gmail into a full-fledged customer relationship management (CRM) system.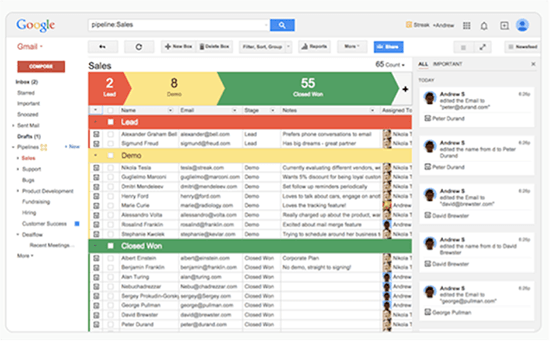 In addition to features like email scheduling, tracking, and real-time notifications (so you know when your emails are being read), Streak helps you stay on top of conversations by organizing your communication flow, makes it easy to share emails across your team (without the need to forward emails or cc team members), and allows you to easily split email threads. Oh, and it keeps on top of the deals you've got cooking, and your support and customer service queue.
Essentially, Streak does everything you'd expect a CRM to do, without the inconvenience of setting up and using an external system.
"The fastest and easiest way to manage multiple email accounts."

Cost: Free
Checker Plus allows you to read, listen to, and delete emails, all without opening your inbox. You can identify and eliminate unimportant or irrelevant emails before you ever see them in your inbox.
It's great for the visually impaired, as well as people who are always on the go and unable to respond to emails as quickly or as often as they'd like.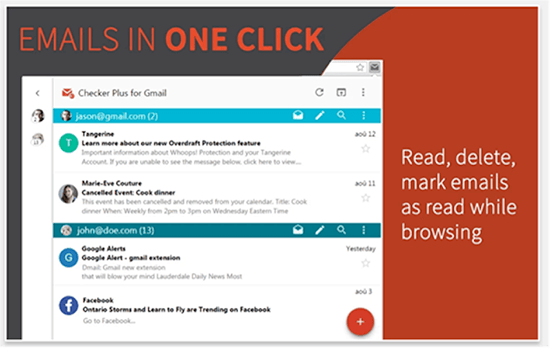 It can also notify you of new emails. You can allocate sound notifications to different contacts (in the same way you might assign separate ringtones to different contacts in your phone) and configure the extension to tell you who's emailing and what they've said.
Stay on top of your inbox without having to live in it.
"Email: 30% faster, 100% more fun."

Cost: Free
The Email Game will gamify email management. In short, it forces you to work faster by applying time limits to emails.
By default, you'll get 5 seconds to decide how to deal with each new email: reply, delete, archive, skip, or boomerang (send it away only to return to your inbox later). You get points depending on the selected action, and you get penalized for going over time.
Clear out the clutter, reply faster, and earn points. Do you have what it takes to be the high score?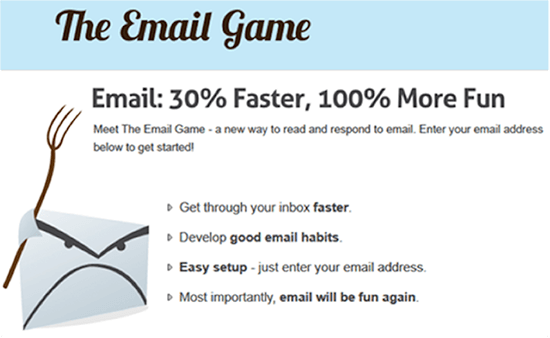 The long version is that you get points for organizing your inbox and replying to emails. The faster you can clear your inbox or reply to an email, the more points you get.
The default setting only gives you three minutes to reply, but you can add extra time if you need it for longer responses.
The Email Game is ideal for anyone who spends too long replying to emails, considering your response, and deciding what to do with old or unwanted ones (i.e. most of us).
"Clean up your inbox."

Cost: Free
Unroll.me helps you keep your inbox squeaky-clean by making it really easy to unsubscribe from emails you don't want to see, and consolidating those that you do.
Once installed, you can view a list of all the emails and newsletters that you're subscribed to. You can then instantly unsubscribe from those you're no longer interested in receiving from one convenient place.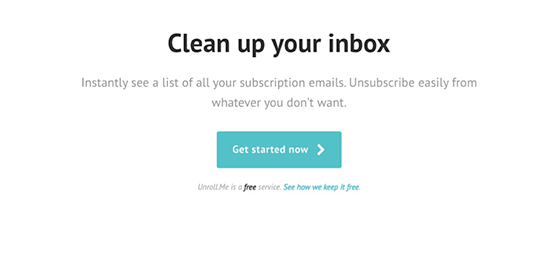 But that's not all.
You can also combine all the subscriptions you do want to see into a single email. You'll get a daily "Rollup" that contains all updates from all publishers you actually want to hear from.
Instant better inbox.
"The best way to learn keyboard shortcuts while you work in Gmail."

Cost: Free
Keyboard shortcuts are awesome, but there are so many of them, it can be tricky to pinpoint the ones that are actually going to help you and that you're going to use regularly.
This is where KeyRocket comes in.
It does the detective work for you by tracking your movements in Gmail and suggesting appropriate shortcuts that will help you get things done faster. You'll simply get a subtle notification that lets you know when a suitable shortcut could have been used in place of a series of mouse clicks.
It's like having a super tech-savvy assistant watching over your shoulder with helpful tips and tricks while you read, reply, delete, and archive.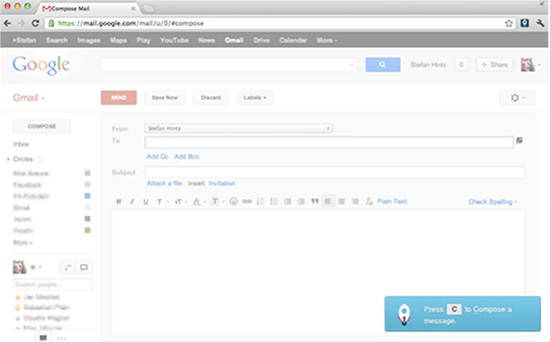 "Do less, achieve more."

Cost: From $4.16 a month for a personal account, $5.83 a month for a professional account, and $12.48+ (depending on number of users) for a team account.
Active Inbox helps you optimize your inbox by letting you track, schedule, and organize emails according to priority. You can set deadlines, group similar emails into folders, and prioritize by dragging important ones to the top of the list.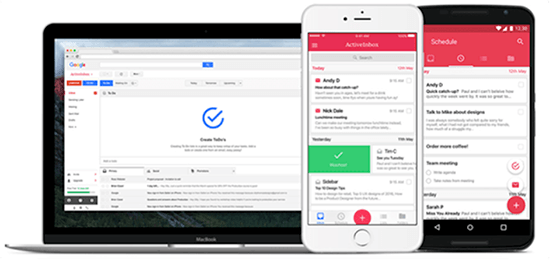 You can also add notes and tasks that essentially turn your inbox into a workflow to ensure you're always in control of your emails, as well as any external tasks they apply to.
It's essentially a task manager right in your Gmail dashboard.
"Book meetings with one email. No back & forth. No double bookings."

Cost: Free
If you've ever been frustrated by the back-and-forth involved in scheduling a suitable date and time for meetings, you'll love Assistant.to.
By integrating with both Gmail and Google Calendar, Assistant.to makes it ridiculously easy to create and send meeting invites that list all of your available time slots. Once received, all your contacts have to do is choose the date and time that works best for them, and it will automatically select the most appropriate slot.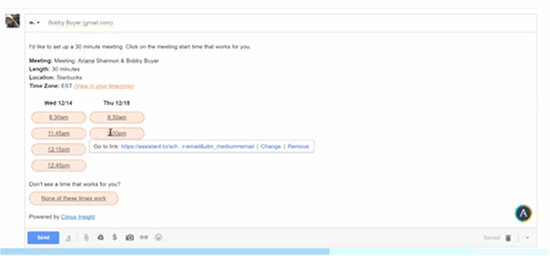 Assistant.to will then check your calendar to ensure you're still free, schedule the meeting, and notify everyone of the scheduled appointment. If anything changes, it'll let everyone know, and even send reminders on the day of the meeting.
Other useful features include the extension's ability to convert time zones (so there's no confusion when scheduling meetings with contacts in other parts of the world), remember your most common meeting locations and availability (so that scheduling meetings becomes even quicker and easier), and integrations with popular conference software.
Cost: Free
Some of the tools above allow you to track if and when the emails you send are getting opened. That can be invaluable to anyone sending outreach or sales emails, but what if you want to prevent the same trick from being played on you?
PixelBlock is a super-simple Gmail extension that blocks email trackers so you can stop other people from tracking when you open their emails.
You'll also be notified when PixelBlock successfully stops a tracker via a "red eye" that will appear next to the sender's name.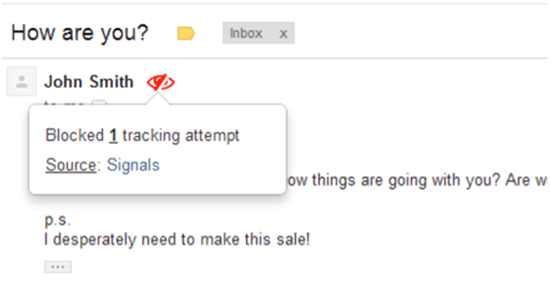 "Find any corporate email."
Cost: Pay-as-you-go for only $0.10/lead, monthly accounts start at $49 depending on the number of leads required. Sign up and get 50 for free to try it out.
With the simple addition of a search button on profile and search pages on popular sites, Norbert can help you find and verify virtually any corporate email address. After all, you can't reach out to someone if you don't know their digital address.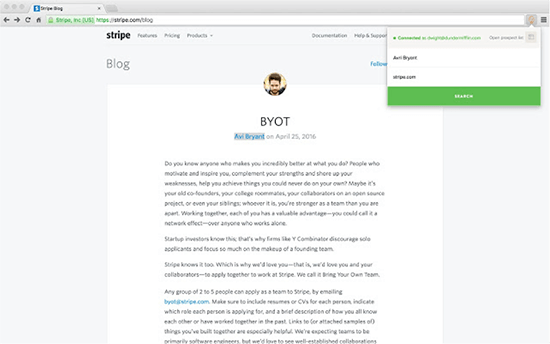 Click "search" and let Norbert's powerful email identification algorithm do it's thing.
Norbert can also verify your existing email list, helping you cut out the dead and risky ones (those that look good, but might bounce for a variety of reasons). Simply upload your list as a .CSV file, or copy and paste individually addresses.
Spent more time reaching out, and less time figuring out how.
Image: Pixabay
DocuSign is one of the leading products for sending and receiving signable legal documents. Chances are that if you've ever had to sign a contract or agreement via email, you've already used DocuSign.
DocuSign's Gmail extension makes using this popular tool even easier. Now, you can send signable legal documents without having to leave your Gmail inbox.
If you're in a field where you need to send out a lot of documents, the time saved here and there can really add up and drastically boost the efficiency of your workflow. Definitely a must-have for those working in law or as contractors.
Oftentimes, the business world can feel cold and overly formal. As your inbox piles high with lots of "Great, thanks!" emails, it can feel like a breath of fresh air to spice up your communications with something a little more personal.
Giphy's Gmail extension helps you achieve just that. By adding gifs from Giphy's extensive collection into your emails, you can better express yourself and add a nice personal touch to your communications.
Of course, don't go too overboard, but Giphy can really help add some fun and color into a typical workday.
Staying organized is hard. Pretty much everyone knows the struggle of seeing an important email, only to lose it in the chaos of your constantly overflowing inbox. Then, when you finally need the information, it's nowhere to be found.
Evernote helps solve this problem. Originally designed as a note-taking tool, Evernote's Gmail extension lets you save parts of important emails into your notes, which are viewable on any device that can run Evernote.
This helps you keep important info handy and ensures that you always have a record of your most important communications within arm's reach.
Although cyberattacks and cyberterrorism are constantly in the headlines, proper cybersecurity and digital hygiene procedures are still grossly overlooked in business settings. FlowCrypt helps add extra security to your emails so that you can keep them safe from unwanted eyes and hackers.
While Gmail has encryption built in, FlowCrypt takes things up a notch. It uses PGP encryption to provide extra security.
This extension is particularly useful if you're frequently sending sensitive information or if you're a higher up at a company. Out of all the extensions we're covering, this one is a no-brainer.
Focusing is a hard task when the device we use for work is the same one that we use for many of our leisure activities. That's why it can be useful to get a little artificial help now and then from a tool that can practically force you to stay on task.
The premise behind Inbox When Ready for Gmail is simple: you use it to lockdown or hide your inbox so that you can focus on writing and sorting through emails, not constantly checking for new ones and getting distracted as they come in.
You can also use it to curb a troublesome email habit. If you find you're checking your email too often, you can hide your inbox as a reminder to go do something else next time you open it up.
Ever wish you could stick a Post-It note on some of your emails? Ever go so far as to stick one on your monitor as you read your email, only to realize that it's not going to be much help once you click away?
Simple Gmail Notes has your back. This handy extension lets you add notes to your emails, so that you can keep important information on hand – and save your monitor from sticky stuff at the same time!
Plus, this extension is totally free, so you can add a little bit of extra organization to your workflow without burdening your wallet in the slightest.
Digify helps turn your emails into something straight out of a secret agent movie: a message that self-destructs.
…or a Snapchat. You can take your pick.
Essentially, Digify allows you to send attachments that will disappear after a set period of time. If you're sending sensitive documents, this can be very useful in helping you keep your information secure.
Plus, if you send something to the wrong person by mistake, you can used Digify to unsend it before it gets into the wrong hands.
Asana and Trello are two of the most popular project management tools on the market. Luckily, they both have Gmail extensions that can make your life easier.
Both of these extensions let you create new cards straight from your inbox, saving you from wasting time swapping back and forth between your email and your project management tool.
If you use either of these tools, it's definitely worth checking ouit their respective Gmail extensions.
Although email has been the standard business communication channel for a while now, new players, like Slack, are starting to move in.
While Slack is a very useful tool for communicating with team members, having to swap between Gmail for external communications and Slack for internal communications can be time consuming and exhausting.
Slack's Gmail extension allows you to send messages to Slack channels from within your Gmail inbox, so you don't have to switch between the two everytime you want to send an email or a Slack message.
It can turn out to be a big timesaver and help you stay a bit more organized as well.
Just Not Sorry is a Google Chrome plug-in that underlines words that undermine your message. Its aim is to identify and highlight weak language in your emails. It takes couple of seconds to download and then every email you write is reviewed for trigger words.
The extension will scan your emails, finding commonly used qualifying words and phrases that could harm the power of your emails. By hovering over the word or phrase, it reveals additional information about how it may be perceived. Therefore, allowing you to make better, more powerful choices.