Client Management: 6 Pitfalls to Avoid and What to Do Instead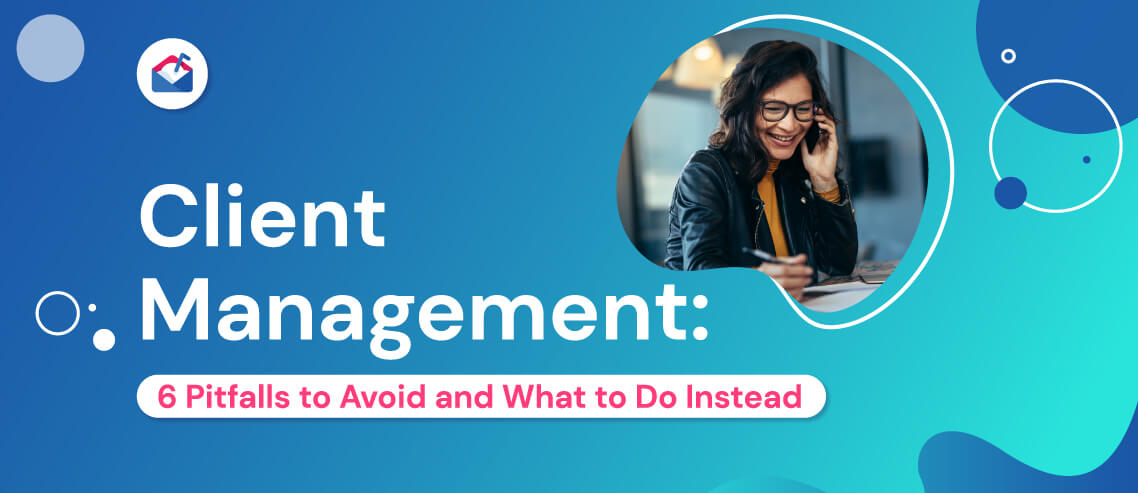 People place so much emphasis on sales. It's easy to overlook the importance of effective client management.
Businesses that build and maintain strong relationships with their customers stand to benefit. This includes increased upsells and cross-sells and more stable monthly revenues, which in turn helps them to plan better for the future.
However, client management isn't easy, and there are some key pitfalls to steer clear of.
What Is Client Management?
While many processes and definitions vary substantially from one industry to another, client management remains more or less the same. Regardless of what a company does, client management is the system by which it manages relationships with its customer base.
All elements of the partnership between customer and vendor fall under the umbrella of "client management." Ultimately, its goal is to deliver a high-quality service and maintain strong levels of client satisfaction. As such, client management can be effectively divided into four broad methods:
Responding to client needs through targeted communications
Understanding those needs and defining exactly what they mean to your business
Delivering on the client's goals and answering their questions
Anticipating the client's requirements in any given scenario before they ask
6 client management pitfalls to avoid
Any relationship needs work. Even long-standing, mutually beneficial partnerships can quickly sour when a problem arises or an alternative solution comes along. With that in mind, here are six of the most commonly arising client management pitfalls to watch out for.
1. Not listening to clients' needs
It is easy to hang on a client's every word when you are going through the initial pitching process and attempting to win their business. But it becomes much harder months or years down the line to keep listening and understanding their requirements — especially when those requirements can change dramatically over time.
Years into a vendor-client relationship, it can be tempting to focus your efforts on extracting as much revenue as possible by pushing upselling and cross-selling opportunities. However, if a customer feels their needs are not being listened to, they are unlikely to respond positively to this sort of sales-driven client management approach. Always strive to listen before recommending potential new solutions.
2. Having preconceptions about clients
Lots of businesses think they listen to their clients, but in reality, they only hear what they want to hear.
To give a simple example, a client might start talking about a specific new feature or function they require. The vendor hears this and immediately thinks "upsell," before going on to set out how much that new feature will cost. But the client might have been offered that same feature cheaper — or even free of charge — elsewhere.
In short, what appeared to be a pitching opportunity has suddenly become a battle to retain their business, all because the vendor had preconceptions about the client's needs. Park those preconceptions and always strive to dig into the reasons behind a client's questions or requests. That way, you will be best placed to respond effectively and deliver superb service.
3. Treating your customers like they're old news
Anyone who has worked in a client-facing business knows that many relationships fail to withstand the test of time.
In the early weeks and months of a new client-vendor relationship, both parties are excited and eager to go the extra mile to work together effectively and deliver results.
However, this enthusiasm often wanes over time. For the vendor, the whole project becomes an exercise in completing tasks and hitting deadlines, with no thought for pushing boundaries and trying something new. Client requests start to be seen as a pain rather than an opportunity to impress.
If you want to build stronger, longer-lasting partnerships with clients, it's essential that you avoid this mentality. Every client deserves to be treated like a new customer, with your team going out of its way to impress.
To give yourself the best chance of doing this, remember to regularly scrutinize your plans. Just because you've been taking the same approach with a client for months (or years), that doesn't mean it's still the right strategy. What else could you be doing? If this was a brand new account, what other actions would you consider? A constant commitment to innovation will go a long way toward making existing clients feel bought in.
4. Not prioritizing clients
Everyone knows salespeople are busy. With constant pressure to hit revenue targets and reach new prospects, it is easy for reps to ignore the importance of relationship building. Simply put, they often fail to leave enough time for engaging clients and cementing existing partnerships.
While this approach might lead to short-term sales gains, it leaves your business open to having clients poached by rivals. Furthermore, it means you often miss out on upselling and cross-selling opportunities because you didn't have the right conversation at the right time.
5. Scope creep
"Scope creep" is when new elements get tacked onto a project down the line, placing strain on delivery teams and eating into your profitability.
Some level of scope creep is more or less guaranteed in every client-vendor partnership. Try as you might to anticipate all eventualities when building your initial strategy, you can never predict everything. A new contact might come onboard on the client's side, with their own priorities and goals. Or a new competitor might enter and disrupt your client's market, requiring a radical rethink to your existing plans.
In these — and countless other — scenarios, you cannot afford to bury your head in the sand and plow forward with your original strategy. Scope creep will happen, so you need safeguards in place to mitigate the effects.
One effective solution is to clearly define the long-term goals of the project. Are you generating leads? Driving sales? Increasing brand awareness? That way, when the client asks for something new, you can push back if they are not contributing to the agreed objectives.
Or, in the worst-case scenario, you can say: "We can do task X, but it will need to be at the expense of task Y, which will make it harder for us to achieve your goals."
6. Not being organized
Chances are, your business has more than a handful of clients. If your whole client management operation is based around spreadsheets and email inboxes, it's all too easy to lose track of who you have contacted and when, and precisely what you spoke to them about.
Instead, you need a software solution to organize your client management. That way, it becomes simple for your team to understand a client's priorities at any given moment, or find out what was said on your last call with them.
What is a Client Management System?
A client management system is a software tool that helps service providers, vendors, and other client-facing businesses to better manage its customer relationships. These tools are used by sales, marketing, support, and account management teams to deliver more impactful communications, understand client needs, and generally help them nurture stronger, longer-lasting partnerships.
What Client Management Software Should I Consider?
There is a huge amount of choice in the client management software market, with solutions tailored to different industries and types of business. While the best client management software for you will naturally depend on your specific needs, here are 11 of our favorites.
Pipedrive
Pipedrive is a customer relationship management (CRM) platform that incorporates some unique functionality, such as an AI-powered sales assist tool that offers reps personalized tips and recommendations on automations. It also features an AI-driven sales mentor that drills into historic performance to highlight risks and suggest new approaches. (Plus, there's a Mailshake integration for simple syncing.)
Salesforce CRM
One of the world's best known CRM platforms, Salesforce includes a sales forecasting tool that provides real-time analysis of predicted performance for all of your reps. This allows you to view your whole sales pipeline, segmented by each rep, so you can easily understand who is delivering the best results. Mailshake also has a native Salesforce integration with 2-way syncing to keep all your client data intact.
Zoho CRM
Zoho is built with multichannel communication in mind, allowing users to connect with clients on any platform, from telephone and email to live chat and social media. As well as integrating all these channels into a single hub, it allows you to measure the effectiveness of individual communications, helping you identify the best time and channel to reach out. Via Zapier, you can connect Zoho CRM with Mailshake.
HubSpot CRM
Another big name, HubSpot offers an all-in-one solution for startups, enterprises, and everyone in between. It integrates with a range of communications tools, including Gmail, Office 365, and Outlook, which means your team can spend less time writing up notes and more time nurturing client relationships. Plus, there's a native integration between HubSpot and Mailshake so you can sync all your client data both ways.
Honeybook
Aimed squarely at the small business market, Honeybook offers a host of templates covering the whole customer lifespan, from onboarding to offboarding. Among its many features is a simple scheduling tool that makes it quick and easy to book client meetings.
Dynamics 365
At the other end of the market to Honeybook, Dynamics 365 is for enterprise-grade organizations. Whether your sales cycle lasts weeks, months, or years, Dynamics 365 has the tools for the job, with systems designed to onboard and engage new clients in a matter of days. What's more, its pre-built applications seamlessly integrate with all your favorite Microsoft tools.
Keap
Keap is a client management platform that incorporates lead generation functionality. It allows businesses to embed custom forms on key landing pages, where they automatically drive specific actions that can your sales reps can follow up on. Keap then segments prospects based on multiple attributes to help you personalize your messaging.
Nimble
Nimble helps sales teams capture the contact information of prospective clients. Using the Nimble Prospector browser extension, reps can hover over a prospect's social media profile to view their email address and phone number, dramatically reducing data entry time.
Nutshell
As its name suggests, Nutshell offers a suite of CRM tools in one place. Among its many features is a contact management function capable of syncing phone contacts, gathering leads generated on your website, and scanning business cards.
Monday.com
Monday.com offers templates based on different industries and feature sets. For instance, it has three sales-based templates — CRM, partnership management, and sales collateral. The CRM template boasts a Kanban board view designed to efficiently visualize your sales pipeline.
Zendesk Sell
Originally created as a customer service tool, Zendesk has since expanded to incorporate sales and client management functionality. Its approach focuses on aligning sales and support team activity. For instance, it allows reps to see whether a prospect or client has opened a support ticket.
Conclusion
Keeping all your clients happy isn't easy. Speed bumps will appear in any customer relationship, and you will need to find ways to overcome them.
However, the whole process becomes far simpler when you have the right tools for the job. Client management software helps you anticipate and understand client demands to better meet their needs.