Using Cameo to Hire Celebrity Influencers for Your Sales and Marketing
Using Cameo to Hire Celebrity Influencers for Your Sales and Marketing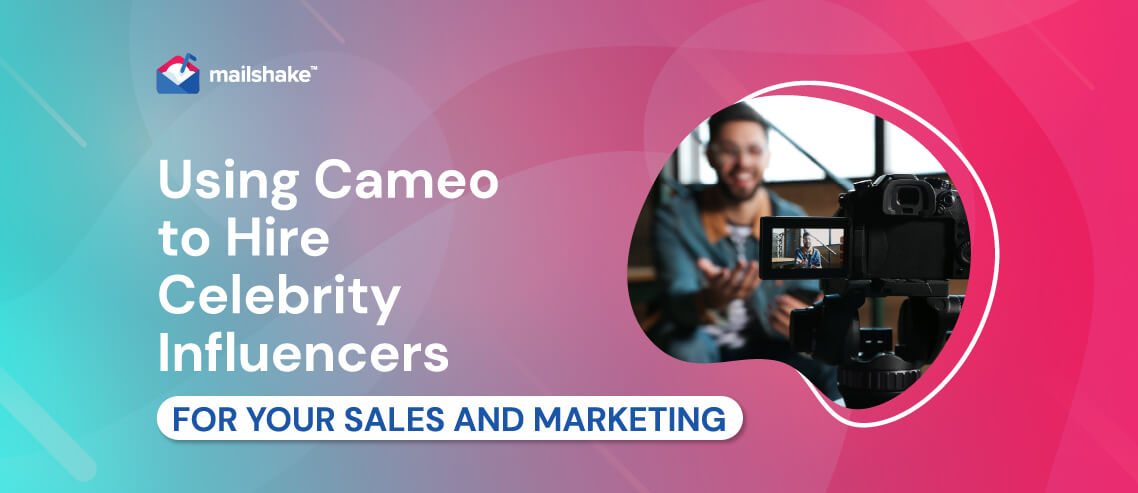 Let's be frank: getting people to pay attention to your ads is an incredible challenge. There is simply so much content assaulting everyone each and every waking moment of the day. It all turns into a blur.
But there are still a few things that will catch people's attention and make them take a second look — and no, we're not talking about cats.
We're talking celebrities — celebrity cameos, to be precise. Thanks to Cameo, an app that helps you hire celebrity influencers, it's easy to book personalized videos from some of your favorite celebrities for a reasonable price.
Let's take a look at how it all works.
What Is Cameo?
Cameo is an app that lets you book personalized videos from celebrities of all kinds — musicians, actors, politicians, and more. Examples include Kenny G, Oscar Nunez and Leslie David Baker from The Office, Gary Busey, and Darryl Strawberry.
Originally, the company was focused solely on personal use videos, like happy birthday, graduation, and anniversary messages. However, the company has since added business features through Cameo for Business, the part of the app that's dedicated to sales and marketing videos.
Cameo for Business is what we'll be covering in this article. Overall, it works pretty much in the same way as regular Cameo, but with a few extra features and different use cases.
Cameo advertises four use cases for businesses:
Pre-recorded introductions for virtual events and live appearances
Marketing and advertising videos
Sales and prospecting videos, such as personalized videos from prospects' favorite celebrities
Employee recognition, such as a promotion announcement
Overall, Cameo for Business is designed to add a more engaging and personalized touch to business during a time when remote work is common and face-to-face interaction is more scarce than it used to be. As for now, it's undeniable that Cameo adds a bit of spice to the day-to-day.
Pricing wise, you can expect to pay about $1,000 on average for a business cameo. If you want to have a celeb join in on a call, you can expect to pay about $10,000.
Obviously, using Cameo for every business meeting, sales prospect, virtual event, or promotion isn't going to be sustainable given these prices, so you'll need to use it strategically. That said, using it at the right times can make a big impression, so it's a good tool to have in your back pocket.
Cameo for Business Examples
The best way to learn how to use Cameo for Business is by looking through examples of businesses that have used it to great effect. Let's take a look at some of the most successful uses of Cameo for Business.
Gong and Chris Diamantopoulos of Silicon Valley
In 2020, the sales tool, Gong, hired Chris Diamantopoulos, better known as billionaire Russ Hanneman from the hit series Silicon Valley to introduce their #celebrate conference.
Diamantopoulos plays a money-obsessed billionaire, so it's fitting to hire him to promote a sales platform. In the video, Diamantopoulos repeats famous lines from the show and ties them in with Gong's virtual conference offering. All in all, it's a great way to build up interest around the conference and get people more engaged.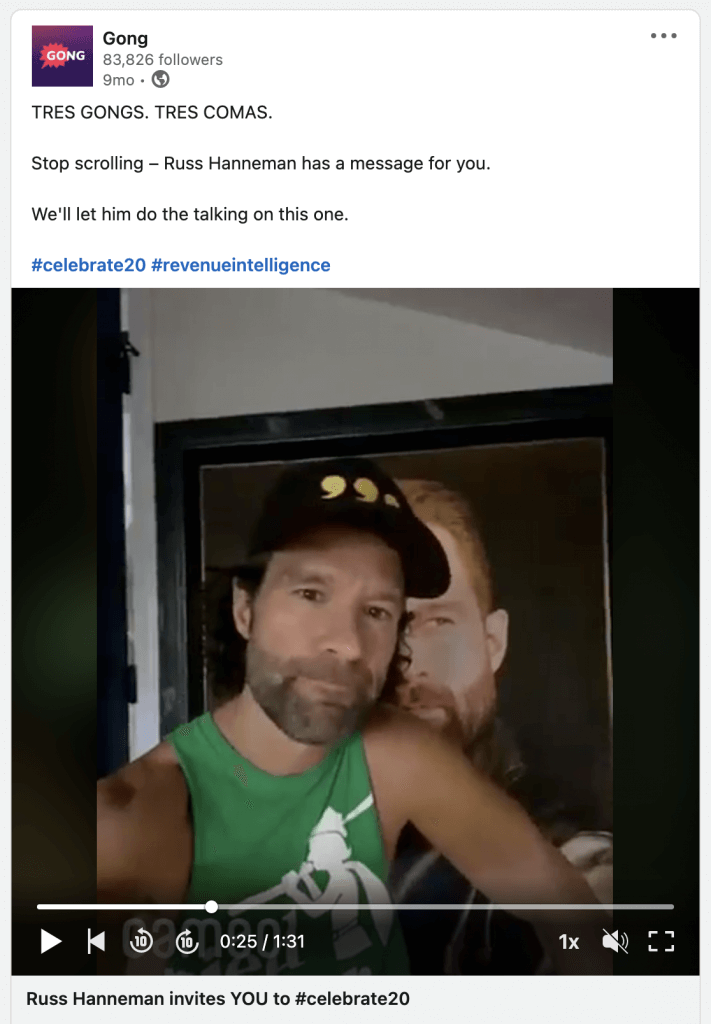 Sendoso and Ice-T
In the same vein as Gong, Sendoso used Cameo for Business for a similar purpose: to promote its on-demand virtual event, Connected.
In this case, Sendoso hired rapper Ice-T to record an inspiring message to attendees discussing how Sendoso is connecting people during this difficult and unique period of remote work. During the message, he discusses how he himself has fared with the transition, forgoing lunch meetings in favor of Zoom meetings.
Although the video only lasts 60 seconds, it's sure to make an impression on viewers and get them amped up for the Sendoso Connected event. Compared to the average marketing content, it's significantly more memorable.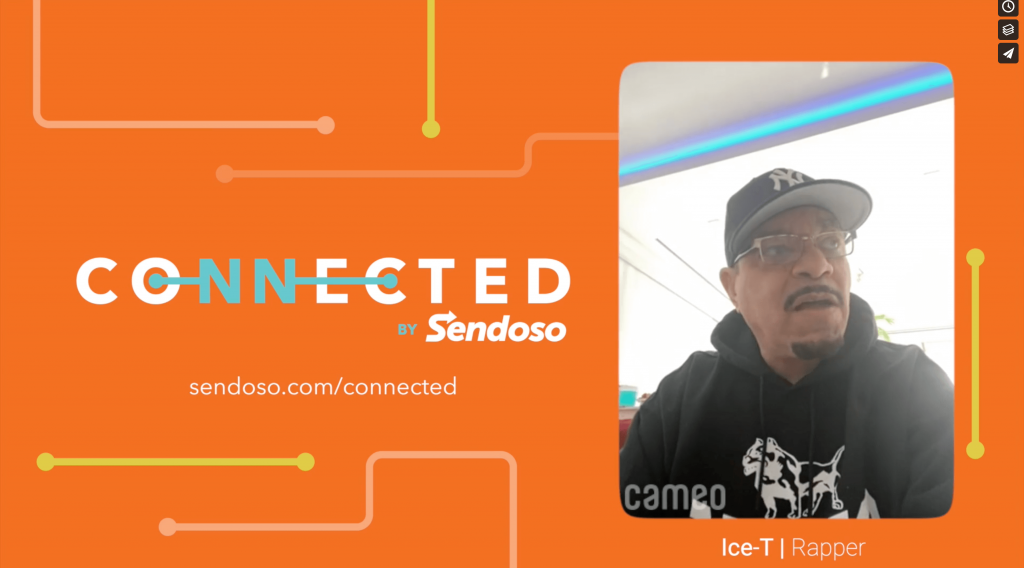 Metadata.io and Lindsay Lohan, David Hasselhoff, Lance Bass, and Bob Saget
Metadata.io went all out when using Cameo for Business to promote their webinar entitled "2020 Sucked. Your Marketing in 2021 Doesn't Have To."
To get the word out, the company enlisted the help of four major celebrities: Lindsay Lohan, David Hasselhoff, Lance Bass, and Bob Saget. Each of these four celebs recorded a short video message explaining the problems with marketing in 2020 and how it doesn't need to be as bad in 2021. Bob Saget even included some marketing lingo, like "impressions," "reach," and "engagement."
Overall, the campaign likely generated some engagement, but it also came across as a bit awkward — it was very clear that the celebs weren't invested in what they were talking about, and even the actors among them couldn't feign interest in it.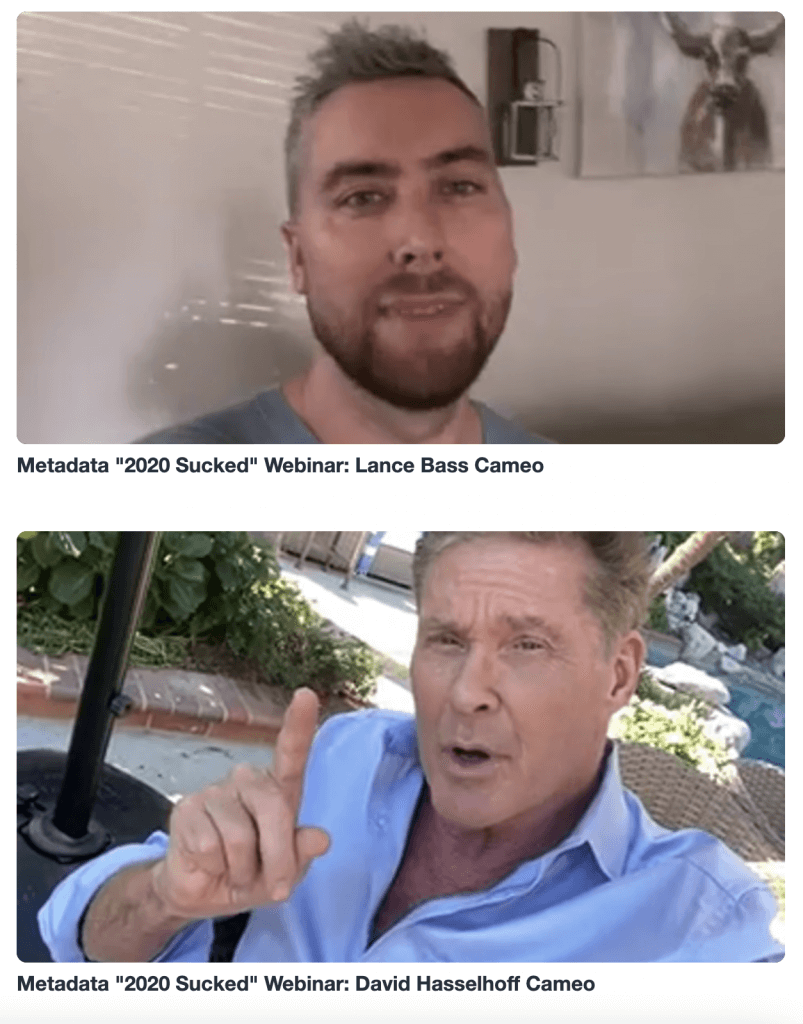 Other Celebrities Using Cameo
Cameo has been growing rapidly since its launch, and more and more celebrities are signing up for the platform. Here are a few others that you may want to know about.
Corporate Bro
Corporate Bro is a YouTuber and comedian who makes short sketches about sales, marketing, and corporate culture. He offers business shoutouts for $150 per video.
If you're in sales, there's a good chance that some of your sales team has heard of Corporate Bro, so getting a personalized video from him can be a good way to boost morale and make things a bit more entertaining.
Members of the Cast of The Office
The Office is a classic, with lovable characters that have stuck with its fans for years. Luckily, several of the cast members are on Cameo, including Robert R. Shafer (Bob Vance), Kate Flannery (Meredith Palmer), Andy Buckley (David Wallace), Oscar Nunez (Oscar Martinez), Leslie David Baker (Stanley Hudson).
The Office is a particularly good fit for business use given the subject matter that the show covers, and it's likely to make a good impression thanks to its popularity.
Jordan Belfort, aka the Wolf of Wall Street
That's right, Jordan Belfort, the real Wolf of Wall Street is on Cameo. What better way to motivate your sales teams than with a message straight from the mouth of one of the biggest moneymakers himself?
Jordan is a great pick for introducing conferences, closing deals, and employee promotions. But he comes with a high price — even just a personal video is $997.
Pros and Cons of Using Cameo for Business
For the most part, hiring a celebrity through Cameo can make a unique and long-lasting impression on your audience.
However, there is one risk: when you hire celebrities to talk about technical matters in a field they don't understand fully or simply don't care about, the video can come across as insincere and actually be a bit of a turn off. Unfortunately, you won't be able to tell how well the video came out until you've already paid for it, so tread carefully.
Key Takeaways
Using Cameo for Business can keep your audience more engaged and add some fun into business situations. With hundreds of celebrities to choose from, it's easy to find someone who will bring the right vibe to any circumstance.
If you want to add a bit of flair to your business, don't overlook Cameo.