How to Land Your First B2B Sales Job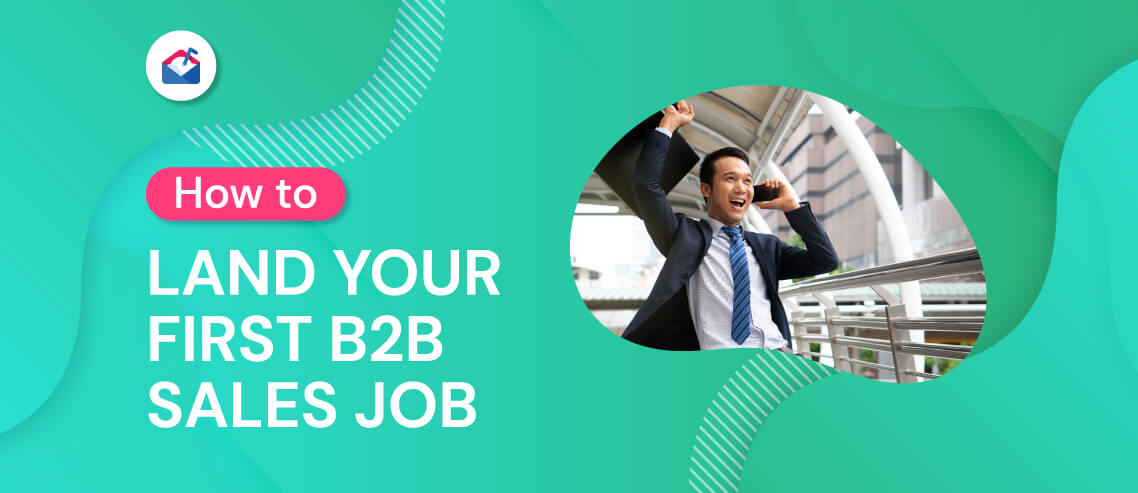 There's never been a better time to break into the world of B2B sales.
Technology has made it easier to build meaningful relationships with prospects and nurture them through the sales cycle, and demand for B2B products and services is growing.
By 2023, the value of US B2B eCommerce transactions is expected to reach $1.8 trillion. That's a huge amount, yet it represents less than one-sixth of all the country's B2B sales.
In short, it's a smart time to search for your first B2B sales job. Here's how to do it.
Is B2B Sales Right for You?
First off, it's important to note that B2B sales isn't for everyone. The last thing you want is to invest all your energy in landing a seemingly perfect job, only to find out that you're just not a good fit for the demands of the business-to-business world.
With that in mind, here are four common traits that successful B2B sales representatives tend to possess:
Desire to learn. Not just about sales, but about the world in general. B2B organizations tend to have longer sales cycles than their B2C counterparts, so reps need to spend a lot of time learning about their prospects' pain points and business goals.
Ability to bounce back from failure. Even the very best B2B salespeople will lose far more deals than they close. When you miss out, it's important that you take the learnings and move on as quickly as possible.
Comfortable engaging with new people. While not every B2B sales rep is an extrovert, they must feel happy connecting one-on-one with prospects and breaking the ice, typically through cold calling.
Superb listening skills. This ties in with a desire to learn. B2B sales reps ask a lot of questions; they need to take the answers onboard, process the information, and use it to better understand their prospects.
How to Choose the Right Company
According to research from the Bridge Group, the average sales rep spends 1.5 years in each role.
Concerningly, that same study discovered that the average ramp time — that is, the length of time required for a rep to get up to speed in a role — is 3.2 months, which means the average rep works productively for less than 15 months before moving on.
Obviously, this is a concern for employers. But it's a worry for reps, too. If you're constantly jumping from one job to the next, you won't build the sort of skill set you need to build a successful (and satisfying) long-term future in B2B sales.
That's why it's important to start your B2B sales journey with the right type of company. RepVue provides transparency into what employees actually think about working in sales at a wide variety of companies, so that's a good place to start your search.
While there are no hard-and-fast rules, it's often best to start out as a sales development representative at a larger organization. There are two common benefits to this approach:
Bigger businesses are typically better placed to invest in training and development initiatives.
They also have clearer development pathways, potentially enabling you to progress to a more senior role in the medium term.
How to Land a B2B Sales Interview
Finding the right company and role is one part of the battle. But to give yourself the best chance of getting your sales resume noticed and securing an interview for your dream sales job, you need to lay the groundwork.
Follow these five steps to give yourself the best chance of landing an interview:
Update your LinkedIn profile. Your profile on LinkedIn will often be the first port of call for recruiters and hiring managers. As a minimum, ensure all the sections are filled out, and join in with conversations that are relevant to the types of B2B sales role you're seeking.
Start networking. Now that your LinkedIn profile is ready, you can start reaching out to people in the B2B sales world. Connect with employees of the company you're planning to apply for, making it clear why you're reaching out. Many organizations run referral bonuses, which might encourage them to pass your details on to hiring managers.
Seize the initiative. Don't wait for opportunities to land in your lap; reach out to sales managers and recruiters via email and phone calls. Ask about the types of sales roles they have available, or are planning to recruit for in the coming months.
Upskill yourself. Sure, most organizations taking on entry-level salespeople will give you some sort of on-the-job training. But you can steal a march on the competition by signing up for an external training program focusing on the type of role you want to land, such as training for SaaS sales through programs like Aspireship and Elevate.
Do your homework. Carry out all the research you can on the company, its products, and its customers. That'll help you convince hiring managers and recruiters that you're genuinely interested in working for them, not just applying for every job you see.
How to Prepare for a B2B Sales Interview
You've found the perfect B2B sales role, attracted the attention of the hiring manager, and landed yourself an interview. Now comes the most crucial step of all: making a great impression.
Clearly, you can't afford to leave anything to chance. Instead, use these three tips to ensure you're well prepared for your sales interview:
Prepare your backstory. This is your first sales job, so your interviewers will want to know that this is definitely the right career path for you. Explain why you're looking for sales jobs

—

perhaps you were inspired by a friend or family member, or have always wanted a role that requires entrepreneurial skills and initiative.
Come up with examples of multitasking. Sales isn't just about selling. You'll also have to attend meetings, go to training sessions, complete paperwork, and much more. Demonstrate instances when you've had to cope with multiple tasks and deadlines simultaneously.
Identify intelligent questions. By this stage, you should have done plenty of research about the company in question. But there are likely things you can't learn

—

things you'll only find out by speaking to an insider. Come up with a handful of questions to further your understanding and highlight the knowledge you've already acquired.
How to Follow Up After a B2B Sales Interview
Just because you've completed the interview, that doesn't mean you can afford to take your foot off the gas. After all, the best salespeople are persistent. You need to demonstrate that same level of persistence by following up after the interview.
Fortunately, this isn't a difficult process. Simply send an email to all the people you met during the interview process, thanking them for their time and reiterating your interest in the role.
Your timing here is important. Decisions on sales roles are rarely long and drawn out, especially for entry-level positions, so if you wait, you risk missing the boat. Instead, send your follow-up on the same day as the interview.
If you haven't heard anything back within three or four days, it's perfectly acceptable to send an additional follow-up asking for an update on the hiring process and when you can expect to find out about the job.