Step-By-Step Process to Automating Cold Email Outreach
Step-By-Step Process to Automating Cold Email Outreach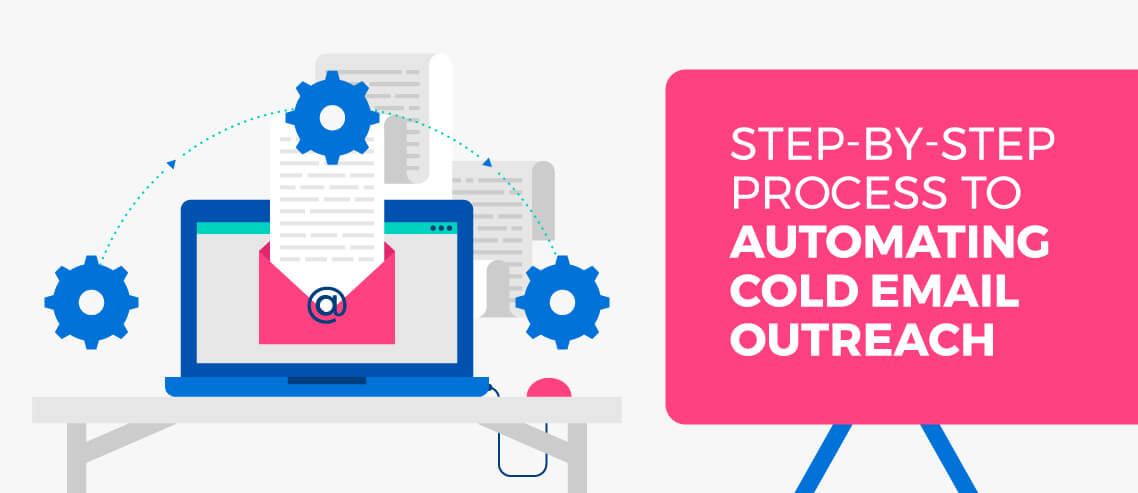 One question about cold email that I get a lot is how to automate it. You can easily spin up a cold email outreach campaign by following the three-step process outlined below.
1. Identify Lead Buckets
Lead buckets are places where you can point your virtual assistant at to pull lists of names and companies from. Ideally, these lead buckets contain information about companies that are all qualified for your services.
An important thing to remember is that the lesser steps you have to go through to obtain their information, the higher the quality of leads. If you're able to figure out where qualified companies that are looking for what you're offering left their info online then the cold email process is a lot easier after that.
For example, our clients are agencies that need marketing services. If an agency needs help marketing they're probably going to be leaving a footprint around the web and what we found is they'll create profiles on different directories like Clutch, dribble and behance.
So if we want to find a good lead bucket all we have to do is go to dribble and pull up the information for every agency by category and find the ones that are over 4 or 5 employees and reach out to all of them which allows me to get a decent conversion rate because they are all qualified.
It's important to remember that your marketing strategy can and will be different depending on what you offer. You need to ask yourself the question how can you find the lead bucket for your business. How can you find people that are going to have a need for what you're asking for?
You can always try job boards, but AngelList is a little bit overused. The second place you can go to is LinkedIn Sales Navigator that allows you to sort companies by a criteria of your choice. Maybe it's a company in a specific industry over a certain size, maybe it's a job title existing within a company.
Whatever that lead bucket is it's on you to figure it out. This is the most important step in this process because if you can find people that are qualified and need what you're reaching out for the email process is so easy after that.
2. Hire and Train to Build Lead Lists
I'm going to share the exact job posting that we used to hire 8 freelancers and lead generation assistants from Upwork. The job description went like this:
Job description:We are looking for someone to do online research to find a list of companies in a specified area. You will be given a list of research outlets and a category and will be asked to fill information into a Google Doc spreadsheet.
**Excellent English Skills Required**
How to apply:
In order to be considered, you must include this phrase at the start of your message, "I Love Researching startups"
About the company:
We are an event platform based in the United States"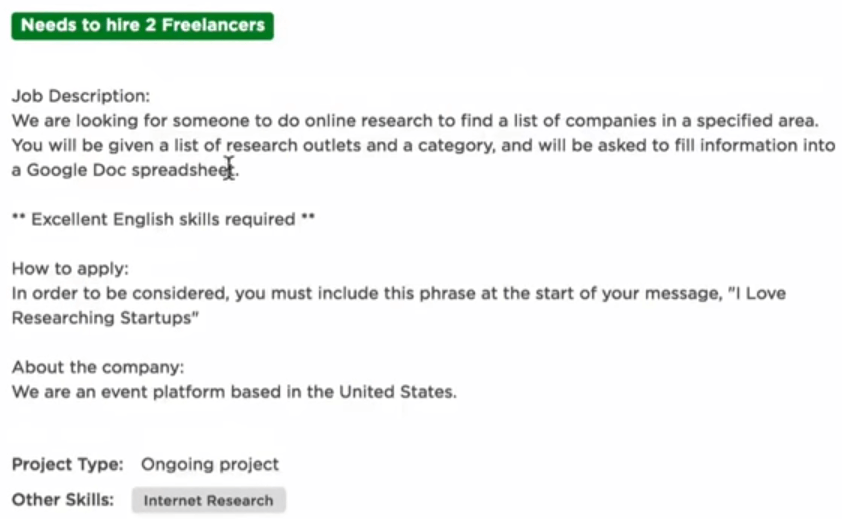 You can just copy-paste this into your upwork job post or any other freelancing marketplace you use.
Once you post a job posting like the one shown above, people will start applying. You can take a look at the job score of each applicant and read a cover letter sent by the applicant before you make a hiring decision. You can easily find good freelancers for $5/hr and less.
Once you hire the perfect candidate the next step is training. All that we do is send out Youtube videos on our channel to the hired freelancers for them to understand their responsibilities and roles. You can always create your own instructional videos.
We use a software called ScreenFlow to record videos. It costs approx. $99 and it allows you to quickly record your screen and upload it. You can record the lead generation process using this software and then send it to your virtual assistants.
Here's a video we used to show our entire lead generation process.
3. Write a Custom Email Drip
Since there's already been a lot of content on the Mailshake blog about cold email templates and since you should think about cold email in terms of frameworks and not scripts anyways we're going to discuss three things that you can do to optimize your custom email drip if you've had at least one touch point with every company in your lead bucket.
Same principles apply if you had at least one touchpoint with every company in your entire industry. Here's how to keep the ball rolling without having to change markets.
3.1. Ask for Feedback
The first thing to do is ask for feedback from people and companies that have said "No."

You will be getting feedback that will help you improve your campaign moving forward.
3.2. Optimize Your Cold Email Campaigns
Here's a checklist on how to review and optimize a cold email campaign.
Make sure the leads are coming from a qualified place i.e. are you emailing the right people?
Rewrite subject line – try several ones to get an 80%+ open rate
Review the body of the email
a) Does the first line do a good job of saying why you're reaching out and where you found them?
b) Does the middle give value and background in an appealing manner?
c) Does the email end in a question mark and have next steps?
Take these optimized campaigns, batch them in groups of 50 to 100 and simply test them based on the feedback that you're getting until you get your emails to the following benchmark stats (aim to achieve or beat these numbers, optimize until you do):
Open rate: 80%
Response rate: 10%
Meeting book rate: 2.5%
Close rate: 1%
Go here to get the free step-by-step checklist on how to rewrite and optimize your cold email campaigns.