Relationship Marketing: Definition, Techniques, and Examples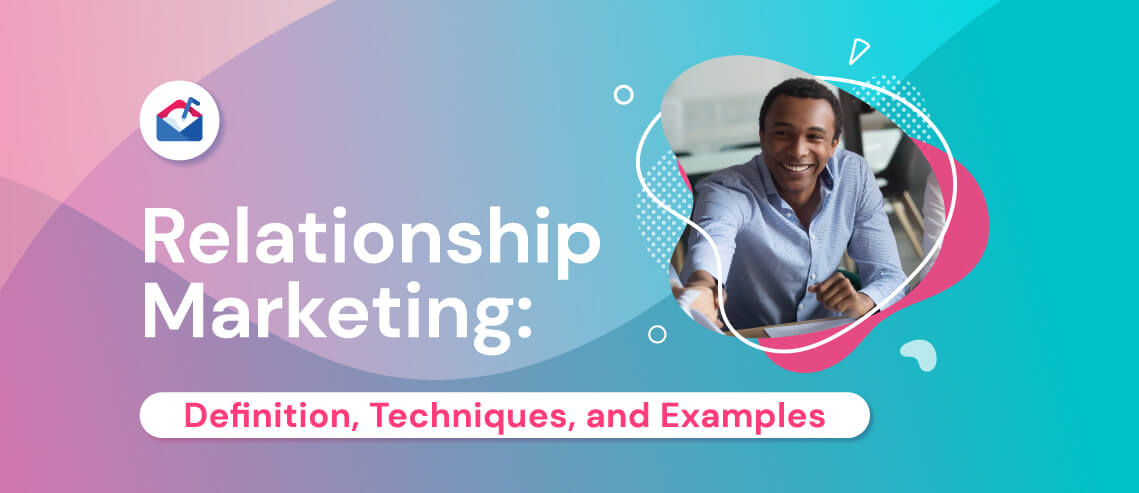 Loyal customers are good for business. In fact, 56% of consumers would spend more on a brand they're loyal to, even if cheaper options are available.
But loyalty doesn't come about by chance — it has to be earned. You need to sell a quality product, offer fantastic service, and build a meaningful connection with your customers. And that's where relationship marketing comes in.
What is relationship marketing?
Some marketing strategies are focused on driving leads or sales in the short term. Relationship marketing takes a big-picture view instead. Its aim is to grow interaction and engagement among your audience, thereby increasing customer loyalty for the long term.
Often, this means forging an emotional connection between consumer and brand. After all, if your company is seen as nothing more than a faceless provider, there is little incentive for customers to favor you over anyone else.
To achieve this, relationship marketing strategies provide consumers with content that's perfectly tailored to their interests and pain points, with the aim of building genuine, two-way conversations.
Broadly speaking, there are three distinct categories of relationship marketing:
1. Personalizing on customer needs
Personalization is a highly valuable tool that's relevant to multiple marketing strategies, and relationship marketing is no exception.
According to Forrester Research, up to 36% of shoppers believe retailers should be doing more to offer personalized experiences, climbing to 43% among households with more than $100,000 in annual income. Furthermore, research from Google shows that 90% of leading marketers agree personalization significantly contributes to business profitability.
So it's no surprise that more and more marketers are using customer data to personalize the products, services, and content they promote. This approach allows brands to target consumers with offers and information that directly aligns with their interests and needs, thereby helping to cement firmer relationships.
2. Rewarding loyal customers
Rewarding customer loyalty should be the fulcrum of your relationship marketing strategy. After all, if there is no real reason for your existing customers to stick with you, why would they bother?
One simple way to thank customers for their loyalty is to create targeted promotions aimed at repeat purchasers. The more they buy, and the longer they stay loyal to you, the more they can save. Promote these offers through email marketing, as well as through your paid search and social remarketing activity.
3. Building closer bonds with high-value customers
The much-quoted Pareto principle claims that 80% of your sales will come from 20% of your customers. Whether or not that's strictly true, the basic point still stands — loyal customers are valuable and should be treated accordingly.
Show your longest-standing customers the value of your ongoing relationship by seeking their feedback on new products, services, and processes. Use their insights to tailor your product so that it better fits their requirements (and the requirements of all the loyal customers you hope to attract in future).
What's the value in relationship marketing?
Every business wants to increase customer loyalty. But marketing budgets are finite. When you only have a certain amount of money and resources to invest in everything from acquiring new customers to engaging existing ones, can you really justify developing a relationship marketing plan?
Ultimately, there is no "right answer" here. For a startup, relationship marketing might seem like a luxury when the big priority is to bring in new customers, fast. Yet if those new customers buy once and never return, perhaps a relationship-driven approach would have been the smarter move.
Whatever your immediate focus, a study from Robin Buchanan and Crawford Gillies revealed that several factors contribute to the increased loyalty and profitability delivered through relationship marketing campaigns:
Less shopping around. Loyal customers are happy to buy from the brands they love rather than checking out other options. They are also less price-sensitive, because they are more focused on perceived value.
More word-of-mouth referrals. When your customers are bought into your brand, they are far more likely to tell their friends and family about the quality you offer.
Higher average order value. According to the study, returning customers buy more frequently, and spend more each time they checkout. Furthermore, they are cheaper to serve, because they already know how your product works.
How is a relationship marketing plan developed?
Relationship marketing is rarely something you can implement overnight.
As a minimum, focusing on building stronger relationships with existing customers will require a significant shift in your marketing budget away from new customer acquisition. In extreme circumstances, it might even require major changes that cut to the core of your whole business model and growth strategy. Either way, it is likely to have a big impact on both your customers and employees.
As such, building a relationship marketing strategy is not something to be taken lightly. It requires comprehensive upfront planning to achieve the desired results.
Typically, the best starting point is to look at your existing customer data, dating back at least a year or two if possible. Dig into who they are, what they buy, and why they choose you over your rivals. This should help you figure out the best way to support and engage them for the long run.
Next, analyze the makeup of your loyalest customers. Use surveys to learn exactly why they have kept buying from you over time. This is the best way to avoid building a relationship marketing strategy based on flawed conclusions. You might think customers stick with you because of your low pricing and high quality. However, in reality, it could be down to your fast shipping or local customer service team.
Having gathered all the available data, you can start to segment your customers into different groups and build dedicated marketing strategies for each. For instance, customers who love your product quality might be targeted with content that lifts the lid on your manufacturing process, while price-sensitive shoppers might only be sent messages about new sales or discounts.
5 relationship marketing examples
1. Capital One
We all have things that annoy us. Capital One has clearly gone out of its way to understand the frustrations of its audience and tailor its offers to them.
For instance, it knows that people hate standing in line at the airport, so it offers venture cardholders up to $100 when they use their Capital One credit card to pay the TSA PreCheck fee.
Best of all, because TSA PreCheck expires after five years, this perk has long-lasting benefits. Every time a cardholder skips the TSA queue, they'll be glad to be a Capital One customer.
2. Ikea
Loyal customers care about things that fly-by-nighters never would. Think about your favorite restaurant; you would notice if they changed the decor, and you'd likely have an opinion on it.
Ikea customers are no different. They were up in arms when the furniture brand changed the font in its long-standing catalog, and they weren't shy about saying so. Rather than alienating its loyal audience, Ikea simply changed the font back in its next catalog.
3. Dell
Computer manufacturer Dell built a dedicated store for high-volume corporate customers that personalized the ordering process based on the requirements of individual users. Not only did this eradicate many of the headaches faced by corporate tech buyers, but it also led to increased customer loyalty.
4. GE
General Electric is a fantastic case study for personalizing content to engage and build stronger relationships with existing audiences.
For instance, it launched two sponsored podcasts aimed squarely at the sci-fi niche. That might seem like an odd fit. But it makes sense when you consider that GE positions itself as an innovative brand with one eye on the future of industry.
By striving to create high-quality content targeted at different customer niches, GE demonstrates an understanding of its various audiences. And GE proves it's happy to prioritize long-term relationships over short-term gains.
5. Domino's
You might think Domino's has an easy job when it comes to building customer loyalty –– after all, everyone loves pizza. But when customers could just as easily buy from Papa John's, Pizza Hut, etc., relationship marketing becomes extremely important.
A classic example is the company's Pizza Turnaround campaign, which saw real Domino's employees read a series of negative reviews, before promising customers an all-new, improved recipe. This worked because it showed Domino's is happy to listen to feedback from its existing customers and totally transparent around its product.
The campaign made Domino's seem more transparent and trustworthy, which went a long way toward building more meaningful, loyal customer relationships.
Conclusion
By this point, it should be clear that relationship marketing is a slow burn. It takes more than a single campaign or a few clever social posts to get customers bought into your brand and messaging.
But the results are worth it. Take the time to implement an effective relationship marketing strategy and you can look forward to a range of benefits, from higher average orders to lower customer service costs.